What could be more neighborly than shopping in your own neighborhood? Supporting small businesses close to home doesn't just help those boutiques, cafes, grocers, and more stay in business, it also creates local jobs and helps your neighborhood keep—and continue to develop—the unique character that makes it a great place to live.
That makes Small Business Saturday the ultimate neighborhood holiday. Many of the residents who've contributed to What Locals Say, our database of locals' insights on their communities, have shared how their favorite local small businesses make their neighborhoods special. Here are a few of the beloved neighborhood businesses locals love.
Walther Gardens
Walther Gardens is a flower shop, nursery, and arguably the oldest snowball stand in the country. For more than 90 years, this small business has been a staple in Baltimore's Moravia-Walther neighborhood. Now owned by the brother-sister team Matthew and Paula Wittek, it's also serving the community as a holiday gift shop and center for workshops and gatherings.
The longevity of this small business shows just how much it means to its neighbors. Its Facebook page is full of testimonies on how it's a "true anchor retailer for the community." And even though the nearly century-old snowball stand is under new ownership, locals didn't waste any time embracing the Witteks. When Paula first moved to town, she knew no one but her brother. "I now have a bigger family than I ever expected to have in my lifetime," she says. "It's a wonderful thing."
What goes around, comes around. Because of the support from their neighbors, Walther Gardens is able to continue to give back more and more to their community, selling trees during the holidays and hosting events like craft workshops and artisan markets. As Paula points out, "we would not be able to do what we do if it wasn't for the community supporting us."
This neighborhood is a true example of people supporting what they love—and thus, creating a place they love to live.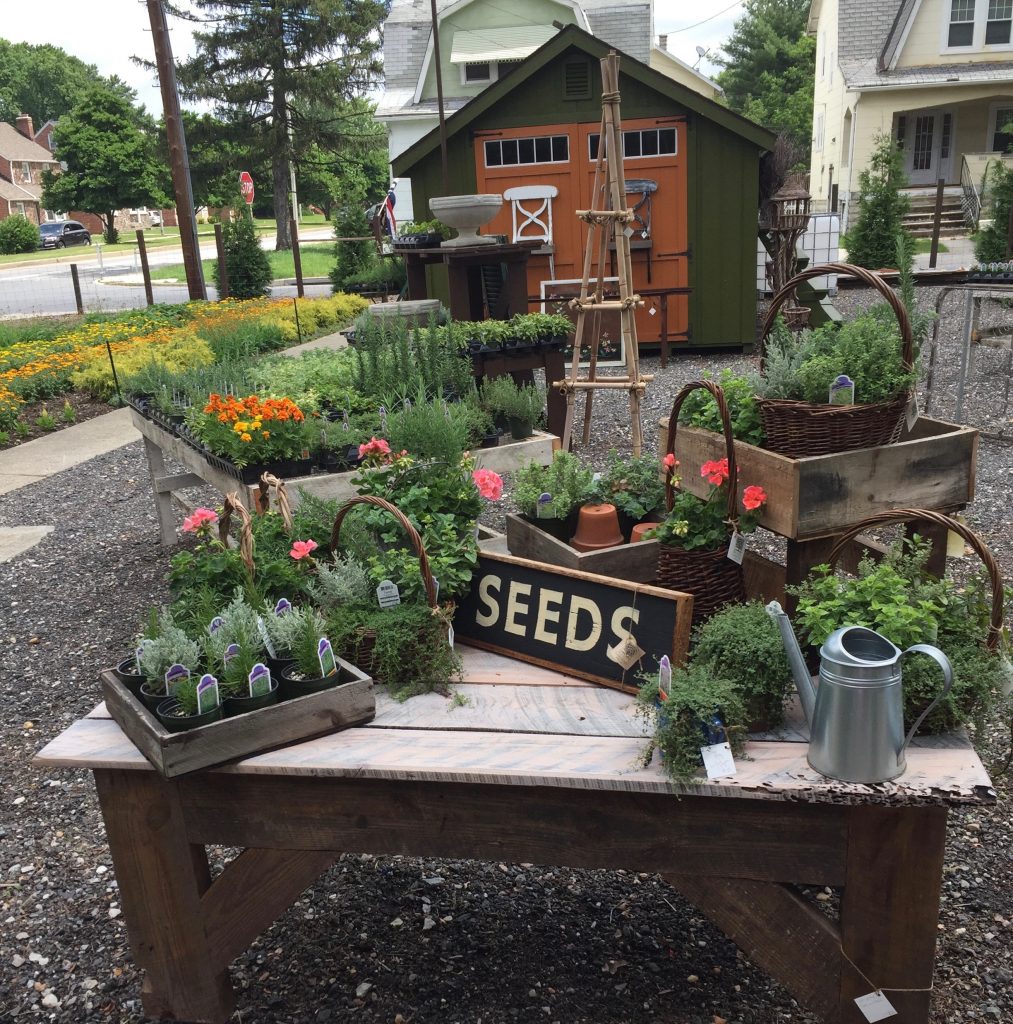 Anthony's Italian Coffee and Chocolate House
Small business is the defining feature of Philadelphia's Bella Vista neighborhood, where the historic Italian Market houses 200 independent businesses over ten blocks. Anthony Anastasio, owner of Anthony's Italian Coffee and Chocolate House, represents the fourth generation of his family to make his living on the market. Anthony's great-grandfather immigrated from Sicily to sell seafood in Bella Vista in 1906, and Anthony says Bella Vista has continued to be a "melting pot" for immigrants looking to build a life in America.
Residents of the bustling, urban Bella Vista neighborhood consider all their local businesses an integral part of their community. "They're not just working in the center city and wanting to come back to a desolate neighborhood," Anthony says. "They want to see a vibrant thoroughfare marketplace, seven days a week."
One frequent patron on Facebook affirms that notion, saying she visits Anthony's all the time, on her days off and after work. "Anthony's is where I send people for coffee, for authenticity, for a snippet of Italian-American culture. It's my happy place, and the #1 coffee in the city," she wrote.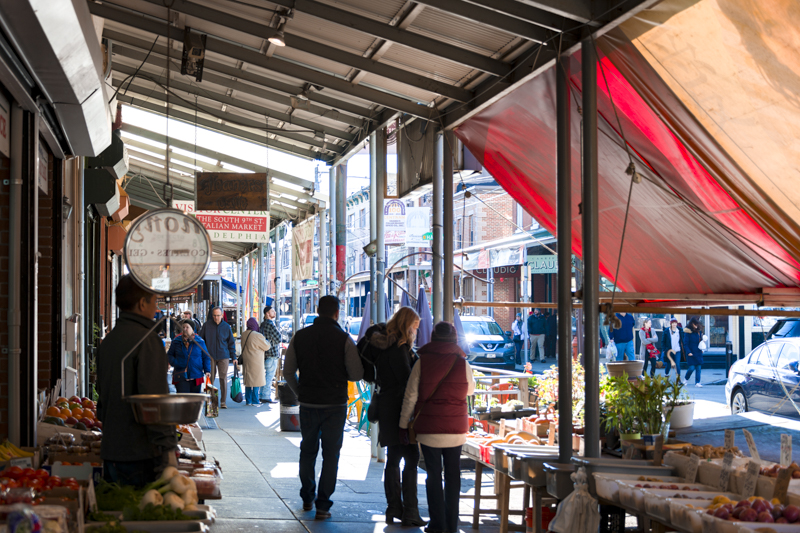 Wildflower Pantry
Kerry Kokkinogenis had lived in Boston's Brighton neighborhood for 16 years when she noticed a gap in grocery access in her community. Other neighborhoods had small, local grocers, but not Brighton. And while farmer's markets were becoming popular, they required her neighbors to visit one market one day, and another market the next—and always during limited hours—to get their local food fix. Her answer was Wildflower Pantry, which she opened just blocks from her home in 2016.
"Very few people have the time and bandwidth to go from market to market to market to get everything they need," Kerry says. "We're combining what's going on all over the region in one place."
It's exactly that how-can-I-help attitude that Brighton locals love about their neighborhood businesses, like Wildflower. "People are friendly and a lot of people know each other by first name. It is a great community," says one resident on What Locals Say. "People help each other out and there are a lot of small business owners who are great within the community."
Not even Kerry realized just how devoted her neighbors were to local foods until she began carrying baked goods from a nearby business that had recently converted from a cafe to a catering service. She says shoppers would visit Wildflower Pantry just to get the treats, "because they knew the women that had run the cafe, and they were excited about continuing to support the business."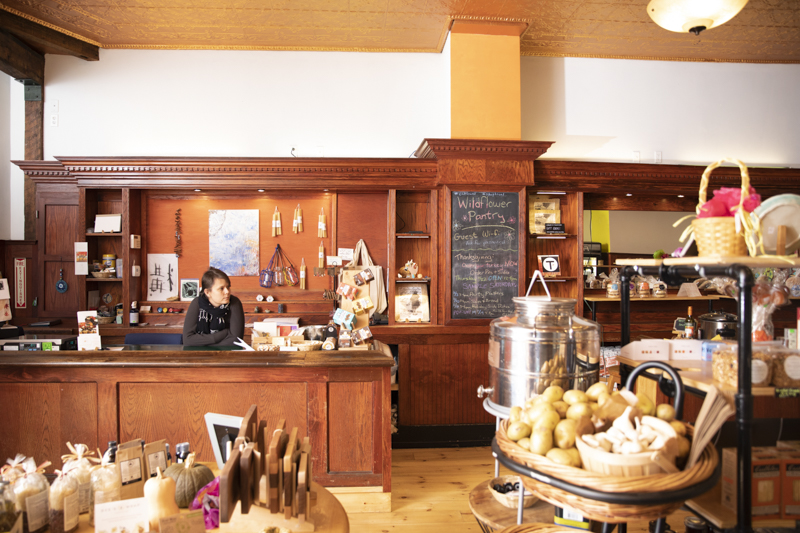 Pesso's Ices and Ice Cream
Bayside, New York City
Along with great schools and a beautiful view of Little Neck Bay, a strong small business community tops Gidon Pesso's list of favorite things about Queens' Bayside neighborhood. "The population here has a very strong attachment to the small mom-and-pop businesses," he says. "They take care of all their day-to-day business and chores in the neighborhood."
In 2004, Gidon joined the local business community by opening Pesso's Ices and Ice Cream, which specializes in Italian-style ices in a multitude of flavors. He says he's proud that his business has become a gathering space for the neighborhood, whether that means kids hanging out in his shop after school or a neighbor asking to post a sign for a lost cat in his window. Gidon gives back by supporting local churches and schools. "We became a real integral part of our immediate neighborhood," he says. "The acceptance was really amazing."
The community feels just as warmly toward Pesso's. "When it comes to Italian Ices, Pesso's is an institution. While they rep the borough proud, there is no doubt this is one of the best establishments of its kind in all of NYC," says one resident on Yelp. "The owner and his family are still very much a part of the business and are gracious with their community."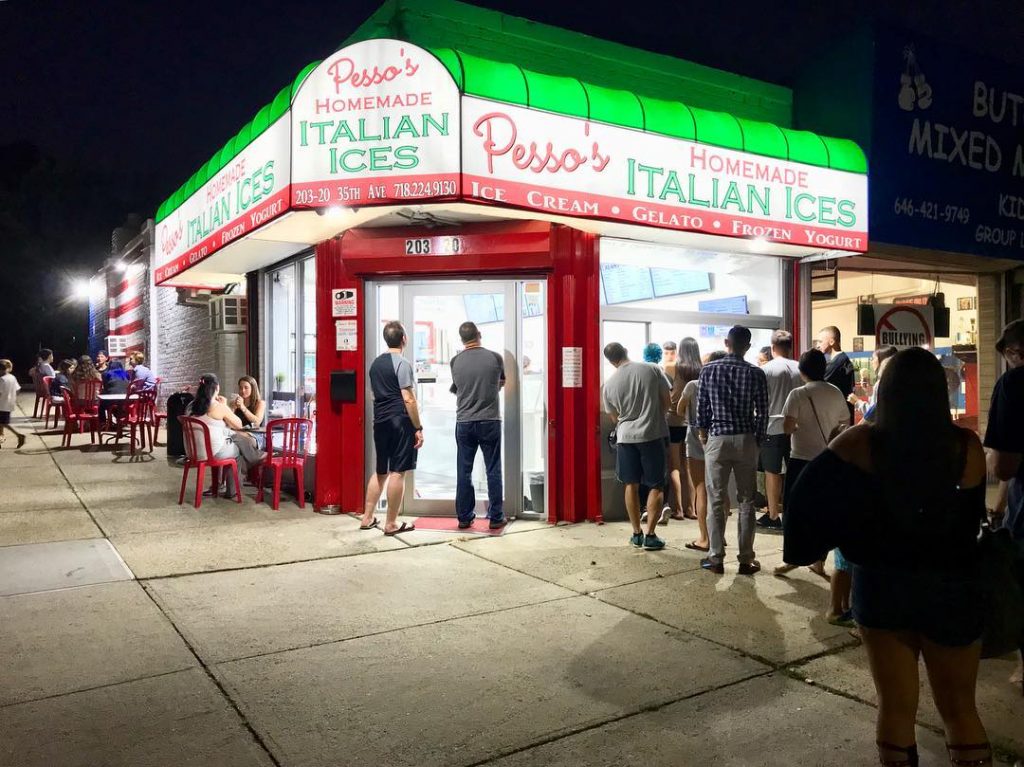 The Soda Fountain
Orlando's College Park neighborhood is a bit of a throwback. Despite being in the big city, College Park is quiet, quaint, safe, friendly neighborhood full of homeowners and their dogs (99 percent of locals say it's a dog-friendly place). Perhaps that's why a throwback small business fits in so well among its historic homes, peaceful lakes, and busy little shopping and dining district.
The Soda Fountain, an ice cream and hot dog shop, has only been open since 2013, but when you step inside, you might assume the place is right out of the 1950s—just like the rest of College Park. A relative newcomer to the neighborhood himself, Venezuela native Carlos Aguilera immediately recognized the of shop's charms when he bought it earlier this year—as well as the sweetness of the neighborhood. "It's very old-fashioned and traditional," he says. "It seems like it's a small town within Orlando."
Locals have embraced Carlos right back. "We love The Soda Fountain! It's our go-to for celebrating great report cards or super effort, or sometimes, just a Tuesday," says one local on the business's Facebook page. "It's a must-visit for any out-of-town guests, because with the friendly staff and hometown vibe, it's what College Park is all about."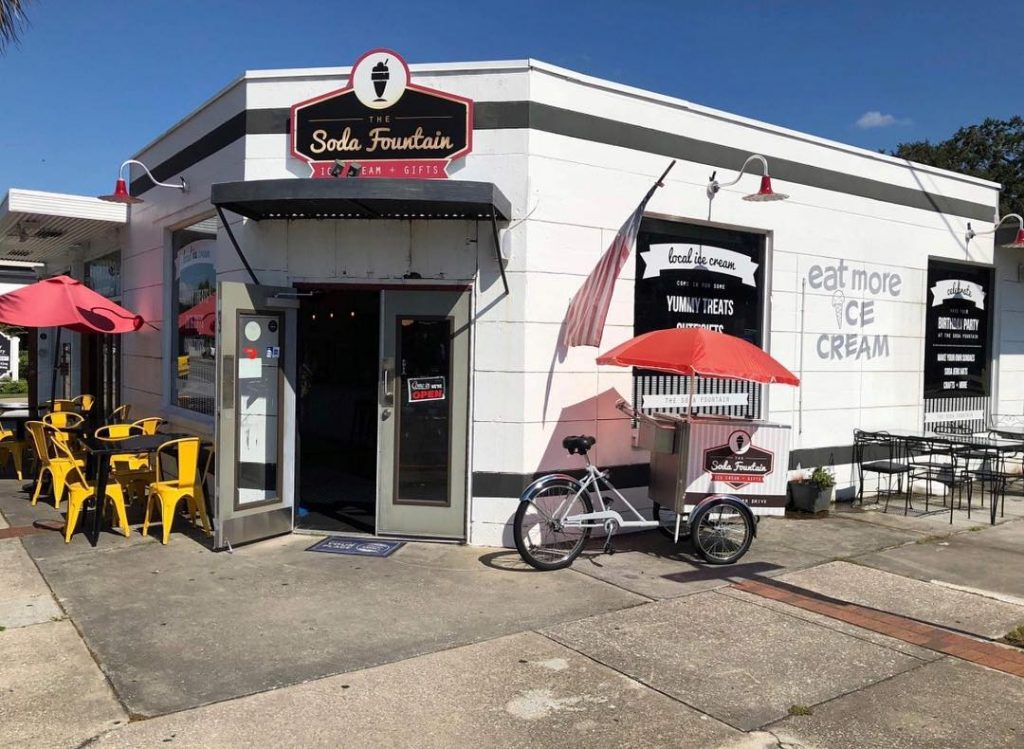 Neighborly
Jenny Beorkrem loves so many things about Chicago's North Center, where she's lived for 13 years. With kids playing, dogs out walking, and unique small businesses within a short walk of everywhere, it's a neighborhood-lovers' neighborhood—something Jenny can attest to personally as the creator of Ork Posters, a neighborhood- and city-map business. Selling her popular maps at craft fairs inspired her to put down roots right in her own neighborhood by opening Neighborly, a shop featuring locally-made, fair-trade, and eco-friendly gifts, art, and lifestyle products.
Neighborly fit right into North Center. Nearby is Ravenswood Corridor, an old industrial corridor that has been repurposed as small artist studios, small manufacturing, and office space. "There's always been a kind of creative undercurrent that stems from that corridor because so many artists set up shop there," Jenny says.
Now that undercurrent runs right through her little shop. "A great addition to the neighborhood run by wonderful people!" wrote one resident on Facebook soon after Neighborly opened.
Jenny and other local business owners have even created Gift Chicago, a promotional campaign directing holiday shoppers to Chicago businesses where they can buy gifts marked with a tag indicating their local origin. "It says so much more when you put that little anecdote on your gift," she says. "You really spent some time on it, were a little more thoughtful about it, and also made the effort to support a local business."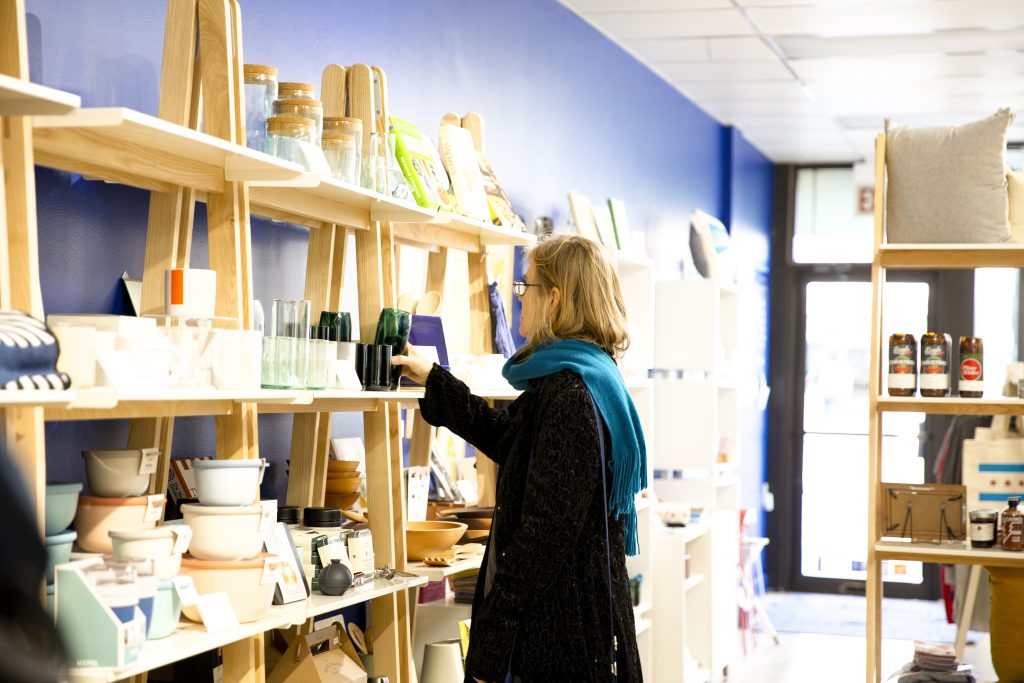 Looking for a neighborhood full of small businesses to love? See what's available in your dream city, here on Trulia.