Sometimes being neighborly means going along to get along. Not making waves. But other times the best way to neighbor is by doing things a little differently. That's how they do it in Boston. The gutsy locals in these neighborhoods work together to make their communities their own. The result? Unique, lively places everyone wants to check out.
Where Neighbors DIY Development
All over the U.S., growing communities become wary of outside developers coming in to capitalize upon their popularity with new, expensive housing that can price out locals. One group of Jamaica Plain residents did more than complain. They accepted that growth was happening, and are shaping it themselves.
The DIY development ethos is decades in the making. In the 1970s, a community nonprofit rehabbed the historic Haffenreffer Brewery and made it a launching pad for future community development. It's now a small business and community hub that is home to 50 business, most minority- or woman-owned. It employs 500 people, and its profits fund the Jamaica Plain Neighborhood Development Corporation's community programming—much of which is centered on affordable housing. That's right. Over the last 40 years, JPNDC has built more than 500 units of beautiful, affordable housing, and has hundreds more in the pipeline.
In 2013, the JPer spirit bled into Robeson Street, where Kevin Batt and three of his neighbors—Barbara Kaplan, Arthur Johnson, Kevin and David Bor, all close friends—found out that a vacant lot on their beloved street was up for sale. Batt says it "had become a place where neighborhood kids played. We had put in a lovely community garden—it was a very special place."
Instead of wringing their hands and worrying about a developer coming in and changing the scale and feel of their neighborhood (not to mention cutting down three dear, century-old oak trees), the friends bought the plot of land themselves.
"This project was truly a family affair," says Thomas Huth, the project architect. "We had to work hard, and creatively, to design a structure that would meld with the architecture of the street, preserve the old oak trees, and provide off-street parking for the new units."
Now, there's a lovely, three-unit townhouse building on their street that complements the existing homes. And those trees are still there, too.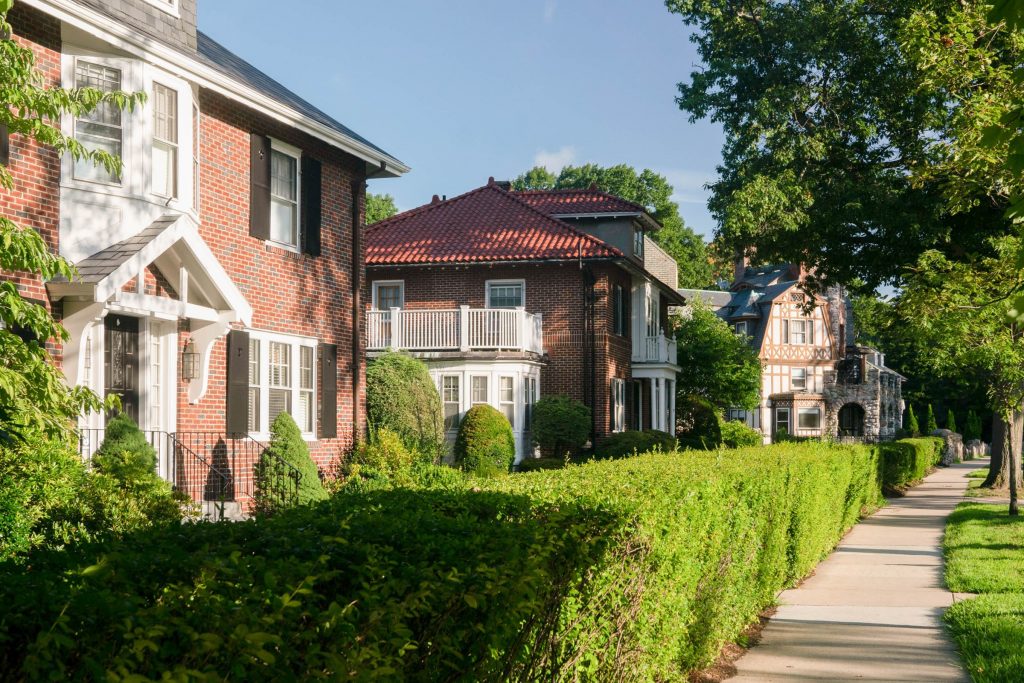 Local Teens Lead Effort to Define Their Culture
In the micro-neighborhood of Hyde Square within Jamaica Plain, a group of activist teens wanted their culture to be officially recognized—JP was, after all, 22.6 percent Latinx in the last census. Their hope? For Hyde Square to be officially designated as Boston's Latin Quarter. And they did it.
The Hyde Square Task Force's youth leadership group spent years lobbying government agencies for the designation, and it paid off big-time. In May of 2018, the Massachusetts Cultural Council Board of Directors voted to designate Boston's Latin Quarter as an official Massachusetts Cultural District, and also bestowed upon it a $100,000 grant through the Our Town Program of the National Endowment for the Arts. The funds will be used to fund future planning for the Latin Quarter Cultural District.
The teens who spearheaded this effort are deservedly thrilled. "For them, having our neighborhood designated as Boston's Latin Quarter would be a way to uplift and celebrate the countless positive contributions that Latinx immigrants have made to our neighborhood," says Barbara Civill, the director of development and communications for the Hyde Square Task Force. "We hope that Greater Boston's Latinx community finds that they can come to Boston's Latin Quarter to connect with their culture. We hope that Boston's Latin Quarter is a place where people from other backgrounds can connect with Afro-Latin arts and culture, perhaps for the first time."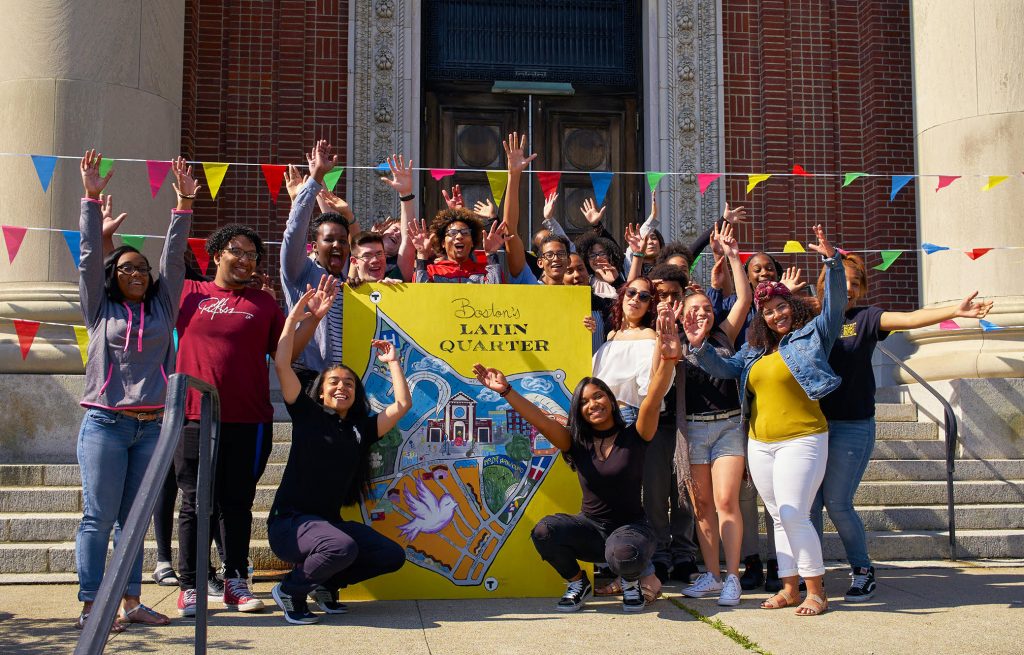 An Artist Fills the Neighborhood With Sunshine
Roxbury is Boston's historically African-American neighborhood, and one resident has been filling its streets with bright and beautiful sunflowers since 2016. Local artist and NOW + THERE Public Art Accelerator Fellow, Ekua Holmes, has been awarded a grant to implement the Roxbury Sunflower Project.
Holmes's inspiration was the way a mural she created—which celebrated Boston's black culture—was received. The colorful work was mounted at Northeastern University in the summer of 2016, and people fell in love with it. Longtime Roxbury residents felt that the project pushed back against gentrification that was minimizing the presence of the black community in their own neighborhood.
For her next project, Holmes decided to—literally—brighten up her neighborhood. She positioned the sunflower as an emblem of modern Roxbury, its people and history with the Roxbury Sunflower Project, and Holmes's goal is to plant 10,000 sunflowers around the neighborhood—and she is getting a lot of help from her neighbors. "Artists deal in the currency of hope," Holmes told the Boston Globe. "We deal in the currency of beauty, and our job is to reflect back to society what we see."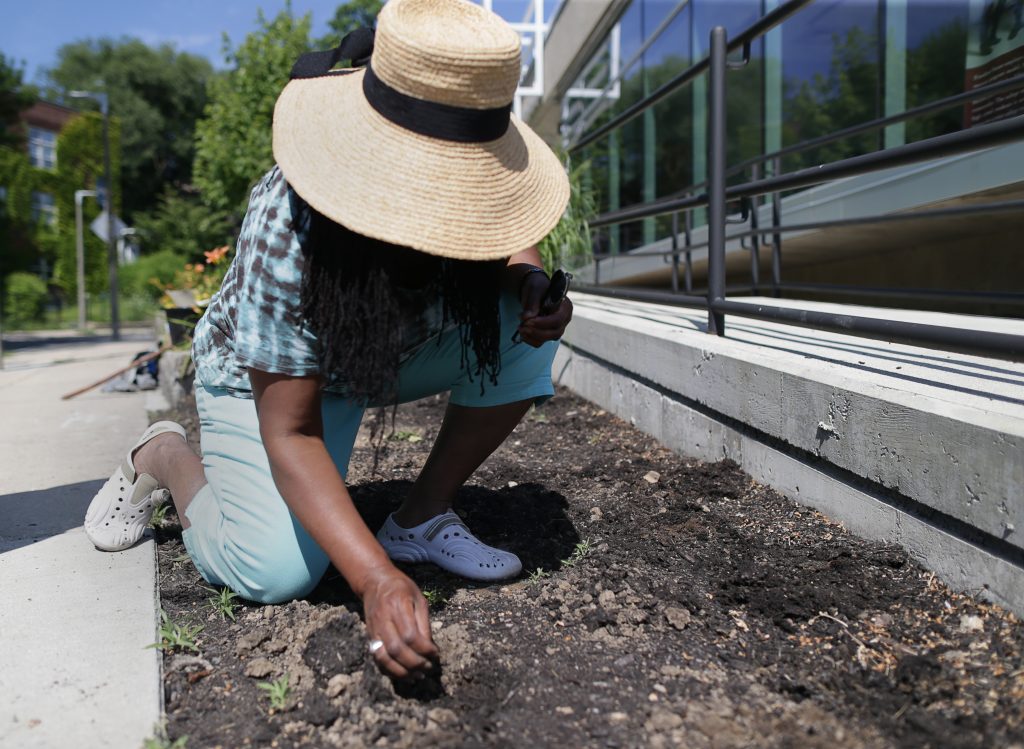 Student Moving Day Brings On Christmas in September
Community cohesion can be hard to build in neighborhoods populated by college students who move away as regularly as they move in. But in Boston's Allston, one tradition has tied the neighborhood together for years (though no one seems certain for how many): Allston Christmas.
Because so many leases begin September 1 in Allston—a neighborhood accessible to both Harvard and Boston University—thousands of students are in transition on the same day. So is their stuff. And from couches to dishes to clothing, much of that stuff is left on the street, free to any takers. The phenomenon has been dubbed "Allston Christmas" by the locals.
True, leaving your garbage on the street isn't typically considered neighborly, and without a doubt, many longtime Allston residents are not supporters of the holiday (it's been called "48 hours of complete chaos"). But others overwhelmingly love it, finding treasures among the trash—a mid-century-modern chair here, a Le Creuset dutch oven there. Thrift-lovers from all over the city swarm Allston looking for the good stuff. And, of course, having a great time doing it.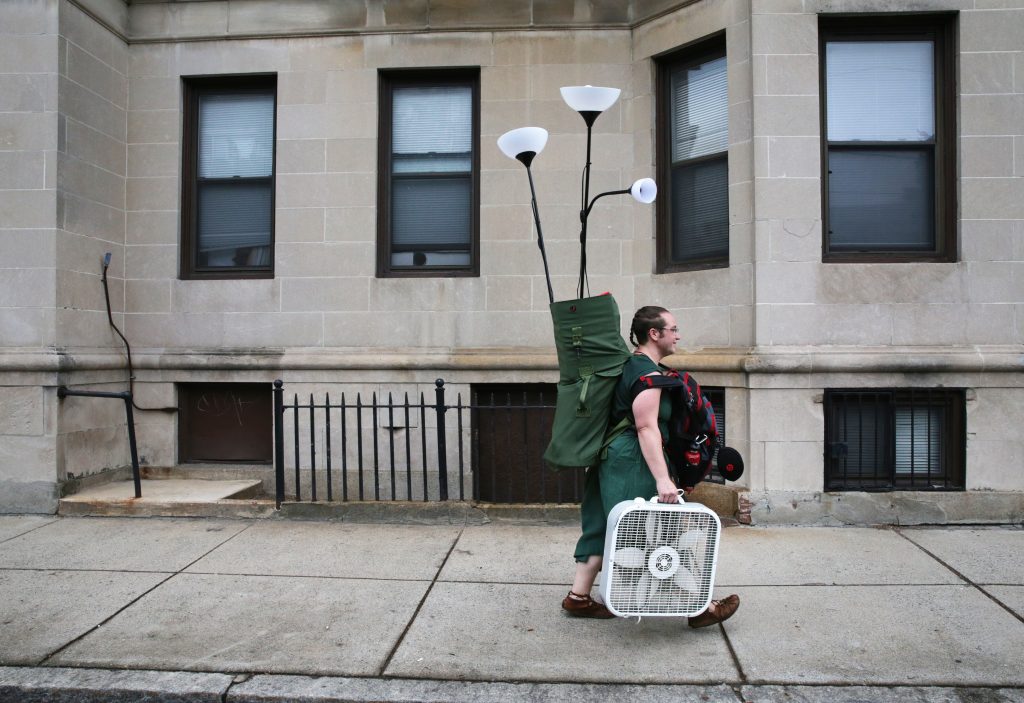 Wondering what it's like in your favorite neighborhood? Scope it out, right here on Trulia.