In honor of Gay Pride month, when New York, Los Angeles, San Francisco, and many others cities across the country hold their annual parades, we wanted to find the gayest neighborhoods across America. No surprise that San Francisco's Castro neighborhood is at the top of the list, but throughout the country there are suburban and small-town neighborhoods with high concentrations of gay people. Even in the big, expensive cities, it's possible to find a gay community without spending a fortune. And the picture looks different for gay men and women, who often cluster in very different neighborhoods even in the same metro.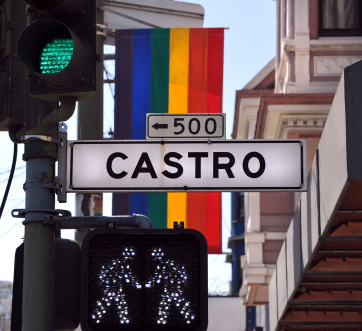 Here's what we did. For each ZIP code in the U.S., we calculated the share of households that are same-sex male couples and same-sex female couples, based on the 2010 Census. Then, we combined the Census data on where gay people live with median price per foot of listed homes in each ZIP code on Trulia over the past year.
(The fine print: The Census doesn't ask sexual orientation, of course, so the only way to measure gay neighborhoods is based on where couples live. The Census data requires some corrections and adjustments, described here. Finally, ZIP codes don't line up perfectly with neighborhoods, but we did our best to use the closest neighborhood names that correspond to the ZIP codes in our analysis.)
America's Gayest Neighborhoods
Overall, the Census reports around 646,000 same-sex households in the U.S., which is just 0.6% of the country's 117 million households. Of the same-sex households, 51% are female couples and 49% are male couples, which means that 0.3% of all households are male couples and 0.3% of all households are female couples. But many neighborhoods have a concentration of same-sex couples more than 10 times that national average.
| | | |
| --- | --- | --- |
| ZIP codes with highest concentration of same-sex male couples | Share of households | Median price per square foot |
| 94114: Castro, San Francisco, CA | 14.2% | 671 |
| 92264: Palm Springs, CA | 12.4% | 146 |
| 02657: Provincetown, Cape Cod, MA | 11.5% | 532 |
| 92262: Palm Springs, CA | 11.3% | 136 |
| 33305: Wilton Manors, Fort Lauderdale, FL | 10.6% | 206 |
| 90069: West Hollywood, Los Angeles, CA | 8.9% | 481 |
| 94131: Noe Valley / Glen Park / Diamond Heights, San Francisco, CA | 7.4% | 564 |
| 75219: Oak Lawn, Dallas, TX | 7.1% | 160 |
| 19971: Rehoboth Beach, DE | 7.0% | 187 |
| 48069: Pleasant Ridge, suburban Detroit, MI | 6.8% | 107 |
The gayest male neighborhoods are a mix of well-known urban neighborhoods (Castro, West Hollywood), less-well-known communities (Wilton Manors, FL; Pleasant Ridge, MI), and vacation areas (Provincetown, Palm Springs, Rehoboth Beach).
The top neighborhoods for women are pretty different.
| | | |
| --- | --- | --- |
| ZIP codes with highest concentration of same-sex female couples | Share of households | Median price per square foot |
| 02657: Provincetown, Cape Cod, MA | 5.1% | 532 |
| 01062: Northampton, MA | 3.3% | 187 |
| 01060: Northampton, MA | 2.6% | 189 |
| 02130: Jamaica Plain, Boston, MA | 2.4% | 304 |
| 19971: Rehoboth Beach, DE | 2.4% | 187 |
| 95446: Guerneville, north of San Francisco, CA | 2.2% | 197 |
| 02667: Wellfleet, Cape Cod, MA | 2.2% | 340 |
| 94619: Redwood Heights / Skyline, Oakland, CA | 2.1% | 230 |
| 30002: Avondale Estates, suburban Atlanta, GA | 1.9% | 97 |
| 94114: Castro, San Francisco, CA | 1.9% | 671 |
Just three neighborhoods — Provincetown, Rehoboth Beach, and the Castro — are on both the men's and women's top lists. The top four women's neighborhoods, including Provincetown, are in Massachusetts. But one of the biggest differences is that the top men's neighborhoods are much gayer than the top women's neighborhoods: just one women's neighborhood breaks the 5% barrier, while five men's neighborhoods have more than 10% same-sex male couples. Remember, there are roughly the same number of male and female couples in the U.S. So, that means that male couples are much more clustered in particular neighborhoods than female couples are: female couples are more likely to be the only ones on their block.
A Gay Neighborhood for (Almost) Every Pocketbook
The top neighborhoods across the country for male and female couples range from top-dollar (the Castro and Provincetown) to downright affordable (Pleasant Ridge, MI, and Avondale Estates, GA. So even if you can't afford West Hollywood or Jamaica Plain, there's a gay neighborhood in your price range somewhere in America. But if work, love, or family means you can't move across the country, and you want a gayer neighborhood in your local market, what are your options? Let's take a closer look at the three metros with the largest gay populations: New York, Los Angeles, and the San Francisco Bay Area.
New York
The neighborhood with the highest concentration of male couples in New York is Chelsea (ZIP 10011, with median price per square foot of $1199), followed by Clinton (10036, $1166) and the West Village (10014, $1210). What if you can't afford a thousand dollars per square foot but still want to live among the gay brotherhood? Look outside Manhattan. Many male couples live in downtown Jersey City (07302, $452), Hunters Point / Long Island City in Queens (11109, $813), and Brooklyn Heights (11201, $727). Even though these neighborhoods are still expensive to anyone unaccustomed to New York prices, they're affordable relative to the gayest parts of Manhattan.
New York's gay women cluster in Brooklyn, especially in Park Slope (11215, $664), Boerum Hill (11217, $647), and Prospect Heights (11238, $539). Those areas are cheaper than most of Manhattan, but still expensive, especially since women, on average, earn less than men. Just up the Hudson in suburban Rockland County, though, more affordable Nyack (10960, $266), Piermont (10968, $316), and Valley Cottage (10989, $206) all have significant concentrations of female couples.
Los Angeles
The gay center of LA for men includes two zip codes in West Hollywood: roughly from Doheny Drive to Sweetzer (90069, $481) and from Sweetzer to La Brea (90046, $465), as well as the Hollywood Hills (90068, $410). By Los Angeles standards these are expensive areas, though New Yorkers might not think so. Much more affordable, and still very gay relative to the rest of the region, is Signal Hill (90755, $200), a small city surrounded by Long Beach, about 30 miles south of West Hollywood.
Long Beach also hosts the six neighborhoods with the highest concentrations of female couples in the LA area. The top three are Belmont Heights (90814, $278), Plaza / South of Conant (90808, $299), and Eastside (90804, $207) – all of which are far less expensive than West Hollywood.
San Francisco Bay Area
San Francisco sports the gayest neighborhood in America for men: the Castro (94114, $671). The next-highest concentrations of male couples in San Francisco are Noe Valley / Glen Park / Diamond Heights (94131, $564) and the Haight-Ashbury / Cole Valley / Panhandle area (94117, $637). To get much below $500 per square foot and still have gay-male neighbors, look to Brisbane (94005, $311), just south of San Francisco.
The women are across the Bay. Most of the gayest neighborhoods for women in the Bay Area are in Oakland, including Redwood Heights / Skyline (94619, $230), Upper Dimond / Glenview (94602, $291), Bushrod / Temescal (94609, $281), and Rockridge (94618, $378) plus nearby West Berkeley (94702, $359). Two San Francisco neighborhoods are also among the top for women: the expensive Castro (94114, $671), and the slightly more affordable Mission (94110, $539).
In each of the three largest gay communities in America, men and women cluster separately and far away from each other. The gay version of "Men are from Mars, Women are from Venus" would have men from Manhattan, West Hollywood, or San Francisco, and women from Brooklyn, Long Beach, and Oakland. In other metros, too, gay men and women tend to separate. In Washington DC, for instance, central Logan Circle and Dupont Circle have the highest concentration of male couples, whereas women cluster in suburban Takoma Park, MD, and parts of Alexandria, VA.
Across these metros and the U.S. overall, the common pattern is that gay men tend to live in more expensive areas. The typical same-sex male couple lives in a ZIP code with a median price per square foot of $208, compared with $139 for same-sex female couples and $127 for all households. Why are gay couples – especially male couples — in expensive neighborhoods? A big reason is that same-sex couples are less likely to have kids: 10% of same-sex male couples and 24% of same-sex female couples have kids in the house, compared with 41% of all married and unmarried couples. Couples without kids need less space and therefore are better able to afford desirable, expensive urban neighborhoods, as one academic paper found. At the same time, gay men contribute to the gentrification of many urban neighborhoods: another academic paper showed that home prices rise faster in neighborhoods with higher concentrations of gay couples. But even the most expensive big cities have relatively affordable neighborhoods for gay couples. Happy Pride!