In America's most expensive housing markets, homebuyers have a hard time finding their sweet spot.
It's tough to find relatively affordable neighborhoods with short commutes, schools, low crime and some decent restaurants.
We examined the nation's 100 biggest metros to find the neighborhoods that offered the best value for first-time buyers. To do this, we generated a neighborhood value score that takes into account not only the cost to live in a neighborhood, but also the level of amenities it offers. More specifically, we used listing prices and our measure of entry-level affordability, then added school information, crime statistics, commute times and other neighborhood amenities such as restaurants.
The result: we found reasonably priced neighborhoods that offered the best combination of price and livability even in the most expensive metros including New York, San Francisco, Seattle and Washington.
To be clear: these are not the cheapest neighborhoods in each of the metros. Trulia offers affordability maps for most big U.S. cities. Instead, our best value neighborhoods reflect the best bang for your buck. To make our list, neighborhoods had to score well in our categories, and even those that did were cut from our list if they had outliers such as high crime, but that doesn't mean they don't come with flaws. Some are near freeways and airports and may be noisy. Others are far away from city centers where commutes are longer.
Among our findings:
The best values in the San Francisco metro aren't in San Francisco itself but just south of the city in Redwood City, Calif., where the Palm Park, Roosevelt, Redwood Oaks and Woodside Plaza neighborhoods capture the top four spots for value.
In greater Seattle, Burien, Wash., offers the top two value neighborhoods, Gunthers Highland View and Gregory Heights, but there are also a few in the city limits including North Beacon Hill and Pinehurst.
In the New York metro, the Ludlow neighborhood in Yonkers, N.Y., is No. 1, but outer borough neighborhoods Woodlawn Heights, Pelham Gardens and Westerleigh offer value in the city.
To see the best value neighborhoods in the biggest U.S. housing markets, you can enter the metro name in the map below.
San Francisco's Best Value Neighborhoods Aren't In San Francisco
The Redwood City neighborhoods that rank high on our list scored high for a multitude of highly-rated restaurants, low crime and a short commute – just 30 minutes on the Caltrain commuter train to downtown SF or an even shorter commute to Silicon Valley. Unfortunately, those amenities will cost homebuyers. The median home values range from $1.1 million to $1.4 million: prices fueled by a tech boom and high paying jobs at Google Inc. and Facebook Inc. nearby. While it is true San Francisco's median home value is $1.2 million, remember: we measured value, not just affordability.
Rounding out our top 10 are three neighborhoods in Burlingame, Calif., another suburban small town south of the city, the Sugarloaf neighborhood in San Mateo, Calif., and Farm Hill in Redwood City.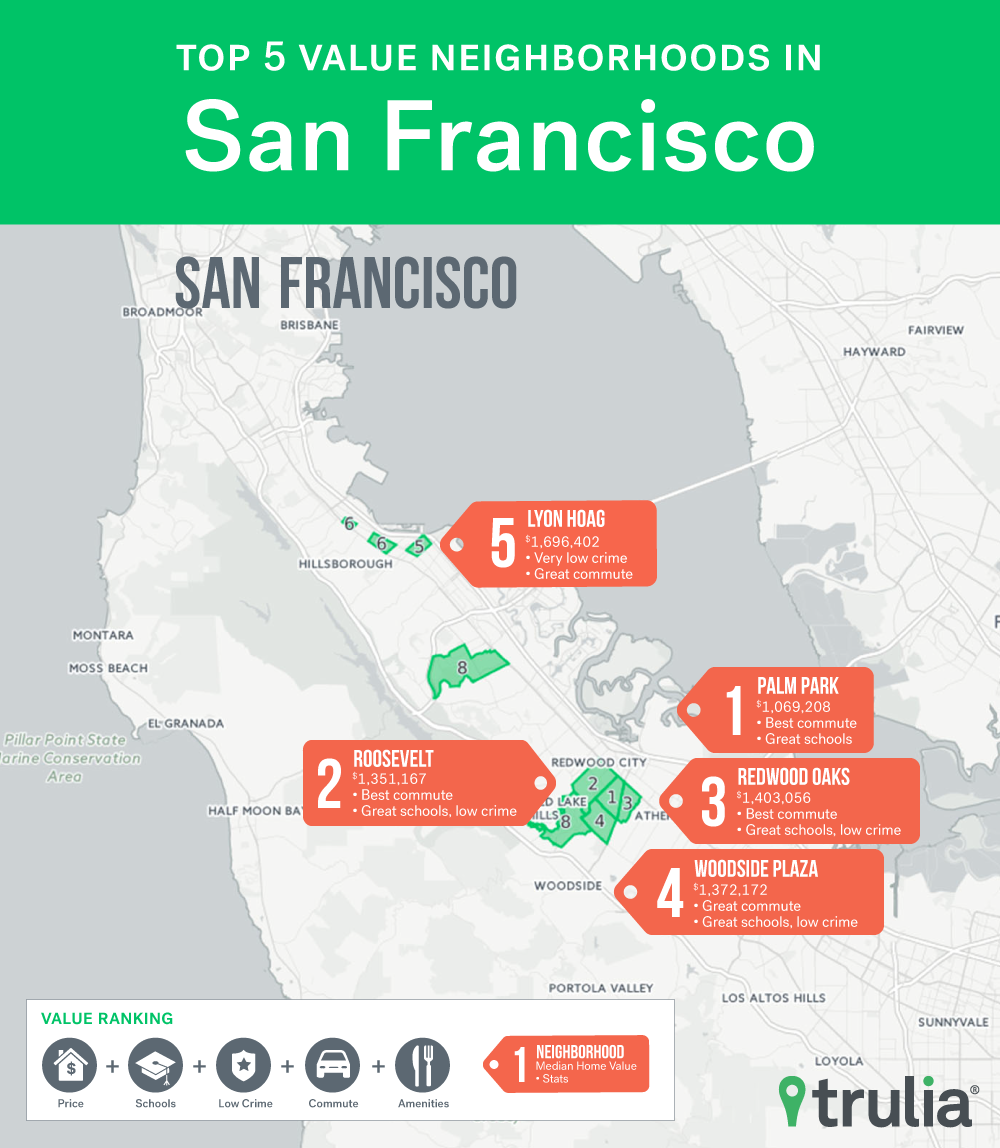 San Francisco's 10 Best Value Neighborhoods
Rank
City
Neighborhood
Affordability Score
Restaurant Score
Commute Score
School Score
Crime Score
Median Home Value
1
Redwood City
Palm Park
7
5
10
9
8
$1,069,208
2
Redwood City
Roosevelt
6
4
10
8
8
$1,351,167
3
Redwood City
Redwood Oaks
5
4
10
8
8
$1,403,056
4
Redwood City
Woodside Plaza
6
2
9
8
8
$1,372,172
5
Burlingame
Lyon Hoag
4
7
8
4
9
$1,696,402
6
Burlingame
Burlingame Village
5
8
8
1
8
$1,494,395
6
Burlingame
Burlingame Terrace
4
7
7
2
10
$1,585,736
8
San Mateo
Sugarloaf
5
2
8
4
10
$1,513,982
8
Redwood City
Farm Hill
4
1
8
8
8
$1,560,440
Staten Island and The Bronx Offer Good NYC Metro Opportunities
The Ludlow neighborhood in Yonkers, N.Y., ranked high for its low crime, schools and restaurants. It also offered real affordability with a median list price of $463,401.
Other great values are in the outer boroughs of New York City. Woodlawn Heights and Pelham Gardens in the Bronx, Westerleigh on Staten Island, Glendale and Woodhaven in Queens – all made our list, helped by their access to the city's public transportation and median home values of about $500,000 – considerably less than the $657,900 median home value for the greater NYC metro.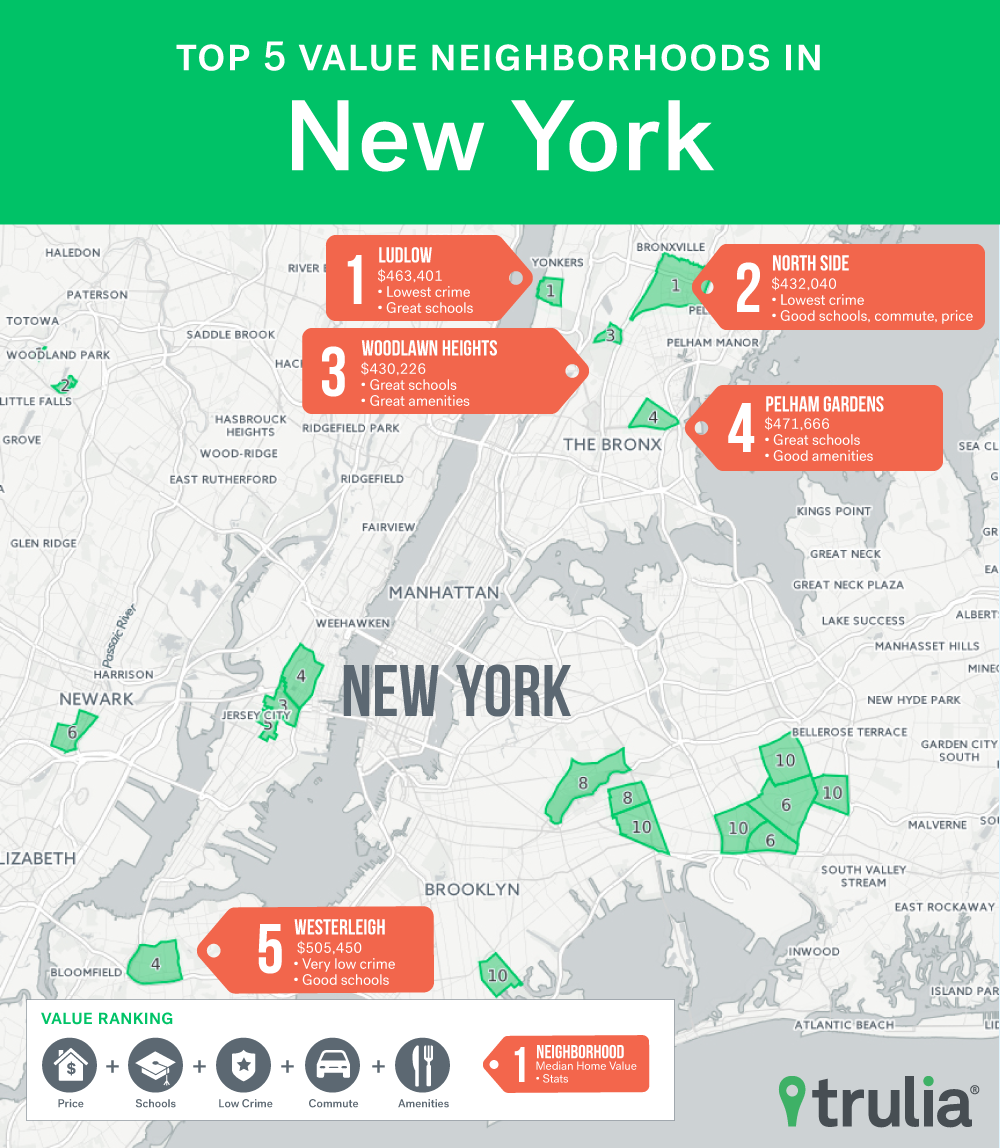 Avondale, Arlington and DC's Kingman Park Are Tops in U.S. Capital
The nation's capital has a variety of value neighborhoods to the north and south of the District of Columbia. And it even has one, Kingman Park, in the district. Leading our list is University Park in Avondale, Md. The neighborhood ranks high for schools and low crime and has a median list price of $455,189. The median listing price in Washington is $558,500.
To the southwest, Farlington-Shirlington in Arlington, Va., ranks high mostly for value, the median list price is $408,376. In the city, Kingman Park with good restaurants and schools ranks No. 2 overall with a median list price of $520,423.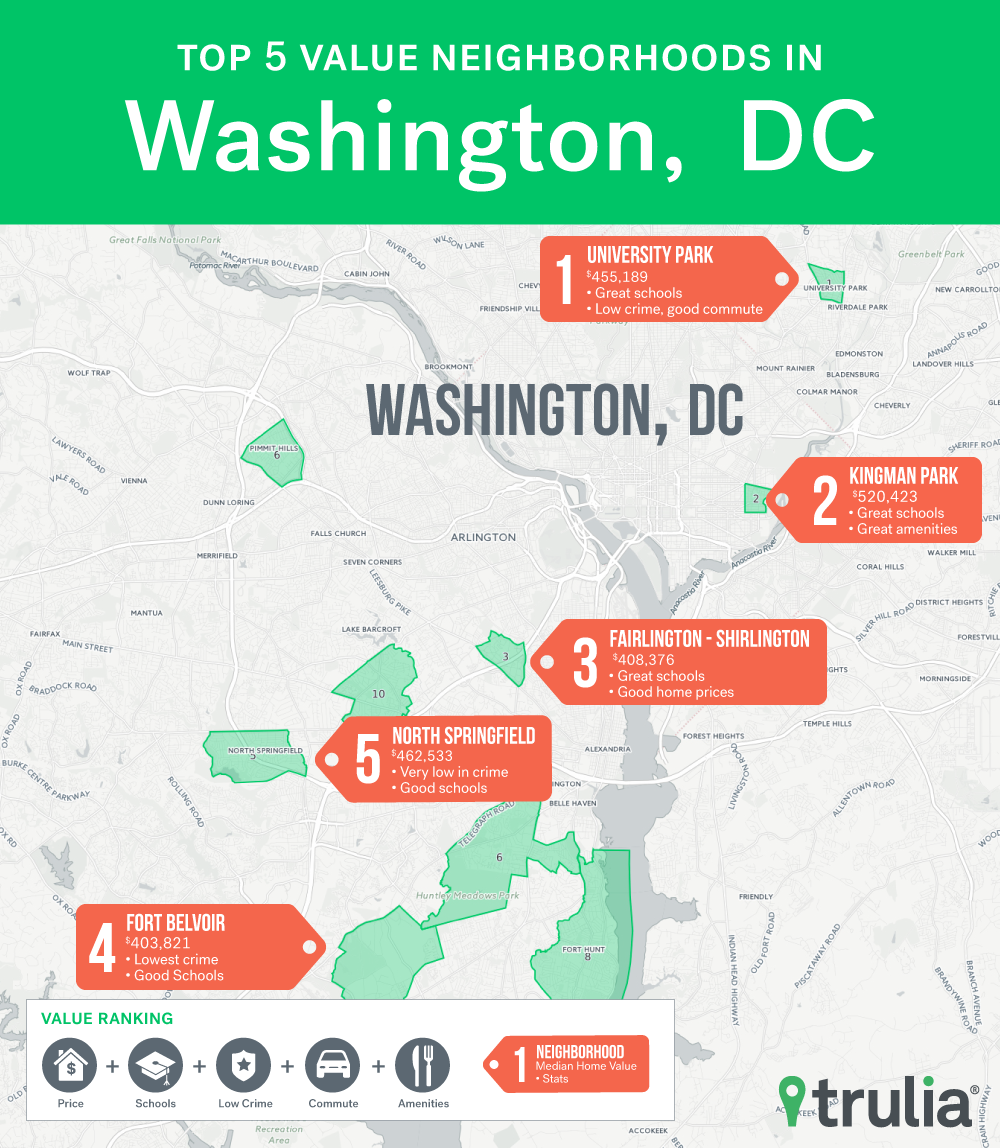 Washington's 10 Best Value Neighborhoods
Rank
City
Neighborhood
Affordability Score
Restaurant Score
Commute Score
School Score
Crime Score
Median Home Value
1
Avondale
University Park
6
6
7
9
7
$455,189
2
Washington
Kingman Park
5
8
7
8
6
$520,423
3
Arlington
Fairlington – Shirlington
7
5
6
8
6
$408,376
4
Fort Belvoir
Fort Belvoir
7
1
6
6
10
$403,821
5
North Springfield
North Springfield
6
2
5
7
9
$462,533
6
Alexandria
Groveton
6
2
4
10
10
$443,506
6
Pimmit
Pimmit Hills
5
4
6
2
9
$523,434
8
Broadlands
Broadlands
4
3
5
2
10
$604,847
8
Washington
Fort Hunt
4
1
4
5
10
$676,120
10
Washington
Lincolnia
6
3
4
7
9
$467,393
Melrose Vista Is Miami Metro's Best Value
Miami has been one the nation's biggest boom-to-bust housing markets. The median home value is $298,300, the median list price is $435,000 and trending lower.
By our analysis the best value in this often turbulent market are the Flamingo Park and Riverland Village neighborhoods of Melrose Vista, Fla. In short, these neighborhoods have schools – that scored near the top of our rankings – and relatively low crime.
Three neighborhoods in Fort Lauderdale, Fla.: Bal Harbour, Flagler Heights and Poinsetta Heights also made our top 10. They had low crime and were affordable.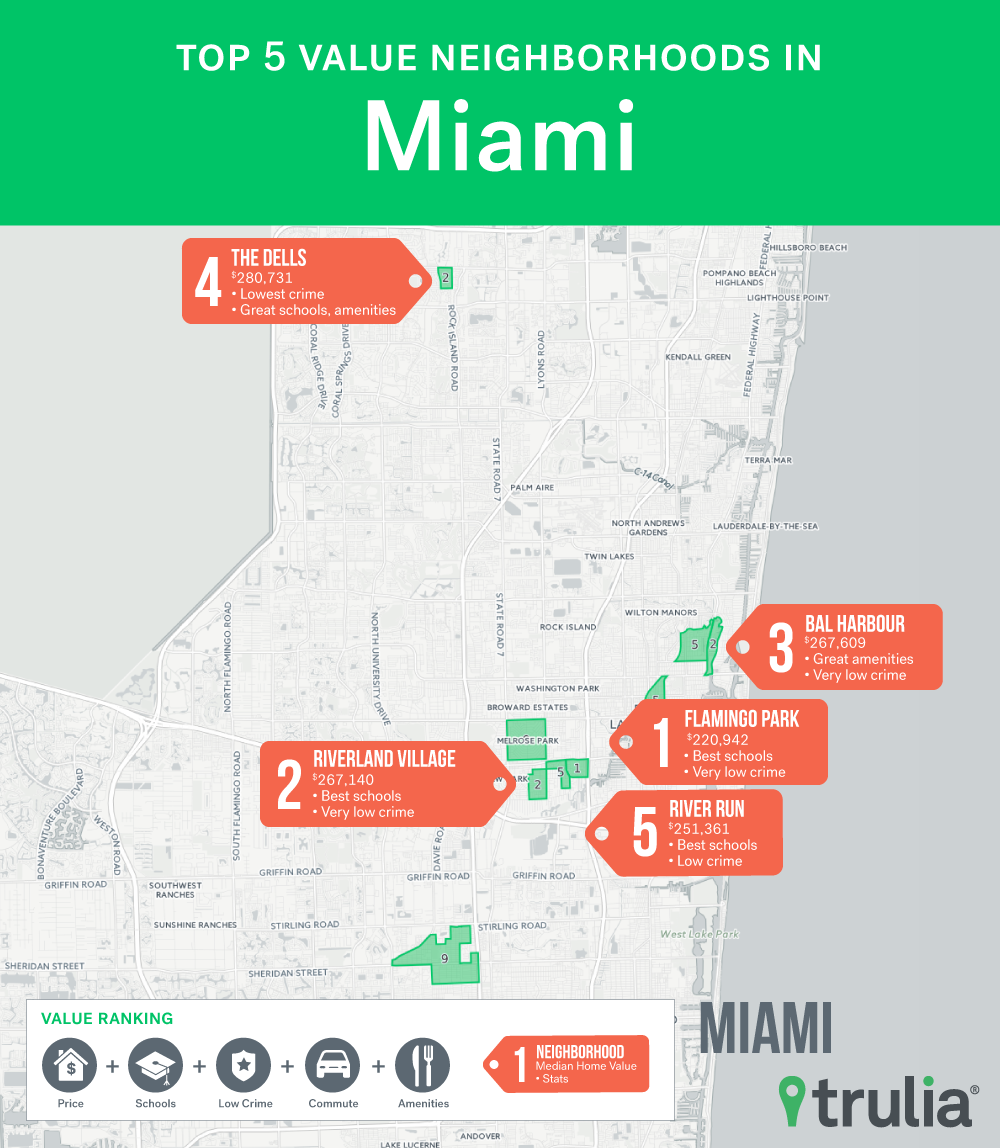 Miami's 10 Best Value Neighborhoods
Rank
City
Neighborhood
Affordability Score
Restaurant Rank
Commute Rank
School Rank
Crime Rank
Median Home Value
1
Melrose Vista
Flamingo Park
7
5
7
10
9
$220,942
2
Melrose Vista
Riverland Village
6
5
6
10
9
$267,140
2
Fort Lauderdale
Bal Harbour
6
9
8
5
8
$267,609
2
Coral Springs
The Dells
6
8
4
8
10
$280,731
5
Melrose Vista
River Run
6
6
6
10
7
$251,361
5
Miramar
The Villages of Renaissance
6
7
6
7
9
$279,440
5
Fort Lauderdale
Flagler Heights
6
9
5
7
8
$284,848
5
Fort Lauderdale
Poinsettia Heights
4
9
7
5
10
$368,278
9
Hollywood
Driftwood
7
5
6
7
9
$234,576
9
Melrose Vista
Melrose Park
7
4
5
10
8
$214,849
In Chicago, Value Neighborhoods For White Sox and Cubs Fans
We begin our discussion of Chicago with a little bit of a disclaimer. That is, most of Chicago is relatively affordable. The median home value is $222,000. The median list price is $295,000. And when we ran the numbers we found that Chicago neighborhoods didn't vary all that much. There were nice neighborhoods that were expensive. There were less-attractive neighborhoods that cost less.
To find the real value we had to venture out past the "L" to deep into Cubs and White Sox country. The North Side town of Palatine, Ill., has two neighborhoods that top our list are. Fairgrounds Park and Palatine Manor ranked high for great commutes and low crime.
On the South Side, White Sox boroughs like Camino Re'al (great restaurants, low crime) in Orland Park, Ill., and Oakside (good schools, short commutes) in Oaklawn, Ill., made our top 10.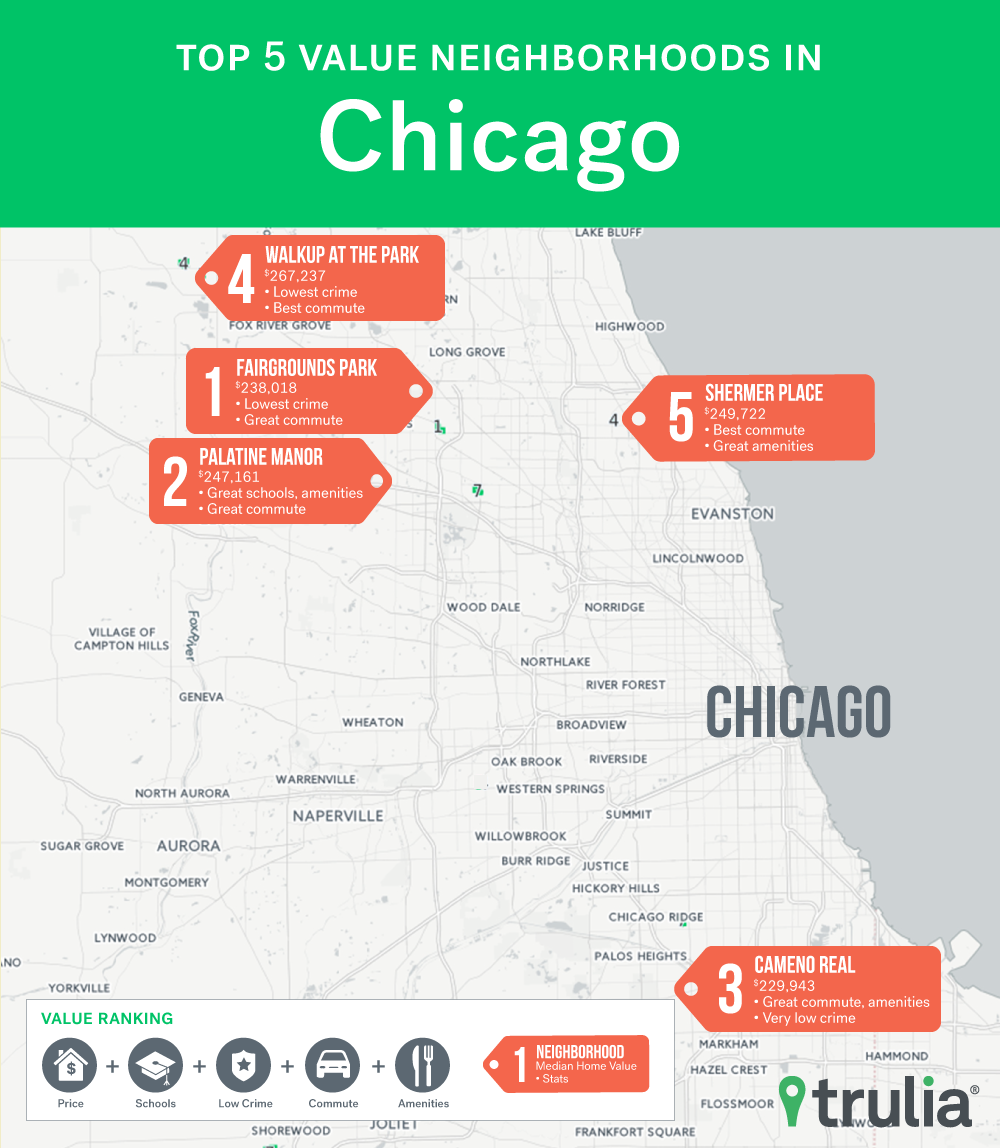 Chicago's 10 Best Value Neighborhoods
Rank
City
Neighborhood
Affordability Score
Rest-aurant Score
Commute Score
School Score
Crime Score
Median Home Value
1
Palatine
Fairgrounds Park
7
8
9
8
10
$238,018
2
Palatine
Palatine Manor
7
8
9
8
8
$247,161
2
Orland Park
Cameno Real
7
9
9
6
9
$229,943
4
Crystal Lake
Walkup at The Park
6
6
10
7
10
$267,237
4
Northbrook
Shermer Place
7
9
10
5
8
$249,722
4
Downers Grove
First Liberty Park
7
8
9
8
7
$226,799
7
Shorewood
Kipling Estates
6
10
7
6
9
$265,640
7
Downers Grove
Liberty Park of Downers Grove
7
7
10
7
7
$225,659
7
Arlington Heights
Arlington Heights Garden
6
7
6
9
10
$263,773
7
Oak Lawn
Oakside
7
7
6
10
8
$226,223
7
Village of Lakewood
Talcott Glen
6
6
9
7
10
$294,207
For this analysis we utilized Maponics 2.x neighborhood data as our base geographic dataset. We refined these by only including the 'N' subtype, which best suited our needs of neighborhoods of a certain size.
Using Trulia local data, along with Trulia home value estimates, we ranked each neighborhood along 6 vectors:
– Starter Homes (defined as % of homes that would take up between 25%-31% of a starter homebuyer's household income.)
– Median price per square foot (Zillow)
– Restaurant Count (from Yelp) within ½ mile, with rating and review aggregate.
– % of residents who have a 30-minute commute or longer (Census)
– School information (GreatSchools, Maponics)
– Reported Crime (Spot crime, crime reports)
Each of these variables were aggregated then ranked at the neighborhood level for each Metro in a Geographic Information System. Then the rankings were added into an overall score. These were then ranked (again within the metro) to produce the final top 10 starter neighborhoods where crime is relatively low, homes relatively affordable, an array of restaurants is within reach, schools are well rated, and commutes that were competitive with others in the metro.