It's no secret: New York real estate isn't exactly known for its affordability. Perks and plusses may include living on the same block as your childhood idol or a celeb chef-run restaurant, but the resulting first-of-the-month minuses in your bank account often cancel that out.
Just to put the price of posh in perspective, we've rounded up some huge apartments in other cities that are on par with a starter space in NYC. (Based on Trulia rental listings from May 1 to August 28, 2015, the median rental price for a studio apartment in New York is about $2,595 per month.)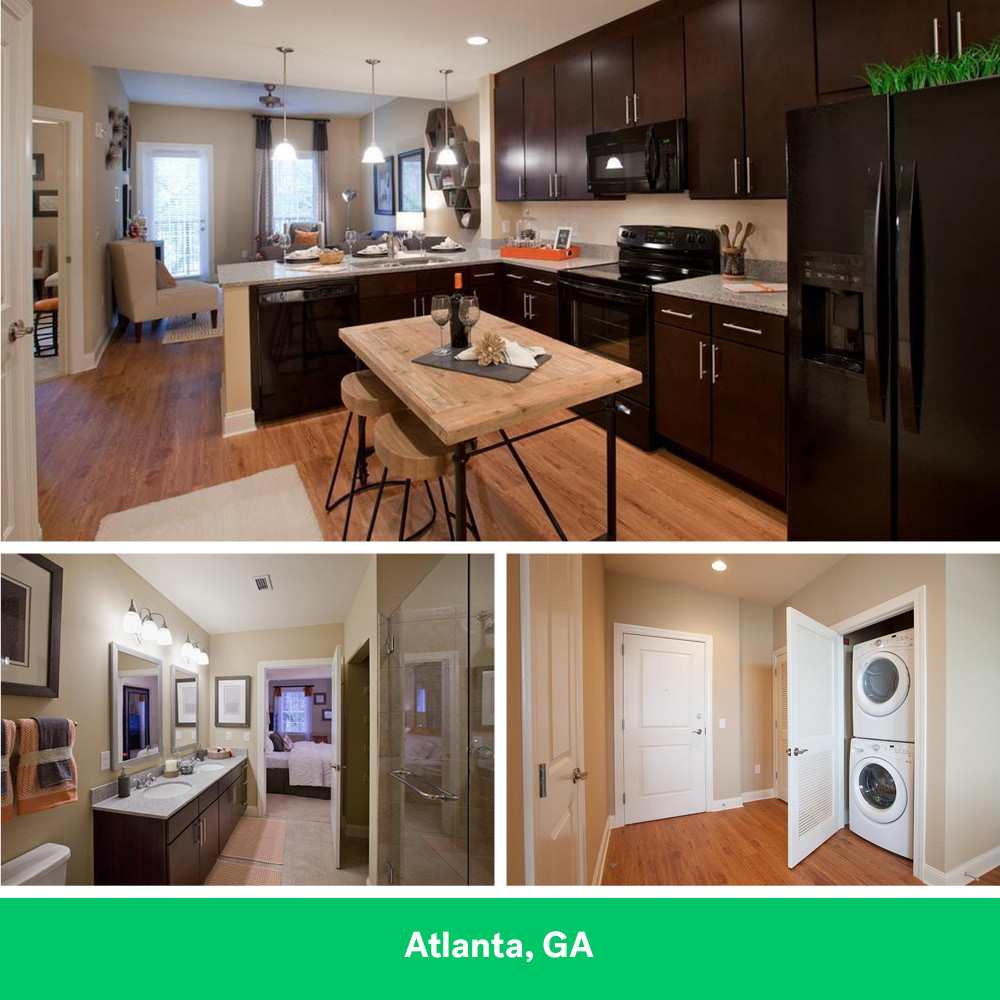 1. $2,750 in Atlanta, GA (see more apartments for rent in Atlanta)

Atlanta's star on the real estate map has certainly been on the rise — and those looking for the lap of luxury at a reasonable price won't be disappointed. Case in point? The Rocca, which gives tenants the best of Old World and New: a sleek, high-rise feel and more than 2,000 square feet, featuring three bedrooms and two baths.
Get your visual caffeine fix from luxurious espresso cabinets, or take it easy in the soaking tub, walk-in shower, and private balcony (the city views are breathtaking). The community also boasts a saline pool, sports lounge, and pet spa — Southern hospitality even includes four-legged friends.
When you venture out to the city's top spots — Chop's Lobster Bar, Canoe Atlanta, and Phipps Plaza are just stone's throws away — you'll have everything you need at your fingertips.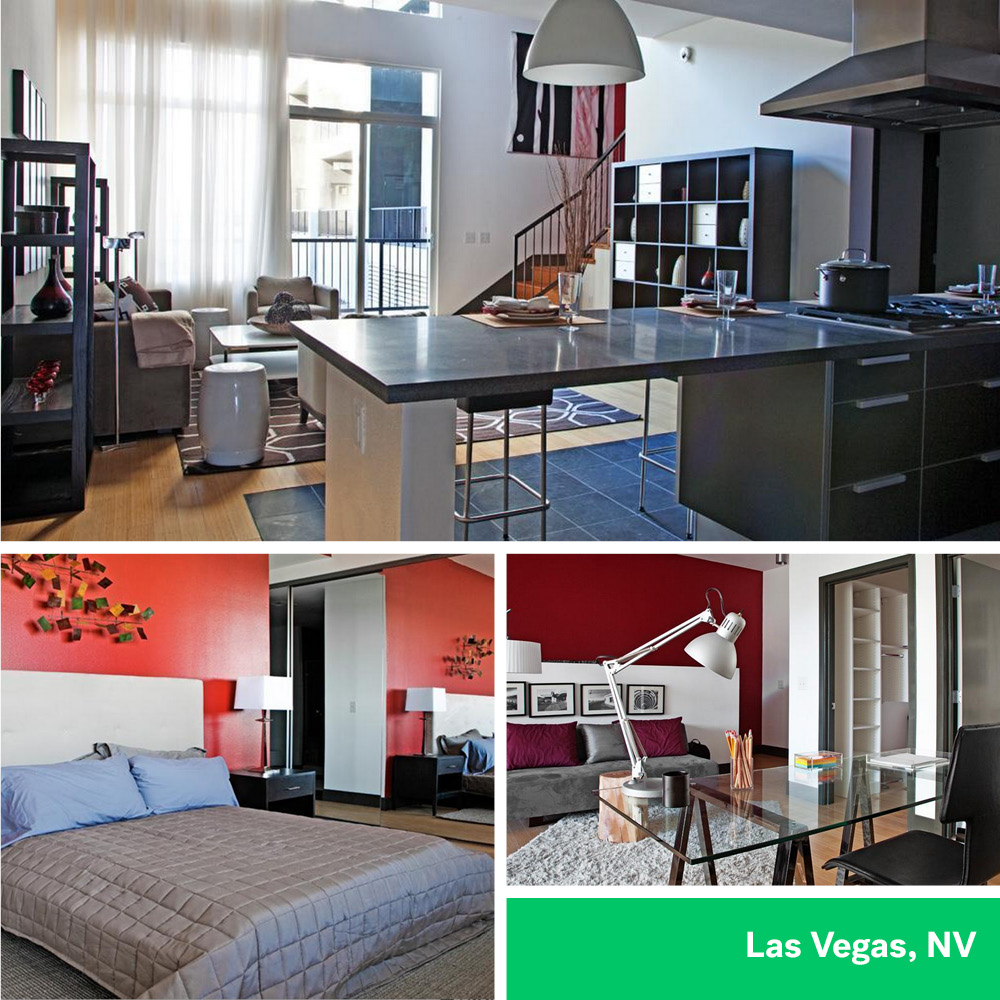 2. $2,500 in Las Vegas, NV (see more apartments for rent in Las Vegas)

Vegas may be the place to go to test one's luck, but this luxury condo is a sure bet. Space is certainly not an issue, with 20-foot ceilings, three bedrooms, three and a half baths (this pad will probably make you popular with visitors), and a balcony.
The city of slick talkers, toys, and deals naturally should only be expected to take the same approach to design, with floor-to-ceiling windows, bamboo hardwood, and granite countertops.
Take a dip in the pool, get LV-strip-ready at the gym, or just take in the sounds and sights — your neighbors are the gorgeous greens of the Wynn Golf Club. Don't leave something this good up to chance.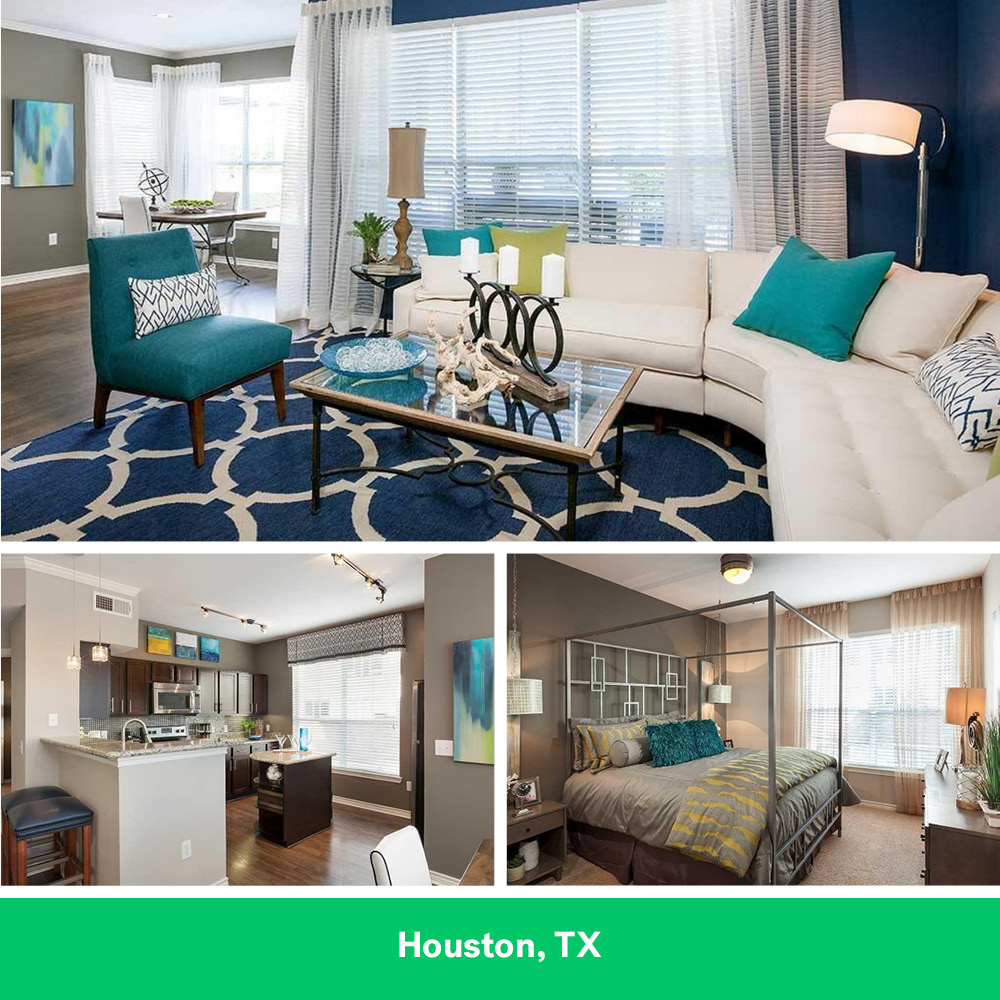 3. $2,670 in Houston, TX (see more apartments for rent in Houston)

For those in the know, Houston has something for everyone — shopping, four-star dining, sports, and a polished take on Southern style. Also sure not to disappoint: the Mali Memorial Heights. Perched just 1 mile above the downtown Houston scene, it does way more than keep up with the Joneses.
More than 1,800 square feet of prime real estate are stocked with the goods that apartment dreams are made of: Washers and dryers (legends of NYC-based apartment living), garden tubs, and an active keep-the-city-green initiative take the guilt out of living like royalty.
Everything might be bigger in Texas — and this apartment layout won't dispel that rumor — but your humbly priced abode means that the cost to you won't have to follow suit.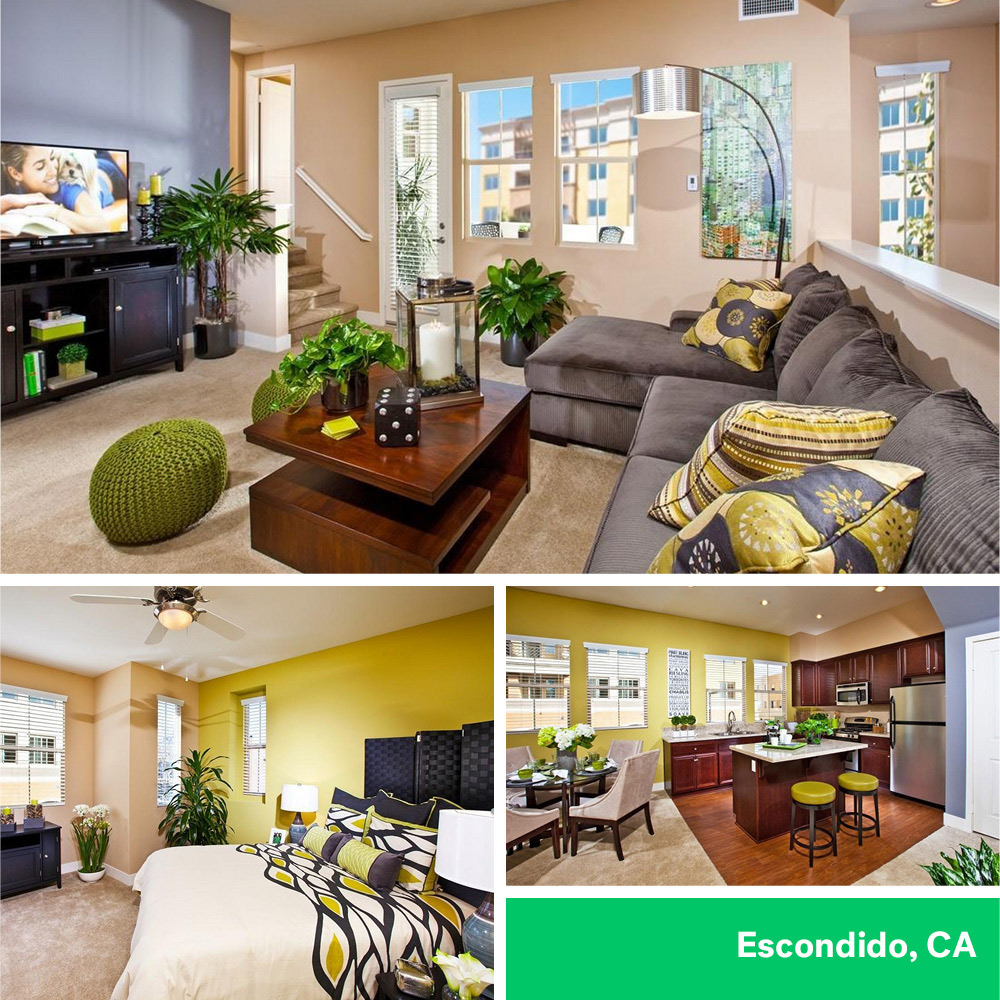 4. $2,550 in Escondido, CA (see more apartments for rent in Escondido)

It's no wonder that Latitude 33 is on our map. The granite countertops, roomy decks, and three-bed, two-bath setup are noteworthy in any ZIP code. This new 'hood also offers all the bells and whistles: a spa in their own backyard, with an outdoor fireplace and barbecue, fitness center, and game room.
West Coast living is known for its claim to Zen-like environs and lifestyles, and this building has a price that will keep you cool, calm, and collected.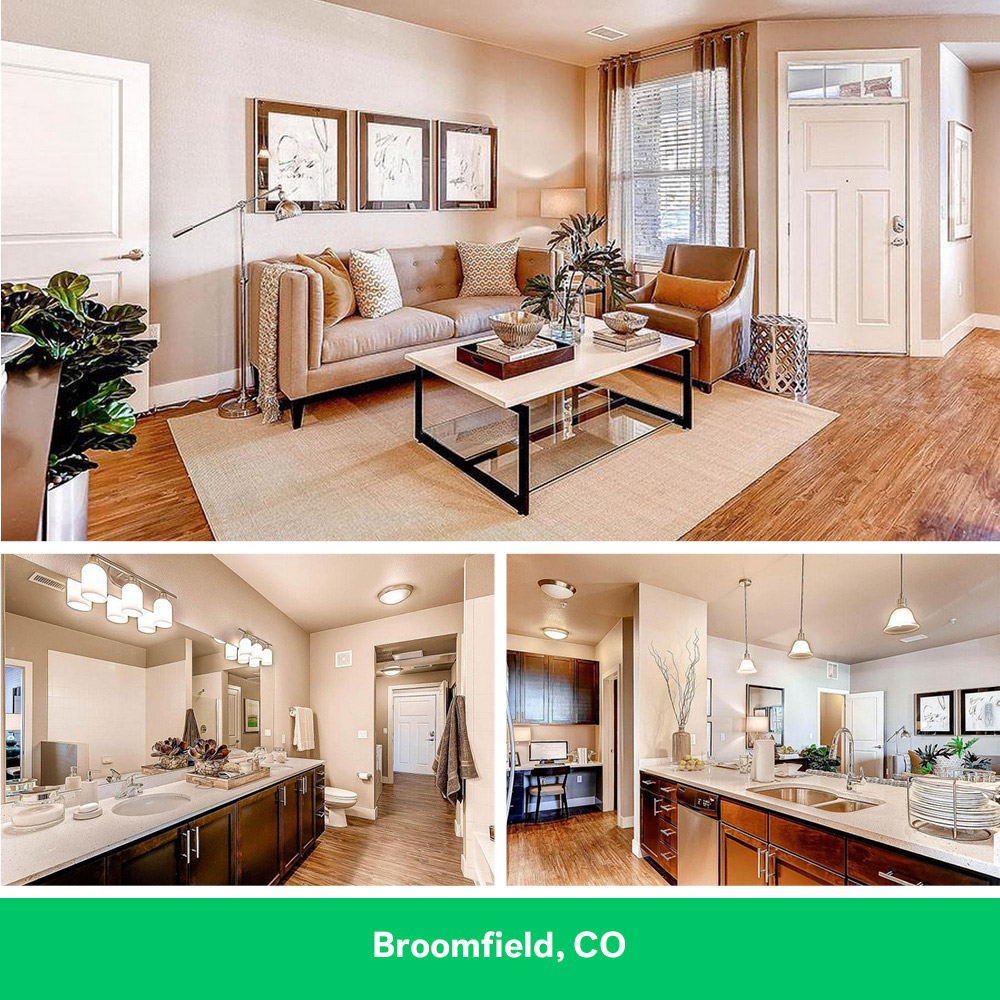 5. $2,670 in Bromfield, CO (see more apartments for rent in Broomfield)

In this case, it is all in a name, and Retreat at the Flatirons is the place to keep a cool head and an even cooler bank account. It's nestled between Denver and Boulder, one an on-the-rise big city and the other a charming college town. Your warm, woody home here was bound to feel like a getaway.
Modern 9-foot ceilings, sleek stainless steel appliances, oversized tubs, and walk-in closets are a convenient (and good-looking) reminder that living in your very own slope-side sanctuary may make the desire for a "major" getaway a thing of the past.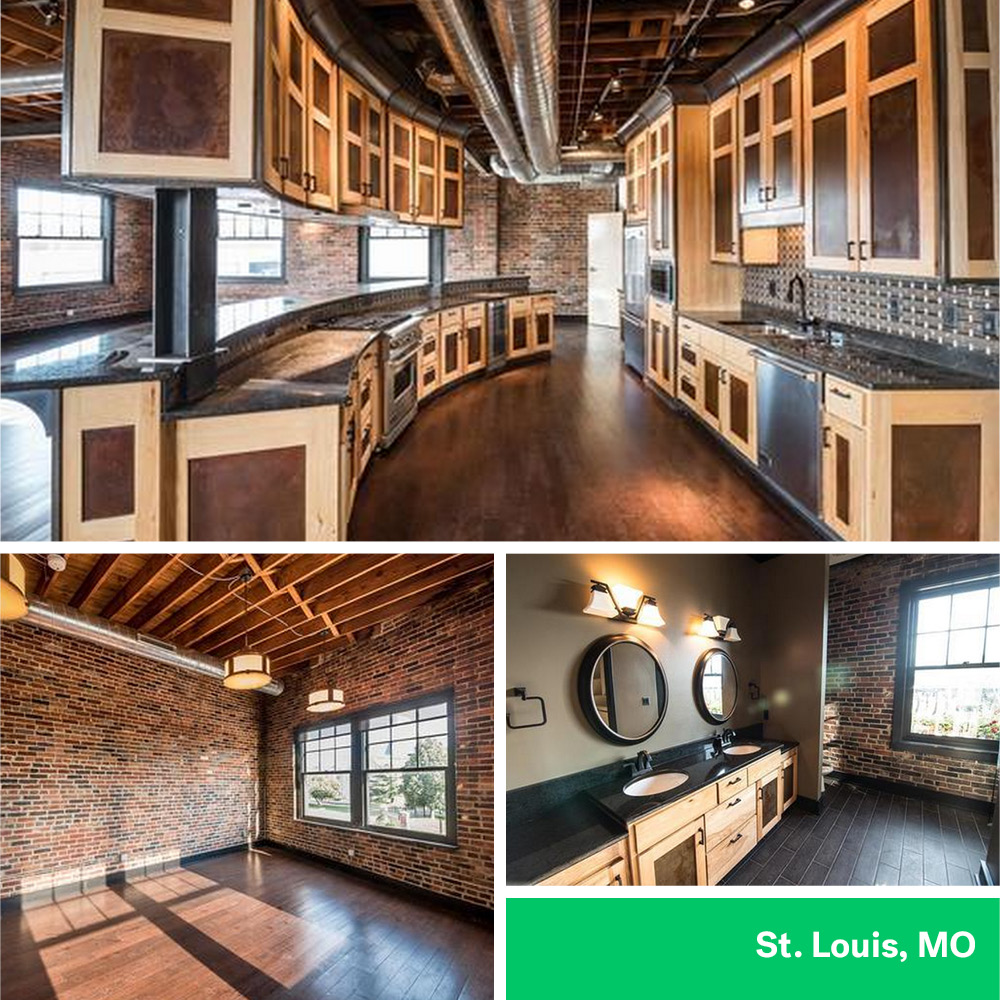 6. $2,500 in St. Louis, MO (see more apartments for rent in St. Louis)

Trying to move in on 2,900 square feet anywhere in New York may be a lofty (or impossible) goal at this price, but your eyes don't deceive you: This listing is the real deal.
It doesn't — and won't — get much better than being able to move into a newly renovated, gleaming apartment that's also walking distance from local goodness such as Chestnut Brewery, Hamburger Mary's, and The Fountain on Locust. You'll spend days steeped in Midwestern charm mixed with a healthy dose of city living.
Come home to exposed brick, hardwood floors, and breathtaking views of the steeple at St. Francis Xavier while entertaining in an oversized kitchen and a gorgeous, lofted wood-and-tile floor plan throughout.
See you in St. Louis?