Existing homes skyrocketed 5.6% in November reaching the highest rate since the end of 2006 despite the lowest inventory since the end of the last year.
Strong home-buying fundamentals such as low mortgage rates and robust job growth continue to drive unquenchable demand. For the second month in a row in over 12 years, the share of inventory sold exceeded its pre-recession peak.
High existing home sales in winter hints that those who missed out on home buying in the spring and summer may have held out and are finally starting to close on the homes that are still left in the market. Remaining prospective home buyers, however should dig their heels as this prolonged period of abysmally low inventory shows no signs of ending soon.
Existing home sales blasted up 5.6% in November, hitting a seasonally adjusted rate of 5.81 million units as home buyers have shaken off the effects of recent hurricanes and determined home buyers chase minimal inventory. This is the highest rate since the end of 2006. Existing home sales have come the closest they ever have to pre-recession levels; they are now 89.2% of normal, accounting for population.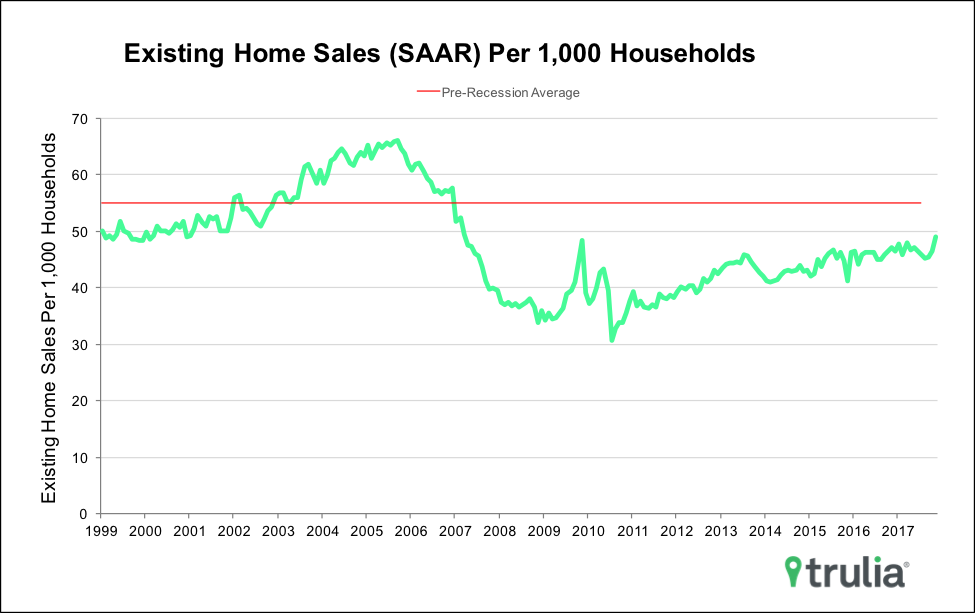 On the heels of a last week's Fed rate hike, mortgage rates drifted up slightly, but still remain favorably low. Combined with steady job growth, housing demand remains undeterred by plummeting inventory and high prices. As a result, existing home sales accounted for 28.2% of inventory sold, far exceeding its pre-recession peak.