In Washington, D.C., women often complain about the lack of available men. On the other hand, "Man Jose" gets that nickname for having too few available women for the men of Silicon Valley. But is it fact or fiction? In love, as with real estate, it's better to get the inside scoop before you start your search.
To figure out where the gender ratio is most skewed in each direction, we went right to the data. We know from our consumer survey about love and housing that not all singles are equally in demand, at least when it comes to dating. Among unmarried adults, 62% prefer to date someone who lives alone; only 14% prefer to date someone who lives with other people. Perhaps living alone sends the right signal about independence and availability – or perhaps living alone just makes dating easier (does anyone really want to hear their mom ask, "Honey, can I make you and your friend some pancakes?").
Whatever the reason, we get it: so we looked at the ratio of men living alone to women living alone in order to assess the dating scene. We also subtracted estimates of the gay and lesbian population in order to focus on men and women interested in dating someone of the opposite sex; check out our Welcome to the Gayborhood post if that's news you can use. Finally, we excluded people older than 65 since differences in life expectancy skew the gender ratio in the later years. (Just ask my grandfather, who was very popular in the Miami Beach coffee shop scene back in the day.) How did we do this? See the methodology at the end of this post.
Where the Boys Are
Women looking for single men should try their odds in Vegas, where the ratio of men living alone to women living alone is the highest among the 100 largest metros: 1.34. That's four men for every three women. San Jose, it turns out, also has plenty of men to choose from, with 1.23 men for every woman. Several warm spots – Honolulu, Palm Bay–Melbourne–Titusville, FL, and Miami – also skew toward men (remember we're not including those 65+), as do some mid-size metros around the country, like Worcester and Tacoma.
#
U.S. Metro
# of men living alone per woman living alone
1
Las Vegas, NV

1.34

2
Honolulu, HI

1.27

3
Palm Bay–

1.26

4
Gary, IN

1.23

5
San Jose, CA

1.23

6
Salt Lake City, UT

1.21

7
Miami, FL

1.20

8
Worcester, MA

1.19

9
Allentown, PA-NJ

1.19

10
Tacoma, WA

1.18

Among 100 largest metros, excluding those with few singles living alone.
The most lopsided ratios, however, are not in these large metros. The ratio of men to women is above 2 in Williston, ND, Gillette, WY, and Rock Springs, WY. Each of these smaller metros is the center of a male-dominated industry: Williston is at the heart of the North Dakota oil boom, and Gillette and Rock Springs are Wyoming mining towns. In fact, rural areas and smaller metros generally have a higher ratio of men to women.
All the Single Ladies
Women outnumber men in the big three power centers of the Northeast: Washington, D.C., Boston, and New York. The ratio is highest in the Bethesda–Rockville–Frederick metro, which is just over the Maryland border from Washington, D.C. Nine of the 10 metros with the highest ratio of women to men are in the East: Oakland is the only exception.
#
U.S. Metro

# of women living alone per man living alone

1
Bethesda–Rockville–

1.20

2
Washington, DC-VA-MD-WV

1.12

3
Boston, MA

1.09

4
New York, NY-NJ

1.07

5
Raleigh, NC

1.07

6
Richmond, VA

1.06

7
Atlanta, GA

1.06

8
Baltimore, MD

1.04

9
Peabody, MA

1.04

10
Oakland, CA

1.03

Among 100 largest metros, excluding those with few singles living alone.
The ratio of women to men tends to be highest in larger metros. None of the smaller metros are skewed toward women nearly as much as Williston, ND, is skewed toward men, but Napa, CA, and Santa Fe, NM, are two of the small metros with the highest ratio of women to men.
Uptown Girl, East End Boys
Billy Joel and the Pet Shop Boys – who otherwise couldn't be more different – were both onto something. Billy Joel's New York City had an uptown girl and a downtown man; the Pet Shop Boys sang of London's West End girls and East End boys. The data back them up. In every big metro, there are neighborhoods where men outnumber women and neighborhoods where women outnumber men, as these maps make clear: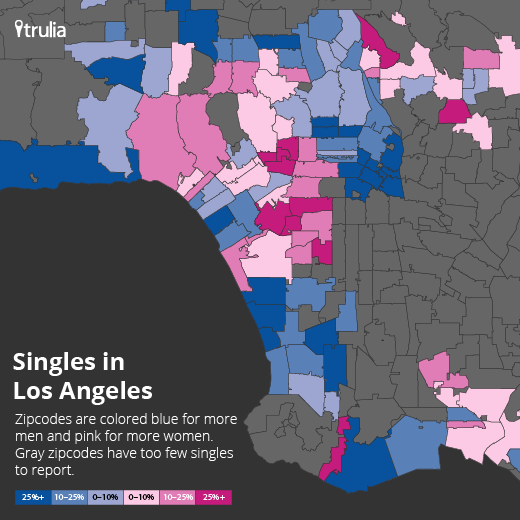 In New York, Lower Manhattan and parts of Queens, including Long Island City, have more men living alone than women living alone. But the Upper East Side ZIP code of 10021 – which covers most of the East 70's – has almost two women living alone for every man who lives alone. In Los Angeles, men outnumber women across the downtown area, but women outnumber men across much of the west side, including Beverly Hills, Pico-Robertson, the 3rd Street area, and around the Beverly Center. Farther west, along the coast, men outnumber women in El Segundo, Manhattan Beach, and Hermosa Beach.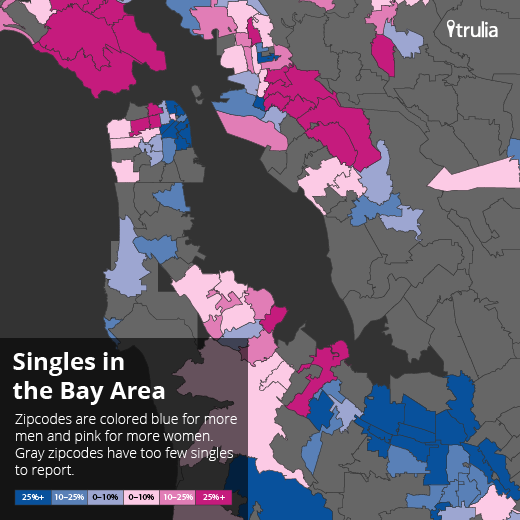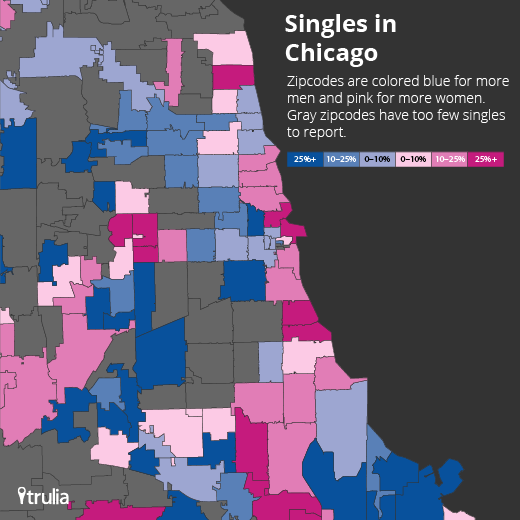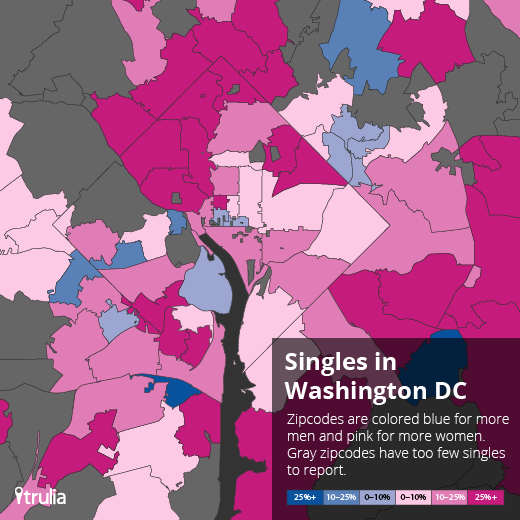 Here are the best neighborhoods for finding single men or single women in 10 of the largest metros, based on the ratio of men and women living alone:
What do these neighborhoods have in common? Billy Joel was right: in most metros, the neighborhood with the highest ratio of men to women is in or near downtown, as well as in recently redeveloped neighborhoods like Boston's Waterfront or Long Island City. Even man-rich Rosslyn is a major employment center despite being in northern Virginia, outside of Washington D.C.
The neighborhoods with the highest ratio of women to men tend to be more residential, like San Francisco's Marina and Seattle's Queen Anne, and more upscale (and safe), like the Upper East Side and Upper Connecticut Avenue. Some are near major retail centers, like Chicago's Near North Side, the Beverly Center in LA, and Atlanta's Perimeter Mall, though Houston's Great Uptown neighborhood — which skews toward men — is near the Galleria, Texas's largest mall.
Of course, we're only talking about the quantity of men and women, not whether they're your idea of a great date. If you're not into the men of Vegas or the women of the Upper East Side, that's your business. We can point you to cities and neighborhoods where you'll have more dating options, and we can even help you find a home there. But if you're looking for love, you'll need to take it from that point. We're not going to make you and your friend pancakes.
Note: these data are based on the 2010 decennial Census. "Neighborhoods" refer to Zip Code Tabulation Areas (ZCTA's), an approximation of ZIP codes created by the Census. In calculating the number of men living alone and women living alone in each metro or ZCTA, we excluded people living in "group quarters" (e.g. dormitories, prisons, barracks, and other institutions) and people aged 65 and older. We adjusted these counts of men and women living alone based on our estimates of the prevalence of single gay men and women in each ZCTA, in order to estimate the number of heterosexual single men and women living alone. To do this, we used 2010 Census counts of same-sex partners – based on the correction described here – and assumed that single gay men and women were distributed geographically in proportion to same-sex male and female couples.