Existing home sales increased slightly during peak home buying season, up 1.1% since April and 5.7% year-over-year.
Inventory remains persistently low, up only 0.4% in May after hitting an all-time low in April.
Strong demand in the face of chronically low inventory leads to a higher rate of existing home sales as 25.5% of inventory was sold last month nearly matching the pre-recession peak.
Continuing to seesaw since the start of 2017, May's existing home sales increased to a seasonally adjusted rate of 5.62 million homes, up 1.1% from the previous month. Homebuyers continue to benefit from relatively low mortgage rates despite last week's interest rate hike, the second of the year. Waning consumer confidence and low inventory, however, likely moderated increases in existing home sales. Existing home sales per 1,000 households are at 86% of pre-recession levels.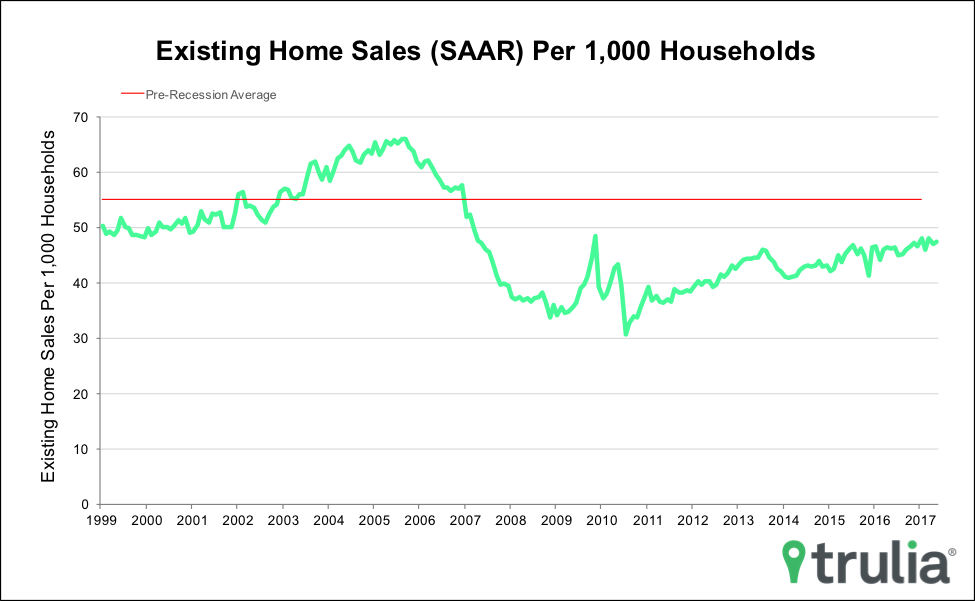 Persistently low inventory continues to dominate the sluggish existing home sales narrative. The rate of existing home sales, however, is one of the highest since the crisis. Facing low inventory and high prices but strong demand, homebuyers are leaving a smaller share of existing home inventory on the market each month. This month's rate existing home sales given inventory is 25.5% or 99.6% of the pre-recession peak.