With the U.S. presidential election dominating the headlines, it is easy for voters to overlook the choices facing them Nov. 8 when it comes to housing in their communities.
In some of the nation's housing-starved cities, a number of ballot measures – from proposed tax increases to construct public housing, to new rules for developers to offer low-income units – seek to address the pressing need for affordable housing and services for the homeless.
In this report we've identified some of the biggest ballot decisions facing voters. Next week we will review and analyze the results.
"While homebuyers and renters may be listening closely to the presidential candidates to find out how the election will impact their pursuit of home, they shouldn't ignore measures in their own back yard," said Trulia Chief Economist Ralph McLaughlin. "This is because voters will be deciding on a number of high-caliber and impactful questions at polls in a number of the least affordable cities across the U.S."
"Voters should educate themselves on how local housing ballot measures will impact housing provision and, ultimately, who will bear the costs of that provision," McLaughlin said.
McLaughlin added that housing ballot initiatives ultimately ask voters who should foot the bill for any policy: housing paid for by taxpayers, inclusionary zoning housing development paid for by developers, and rent control or rent stabilization paid for by landlords.
One exception is measures involving rezoning. Rezoning has comparatively little upfront cost and typically benefit both landowners, developers, and new residents though existing residents and developers may have to pay for infrastructure improvements such as roads, parks and schools.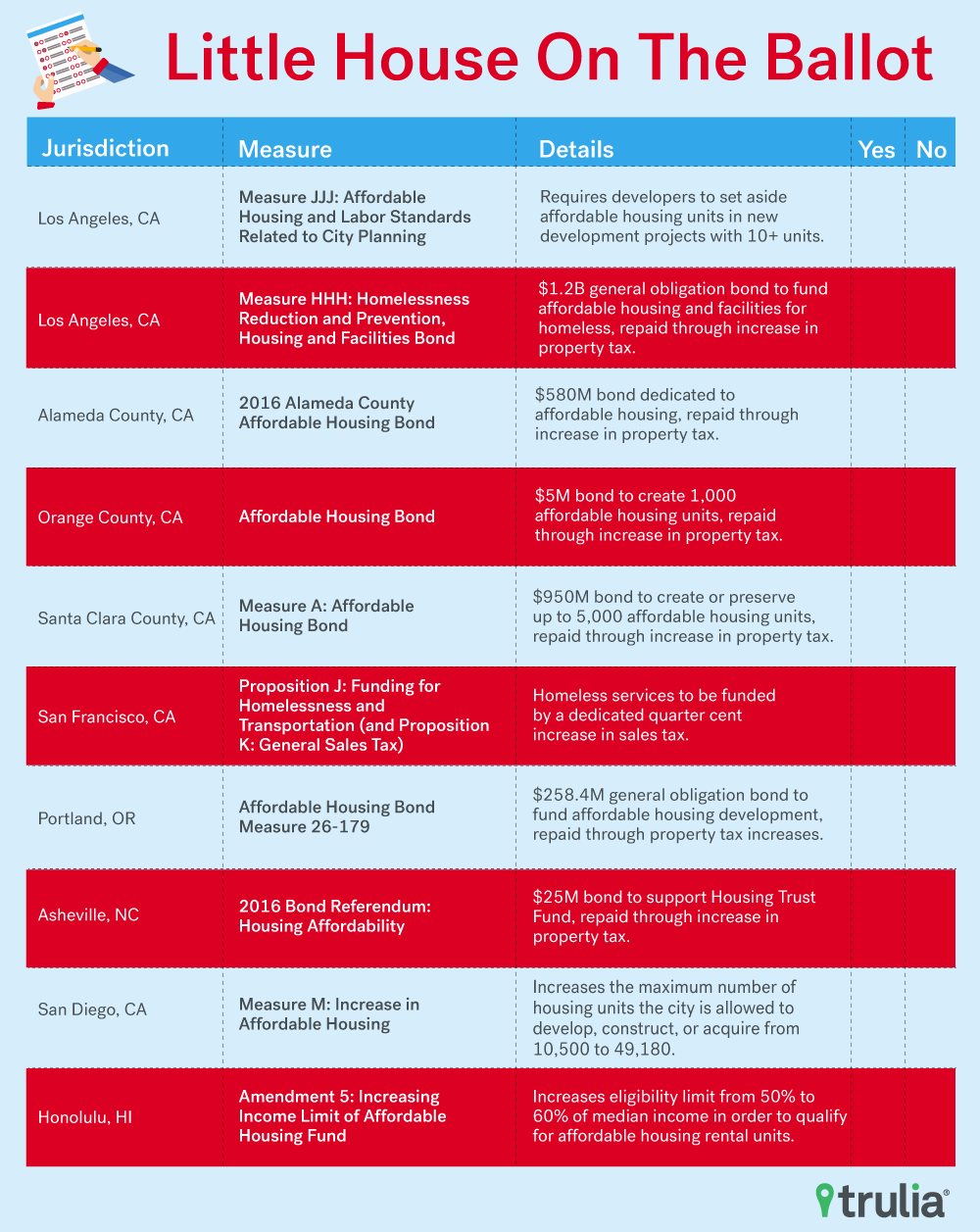 Make Housing Affordable Again
We identified 22 local ballot measures[1] across 16 cities or counties that impact local housing markets and found that all of them touch on the core issues of affordable housing. Additionally, voters in Los Angeles and San Francisco, cities characterized by acute housing unaffordability and low inventory, face decisions on how to support housing and services for the homeless. Six other metros covered by housing measures are also included in the top 20 least affordable cities, including San Diego; Oakland, Orange County, Calif., San Jose, Calif., Portland, Ore., and Honolulu.
This November's local housing ballot measures fall into generally four categories:
1) Taxpayer Funding for housing development through bonds or increases in sales tax;
2) Inclusionary zoning that requires developers to build affordable housing;
3) Rent control or rent stabilization efforts;
4) Amendments to the current planning codes, or zoning or land use ordinances. These tools vary in terms of both the ways in which the housing market is impacted as well as who bear the burden.
[1] This is not intended to be an exhaustive list of all local housing ballot measures, but should reflect the variation in local markets and flavors of housing ballot measures.
Funding for affordable housing or homeless services in unaffordable markets are largely raised through debt securities such as housing bonds, or local taxes. Housing ballot measures during this general election reflect the reliance on bonds to fund affordable housing and homeless initiatives. The size of the bond varies greatly across jurisdictions, from $5 million in Orange County, Calif. to $1.2 billion in Los Angeles. Repayment on the debt service on all of these bonds are through increases in property taxes. In other words, the financial burden falls on homeowners in these jurisdictions with some of it passed on to renters.
Proposition C in San Francisco, however, intends to reallocate unused funds from a previous bond for an affordable housing loan program instead of raising new funds. Additionally, Proposition J (and K) in San Francisco proposes to fund homeless services through a quarter point increase in sales tax which would impact all residents. Sales taxes are viewed as regressive since lower income residents end up spending a greater share of their income on these taxes.
Measures That Rely on Local Funding
| | | |
| --- | --- | --- |
| Jurisdiction | Measure | Details |
| Los Angeles | Measure HHH: Homelessness Reduction and Prevention, Housing and Facilities Bond | $1.2B general obligation bond to fund affordable housing and facilities for homeless, repaid through increase in property tax. |
| San Francisco | Proposition C: Affordable Housing Bond Issue | Transfers unused funds from the 1992 seismic bond to be used for Affordable Housing Loan Program. |
| San Francisco | Proposition J: Funding for Homelessness and Transportation (and Proposition K: General Sales Tax) | Homeless services to be funded by a dedicated quarter cent increase in sales tax. |
| Alameda County[1] | 2016 Alameda County Affordable Housing Bond | $580M bond dedicated to affordable housing repaid through increase in property tax. |
| Orange County | Affordable Housing Bond | $5M bond to create 1,000 affordable housing units repaid through increase in property tax. |
| Santa Clara County[2] | Measure A: Affordable Housing Bond | $950M bond to construct up to 5,000 affordable units repaid through increase in property tax. |
| Portland, OR | Affordable Housing Bond Measure 26-179 | $258.4M general obligation bonds to fund affordable housing development repaid through increase in property tax. |
| Asheville, NC | 2016 Bond Referendum: Housing Affordability | $25M bond to support Housing Trust Fund repaid through increase in property tax. |
[1] Includes Oakland, CA metropolitan area.
[2] Includes San Jose, CA metropolitan area.
Inclusionary zoning is an affordable housing tool that stipulates a portion of new residential construction be made available below market rate. Income eligibility limits for these affordable units are set by the rules of the ordinance. Los Angeles intends to implement inclusionary zoning for the first time through Measure JJJ. In this case, the burden of inclusionary zoning falls on developers, who are likely to see a reduction in profit by charging below market rate for the affordable units. In San Francisco, on the other hand, Proposition U seeks to double the income eligibility limits from 55% of area median income to 110%. Here, developers are likely to be proponents of this measure since it will increase their profit margin over lower income limits at the cost of increasing the number those eligible for a finite number of units.
Housing Ballot Measures That Impact Inclusionary Zoning
| | | |
| --- | --- | --- |
| Jurisdiction | Measure | Details |
| Los Angeles | Measure JJJ: Affordable Housing and Labor Standards Related to City Planning | Requires set aside affordable housing units in new development projects with 10+ units. |
| San Francisco | Proposition U: Increased Income Qualifications for Affordable Housing | Increases the income eligibility from 55% of area median income to 110% under the City's inclusionary housing program. |
| Honolulu | Amendment 5: Increasing Income Limit of Affordable Housing Fund | Increases affordable income limit on Affordable Housing Fund rental housing to 60% of area median income, up from 50%. |
Rent Control and Rent Stabilization
Several cities hope to curb skyrocketing rents and make housing more affordable by limiting annual increases on rent. The California cities of Burlingame, San Mateo, Richmond, Alameda, and Mountain View have measures to put into place rent control or rent stabilization. Currently, annual rent increases are uncapped in these cities and these measures would limit increases to amounts pegged to the consumer price index as well as limit unwarranted evictions.
Planning, Zoning and Land Use
Voters will also consider a range of land use and zoning issues. Among them: freeing up open space for housing development in Sonoma County, adding incentives for affordable housing development in Encinitas, Calif. through the zoning code, or establishing a new Housing and Development Commission in San Francisco. Because these tools are managed by local entities, their implementation falls entirely on the responsibility of local entities to manage, enforce, and regulate these actions in these measures.
Measures That Utilize Planning, Zoning, and Land Use Tools
| | | |
| --- | --- | --- |
| Jurisdiction | Measure | Details |
| Encinitas, CA | Measure T: Compliance with State Housing Law | Updates the City's Housing Element in an effort to incentivize housing affordability. |
| San Diego | Measure M: Increase in Affordable Housing | Increases the maximum number of housing units the City is allowed to develop, construct, or acquire from 10,500 to 49,180. |
| San Francisco | Proposition M: Housing and Development Commission Establishment Amendment | Amends City Charter to create a new Housing and Development Commission, moving it out from under the Mayor's Office. |
| San Francisco | Proposition P: Minimum Three Proposal Requirement for Affordable Housing Projects on City Property | Affordable housing projects built on city land would require a minimum of three bids in order to move forward. |
| Sonoma County, CA | Protection for "Community Separators" | Maintains provision to protect 17,000 acres of open space, but constrains supply of developable land. |