Prices surge 6.2% in January
Home prices surged into the new year, reaching 6.2% year-over-year growth, defying fleeting concerns that rising mortgages and tax reform would dampen demand and soften price growth.
The hottest housing markets are once again dominated by the West, led by double-digit annual growth in Seattle, Las Vegas and San Francisco. Seattle shows no signs of cooling any time soon as it recorded its 25th consecutive month of double-digit year-over-year price growth.
The housing market promises to frustrate first-time home buyers again this year as starter buyers continue to shoulder the greatest burden of unaffordability as low inventory and escalating prices grip the housing market.
U.S. home prices climbed again in January, up 6.2% year-over-year according to the S&P CoreLogic Case Shiller National Home Price Index released Tuesday. While the index is up, annual gains dipped slightly from December's 6.3% annual growth rate. January ushered in the start of a precipitous climb in mortgage rates as well as the new tax reform law lowering the mortgage interest deduction and capping state and local tax deductions. Despite these threats to dampen demand, low inventory and a strong economic conditions bolstered price growth to start 2018. First-time home buyers, however, will continue to struggle to find homes within their price range as prices climb higher amid low inventory.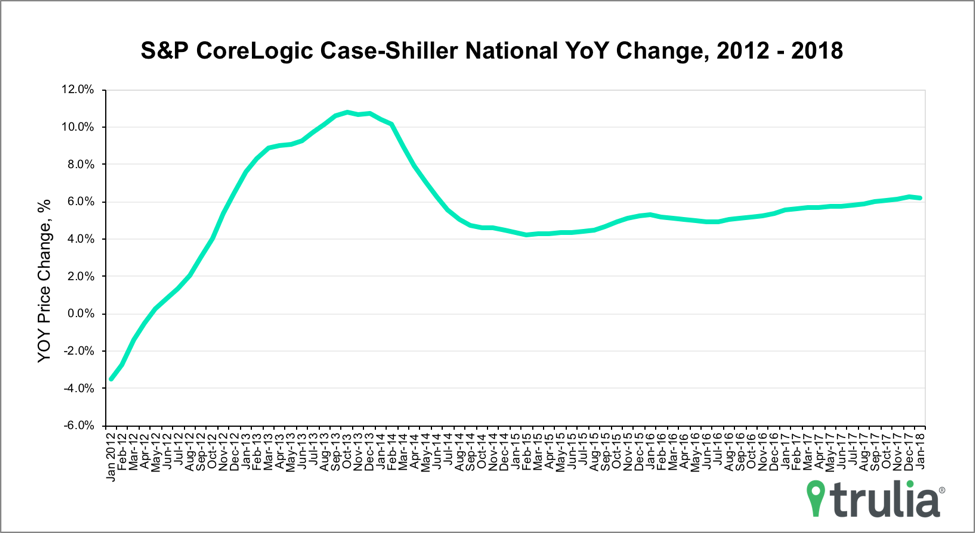 The West led price growth as Seattle, Las Vegas and San Francisco all notched double-digit annual growth with prices rising 12.9%, 11.1% and 10.2%, respectively. This is the first time since January 2016 that San Francisco is back into double-digit price growth territory, sounding alarm bells in a city where median home prices hover around $1.3 million. Twelve out of the 20 markets the index tracks saw increases in year-over-year price gains compared to the year ending in December 2017.