Home prices are still rising—up 6.0% year-over-year—but for the fourth consecutive month home price growth slowed, pointing to a slowdown in the housing market.
Las Vegas remains the leader in home price appreciation after dethroning Seattle from the top spot in June, and the West still dominates in terms of rising prices.
Even as home price appreciation and home sales slow, those home buyers locked out of the housing market will continue to be held back by persistent unaffordability suggesting that the slowdown in key housing market indicators will continue.
Homes prices in the U.S. rose overall in July, up 6.0% year-over-year according to the latest S&P CoreLogic Case Shiller National Home Price Index released on Tuesday. This marks the fourth consecutive month that annual home price growth has slowed, and the lowest the index has been since September, 2017. With slumping or flat new and existing home sales, another month of price deceleration points to a softening housing market. July saw mortgage rates dipped slightly after hitting highs unseen since May 2011, but this did not offer much solace to home buyers already facing severe unaffordability in the housing market.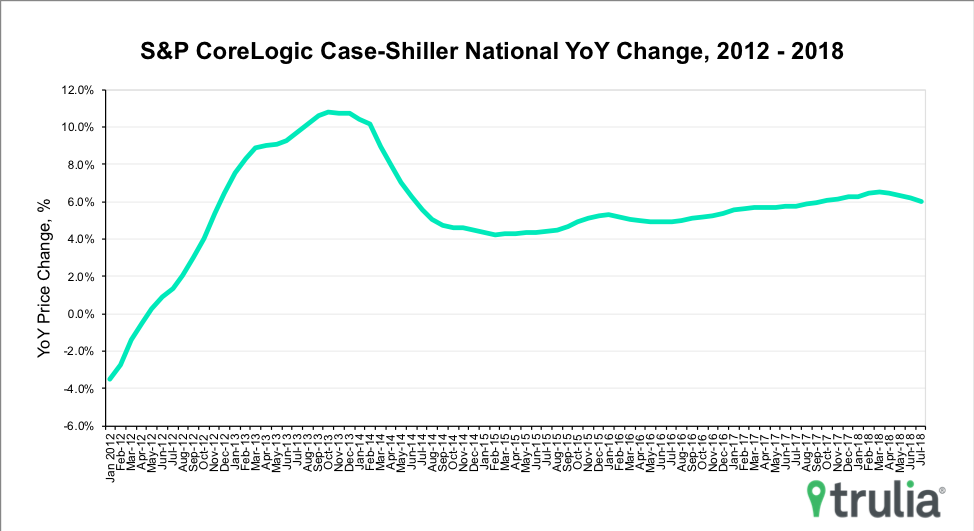 Las Vegas leads home price appreciation after toppling Seattle from the top spot. Other markets in the West round out the top three home price growth leaders with Seattle right behind Las Vegas, trailed by San Francisco. All of these markets experienced double-digit price growth of 13.7%, 12.1% and 10.8% respectively. Only five of the 20 markets that the index tracks saw monthly gains indicating that the slowdown in home price growth is pervasive.