Strong economic conditions and epically low inventory through 2017 drove home prices up yet again to close the year. December's year-over-year price growth hit 6.3%, registering the largest annual growth rate in three-and-a-half years.
It's hot out West. Seattle, Las Vegas and San Francisco lead markets for the second month in a row where year-over-year price gains were 12.7%, 11.1% and 9.2%, respectively.
The stage is set for another tough home buying season as scarce inventory plagues the housing market. Starter home buyers will again bear the brunt of frustration as affordability remains out of reach, exacerbated by mortgage rates marching upwards to usher in 2018.
U.S. home prices tracked up again in December, reaching 6.3% year-over-year according to the S&P CoreLogic Case-Shiller National Home Price Index released Tuesday. Home prices capped the year on a high, reflecting 2017's favorable economic conditions which were characterized by strong consumer fundamentals such as job growth and low unemployment. Demand was further bolstered by the fact that mortgage rates in December held below 4.0% despite a mid-month interest rate hike by the Federal Reserve.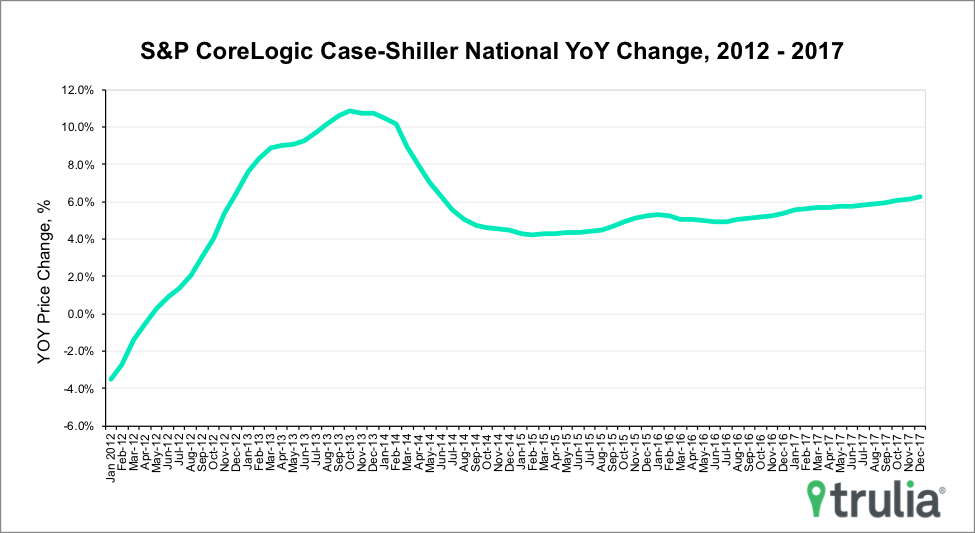 Seattle's home price growth shows no signs of slowing with the city leading home price growth yet again. With 12.7% year-over-year growth, home prices have surged at double-digit year-over-year growth rates for nearly two years. In what might be a modicum of relief for Seattleites, this growth has slowed or remained steady in recent months. At Seattle's heels, is Las Vegas, which registered its third consecutive month of annual growth as this market continues to recover.