Home prices recorded another month of year-over-year price increases in November, climbing 6.2%. Home prices have increased over the previous month since early 2016.
Markets in the West continue to lead the pack with the highest home price growth occurring in Seattle, Las Vegas and San Francisco where year-over-year price increases were 12.7%, 10.6% and 9.1%, respectively.
Early versions of the tax reform bill in November threated to put downward pressure on prices in expensive and high tax areas as proposals on caps to the mortgage interest tax deduction and state and local tax deductions ding demand. But the proposals didn't cause a ripple in November home prices.
Lower and middle-income home seekers faced the strongest headwinds as exceedingly low supply grips the starter and trade-up submarkets despite sustained demand.
U.S. home prices rose again in November, up 6.2% year-over-year according to the S&P CoreLogic Case Shiller National Home Price Index released Tuesday. Demand continued to be boosted by low unemployment, wage growth and mortgage rates that defied any substantial increases despite Fed rate hikes earlier in the year. As a result, rebounding home sales coupled with historically low levels of inventory fueled price growth. Particularly low supply in the starter and trade-up submarkets meant that lower and middle-income home seekers face the strongest headwinds in terms of home buying.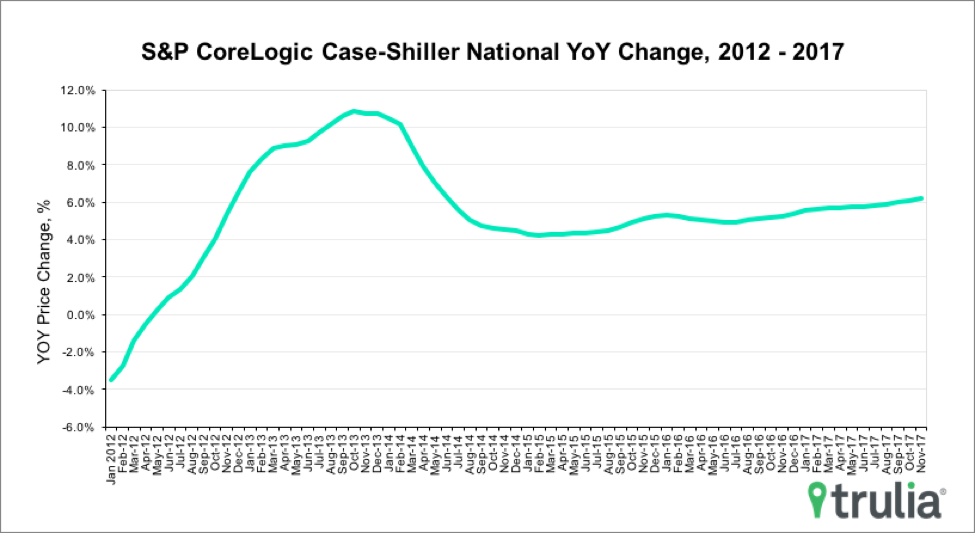 Seattle home price growth once again notched double-digit year-over-year home price increases. At 12.7% year-over-year growth, however, the Emerald City's home price growth was the same as last month, recording the 4th straight month it has decreased or remained steady. San Francisco, another market enjoying robust job and wage growth, saw significant price growth after enjoying slowing rates of price appreciation through most of 2016 and half of 2017. Las Vegas and San Diego rounded out the list of markets with the highest year-over-year home price growth.