September marks the start of the slow season for home search in most of the country. But autumn is prime time for house hunting in vacation areas in the mountains and forests.
Labor Day marks the end of summer – and the end of the traditional house-hunting season. Based on properties viewed on the Trulia website for the full years of 2011-2013, home search activity jumps in March, stays high through summer, and then falls below the annual average in September and stays that way until the new year begins. Nationally, home searches for September and October combined are 6% below the annual average.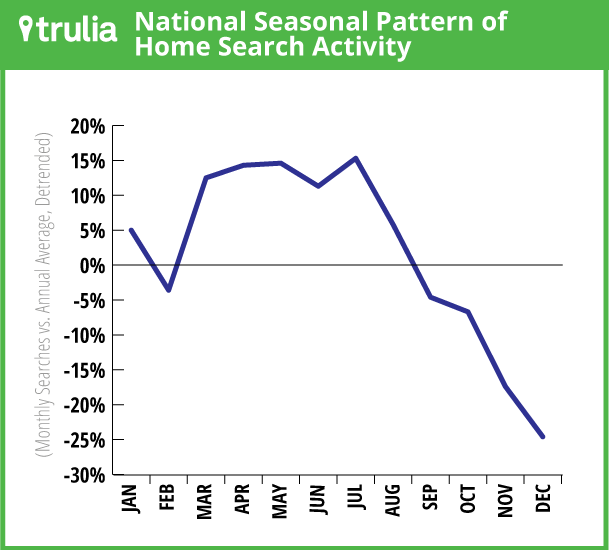 Does that mean that everyone looking to buy or sell a home in 2014 has missed the boat? Not necessarily. Every local market has its own seasonal pattern for house hunting. Comparing September and October search activity with annual averages in 2011-2013, we found markets where the autumn slowdown is slight. And there are a handful of local housing markets where autumn is actually prime house-hunting season – mostly vacation areas that are in the mountains and forests but not near the beach.
With a Bang or a Whimper? How House-Hunting Season Ends
Across the country, home search slows down in the autumn. The states where search activity in September and October is farthest below the annual average are Hawaii and Florida, both more than 10% below normal. But in Vermont, Maine, and Wyoming, search activity in September and October is slightly above the annual average.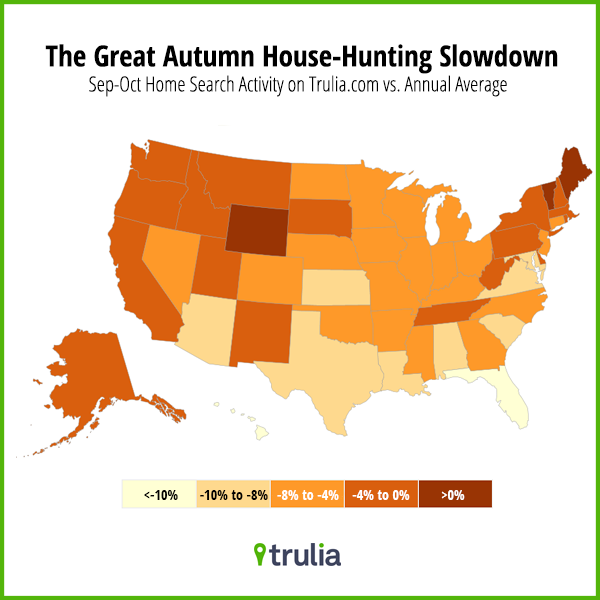 Among the 100 largest U.S. metros, home searches fall off the most in the Florida Gulf Coast metros of Cape Coral-Fort Myers and North Port-Bradenton-Sarasota. In fact, the top 10 metros with the biggest autumn slowdown are in the South and Southwest:
Where Home Search Slows Down Most in Autumn
#
U.S. Metro
Search Activity in Sept/Oct vs. Annual Average
1
Cape Coral–Fort Myers, FL
-18%
2
North Port–Bradenton–Sarasota, FL
-13%
3
Austin, TX
-12%
4
West Palm Beach, FL
-12%
5
Phoenix, AZ
-12%
6
Palm Bay–Melbourne–Titusville, FL
-11%
7
Virginia Beach–Norfolk, VA-NC
-11%
8
Charleston, SC
-11%
9
Columbia, SC
-11%
10
Orlando, FL
-10%
Note: among 100 largest metros.
Looking more broadly at the 500 largest U.S. metros, two types of markets see big slowdowns in search activity in autumn. First are college towns, such as College Station–Bryan, TX; Columbia, MO; and Iowa City, IA. The lesson for university students and employees: figure out your housing situation before the school year starts. The second type of smaller market where search activity slows most in autumn are Florida vacation spots, like Key West, Punta Gorda, and Naples–Marco Island.
The metros where house hunting stays strongest into autumn are in New England, the San Francisco Bay Area, and New York state. In Peabody and Worcester, both near Boston, house hunting is still slightly above the annual average in September and October.
Where Home Search Stays Strongest in Autumn
#
U.S. Metro
Search Activity in Sept/Oct vs. Annual Average
1
Peabody, MA
1%
2
Worcester, MA
1%
3
San Francisco, CA
0%
4
Oakland, CA
-1%
5
Seattle, WA
-2%
6
San Jose, CA
-2%
7
Albany, NY
-2%
8
Long Island, NY
-2%
9
Buffalo, NY
-2%
10
Gary, IN
-2%
Note: among 100 largest metros.
What explains these regional and metro differences in seasonal patterns? A key factor is climate. Markets where search activity is high in autumn tend to have warm and dry Septembers and Octobers relative to their local climate in the rest of the year.
Where Autumn is Springtime for Housing
Outside the largest metros, there are some smaller markets where autumn is prime house-hunting season. The 10 counties where search activity is highest in autumn compared with the rest of the year are all vacation areas – but not beach towns. Rather, most are mountain or forest areas, and several are near ski resorts, including Lincoln, NM; Teton, WY; and Watauga, NC. Just two of the top 10 – Hancock, ME, and Clatsop, OR – are near a coast.
#
U.S. County
Main city or town
Search Activity in Sept/Oct vs. Annual Average
1
Lincoln, NM
Ruidoso
16%
2
Hancock, ME
Ellsworth
13%
3
Cherokee, NC
Murphy; Andrews
12%
4
Haywood, NC
Waynesville
12%
5
Union, GA
Blairsville
12%
6
Macon, NC
Franklin
11%
7
Clatsop, OR
Astoria
11%
8
Fannin, GA
Blue Ridge
10%
9
Teton, WY
Jackson
10%
10
Watauga, NC
Boone
9%
Note: among counties with significant search activity on Trulia.
One additional region where autumn search activity is strong is the Big Bear/Lake Arrowhead ski-and-recreation area in the San Bernardino National Forest, east of Los Angeles. It's a relatively small part of San Bernardino county, most of the rest of which follows the normal seasonal home-search pattern and therefore doesn't make the list of counties where search activity rises in autumn.
As summer comes to an end, therefore, the slow season for house hunting begins. The slowdown is sharpest in Florida, Hawaii, and college towns, but gradual in much of the West and Northeast. At the same time, the market is revving up in a handful of vacation areas where people head for the hills to go hiking or skiing.
Note: Search activity is based on properties viewed on Trulia.com from February 2011 to January 2014 (which we refer to in the text, for brevity, as 2011 to 2013). Data were detrended to adjust for the increase over time in Trulia search traffic. The housing crisis affected the seasonal pattern of home prices and other housing activities, so the search patterns observed in 2011-2013 could change in the future.