For many Americans, homeownership is part of their personal American Dream. For some, this dream of owning a home is well within reach, but for others it may as well be a dream within a dream. But what does this dream home look like? And where is located? What amenities do people dream of most? To find out, an online survey conducted by Harris Poll on behalf of Trulia surveyed 2,026 Americans in late May 2015 to tell us about their homeownership aspirations and the home they hope to buy one day. Here's what we found.
First Comes Marriage, Then Comes Baby and House
With the U.S. housing market on the mend, 7 in 10 Americans (71%) said owning a home is part of achieving their personal "American Dream." While still a majority, this is a notable decrease from 77% in 2010. Yet despite this downward trend, America is not becoming a nation of renters. Most Millennial renters aged 18-34 (89%) plan to buy a home one day — more than any other generation.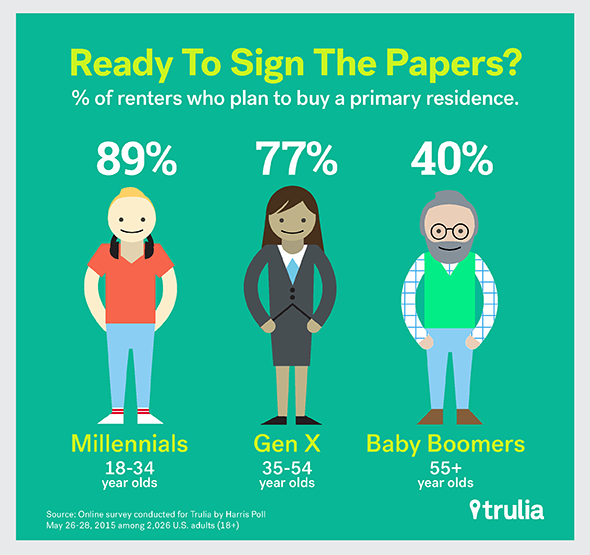 But as more people today forgo or delay marriage and children, homeownership has become more of a lifestyle choice than an expected life milestone. Among parents with children under 18 years old, 81% said homeownership is part of their American Dream. In fact, most parents — regardless of their marital status — plan to buy a home as their primary residence once day.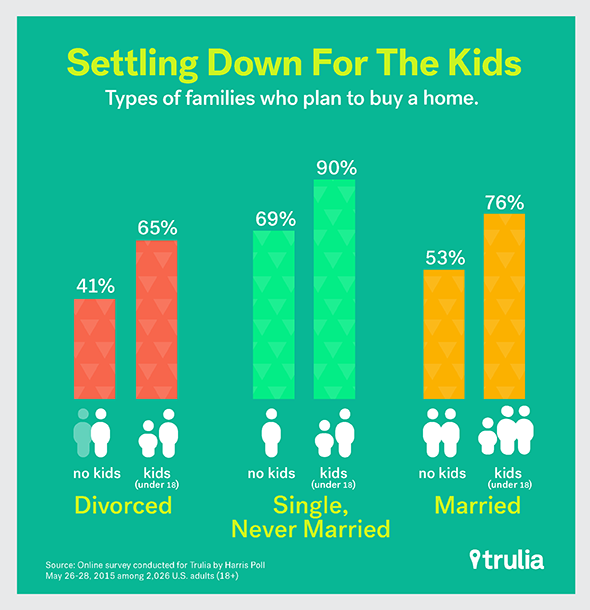 More than 7 in 10 Millennials Plan to Buy in 2018 or Later
While many Americans aspire to become homeowners, most are not ready to buy a home. Only 14% of those who plan to buy say they will do so within the next year. Most (69%) plan to wait at least two years.
In tracking the housing recovery, the intentions of Millennials has been a key indicator that we've been following. Why? This generation of first-time homebuyers was hit hard during the recession, and their ability to find jobs, move out of their parents' homes and form their own households, and eventually become homeowners is a key part of a healthy housing market. Of the 18-34 years old who aspire to become homeowners, 72% said they plan to buy a home in 2018 or later. The sense of urgency only increased when marriage and children were involved.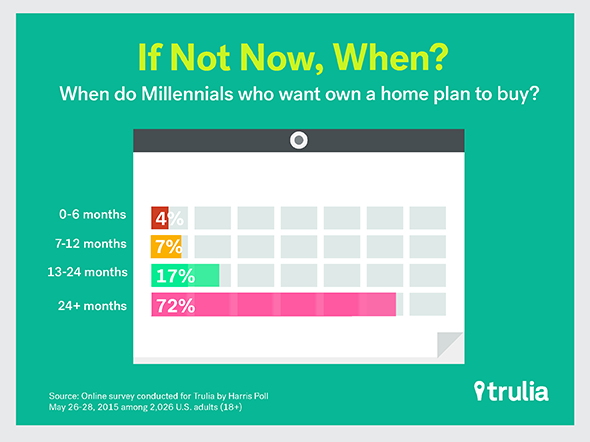 When Do You Plan to Buy (Another) Home as Your Primary Residence?
All
Married without Kids Under 18
Married with Kids Under 18
Within the next 6 months
4%
6%
9%
7-12 months from now
7%
10%
18%
13-24 months from now
17%
29%
20%
More than 2 years from now
72%
55%
53%
Note: Among Millennials (18-34 year old) who plan purchase a home
So what's holding Millennials back from homeownership? Money. Only 36% of Millennials are currently saving up to buy a home in the next five years. Most (52%) have their eyes on a new car, while others have shifted their priorities towards college tuition (35%), a trip of a lifetime (26%), a wedding (15%), retirement (9%) or an engagement ring (8%). Nevertheless, this generation remains optimistic with 87% believing that they will be able to purchase their dream home one day.
Most Americans Aren't Dreaming About McMansions or Tiny Homes
Only a small subset of Americans (just 35% of homeowners) said they've already purchased their dream homes — that means an overwhelming majority are still searching for a perfect place to call "dream home". In fact, over one quarter of Americans are regularly searching for a dream home online with 28% looking at least once a month. So what does the American dream home look like? Well, it really depends on how old you are.
In general, Americans aren't big fans of McMansions or tiny homes. In fact, 44% want a home between 1,401 and 2,600 square feet — one that's neither too small, nor too big. However, as people get older, their dream home gets smaller.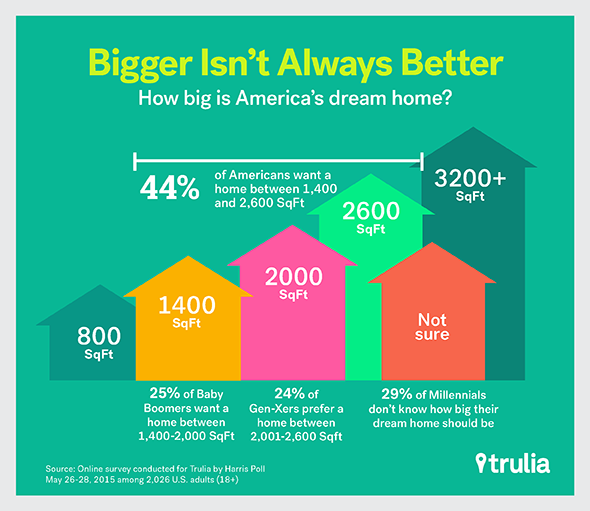 How Big Is Your Dream Home?
All
Millennials (18-34 Year Olds)
Gen X (35-54 Year Olds)
Baby Boomers (55+ Year Olds)
800-1,400 square feet
10%
5%
7%
15%
1,401-2,000 square feet
21%
17%
18%
25%
2,001-2,600 square feet
23%
20%
24%
24%
2,601-3,200 square feet
14%
16%
15%
11%
More than 3,200 square feet
11%
12%
14%
7%
Not Sure
22%
29%
22%
17%
Moreover, Millennials and Gen X gravitate towards modern homes, which can often have newer home amenities and technologies. Baby Boomers, on the other hand, want ranch homes (aka single-story homes that are typically more accessible and without stairs).
And contrary to what you might think, only 6% of millennials would prefer a high-rise penthouse. That said, they are still 6X more likely to prefer this type of home than any other generations — even those with kids under 18. Similarly, only 4% of millennials dream of converted lofts, while Baby Boomers have no affinity for converted lofts at all.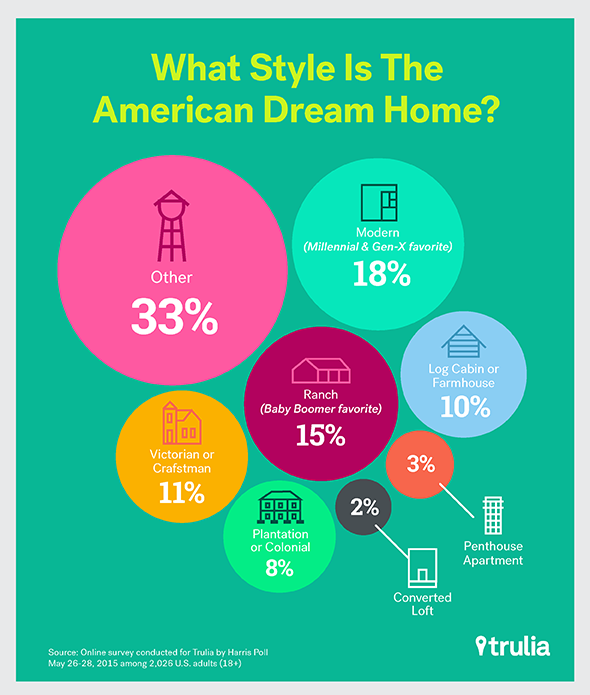 What Does Your Dream Home Look Like?
All
Millennials (18-34 Year Olds)
Gen X (35-54 Year Olds)
Baby Boomers (55+ Years Old)
Modern Style Home
18%
22%
17%
16%
Ranch Home
15%
6%
13%
23%
Victorian or Craftsman Style Home
11%
13%
12%
7%
Farm House or Log Cabin
10%
10%
11%
9%
Colonial or Southern Plantation Style Home
8%
8%
8%
7%
High-rise penthouse apartment
3%
6%
1%
1%
Converted Loft
2%
4%
1%
0%
Other
33%
31%
37%
37%
Note: "Other" includes options such as Mediterranean style home, townhouse and houseboat, as well as other.
Americans Dream of Suburbs Over Cities
When describing where their dream home is located, most Americans wanted to live in the countryside (27%) and suburbs (27%) rather than in the heart of a major American city (8%). This was especially true for Baby Boomers and Gen X. But for Millennials, living a short commute to work (34%) and in a great school district (34%) were far more important that the actual location. But generational differences aside, there were some notable geographical preferences.
Top Dream Home Amenities: Decks, Gourmet Kitchens and Open Floor Plans
Americans love to entertain and eat. The top dream home features were social spaces where guests could gather and mingle, namely a backyard deck, open floor plan, or balcony with a view. Food-related amenities like a gourmet kitchen or vegetable garden were also popular. But as for private spaces, 44% of men wanted a man cave whereas only 17% women wanted a she shed (aka, a recreational room for the ladies).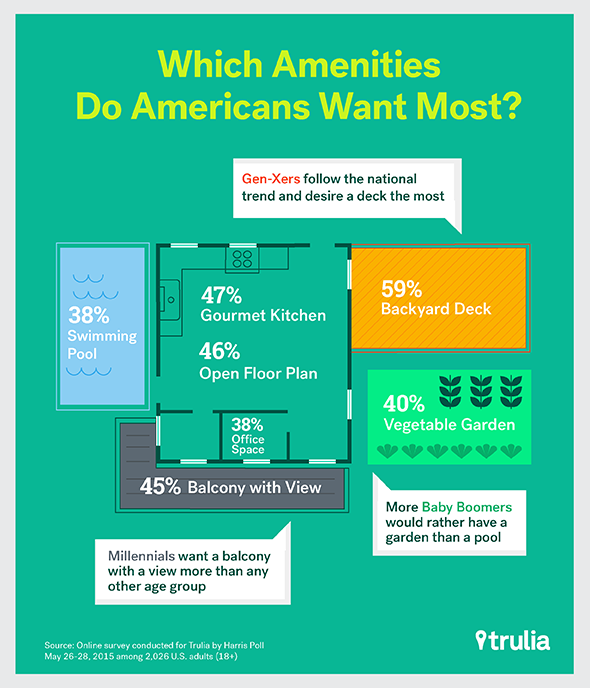 Top "Dream Home" Features
% of Americans Who Want This Feature
% of Homes Listed for Sale on Trulia as Having This Feature in the Last Year
Backyard Deck
59%
8.5%
Gourmet Kitchen
47%
2.0%
Open Floor Plan
46%
3.9%
Balcony with a View
45%
1.3%
Vegetable Garden
40%
0.1%
Millennials, compared to any other generation, want it all. Given the option, 18-34 year olds would like all the latest and greatest amenities in their dream home — especially want a balcony with a view.
Top "Dream Home" Features for Millennials
Balcony with a View
60%
Backyard Deck
59%
Gourmet Kitchen
53%
Swimming Pool
52%
Open Floor Plan
45%
Generation X, however, followed the national trend with most wanting a backyard deck. The only variation was that 35-54 year olds preferred having a swimming pool over a vegetable garden.
Top "Dream Home" Features for Gen X
Backyard Deck
65%
Gourmet Kitchen
50%
Open Floor Plan
47%
Balcony with a View
46%
Swimming Pool
44%
Similar to Generation X, Baby Boomers want a backyard deck, open floor plan and gourmet kitchen. But unlike other generations, the 55+ age group has a green thumb with 37% wanting a vegetable garden.
Top "Dream Home" Features for Baby Boomers
Backyard Deck
55%
Open Floor Plan
46%
Gourmet Kitchen
41%
Vegetable Garden
37%
Balcony with a View
33%
All in all, Americans are pretty realistic and practical when it comes what they want in their dream home. Most people aren't looking for a grand mansion, tiny home or even a home with an iconic architectural style — they want a mid-sized, modern home in the suburbs with a backyard deck. This is likely because the dream of homeownership is largely driven by marriage and children. Having a duel income makes buying a home more affordable, while parents often want the stability that comes with owning a home. As a result, many would-be homeowners dream of finding a home where they can raise their families. Such is the game of life.
METHODOLOGY
This survey was conducted online within the United States between May 26th and 28th, 2015 among 2,026 adults (aged 18 and over) by Harris Poll on behalf of Trulia via its Quick Query omnibus product. Figures for age, sex, race/ethnicity, education, region and household income were weighted where necessary to bring them into line with their actual proportions in the population. Propensity score weighting was used to adjust for respondents' propensity to be online.
All sample surveys and polls, whether or not they use probability sampling, are subject to multiple sources of error which are most often not possible to quantify or estimate, including sampling error, coverage error, error associated with nonresponse, error associated with question wording and response options, and post-survey weighting and adjustments. Therefore, the words "margin of error" are avoided as they are misleading. All that can be calculated are different possible sampling errors with different probabilities for pure, unweighted, random samples with 100% response rates. These are only theoretical because no published polls come close to this ideal.
Respondents for this survey were selected from among those who have agreed to participate in our surveys. The data have been weighted to reflect the composition of the adult population. Because the sample is based on those who agreed to participate in our panel, no estimates of theoretical sampling error can be calculated.