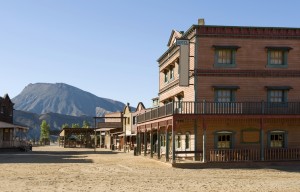 When it comes to renting an apartment, New York City can sometimes feel like the Wild, Wild West. The limited space, high cost of living, and fierce competition set you up for unique challenges you won't find in other markets. It's every man for himself, and if you're not a quick draw, you can find yourself left in the dust.
Here are the most important things you need to know to wrangle up the apartment of your dreams in this wild frontier:
Fee or no-fee?
"Fee" in this case refers to a broker fee. It's the amount you'll owe to a broker or real estate agent if they help you find a place, and it can range from 8 to 15% of the full amount of a year's lease. (That's the equivalent of 1–2 months' rent.) A "no-fee" apartment is one in which the landlord covers the cost of the broker's fee or isn't using an agent.
As a renter, you may be inclined to focus only on "no-fee" listings, but this could be a mistake. Some apartments with fees might wind up being a better deal than a no-fee rental. They might offer more space, bigger windows, higher ceilings, or a nicer location. (Then again, they might not.)
Real estate agent vs. property manager
Agents are responsible for the actual leasing of apartment units. They screen applicants, show the unit, negotiate rates and fees, and oversee the signing of the lease. Unlike in cities such as San Francisco or Chicago, real estate agents in New York manage most vacancies.
Property managers are responsible more for the day-to-day care of the units once the lease has been signed. They collect rent, handle any necessary repairs and maintenance, establish a relationship with the tenants, and are also responsible for evicting any tenants if needed.
Competition
As in the Wild, Wild West, renting in NYC is cutthroat and fierce. Since there are only a limited number of available rentals in a city teeming with people, units won't wait around for you to make a decision. If you see something you love, be ready to pull the trigger immediately.
That said, you should exercise a fair amount of caution so your eagerness to snag the right place doesn't turn you into a sucker. Agents have been known to hide how many units are available in a building (to create a feeling of scarcity), to omit available price reductions (always ask, as they may not tell you upfront), and to pull bait-and-switches, advertising too-good-to-be-true apartments that are never available when you go to see them (but ones with much higher fees are!).
When in doubt, remember: It's better to pass on a good deal than to get stuck with a bad one.
What's in a (neighborhood) name
New York is a city of neighborhoods, each with its own distinct feel, culture, and living experience. Each of the five boroughs (The Bronx, Manhattan, Queens, Brooklyn, and Staten Island) is made up of smaller neighborhoods like Harlem, Midtown, Chelsea, and SoHo.
If you're not familiar with the city, spend some time getting to know the different areas so you can make an informed decision about where you'd prefer to live. It might be worth your while to stay at an extended-stay hotel (or get a short-term rental) while you explore the various boroughs and neighborhoods.
In addition to their own unique features, different neighborhoods can have vastly different price ranges. You'll get more square footage for your money in Harlem, but you'll also have a longer commute to your Canal Street office. Conversely, you might pay more for a smaller space in Hell's Kitchen, but you'll be closer to Times Square.
Navigating an open market
NYC is what's considered an "open market," meaning multiple rental agents can list the same property. It's an all-out shootout for the same listings. This can cause no end of headaches to a prospective renter, because it results in a flood of duplicate listings that can be difficult to wade through.
Thankfully, Trulia recently fixed this problem by introducing a new open markets feature that makes it easier to navigate listings by providing consolidated property descriptions, upfront fee disclosures, and the ability to view listings by agent.
Cash upfront
Broker fee, security deposit, first month's rent … it can feel like highway robbery. Why do you need so much cash upfront?
A basic security deposit and first and last month's rent are common in many markets, so be prepared to pay those on signing a lease, no matter where you end up.
Broker fees, as we've discussed, are pretty par for the course in NYC. In such a tough rental market, brokers provide the easiest way for landlords to secure tenants and renters to find an apartment.
As for paying additional cash upfront, that depends on the building and your own personal situation. If your credit is less than stellar, a landlord may require several months' rent in advance to mitigate any risk you pose in their eyes. If you have solid credit and great references, paying in advance can potentially net you a cheaper monthly rate — negotiate with the landlord to see if they'll offer a discount for upfront payment.
Finally, stay upbeat. Renting in NYC is unlike renting anywhere else in the nation. Embrace this new experience as part of the adventure.