Even if it's just occasional, many of us work from home. But if you're a frequent work-from-homer with dreams of moving somewhere that will help you separate your home and office lives, the price of a larger rental with room for a dedicated office space can seem a little daunting. Then there are the home-based-office distractions such as pets, that pile of laundry in the corner, or even your Netflix subscription.
But if your building has a setup with a killer coworking space like these eight apartment buildings — ready and waiting for you to use at no extra cost (including no more rush-hour commutes) — you might want to start the hunt for a new apartment for rent in College Park, MD, or Charlotte, NC, so you can take full advantage.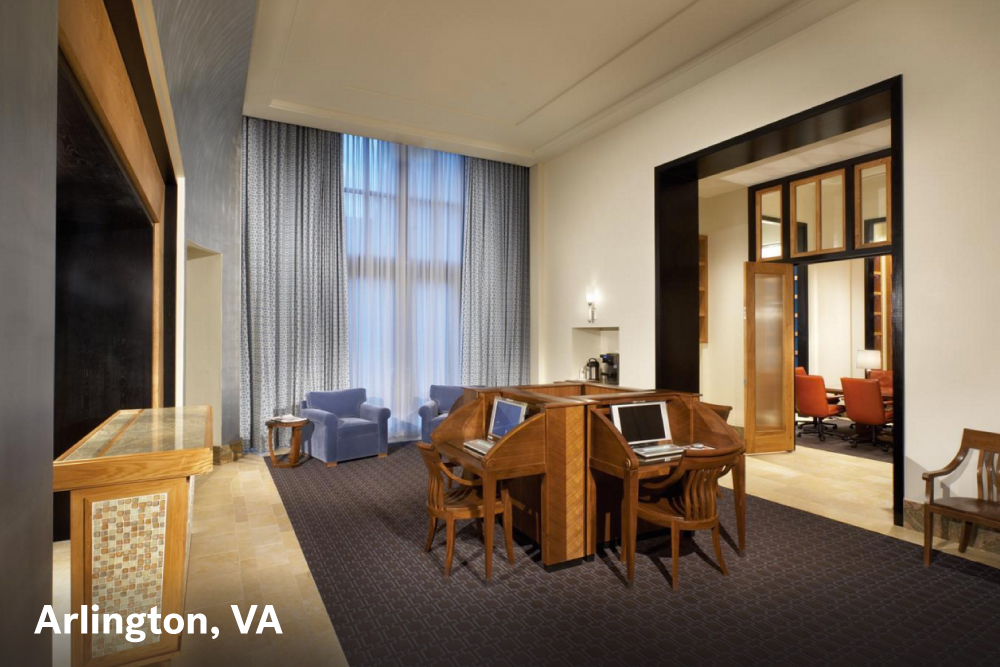 Executive elegance: $1,791 to $4,828/month, The Gramercy
The Gramercy in Arlington, VA's Metropolitan Park is perfect for the DC commuter who wants an escape from traffic sometimes. The building is home to a neat librarylike business center with lots of personal workstations — not unlike a tastefully done university media center. There's even a separate executive room with a sleek flat-screen TV.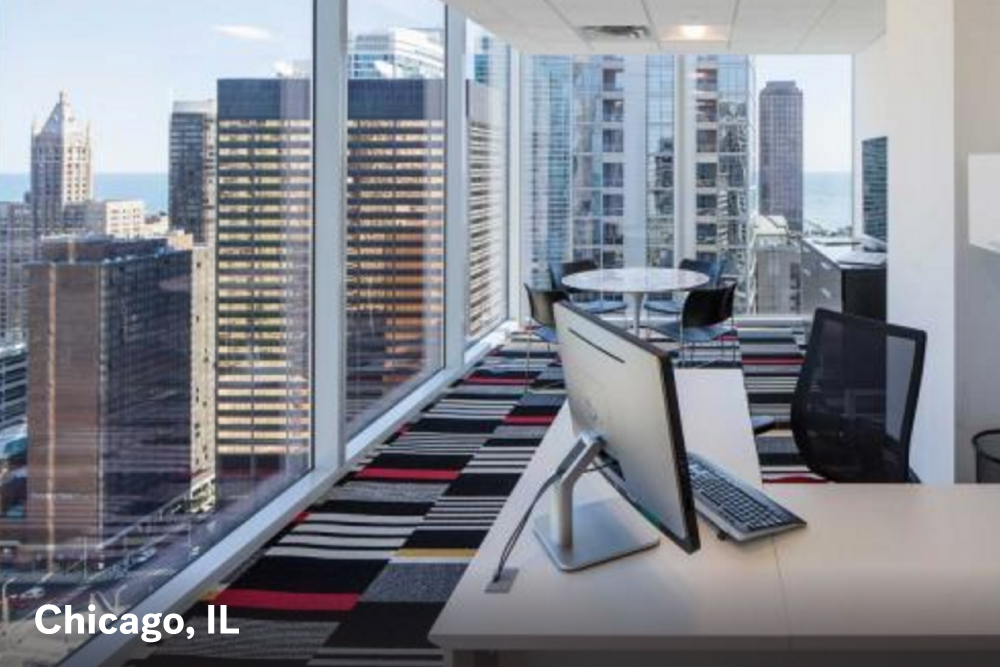 For the city mouse who hates the rat race: $1,563 to $12,878/month, Optima Chicago Center
For those who like going into the office just to experience the hustle and bustle of the big city, Optima Chicago Center is for you. This apartment building boasts a high-level, Mad Men–like business center with long tables and an incredible view of the Chicago, IL, skyline, making you feel right in the middle of the action without having to leave your building.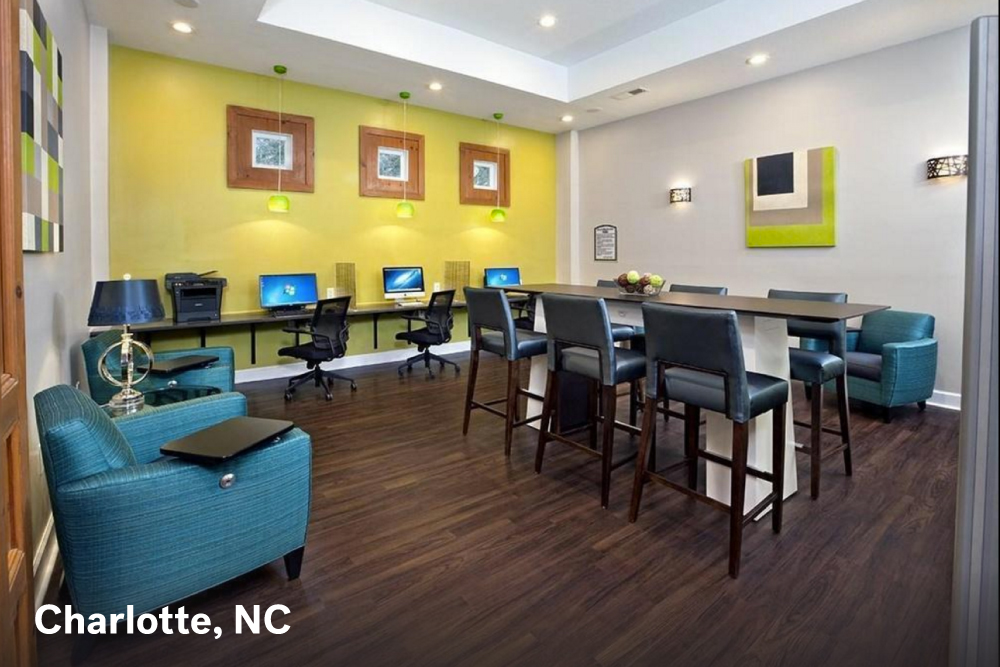 A vibrant mind's dream: $909 to $1,680/month, Bexley at Springs Farm
A brightly colored, well-decorated business center awaits those who make use of the amenities at the rustic Bexley at Springs Farm in Charlotte, NC. This cheery, comfortable space ensures you never fall asleep at your desk because of too-dim office lighting and also features cushy armchairs with slide-in desks for maximum efficiency and space saving.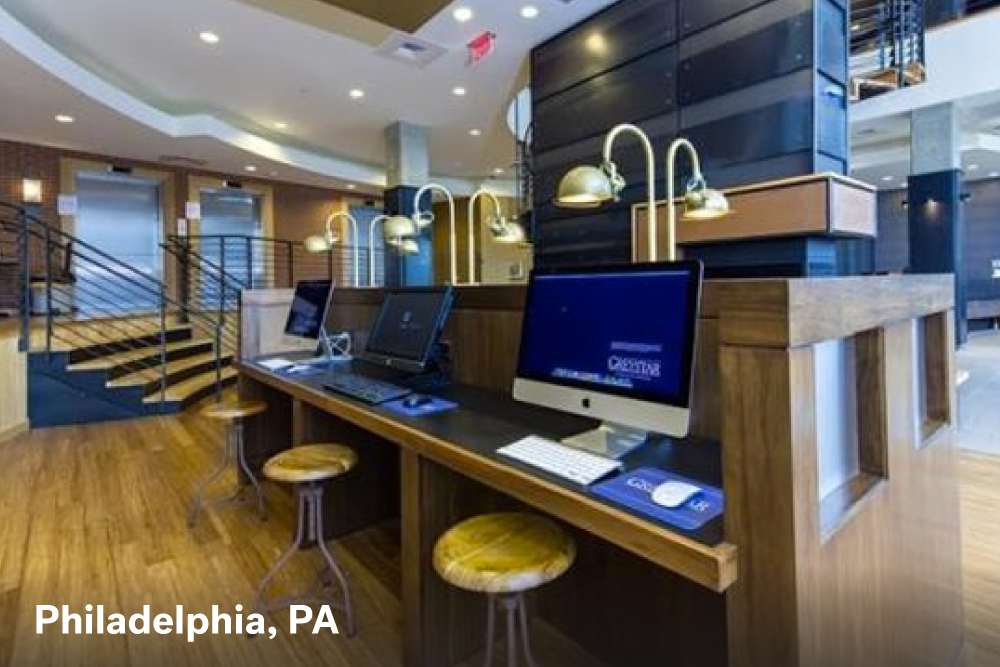 Calling all Apple nerds: $1,925 to $5,995/month, The Granary
Smack-dab in the middle of Philadelphia, PA's central business district, The Granary offers its residents a library-style business center. With features such as big-screen computers (including iMacs!), tasteful wood furnishings, and individual workstations that keep outside distractions to a minimum, you'll soon be wishing Starbucks had a delivery service.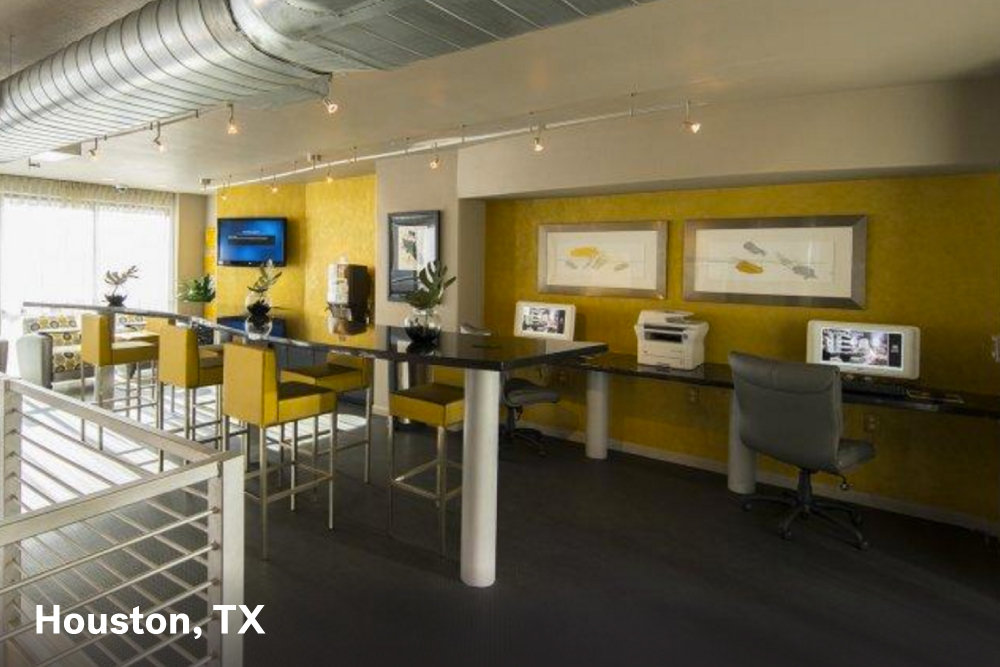 Everything's bigger in Texas: $968 to $2,043/month, Briar Forest Lofts
Briar Forest Lofts in Houston, TX's trendy Energy Corridor neighborhood isn't messing around when it comes to its workspace offerings. The building houses an industrial-style, lofted business center complete with a printing station, lots of computers, and a large table workspace. There's even a private meeting room for when you really need to focus.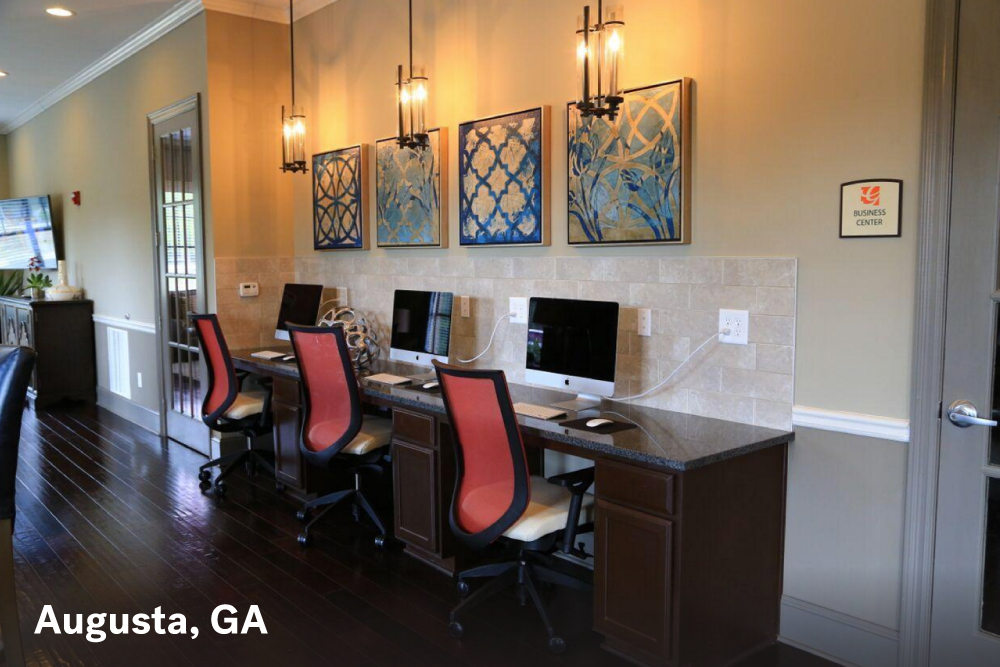 Wired up: $980 to $1,350/month, Gateway Crossing
Augusta, GA's Gateway Crossing is all about technology, with an Internet cafe–style business center that includes multiple communal worktables, relaxing armchairs, and personal desks with their own individual lights. You can also take advantage of their poolside Wi-Fi — you know, for those important FaceTime meetings from your inflatable raft.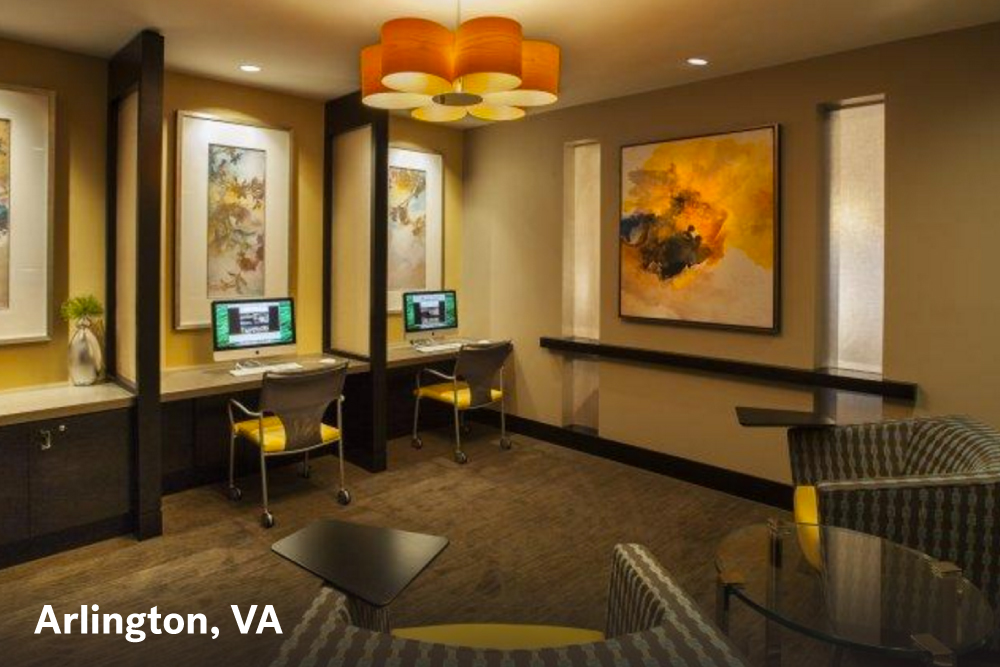 Private productivity: $1,584 to $2,710/month, The Madison at Ballston Station
If you're looking for a private, serene workspace, the Madison at Ballston Station in Arlington, VA, has you covered. At the heart of the building's fine art gallery–like business center are multiple workstations with dividers. The space also includes armchairs with built-in desktops to foster collaboration.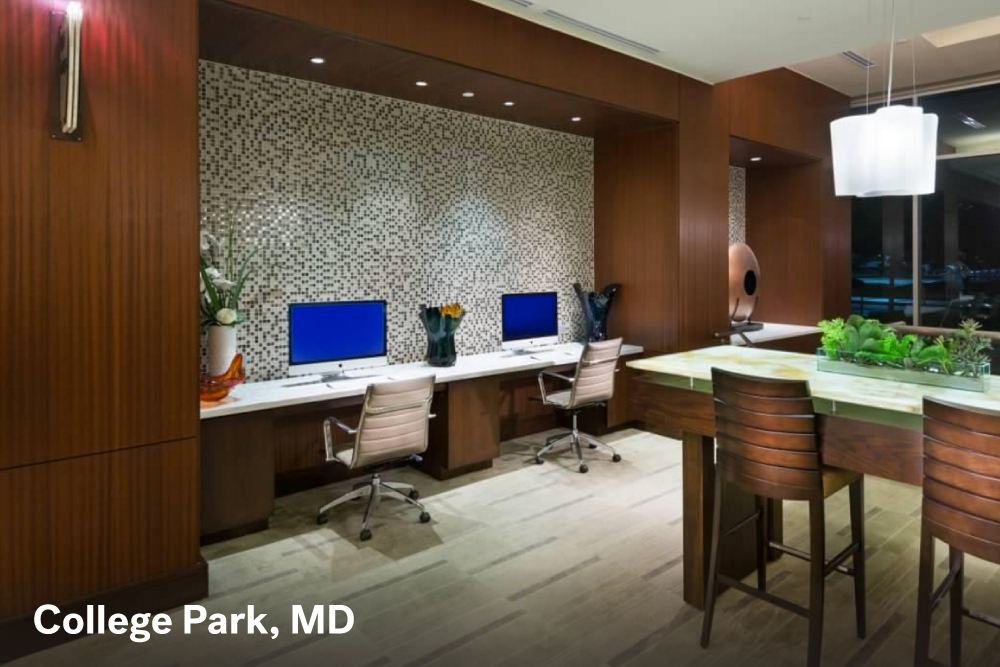 For those with clients to impress: $1,673 to $3,323/month, Domain College Park
Domain College Park in College Park, MD, features four — yes, four — high-tech conference rooms complete with iMac computers, a unique tiled wall design, and large communal worktables. The building also includes a private conference room with a TV and a 24-hour concierge service.