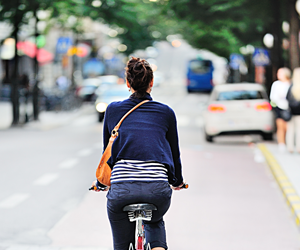 From the struggle to save money for a down payment to enjoying a more carefree lifestyle without worrying about replacing roofs and plumbing, the reasons abound. Buying isn't for everyone. At Trulia, we've covered some of the financial benefits, but why might renting just be the ideal fit for your lifestyle? Beyond the money, here are seven scenarios where renting could be the solution that helps you call home … home.
1. Access
If life brings you repeatedly to a certain part of town — whether for work or play — renting can instantly give you access and shorten your daily travel time. If you live in a metropolitan area, renting close to work could mean a savings of hundreds each year on commuting costs, not to mention the time you don't have to spend in the car or on public transportation. If your friends and after-hours activities keep you out until late hours, you can skip leaving your car somewhere and simply walk home. Not to mention being able to rent in a more upscale area for less than it would cost to buy. No down payments or paperwork — just instant access to the place you want to be with a deposit and rent check. You might be able to stay parked or ditch the car entirely.
2. Travel
Got wanderlust? Maybe work takes you to a new place every few years. If so, buying doesn't really fit your lifestyle. Renting allows you to sign leases of varying terms and plan future travel without being locked into a long-term living obligation like buying.
3. Timelines
If work's looking like it could take you elsewhere, renting is an ideal fit. With the costs of closing on a home (including down payments), you might be better off signing a short-term or corporate lease (complete with furnishings). This way, it's less about stuff and more about being nimble and your life, portable.
4. Schools
When kids come along, schools are a major decision-making factor. The better public schools can often be found in areas where home prices are higher. You just might find that renting a home in an area with access to the right schools makes more financial sense than buying in the same area. Take a look at the school ratings on Trulia before narrowing down the neighborhood.
5. Maintenance
Some folks just aren't handy or simply don't want to be. When you rent, there's always a landlord or management company you can call for repairs. While you're going to be at their mercy for getting to your place and getting the fixing going, odds are, you won't be out of pocket for repairs that are structure-related. They'll have the leaks in your roof from that recent hurricane under control — and using their checkbook.
6. Amenities
Especially in metropolitan areas, renting can offer you access to more than a handful of amenities. From hot rooftop decks and pools to on-site (and well-appointed) fitness centers and gym memberships, there are plenty of potential benefits to renting. Many buildings in metropolitan areas also offer on-site services like free Wi-Fi, dry cleaning, a doorman, and parking — all of which might cost you a pretty penny if you were to buy (where parking, especially, can be thousands of dollars to buy and hundreds to rent each month).
7. Exploring
If you're new to an area, renting is a powerful tool to help you get to know the area. You can spend a few years living in different parts of town until you find the perfect area that feels like home. This keeps you from buying in an area that looks great but you haven't spent much time in and around. And while you might be moving every year or so, the money spent on a U-Haul or movers pales in comparison with paying closing costs on a home you're buying on a time crunch during a relocation.