It's time to rewatch The Big Lebowski, shine your lucky ball, and get ready to throw some strikes — because the new owners of these homes for sale with bowling alleys are most definitely kingpins. From the Florida Panhandle to the Rocky Mountains, these 13 properties each boast a regulation-size bowling alley.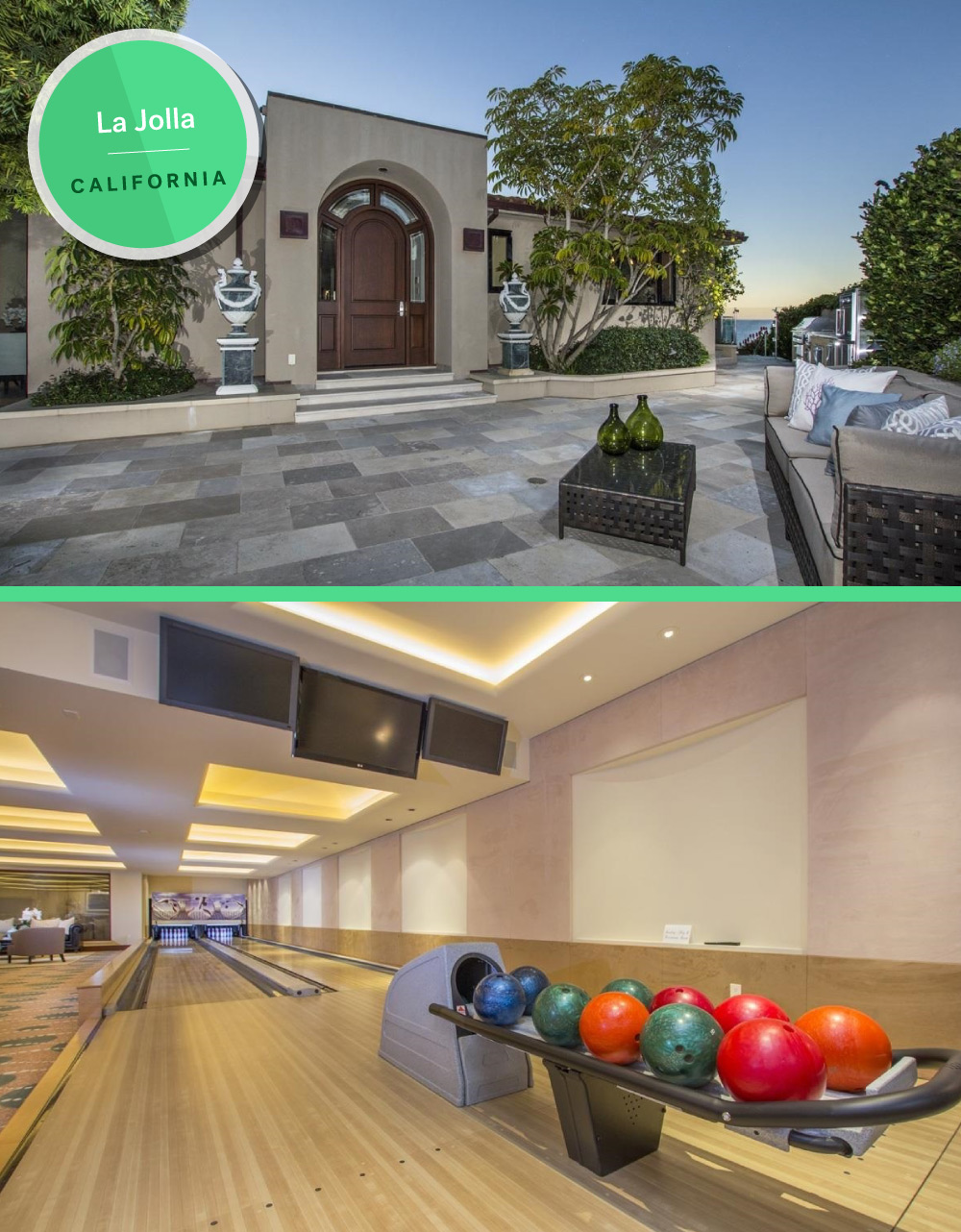 $21 million in La Jolla, CA (click here for more photos)
Tucked behind a walled courtyard, this five-bedroom art deco masterpiece features exotic stone and millwork, a 12-person theater, yoga room, guesthouse — and of course, a two-lane bowling alley. Sleek hardwood flooring and warm, bright decor welcome bowlers, and three flat-screen TVs help keep score in style.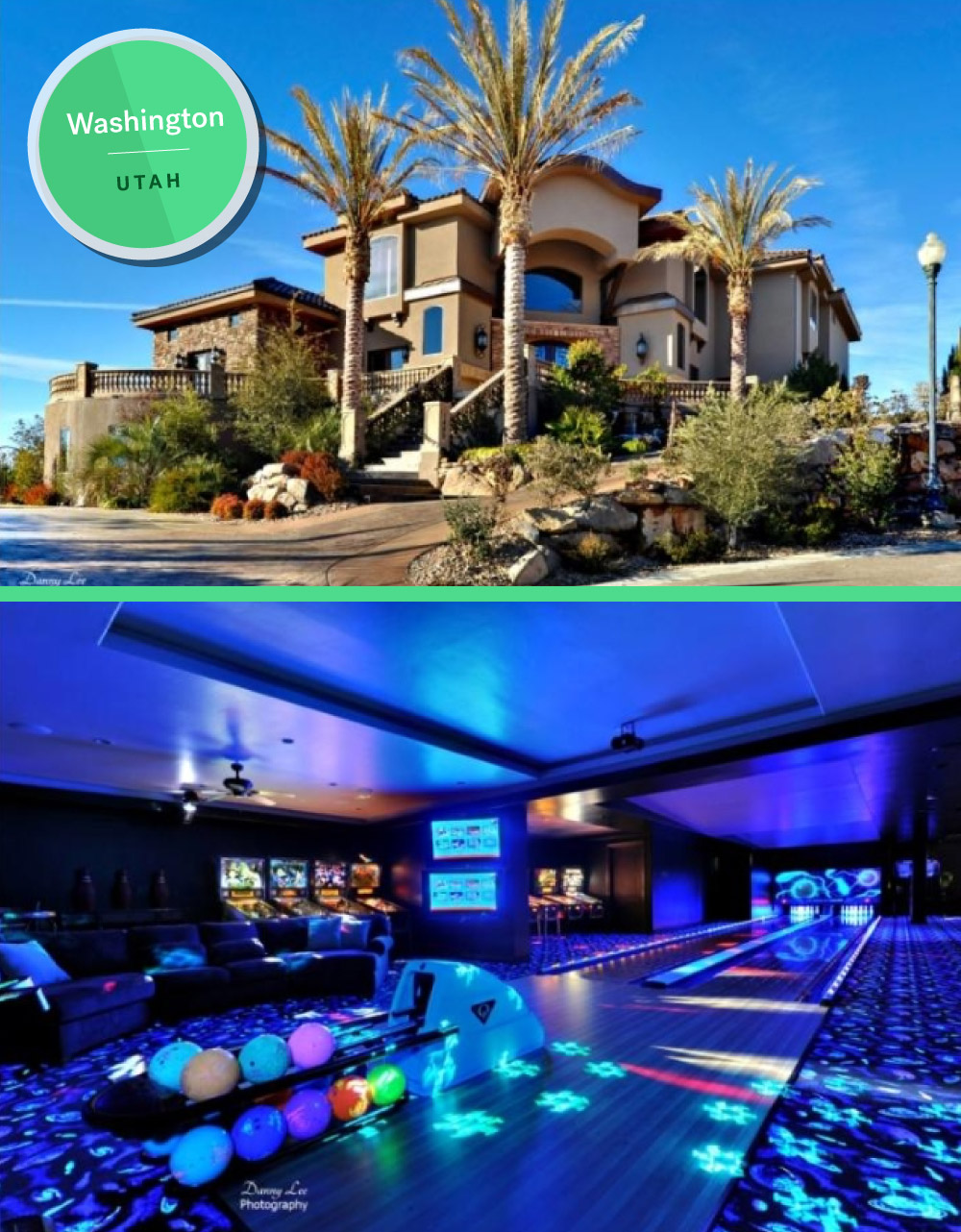 $4.89 million in Washington, UT (click here for more photos)

Men's Journal named this Utah behemoth the "Manliest Home in America." (Whatever that means.) Perched on a hillside overlooking Zion National Park and Majestic Pine Valley Mountain, this eight-bed, nine-bath manse has two home theaters, an arcade area with pinball machines and an air hockey table, plus a private sports pub. A two-lane bowling alley with neon blue gutters and bright lights will have you wondering if you took a wrong turn and ended up at a nightclub.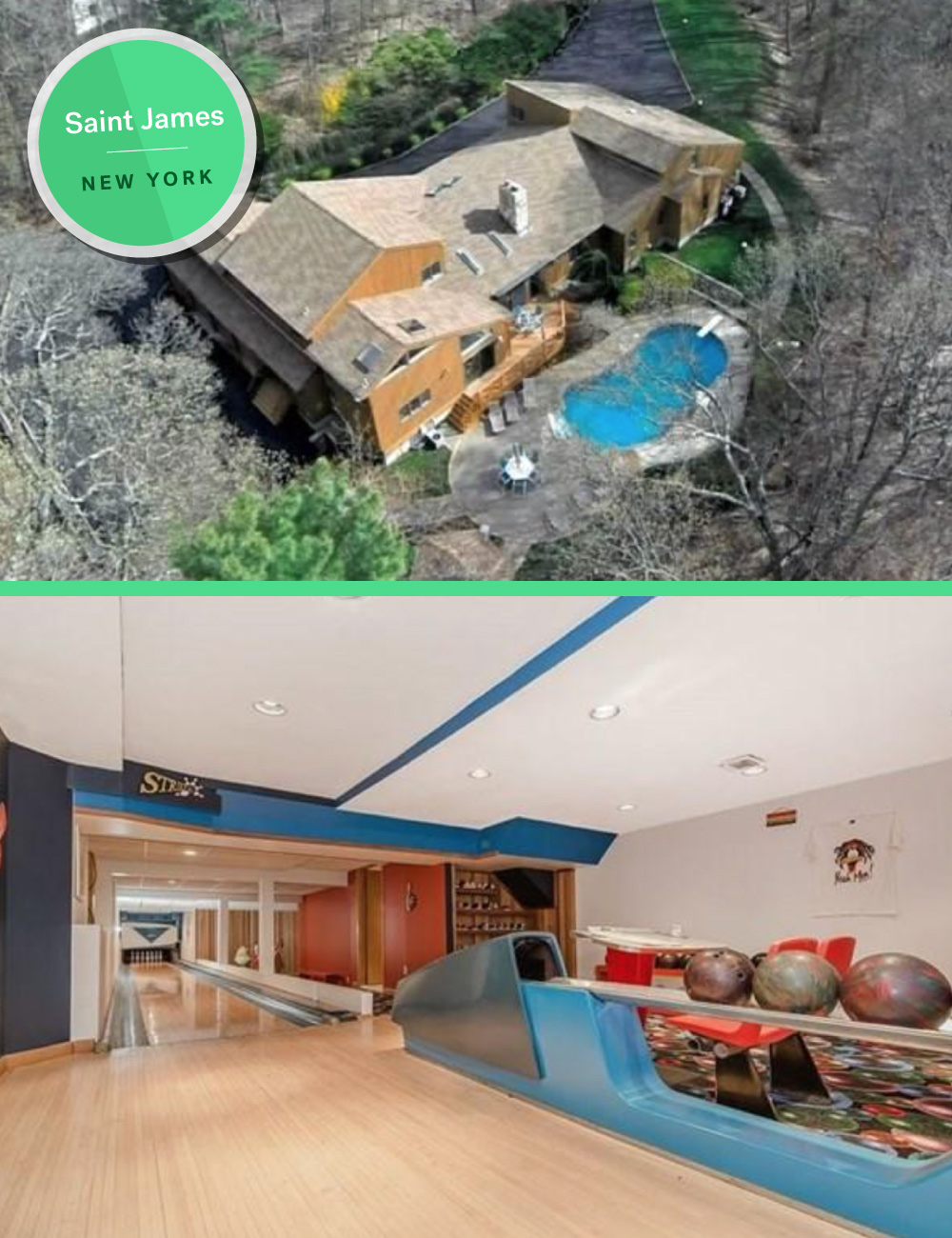 $1.299 million in Saint James, NY (click here for more photos)

Wood flooring and classic finishes complement this contemporary-style New York home, which was built in 1986. A swimming pool and single-lane bowling alley with clean, futuristic design make this rustic retreat a true party pad.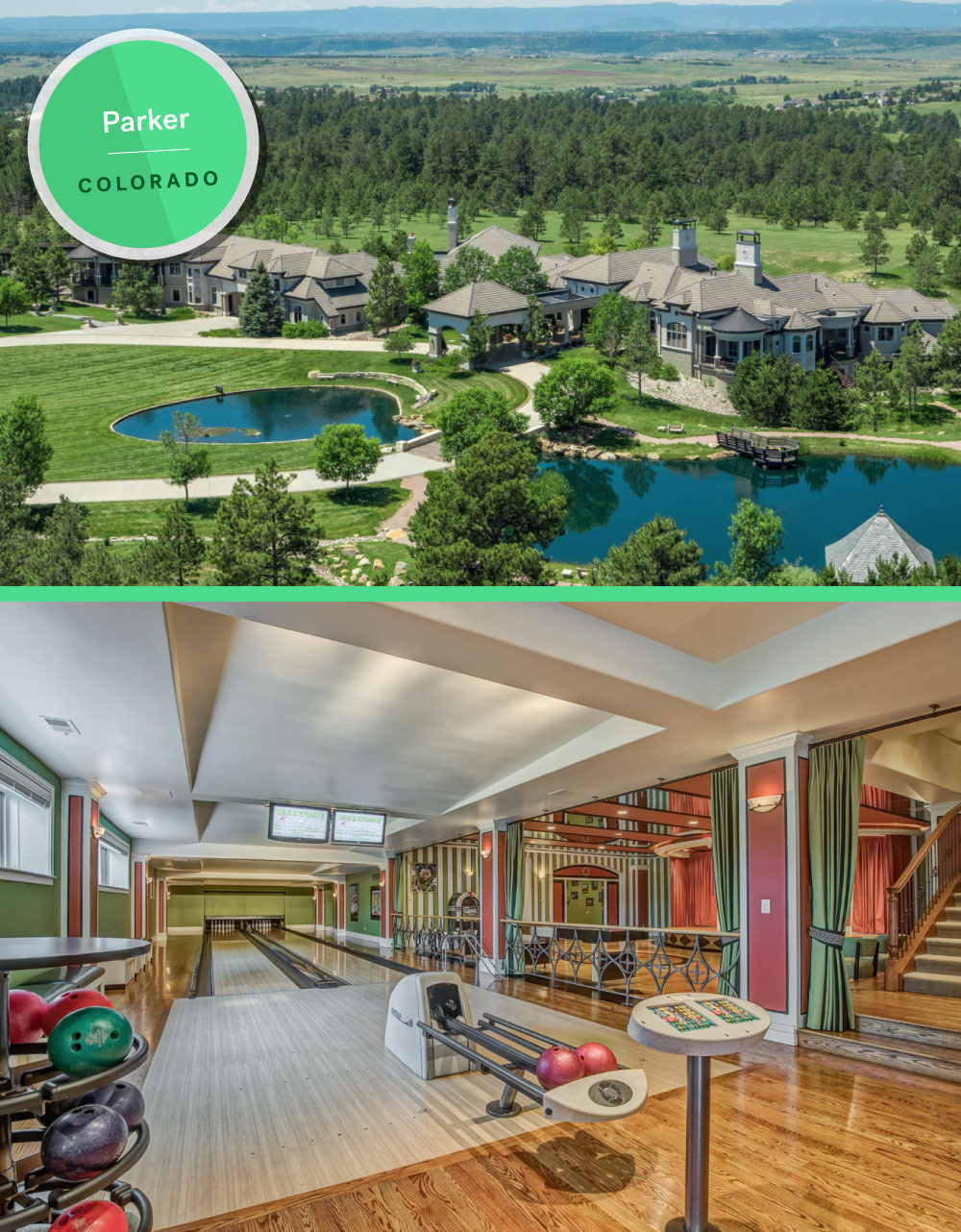 $18.37 million in Parker, CO (click here for more photos)
As if exploring 70 acres of Rocky Mountain bliss weren't enough, this 11-bedroom mansion can shelter 29 automobiles and features a dazzling two-story atrium pool and a decadent spa, home theater, dance floor, stage, tasting room, and 1,500-bottle climate-controlled wine cellar. Oh, and a stunning two-lane bowling alley with hardwood finishes and two flat-screen TVs is the perfect place to wait out those blustery Colorado snowstorms.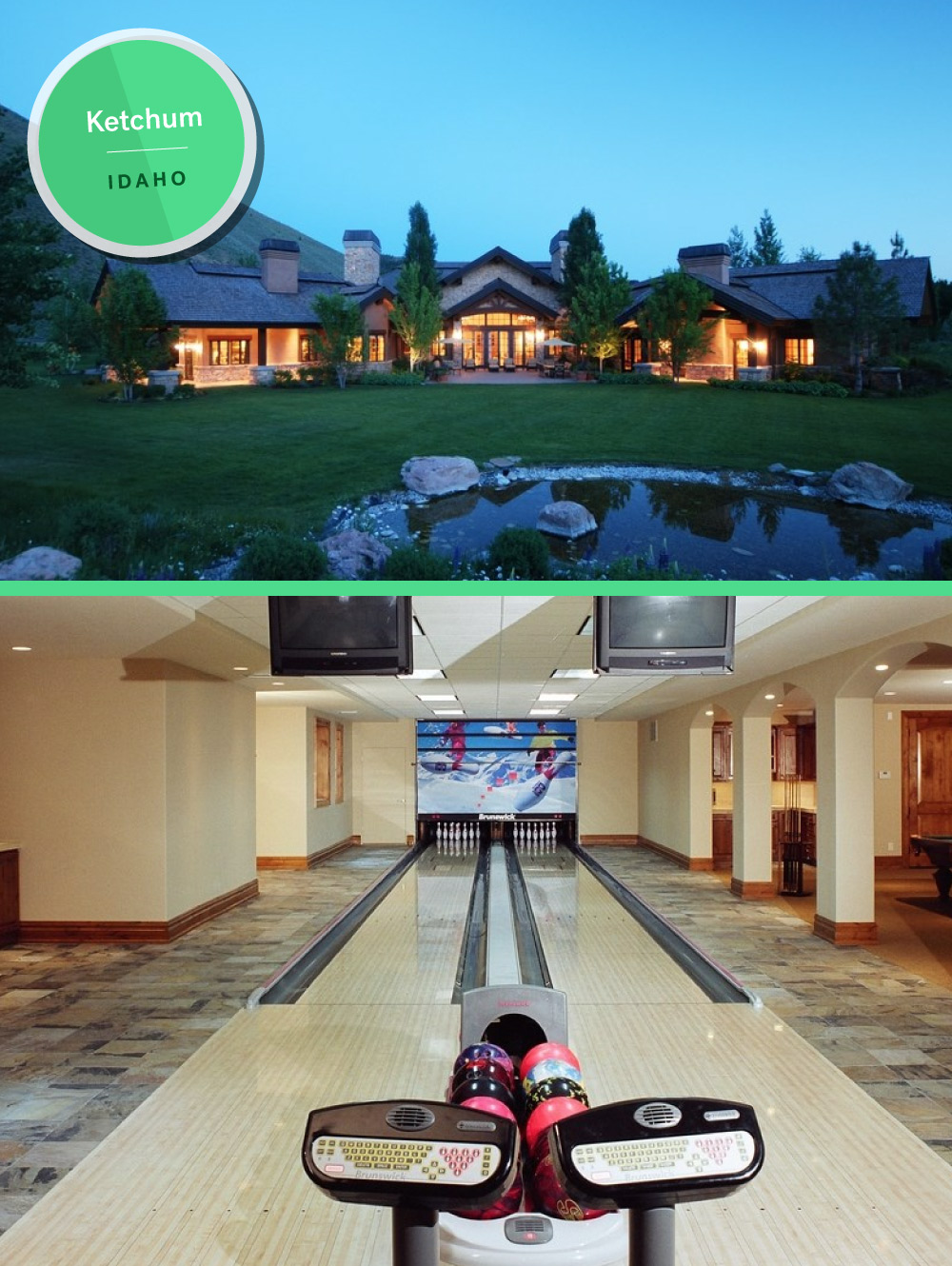 $11 Million in Ketchum, ID (click here for more photos)

A two-lane bowling alley and game room with billiards, foosball, sitting area, and warm fireplace fit right in with this nine-bed, 13-bath haven. But its best feature might be the great room, the home's centerpiece, featuring two stately fireplaces and a wall of windows that overlook the mountains beyond.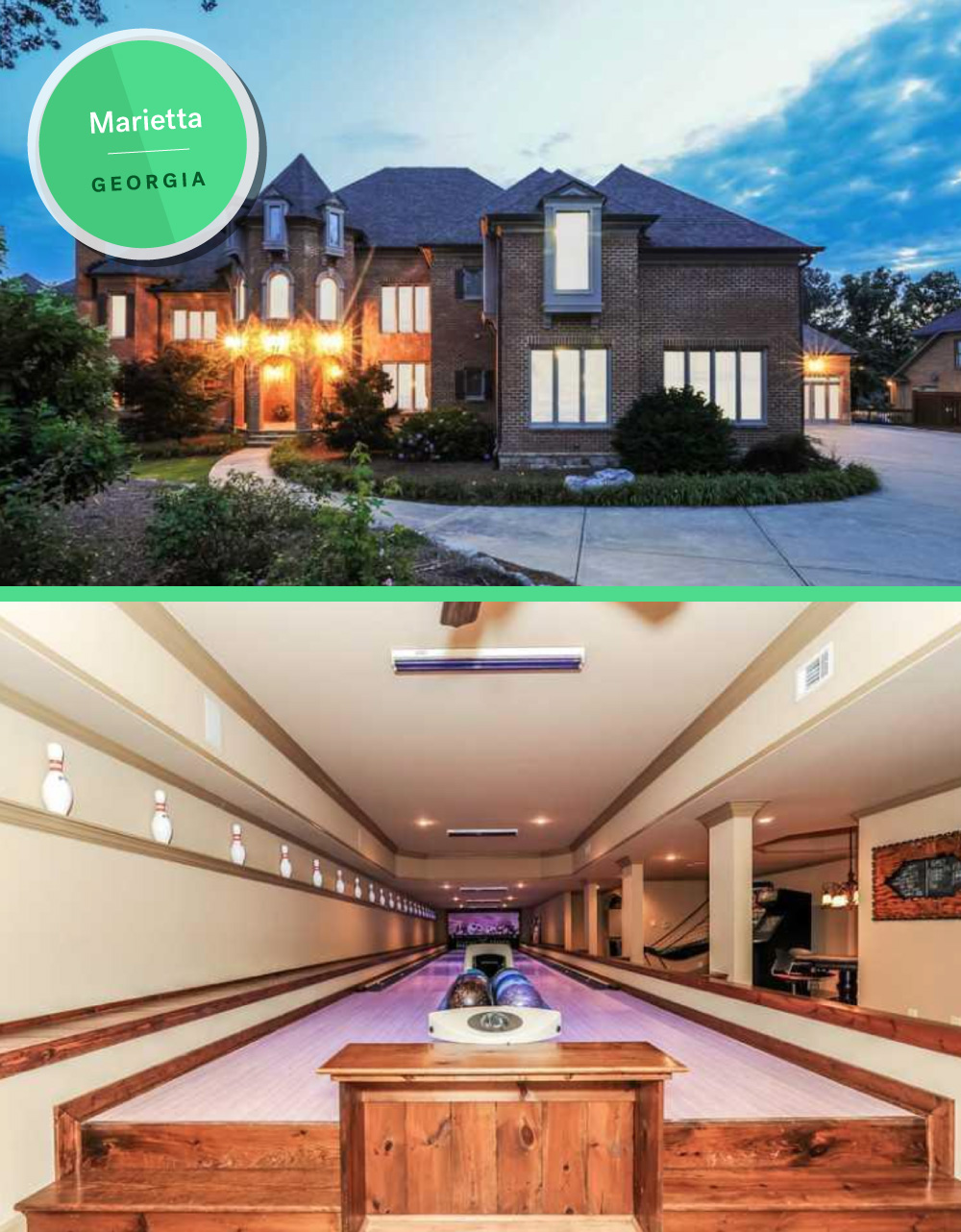 $1.4 million in Marietta, GA (click here for more photos)

The basement is the fun headquarters for this Southern gem, which offers a two-lane, step-up bowling alley made with rich wooden tones, game room, wine cellar, secret room, and billiards in a spacious area with a mural-style painted ceiling of clouds and sky. When you're ready to kick off those bowling shoes, you can relax in the master suite's steam shower or jetted tub — then head to the screened porch for some sweet tea.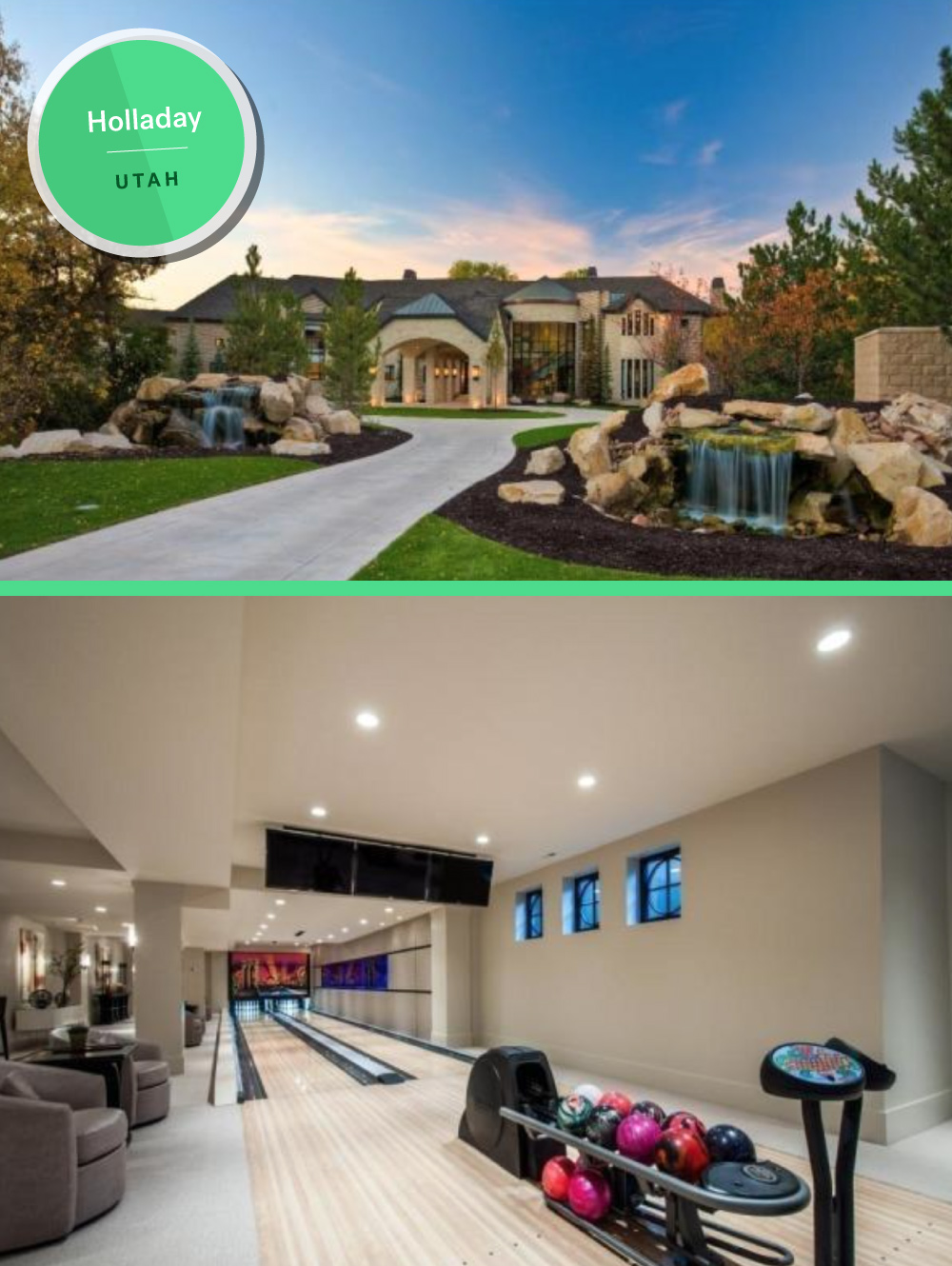 $8.9 million in Holladay, UT (click here for more photos)

Does a 3,500–gallon saltwater aquarium strike your fancy? A golf simulator? Multiple waterfalls? Challenge your family to a game in the two-lane bowling alley or sit on the side in plush leather seats as everyone else plays. And there's always the option to entertain at the saltwater pool, hot tub, tennis court, and welcoming outdoor area.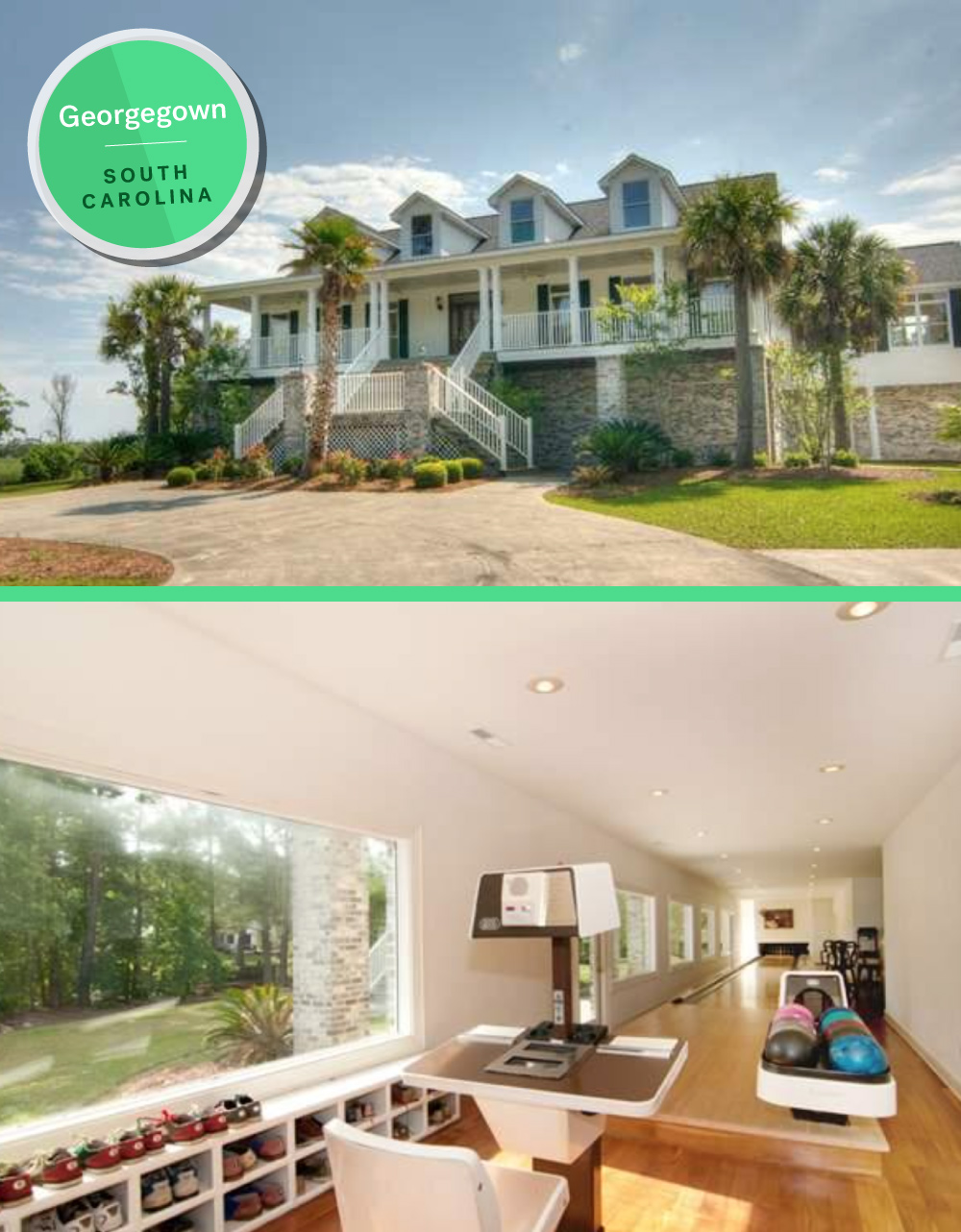 $1.275 million in Georgetown, SC (click here for more photos)

The bowling alley isn't relegated to the basement in this six-bedroom spread. Instead, the vintage-inspired rec area is lined with spacious windows and filled with light, overlooking the shady trees of the Lowcountry. If you can't resist the great outdoors, head outside to work on your swing at your own putting green and sand trap, or hit the tennis courts or pool.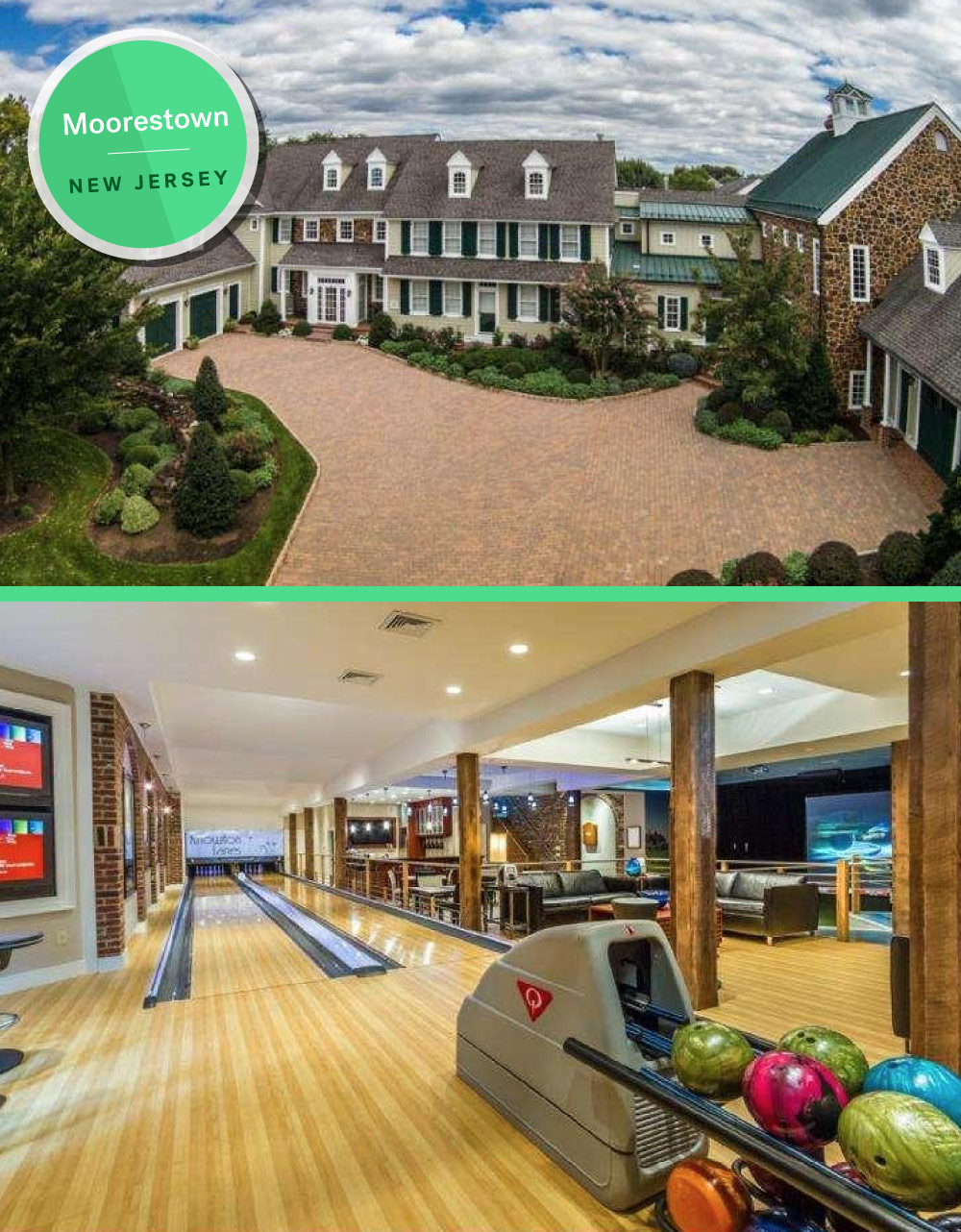 $5.45 million in Moorestown, NJ (click here for more photos)

Play like a true kingpin at Tabula Rasa. Built in 1819, the 20,000-square-foot home is made for the avid athlete. In addition to a two-lane bowling alley, there's a golf simulation room, a basketball half court, a gym with a kitchenette, and a home theater. After the game, grab cocktails at the spacious bar and lounge area just a few feet away.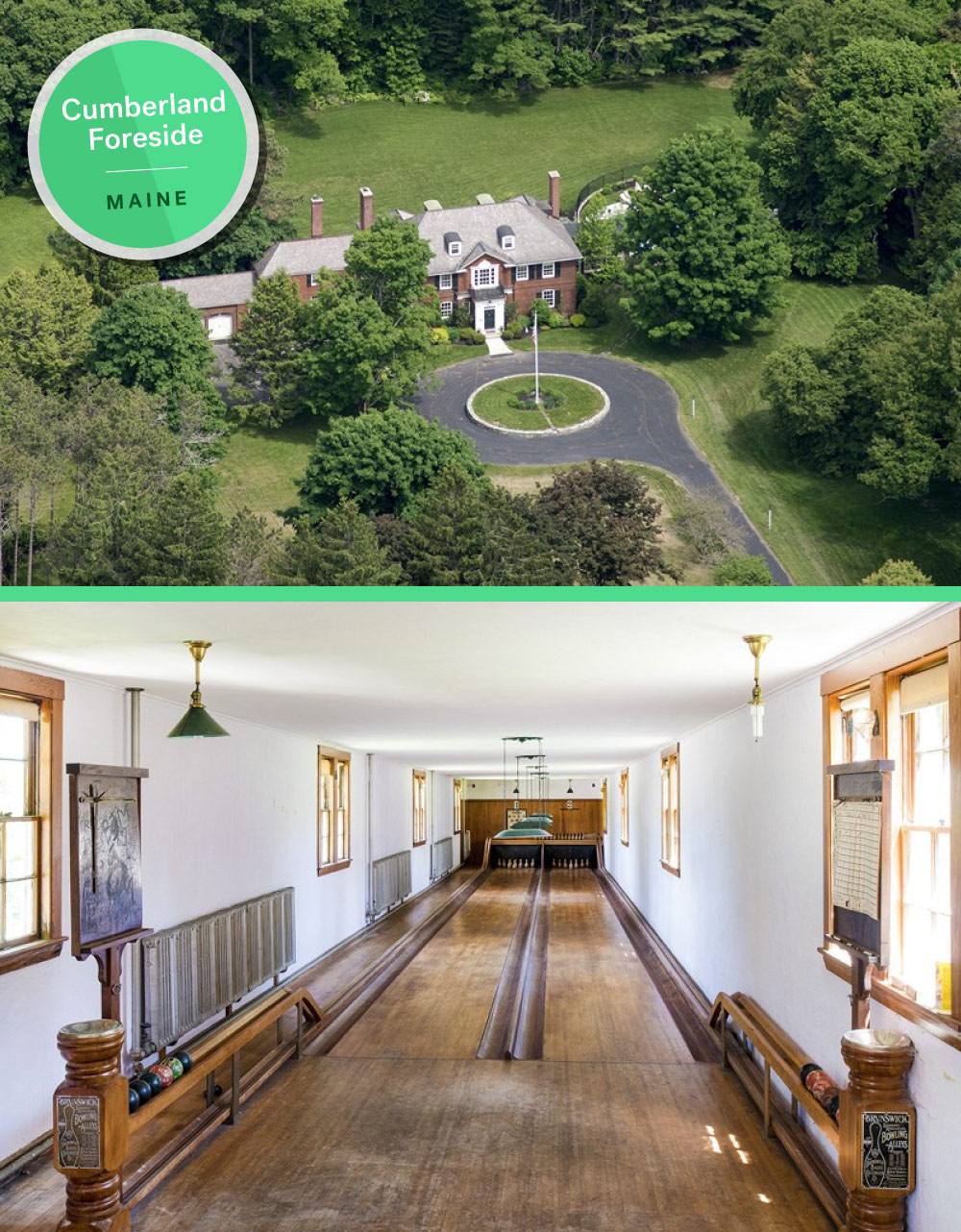 $1.895 million in Cumberland Foreside, ME (click here for more photos)

Get a taste of historic New England at the Abba Burnham House, built in the late 1800s for the heir of the Burnham & Morrill Baked Beans company. Inside, you'll find an antique bowling alley complete with unfinished dark wood paneling and traditional New England duckpin accessories — along with a billiards hall. And outdoors, stone pillars, a circular drive, and lush trees and gardens are spread out over 3.75 acres.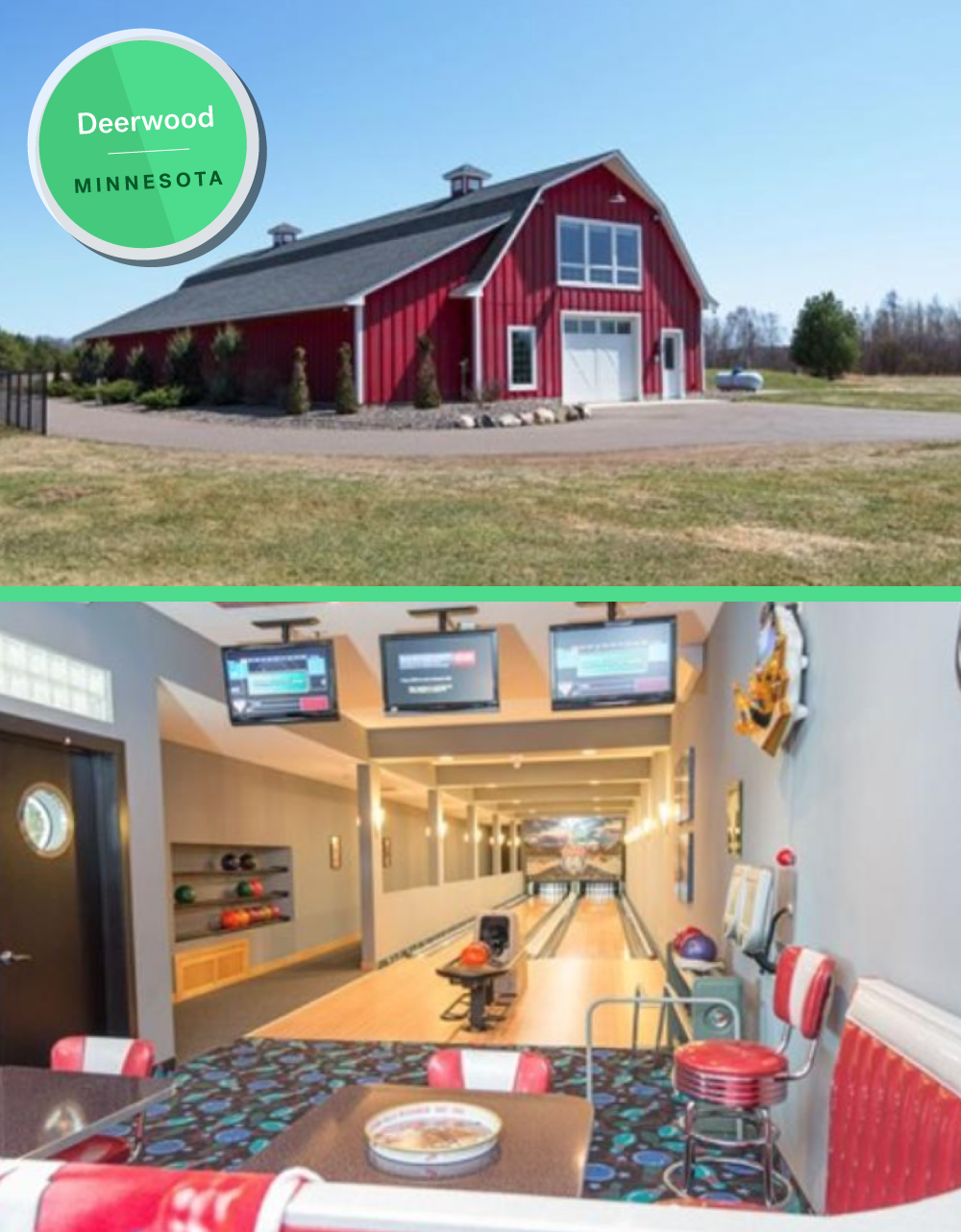 $1.3 million in Deerwood, MN (click here for more photos)

Go retro with this home's 1950s flair, including a bowling alley with the traditional red diner booth-style seats, vintage-look malt shop, go-kart track, and six-car-plus garage. Built in 2009, the 5,756-square-foot home is located on almost 20 acres in Minnesota.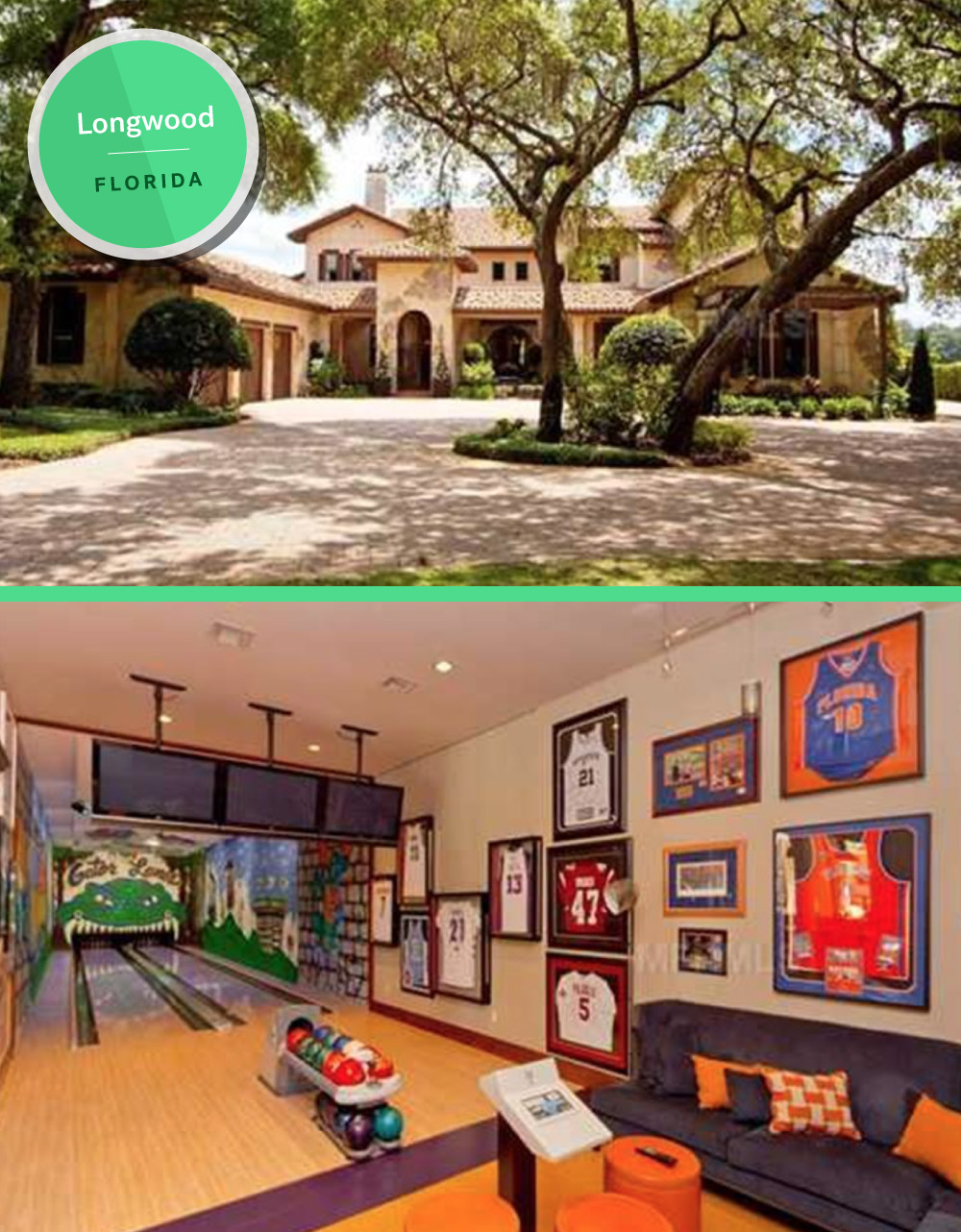 $4.35 million in Longwood, FL (click here for more photos)

This Mediterranean-inspired spread is the ultimate home for entertaining, thanks to a pool and spa with an oversized lanai, lush lawns, dock access, a game room, and a regulation-size bowling alley appropriately dubbed "Gator Land" (this is Florida, after all). Sit back on the cozy blue couches while you wait for your turn to throw a strike into the big gator's mouth.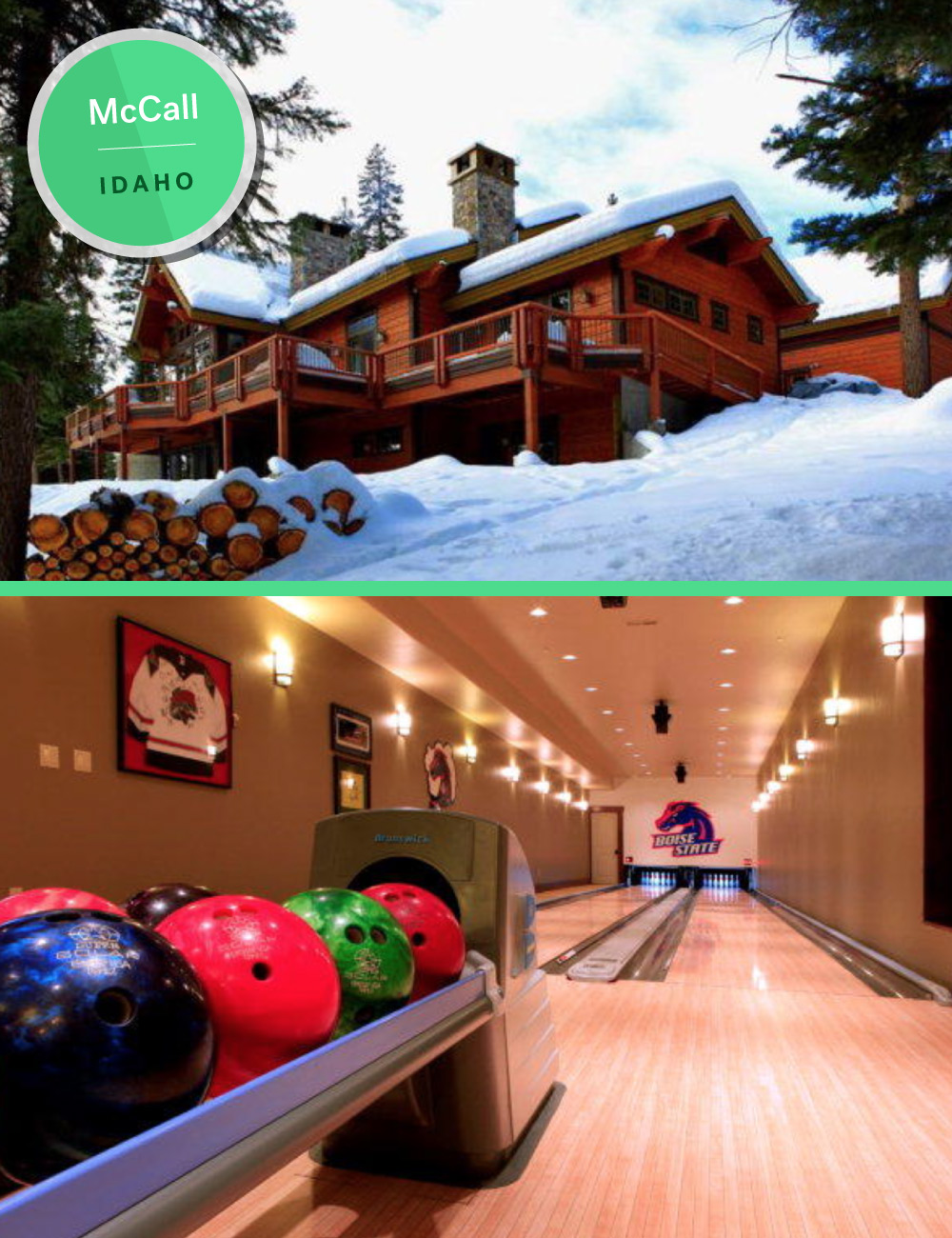 $3.7 million in McCall, ID (click here for more photos)

Practice makes perfect in this Midwestern mansion, a 9,900-square-foot home with stunning mountain views. With vaulted ceilings and high-end finishes, the home gives the term "basement" a new meaning: It boasts a game room, bar with multiple TVs, state-of-the-art music system, exercise room with a steam shower, and movie theater. And of course, a two-lane bowling alley with a huge Boise State emblem above it is the perfect pick for any Idahoan.