With Thanksgiving just around the corner, Trulia looked at the best cities for a Thanksgiving Feast. You know, just in case you can't stand the thought of trekking to your crazy relative's house for yet another "famous" casserole.
For most Americans, the annual Thanksgiving feast is all about homemade pie, special cranberry sauce, and a well-prepared turkey. Some boast of old family recipes, while others prefer ready made meals. Regardless, there is always contention over who makes the best Thanksgiving dish. To settle the debate, Trulia investigated which cities in the U.S. are truly the best places to induce the infamous Thanksgiving food coma.
To answer this important question, we identified the ingredients that are essential to a proper Thanksgiving meal. We then scoured our neighborhood amenities data, by way of Yelp, to find which cities have the most farmer's markets, spice stores, grocery stores, meat shops, pumpkin patches, bakeries, and holiday decoration stores. We then layered on areas with the highest number of wild turkeys, according to data from USGS, to calculate our feast worthy cities.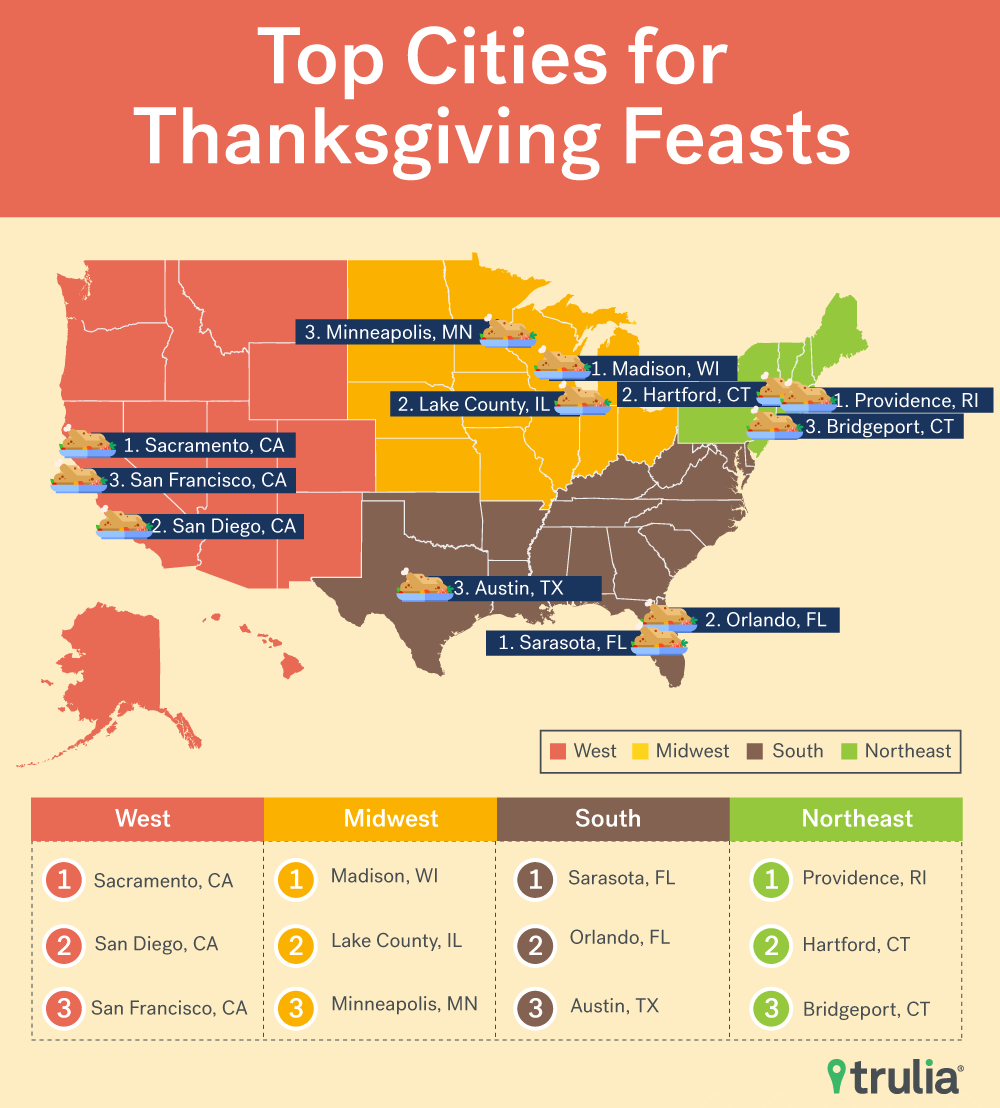 Interested to see if your hometown made the list? Check out the top cities by region for the Thanksgiving meal while there's still some time to book a Thanksgiving trip!
If you have particular favorite dish when it comes to the feast, we also took a look at the best cities for turkey, pumpkin pie, and stuffing so you can pinpoint exactly where you need to be on the big day.
And while you drool in anticipation of next Thursday, take a look at Thanksgiving: By the Numbers to learn more about the holiday.

No matter where you celebrate, we hope you have a Happy Thanksgiving with plenty of leftovers!
Share your favorite place to celebrate the Thanksgiving meal in the comments!
Methodology:
Yelp data was used to obtain counts of Farms, Farmers Market, Bakeries, Pumpkin Patches, Holiday Decorations, Grocery, Livestock Feed & Supply, Live/Raw Food, Herbs & Spices, and Meat Shops by metro area. We then calculated how many of each type of business each metro area has per 10,000 occupied housing units. Then each category was ranked on these business counts per 10,000 households from least to most and the average of those rankings were used to find an overall best thanksgiving metros. The USGS North American Breeding Bird Survey was used to estimate wild turkey prevalence in each metro and ranked and scored in a similar way.
Subcategories of best places for turkey, pumpkin pie and stuffing based on smaller groups of the same yelp and bird survey data as follows:
Turkey:
Bird – Turkey Data
Livestock Feed & Supply Stores
Live / Raw Food
Meat Shops
Pumpkin Pie:
Bakeries
Pumpkin Patches
Farmers Markets
Stuffing:
Farms
Farmers Market
Grocery
Herbs & Spices
Meat Shops