When Trulia was founded in 2005, we revolutionized the way people found homes by making real estate listings available on the internet, and we've been improving the home buying and renting experience ever since – exploring new platforms, introducing unique tools and features, personalizing every interaction with Trulia, and more. As we move forward and continue to build innovative solutions, Trulia is following a new mission: "Build a more neighborly world by helping you discover a place you'll love to live."
This mission is steeped in extensive research conducted last year, which showed time and time again that neighborhoods matter to buyers and renters. In fact, through internal research, we found that about 85% of homebuyers who plan to buy within 18 months say that the neighborhood is equally or more important than the house.
In living our mission, we're excited to share a new product that will provide buyers and renters with unique neighborhood insights to help them discover a place they'll love to live: What Locals Say.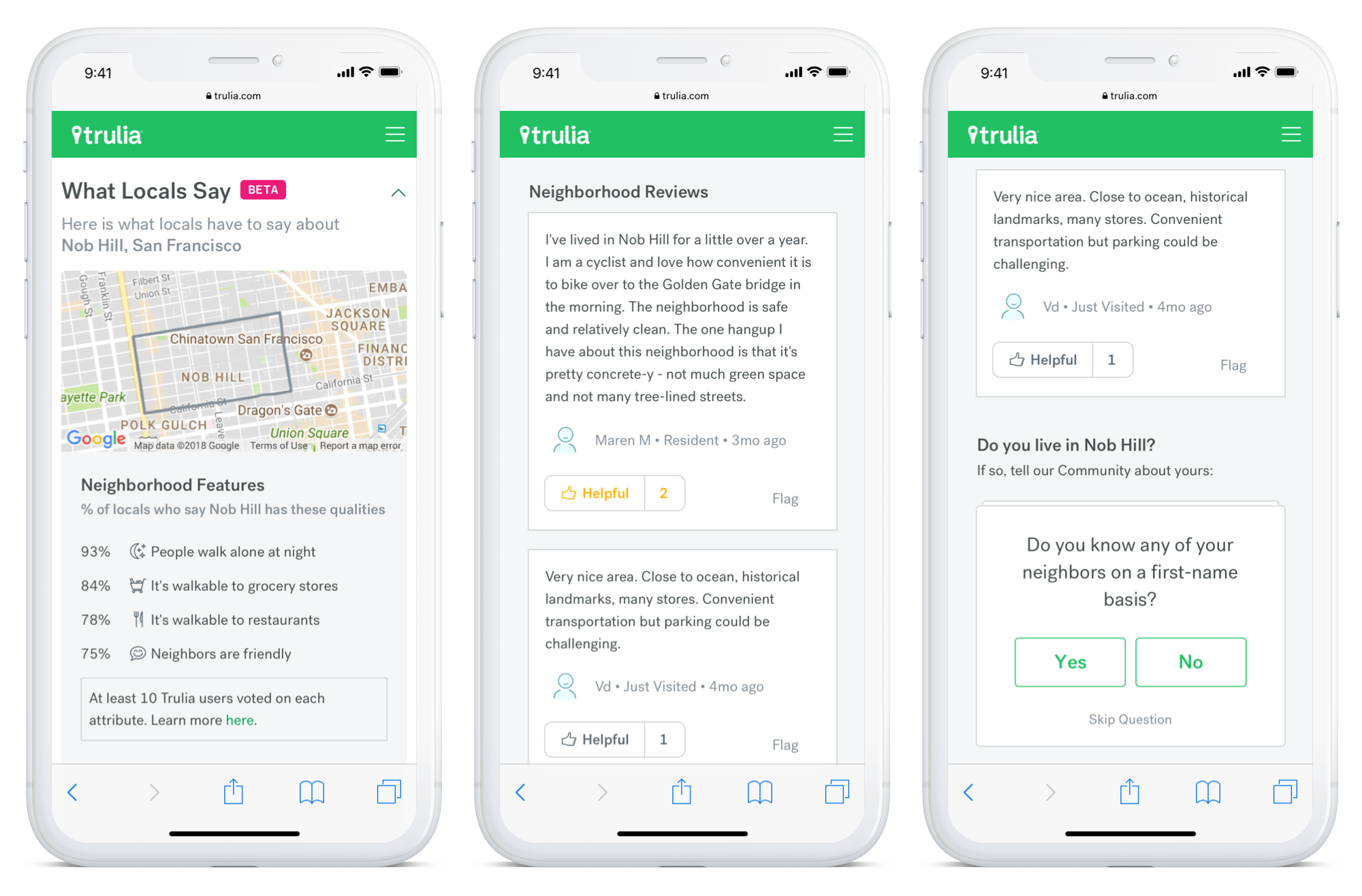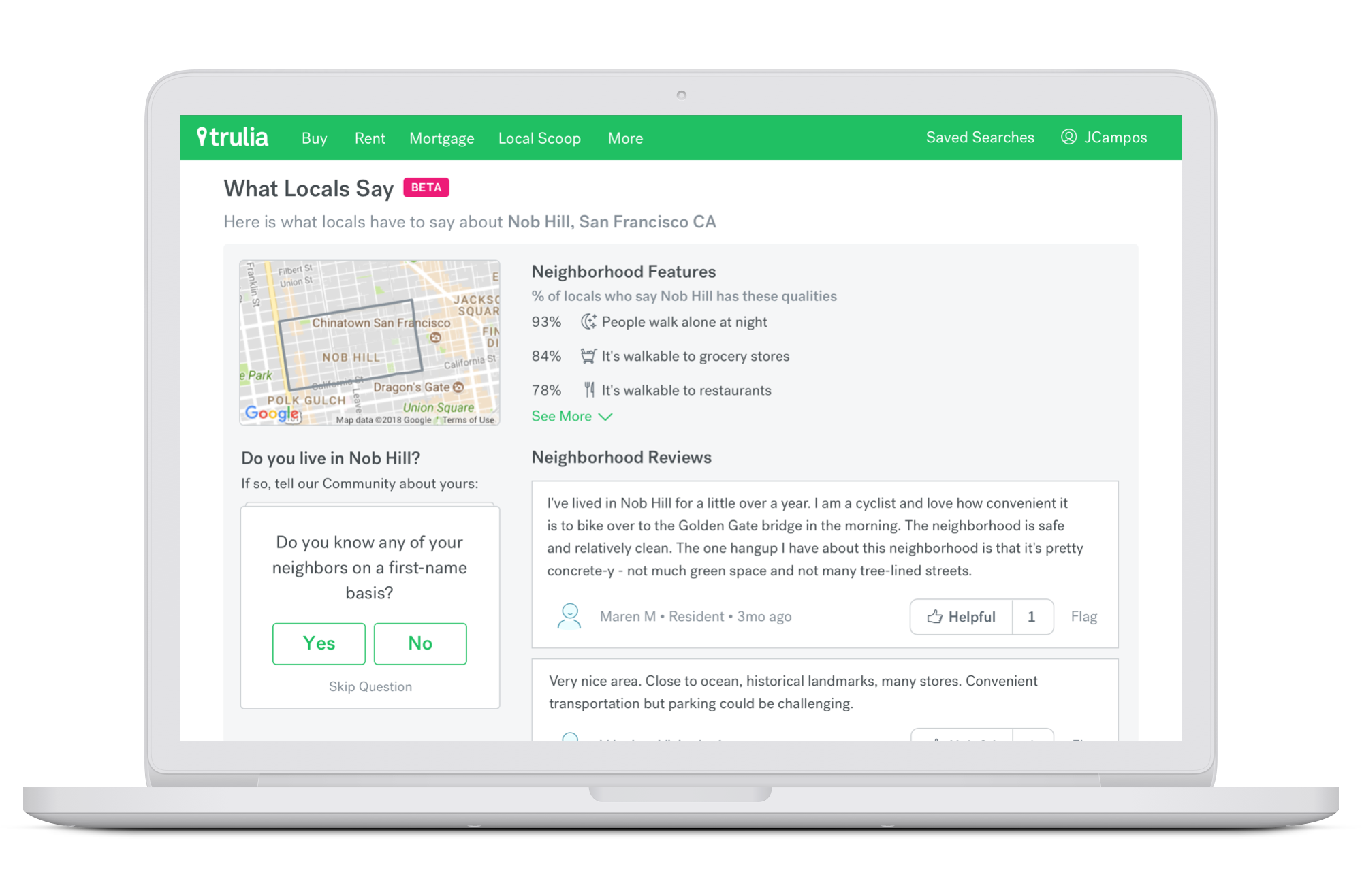 Currently in beta, What Locals Say helps prospective buyers and renters quickly grasp if a neighborhood has the right fit and feel for their lifestyle by surfacing insights straight from the people who know the neighborhood best: locals.
The feature provides both written neighborhood reviews and feedback on topics we know prospective buyers and renters care about, like if there is easy parking, or if people talk to their neighbors, or decorate their homes for the holidays. Providing insights direct from locals is especially important when we know that 76% of homebuyers who plan to move within 18 months said one of their drivers for moving was a neighborhood- or lifestage-related reason, such as wanting to be closer to work.
With more than seven million answered polls and written neighborhood reviews (and growing) from people across the country, What Locals Say sheds light on information that is not easily found elsewhere, giving an honest picture of what it's like to live in a neighborhood.
What Locals Say is available on for-sale and for-rent listings on Trulia in neighborhoods that have at least 10 pieces of local input, and we're gathering more responses each day – an average of 100,000 a day!
Trulia is one of the first major real estate sites to invest heavily in providing information on what's around a home, in addition to what's in it. With products like our 34 different map overlays, Local Legal Protections, and now What Locals Say, we're just scratching the surface of what's possible. Expect to see more from us again soon.
Until then, look out for our new national ad campaign, "Insiders," across national cable networks. The commercials personifies Trulia through colorful, authentic, and entertaining neighborhood insiders — Paperboy Pete and Dog Walker Dana. Check them out!

[youtube https://www.youtube.com/watch?v=amEvtUX9qd8?feature=oembed&rel=0&enablejsapi=1&origin=https%3A%2F%2Fwww.trulia.com%2Fblog]

[youtube https://www.youtube.com/watch?v=QeFCVunAPEI?feature=oembed&rel=0&enablejsapi=1&origin=https%3A%2F%2Fwww.trulia.com%2Fblog]