Our teams at Trulia have always been believers and early adopters of wearable technology. We worked closely with Apple to create one of the first featured apps for Apple Watch at its launch, and we were one of the first to develop apps for Google Glass and Android Wear.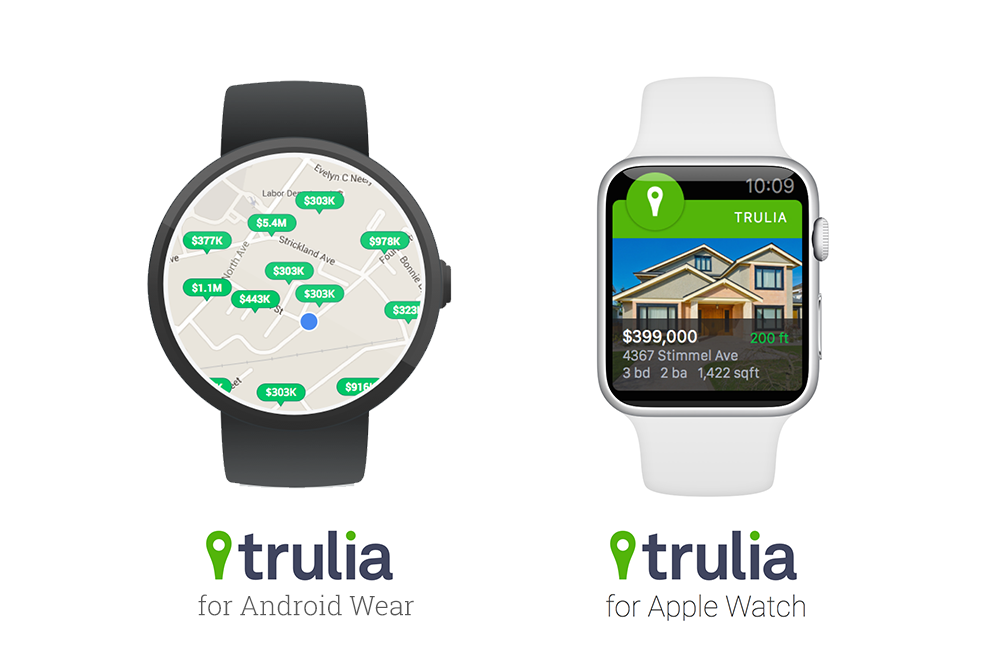 As a huge fan of wearables, I've not only been an early adopter, I've been following the industry closely, watching, studying, and working to anticipate consumer demand to ensure Trulia is at the forefront of innovation. In hindsight, 2015 really jump-started the wearable industry – Fitbit hit a major milestone and shipped 4.4 million units in Q2 2015 alone and Apple Watch launched with great fanfare.
While it's been an exciting ride, we're just getting started. Looking into 2016, I think we'll see even more consumer excitement, use cases, and adoption. Here are my specific predictions for wearables in 2016:
From "nice to have" to "need to have"
2015 was the year of smart watches and fitness trackers, and we expect to see an even bigger proliferation of these devices in 2016, especially as big brands like Google and Apple begin shipping – or at the very least working on – next generation products.
With that, we can expect continued use of wearables in the fitness industry, along with broader adoption in the healthcare industry. For example, UNICEF recently recognized Khushi Baby for its efforts – it's a data-storing necklace that leverages mhealth, NFC technology, and cloud computing to store children's immunization records. This can be vital in developing countries, and in this vein, we may start to see a shift in wearables from being "nice to haves" to "need to haves."
We'll all be "techcessorizing"
Consumers are beginning to understand the value of wearables, driving more unexpected companies to get into the game, including fashion brands. Big name and high-end brands like Fossil, Swarovski and TAG Heuer launched, or designed in partnership, fitness trackers and smart watches in 2015. In fact, Fossil recently announced it's acquiring Misfit, Inc., a wearables manufacturer, enabling Fossil to grow its footprint in the category.
Additionally, we may also start seeing more "high-fashion tech brands" emerge, such as the Kickstarter-backed BLOCKS Wearables.
It's much more than a wrist thing
As a result of both wider-spread adoption and more brands getting skin in the game, wearables will likely start moving from the wrist to other areas of the body in 2016. For example, there's talk that "earables" may be the next buzzword in our daily vocab, describing the technology that sits in our ears, playing music while monitoring our heart rates, among many other things.
The future is now with virtual reality
Similar to the smart watch and fitness tracker adoption we saw in 2015, 2016 may be the year that consumers start adopting virtual reality for entertainment (watching movies, playing video games, etc.). Oculus Rift is expected to ship in Q1 of next year, unlocking a world of possibilities for people, brands, and other tech companies. For Trulia, it means we'll be able to deliver an even more immersive home search experience.
Overall, I'd say the biggest takeaway from 2015 and the trend we'll see in 2016 is more widespread consumer adoption. When consumers start to understand a concept, like wearables, they start to adopt it, giving manufacturers like Apple, Google, and Samsung the runway to keep ideating and innovating, and I for one can't wait to see what's to come.