At Trulia, we work hard to give you the best tools to find the perfect home for you, whether you're renting or buying. To help us continue delivering on that promise, we're happy to share we've updated our Trulia Rentals app for Android to give you an even easier way to find your next home. The update incorporates the same Android Material design principles that we recently introduced in the main Trulia app, plus new features for easier and more enjoyable home searching.
Google Material design
If you're already a user of the Trulia Rentals app for Android, you'll see immediate differences when you download the latest version. New streamlined tab navigation, intuitive interaction patterns, and animations are some of the design and UX updates we made to help make your rental search experience even smoother.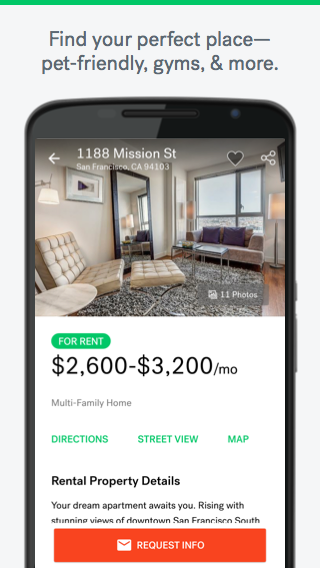 New Search Filters
Sleeker design aside, we also introduced a breadth of rental-specific features. You asked for better search filters, and we delivered. For example, have a pet? Now, you can easily choose from a variety of pet options to help you find the perfect rental for you, and your four-legged roommates. Check out this example of pet friendly apartments in Los Angeles.
We also grouped listings on the home screen and tagged them in your search, like "New Rentals," "Pet Friendly Rentals," and "Best Value Rentals." And, we refreshed and consolidated the list of property type filters into a simple list of apartment types, like "Multi-Family Home," so finding your next home is that much easier. Click here to see Multi-Family Homes for rent in Chicago.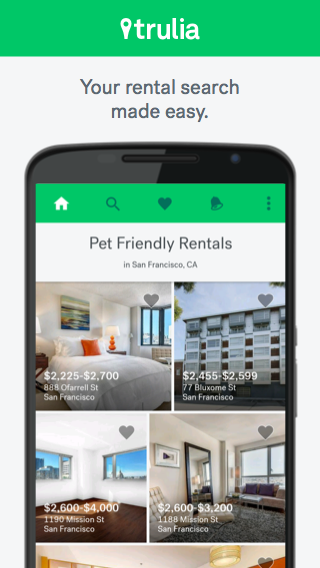 Contact Properties Faster
With this update, we also introduced a new feature to make inquiring about a rental faster and easier. Previously, you had to fill out a contact form for each listing you were interested in, every single time. Now, based on the information you've already provided, you can contact properties with a single click, enabling you to move fast in your rental searching.
Go download the best rentals app for Android to get a jump-start on the search for your next home.