At Trulia, we know you need to move fast to find your next home, and in competitive markets like today's, that means you need to be updated on new listings, property changes, and open houses no matter where you are or what you're doing. With that in mind, Trulia is happy to share we are adding another tool to our mobile app family with the Trulia app for Samsung Gear S3 smartwatch. This app allows you to easily browse through nearby homes, receive timely notifications about listings, and view property details, all on your Samsung Gear S3 smartwatch.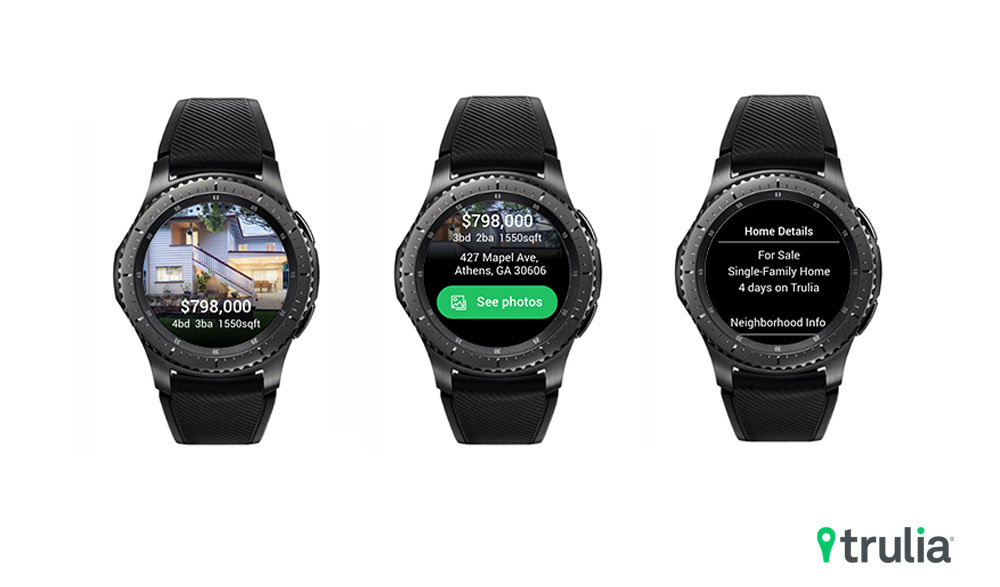 The Trulia app for Gear S3 complements our Trulia Samsung app by focusing only on the information and features that matter to you while you're out and about. For instance, when strolling through a neighborhood, you can quickly turn the Gear S3's bezel or swipe to view nearby listings, thanks to the built in GPS. If you see a listing that interests you, you can easily browse through its photos and review details like the price and number of beds and baths, and the watch's super AMOLED display allows you to clearly view the photos when you're outdoors. The Trulia app for Gear S3 even gives you valuable neighborhood information, including a listing's school and crime ratings. Once you have found a home in a neighborhood you love, you can easily contact the agent. Tap the "Call an Agent" button in the Trulia app for Gear S3 and it will dial the agent from your paired phone, and the built-in speaker and microphone allow you to carry on the conversation straight from your Gear S3*.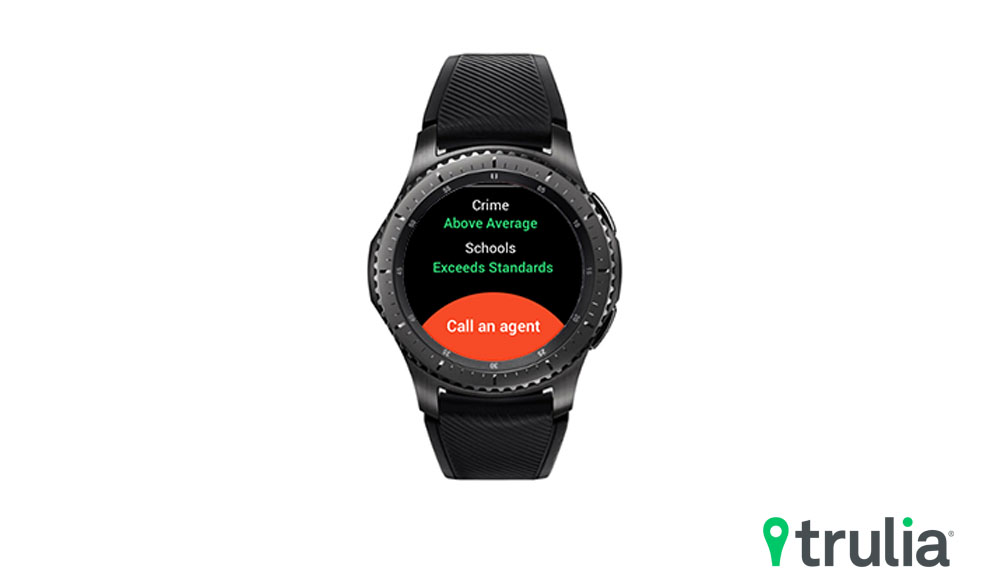 If there is an open house for a home you're interested in, or you just want to check the place out, the Trulia app for Gear S3 app links to your Gear maps app, so you can easily access directions to that home. You can choose between walking, biking, or driving, and if you walk, you might even get a few more steps in for the day!
The Trulia app for Samsung Gear S3 smartwatch leverages wearable design principles. The app highlights all of the essential information for a potential home buyer, in a concise and easy-to-digest layout. And, if you need more detailed information, you can easily choose the "Open in Phone" option in the app.
The Trulia app is compatible with both the Samsung Gear S2 and the Gear S3 smartwatch, once it is available for purchase.
*Gear S3 is a companion device for compatible Android smartphones, sold separately.  Full functionality via Bluetooth connection requires paired phone to be connected to a wireless network. 4G LTE standalone connectivity only available on Samsung Gear S3 frontier version. Standalone connectivity requires initial pairing of Gear S3 frontier with compatible phone and separate qualifying wireless plan. Standalone functionality limited if paired phone is not powered on or connected to a wireless network. Network coverage not available everywhere. Consult carrier for details.