No matter if you're buying or renting, it takes time and work to find the perfect place to call home. In fact, findings from Trulia's user research show that renters specifically spend up to six weeks and visit up to 11 rental listings before settling on their next home. Our goal at Trulia is to help simplify and streamline this process, and in living out that goal, we're announcing today a new feature that can help renters move fast in finding their next home, Scheduling.
Scheduling is an easy way for hopeful renters and potential landlords to schedule a property viewing. When posting a rental listing on Trulia, landlords can provide their availability. That means when a hopeful renter submits an inquiry for a home, he or she can match their schedule to the landlord's upfront. On the flip side, if the landlord does not provide his availability, renters can propose their desired time for viewing the listing upon submitting an inquiry, helping to cut down on time spent trying to coordinate schedules.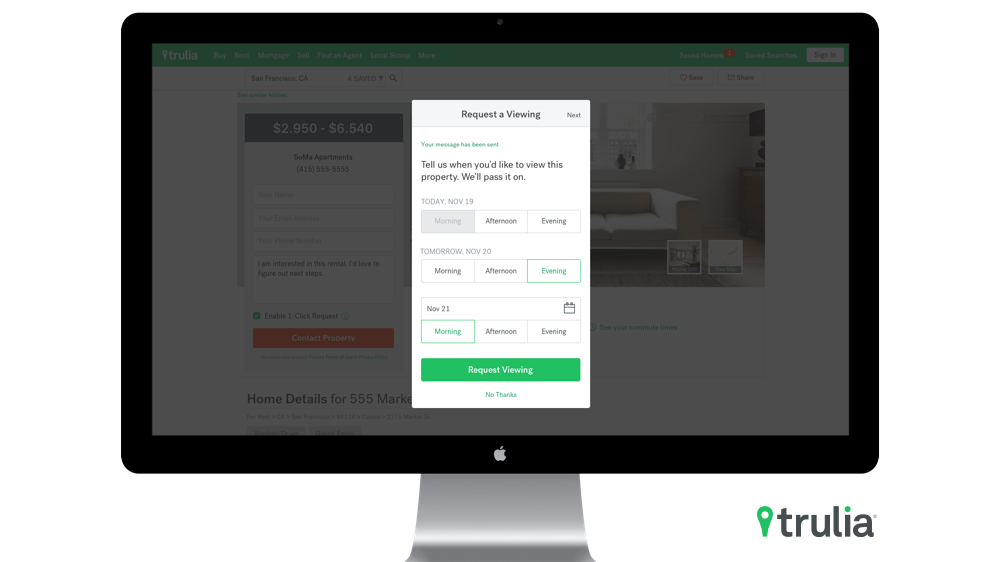 We tested Scheduling with a mix of landlords and renters and found that the feature greatly reduced the back-and-forth that's typically spent on finding a time to meet. And, we received feedback from both renters and landlords that the Scheduling feature is "convenient" and "efficient." Today, most inquiries for homes for rent on Trulia are sent to landlords with renter's availability attached.
We're excited to be helping renters move faster in their search. If you're looking for your next rental, give Trulia's Scheduling a try, and let us know what you think!