For some, Halloween is all about planning the best places to score candy, and for others it's all about the costumes. But here at Trulia, we approach this day with grave seriousness. Halloween, or All Hallows' Eve, is a day for the undead to wander our world once more and Trulia wants to help you be prepared.
In anticipation of this spooky day, Trulia is resurrecting its Unnatural Hazards Maps to help you understand the potential for strange encounters. Using both local data and the Trulia "medium" team for help (shout out to our lead geospatial engineer, Peter Black!), we've mapped the areas where you could most likely run into ghosts, vampires and zombies. And as the nation's obsession with paranormal shows reaches ghostly levels, we're excited to unveil an even stranger (hint, hint) map layer that shows areas where you could most likely find a "gate" to a parallel dimension…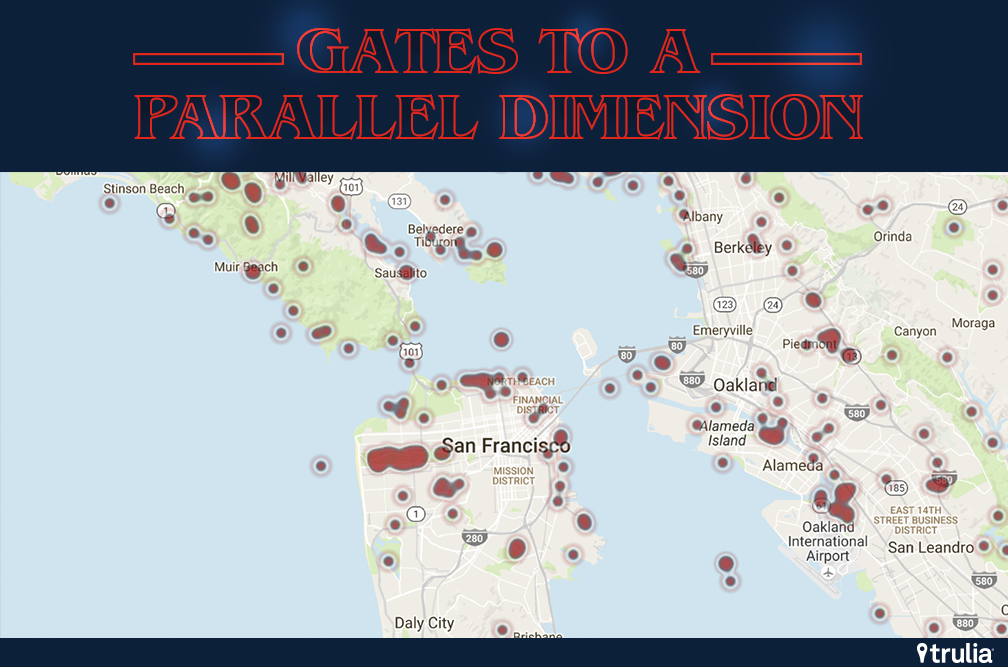 Should you stay or should you go? If you ever find yourself in a dark and scary parallel dimension we'd say, GO! As we know, Halloween is filled with many stranger things, and the last thing you need is to wind up in a flipped dimension.
While we can't predict how every gate opens, we do know that in addition to government experiments gone wrong, there are a few other factors that could open up a gate to a different dimension. We tapped some geospatial data to determine locations of scientific research bases, mines, power stations, hydroelectric power stations, asylums, general historical sites and all things abandoned to determine the likely places these gates could open up. As a result, here are the states we found to have the most gates to a parallel dimension:
States with the Most Gates to Parallel Dimensions
State
Number of Likely Gates
Colorado
8,536
California
4,592
Nevada
4,321
New Mexico
3,854
Montana
3,663
Wyoming
2,468
Tennessee
1,690
Arizona
1,544
Kentucky
1,473
Alabama
1,291
But, be warned, wormholes and parallel dimensions are vulnerable splices that can be opened even by a child's mind!
And, if a parallel dimension is not for you, take a look to see what undead guests your house may (g)host this Halloween by also visiting our Unnatural Hazards Map.