Finding the perfect place to call home goes beyond just looking within the four walls. It's about finding the ideal neighborhood, too. In fact, in a recent study conducted by Trulia, 84 percent of Americans said that if they were looking for a new home, the neighborhood would be equally or more important than the house. Couple that with the fact that consumers tell us they love Trulia's in-depth neighborhood information, like our school and crime maps, we set out to make some product enhancements. Today, we're announcing Trulia's updated property pages.  
These redesigned pages bring Trulia's preexisting rich, local content higher on the page and make it more prominent so consumers can more easily discover it. Now, immediately after clicking into a property page, consumers see interactive local info cards that give a high-level summary of a home's surroundings. The cards are interactive so consumers can can click (or tap) on them to learn more about a home's nearby crime and school ratings, and to see its Street View, specifically. When a consumer clicks on a card, an immersive map is launched, bringing the neighborhood's features to life and giving them an opportunity to deep dive into our local data. Consumers can quickly and easily flip between this local information and the listing's photos, which makes it easy for them to evaluate a home's features and also get a feel for its neighborhood, helping them move fast in narrowing their search.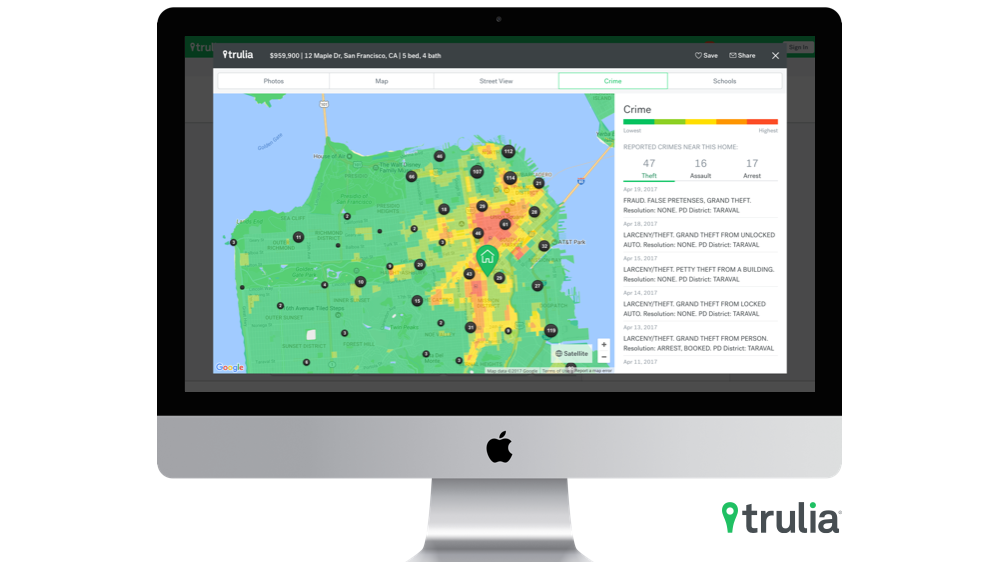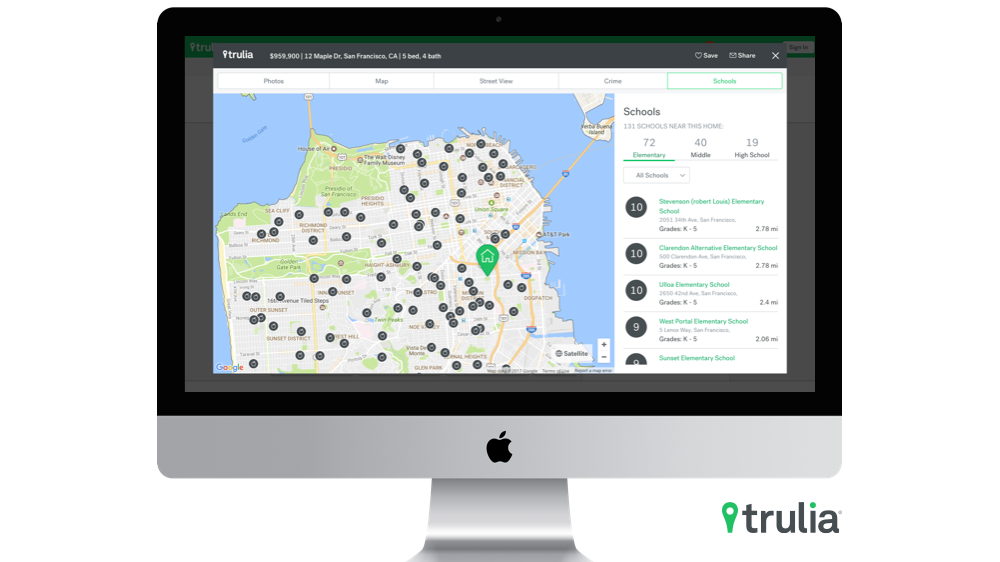 This new experience is available on Trulia's desktop site and its native iOS and Android apps. On the native app front specifically, we added richer local content to our search results map. If a consumer visits the Search tab in either Trulia's iOS or Android app and clicks on "Local Info," they see new interactive schools, crime, and "shop and eat" maps. For example, in the "Shop and Eat" map, consumers can explore ratings and photos for nearby restaurants. In the crime map, consumers can see recent crime incidences in the area.
At Trulia, we know the home is only half of it and we're excited to keep surfacing not only home information, but also neighborhood insights through innovative product features. Stay tuned for more from us here, and whether you're searching for a condo in San Francisco or a ranch in Wyoming, let us know what you think of this new experience in the comments below.