When you're rich, powerful, and in love, what do you buy for your significant other? The answer: REAL ESTATE. For Hollywood's hottest lovebirds, picking out a "humble" abode is a wonderland of gated estates, infinity pools, and 10-car garages. Let's check out the celeb cribs that these tabloid-happy couples call home.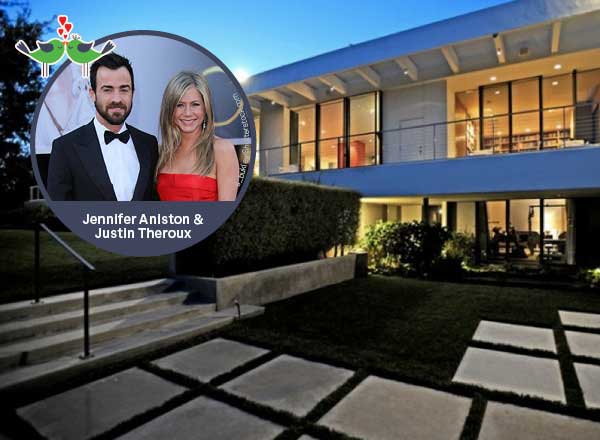 Jennifer Aniston and Justin Theroux: Everyone's waiting for the low-key couple, who regularly shy away from major publicity, to walk down the aisle.
But Aniston's not really concerned with fluffy gowns and wedding rings, because sister is doin' it for herself these days. She'd rather invest in her palatial $21 million mansion.
The three-acre Bel Air spread boasts 8,500 square feet of living space, four bedrooms and six and a half baths. Designed by famed architect A. Quincy Jones (not to be confused with music producer Quincy Jones), the home also has unobstructed 300-degree city and ocean views.
Wonder if the rest of the cast of Friends is interested in coming over for game night? You just know Courtney Cox cheats at Monopoly.
Anyway, if the 8,500 square feet of architectural beauty isn't enough, you can crash in the guesthouse after you've crushed grapes in the estate's very own vineyard.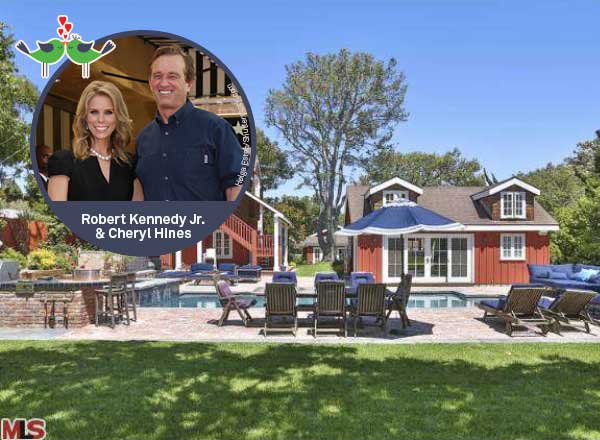 Cheryl Hines and Robert Kennedy Jr.: The Curb Your Enthusiasm star and the über-environmentalist dropped $4.99 million for this four-bed, three-bath estate in the Point Dume section of Malibu, CA, last year.
Done up in East Coast aesthetics (hubby is a Kennedy after all), the house has one acre full of diverse items such as a refrigerated wine shed, a fire pit, heated pool, gunite spa, full built-in barbecue area, barn storage shed, and a two-story treehouse.
That's right, a treehouse — in case Cheryl and Robert feel like swinging around like George of the Jungle late at night after one of their environmentalist meetings. You didn't think it was just saving the Earth that happens at those things, did you?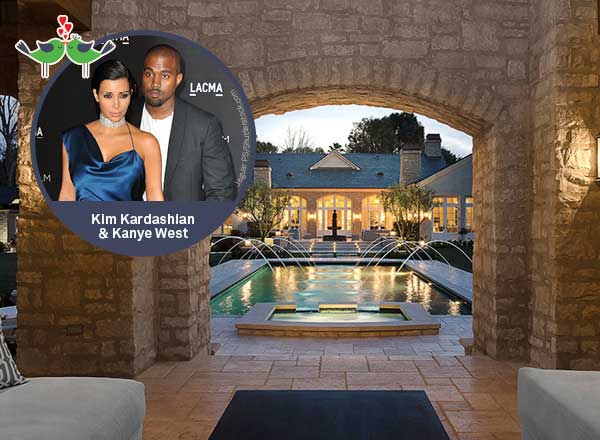 Kim Kardashian and Kanye West: Let's just say this couple isn't known for their low-key, laid-back style. After all, their child wears Alexander Wang and Oscar de la Renta, despite not even being old enough for preschool.
So when the couple became concerned about safety at their Hidden Hills, CA, compound, they did what any star would do — bought the house next door, only to tear it down for privacy's sake. The Kardashian-West clan dropped $3 million for a 2,842-square-foot home on 149 acres in December, which will buffer the $20 million estate where they currently live.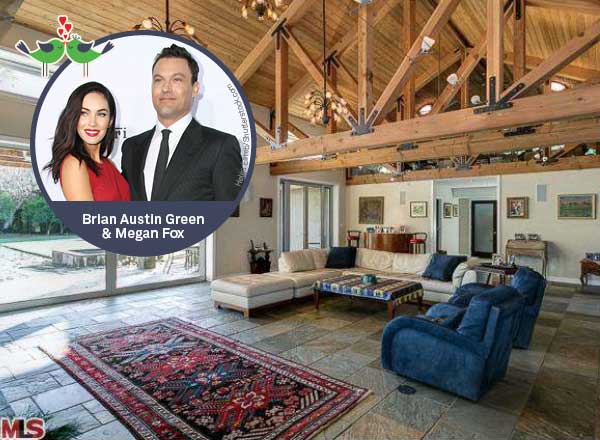 Megan Fox and Brian Austin Green: Unfortunately, this couple's ZIP code is NOT 90210. What a wasted opportunity.
Last summer, the Ninja Turtles actress and her rapper/actor husband bought a 6,710-square-foot home in Toluca Lake, CA, for $3.35 million. With just four bedrooms and six bathrooms, it stands to reason that this growing family might be ready for an upgrade soon — they welcomed their second child (Green has a third son from a previous relationship) in February of 2014.
His name? Bodhi Ransom Green. (Only in Hollywood, people.)
The contemporary ranch-style home has a long, winding driveway that features olive and oak trees. The home reportedly is an architectural masterpiece, with exposed beams and quartz slate floors.
Fun fact: It was originally Bing Crosby's carriage house.