Gone are the days when describing someone's crib as "cozy" was code for "unbearably small." Luckily for lots of us, cozy and compact living is in style, and beyond the know-how to pare down your stuff, a good small-apartment decorating trick or two will make it look as though you're living a lot larger than you are.
From apartments for rent in Washington, DC, to Dallas, TX, we've picked nine diminutive dwellings that prove that you certainly don't need an expansive floor plan to show off your style savvy.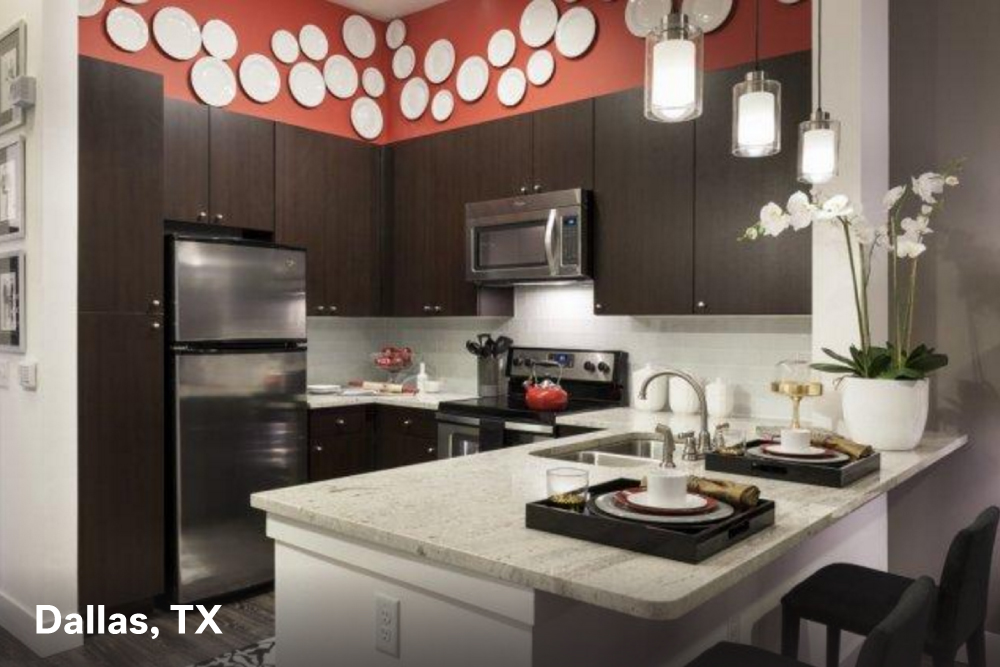 Not everything is bigger in Texas: $1,304 to $2,970, Arpeggio at Victory Park Apartments
A sprinkling of crisp white plates create an unexpected diversion in this Dallas kitchen, drawing the eyes up. The aptly placed visual cluster directs attention to the 9-foot ceilings, and an otherwise average-sized kitchen appears a lot larger.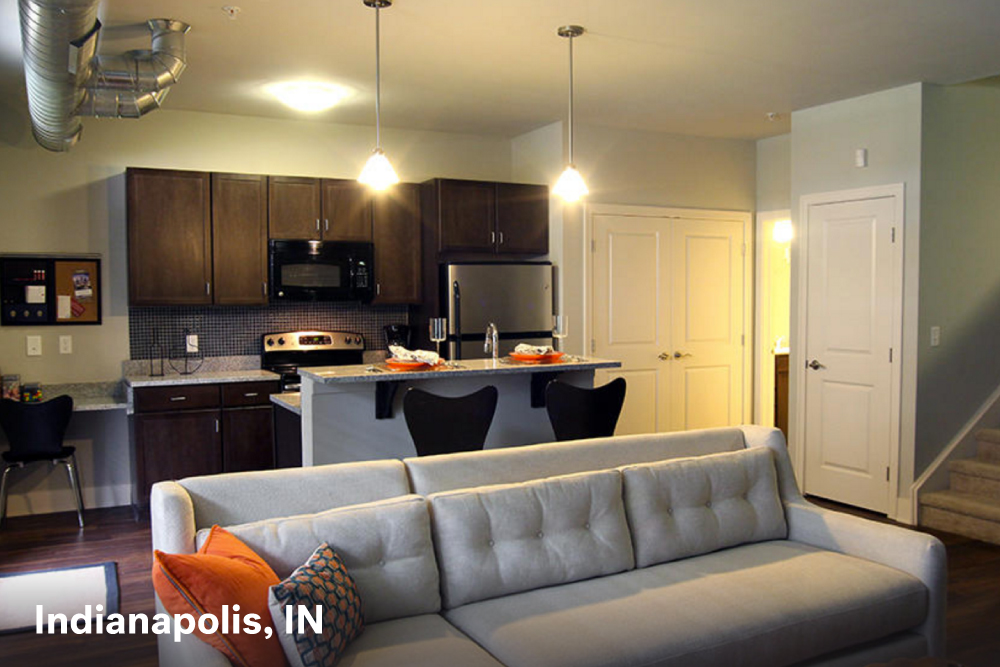 Working lunch: $308 to $4,975, The Residences at CityWay
Getting the most out of unused space can make a big difference in your home's layout, and the office-tucked-into-a-kitchen move fits the bill. Where a less-resourceful designer might have thrown in a few feet of extra counter space or, worse, left the corner for dead, a small but efficient desk serves good purpose, whether for planning dinner menus or bringing work home to this Indianapolis apartment.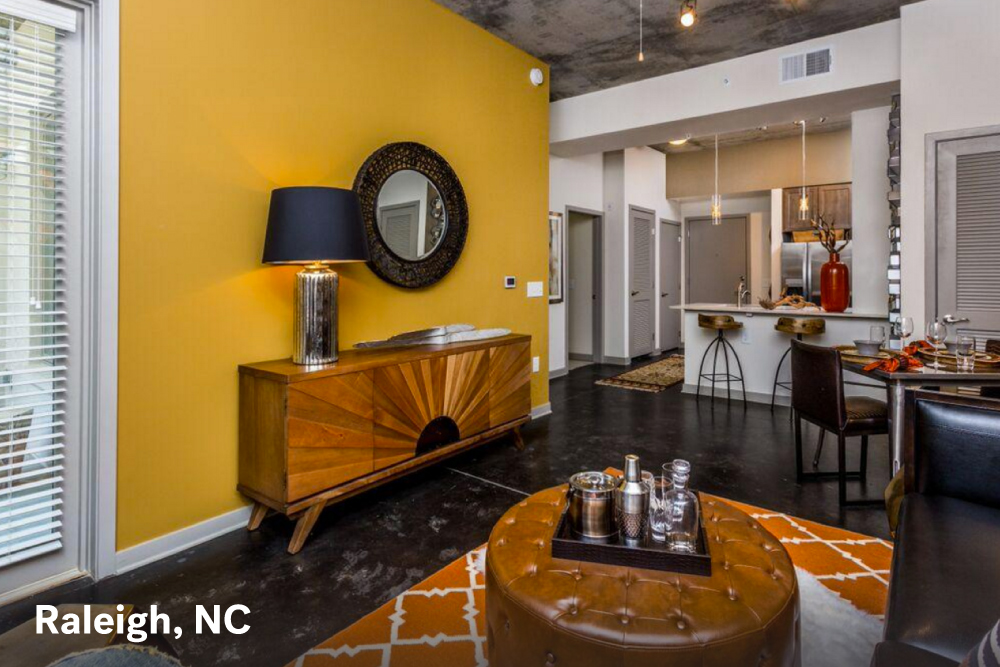 Modern industry: $1,170 to $3,146, The Devon Four25 Apartments
With polished concrete floors and a stained ceiling, this apartment's industrial vibe makes it feel expansive and airy. Throw in some edgy barstools, and you've got cutting-edge cool oozing from every angle in this Raleigh, NC, apartment.
Stars and stripes forever: $1,129 to $8,254, Sterling Apartment Homes
It's a myth that small spaces must settle for ho-hum white or the same old neutral hues. Case in point: This bright little gem in Philly doesn't shy away from bold, contrasting yellow and gray stripes, and in turn, gives the appearance of grandeur with wide, sweeping walls.
Room to reflect: $900 to $2,225, Ultris Banyan Grove Apartments
What this Virginia Beach, VA, bedroom lacks in square footage it makes up for in spirit. Through a few simple design tricks — a splashy, citrus-hued accent wall and mirrored furniture — the eye is fooled into seeing more space (and more excitement!).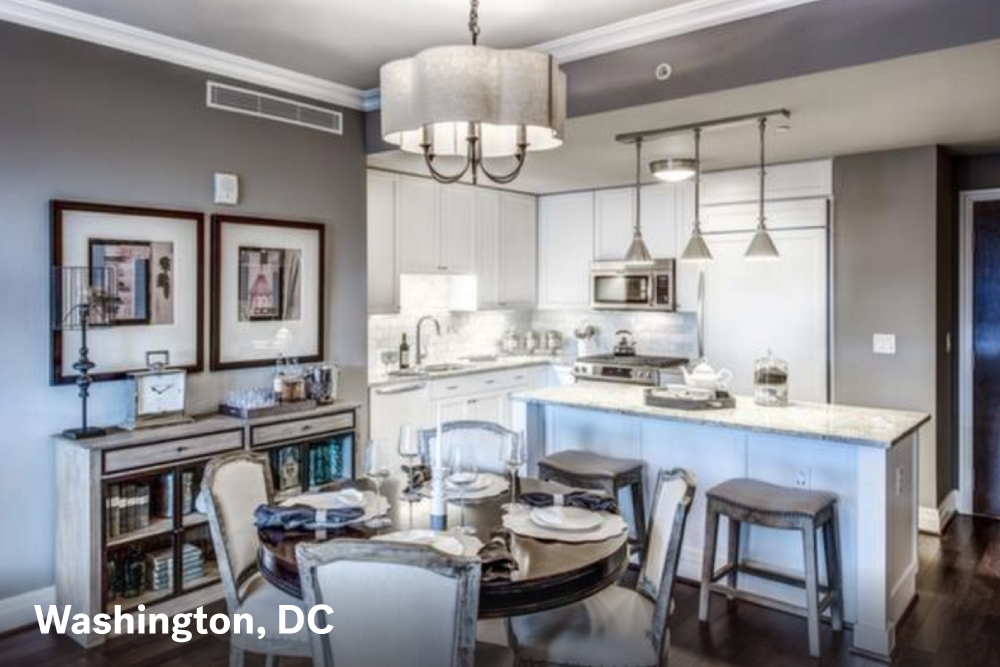 So many shades of gray: $2,831 to $15,000, The Woodley Apartments
Taking on monochromatic styling with a traditional twist makes for floor-to-ceiling high fashion. Surfaces color-coordinate in rich neutrals, while classic accents such as raised-panel cabinetry and brushed-nickel fixtures enhance the level of elegance in this Washington, DC, apartment.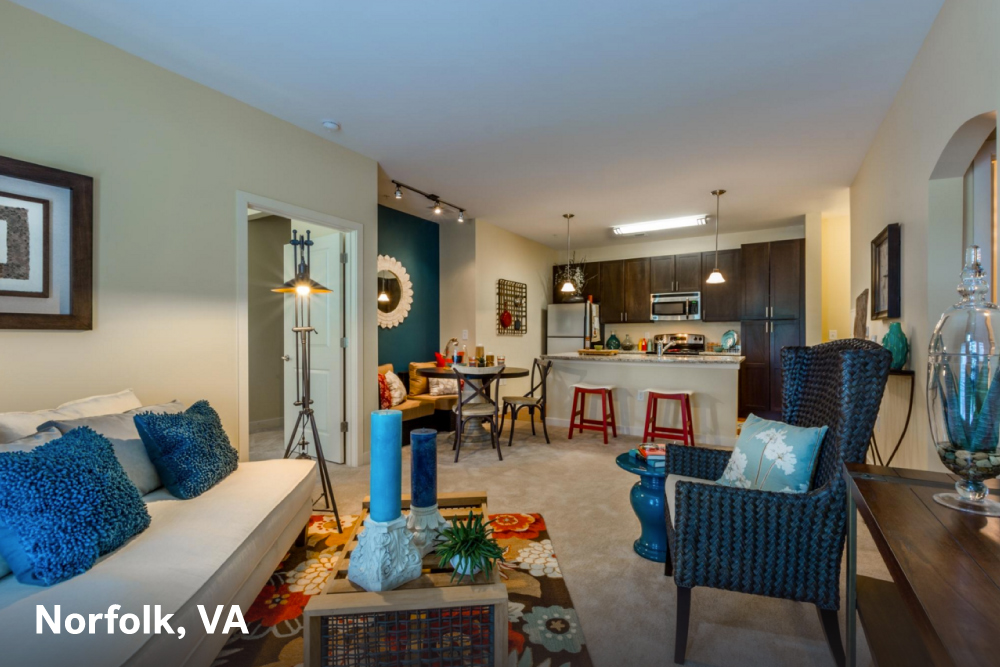 Clever configuration: $1,070 to $2,205, Promenade Point Apartments
Look more closely, and you'll realize there's a lot going on in this Norfolk, VA, kitchen, dining, and living area. Nothing feels squashed in, thanks to smart touches around the room: A banquette maximizes seating around the dining table, while a narrow console provides additional surface space to complement the coffee table.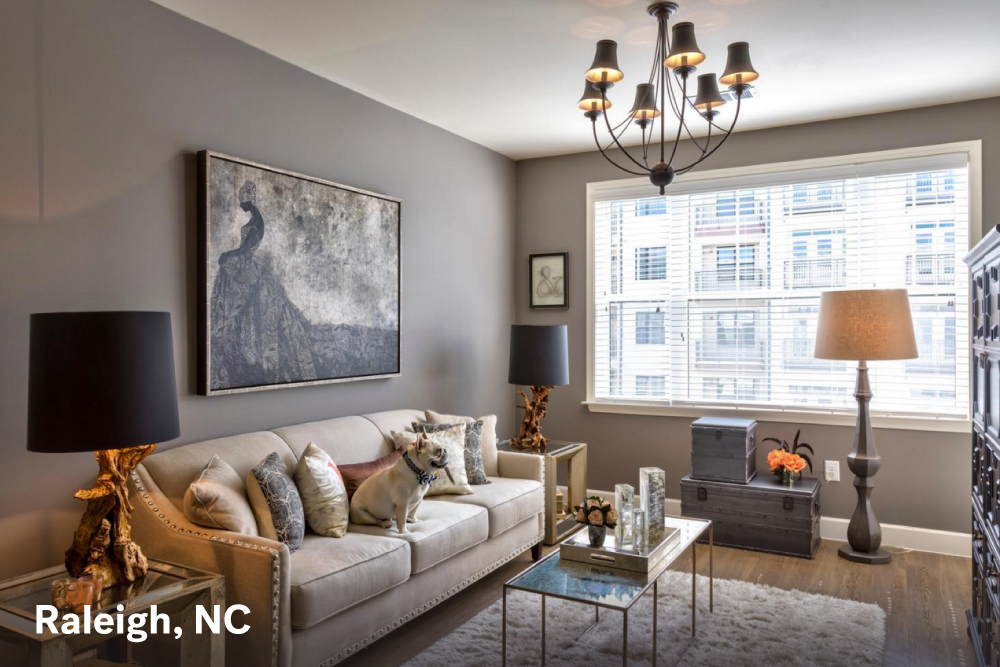 Let there be light: $1,055 to $3,226, Berkshire Cameron Village Apartments
Even the pup agrees: The handsome black chandelier at the center of this Raleigh, NC, living room makes for an arresting focal point. Banishing the notion that statement pieces don't belong in modest rentals, the sleek piece brings impressive size and sophistication to the space.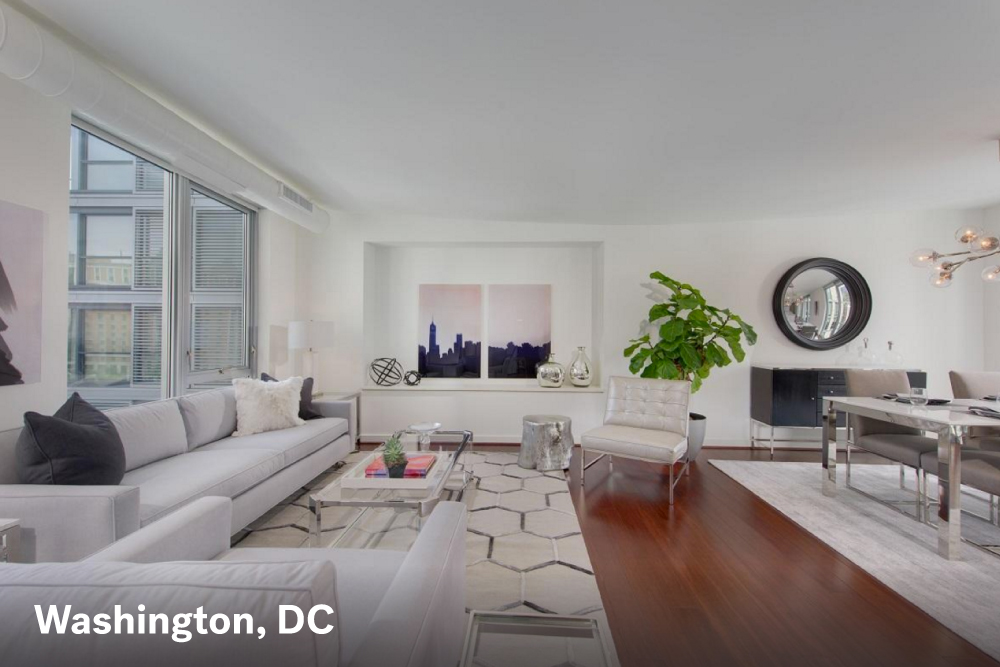 White on cue: $1,802 to $8,808, Apartments at CityCenter
Committing to one color can be the easiest shortcut to a look that screams harmony and high style. Take the white-on-white palette in this Washington, DC, flat, which keeps things interesting and design-rich with strategically placed pops of color. Just don't invite over Olivia Pope and her red wine.