Renting in a Boston brownstone is quintessential New England living: They're teeming with Old World charm such as exposed brick walls, thick crown molding, intricate plaster ceilings, inlaid wood floors, and even stoops to chat with your neighbors. What's not to love?
The price tag. We rounded up seven luxury apartments in other cities at rental prices that are on par with those chic Boston apartments for rent. (Based on Trulia rental listings from June 1 to September 18, 2015, the median rental price for a brownstone in Boston is $2,425 per month.)
One thing we learned? When it comes to high-end rentals, it's not all about the Benjamins — it's about the amenities.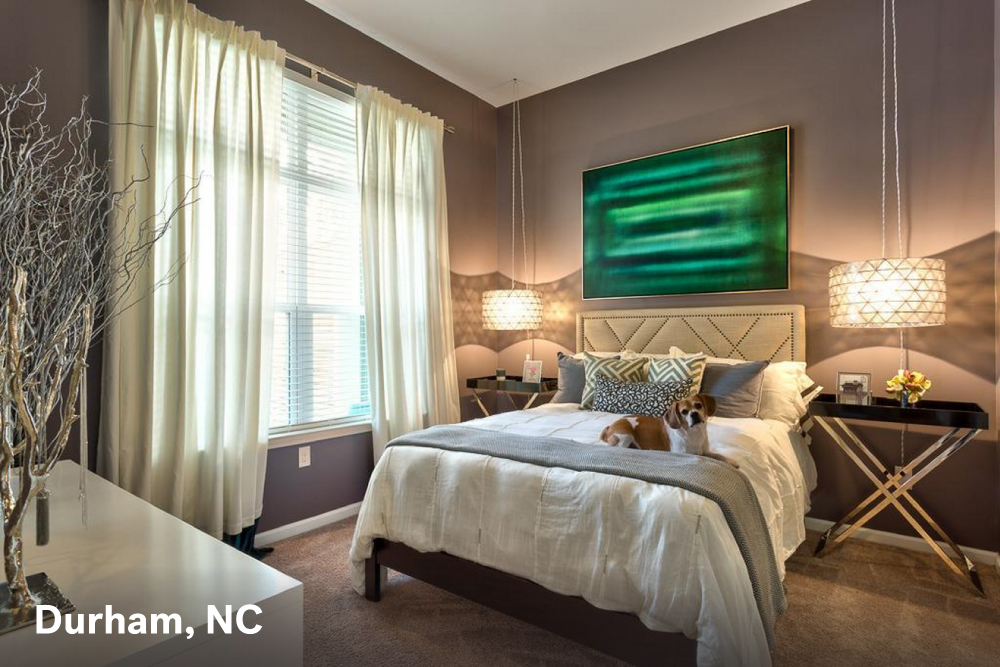 Eco-chic and pooch-approved: Berkshire Main Street Apartments, 704 15th St., Durham, NC 27705 
Conveniently located within walking distance to Duke University's main campus, Berkshire Main Street Apartments are a far cry from the nearby college dorms. The luxury apartments boast Euro-eclectic and ecofriendly interiors, complete with designer cabinetry, wood flooring, and walk-in closets (remember those, brownstone dwellers?).
And the amenities — don't even get us started. Take a dip in the saltwater pool, cancel your gym membership in favor of the 4,000-square-foot fitness center, attend wine tastings in the lounge, and pamper your pooch in Berkshire's doggie day spa.
Find more Durham, NC, apartments for rent.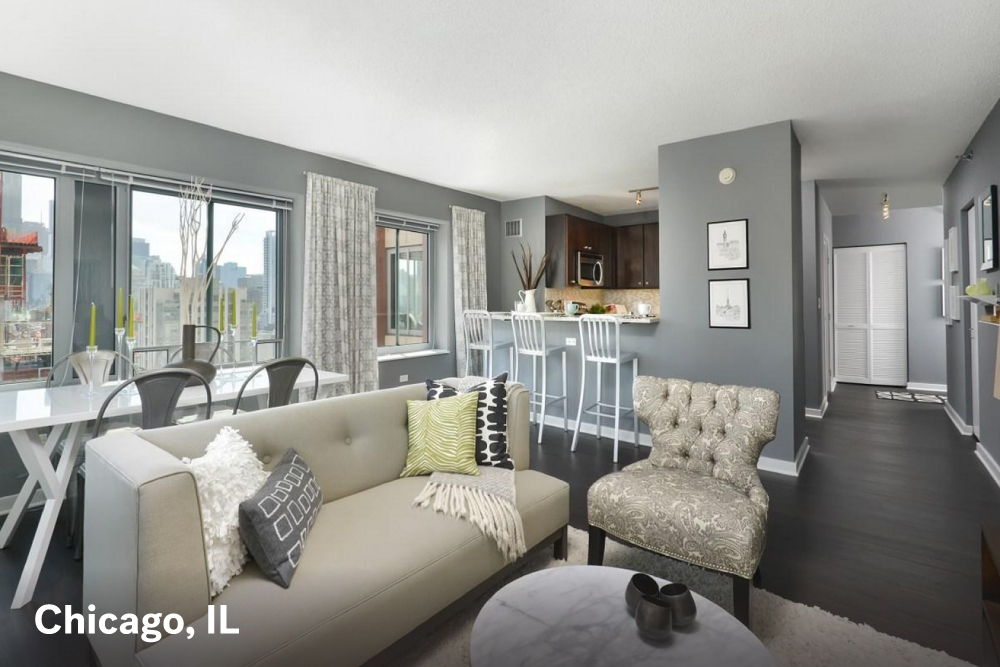 The ultimate in urban convenience: Chestnut Towers, 121 W. Chestnut St., Chicago, IL 60610
Elevate your lifestyle by renting in Chestnut Towers, a 36-story apartment building right in the heart of downtown Chicago. Unlike a squat brownstone, many of these apartments have sweeping city views, including ideal views of the John Hancock Center, the fourth-tallest building in Chicago.
The building is also a walker's paradise. Restaurants, swanky bars, and Whole Foods are just a hop, skip, and a jump away — along with the Brown and Red Lines, and the famous Oak Street for some serious shopping.
Find more Chicago apartments for rent.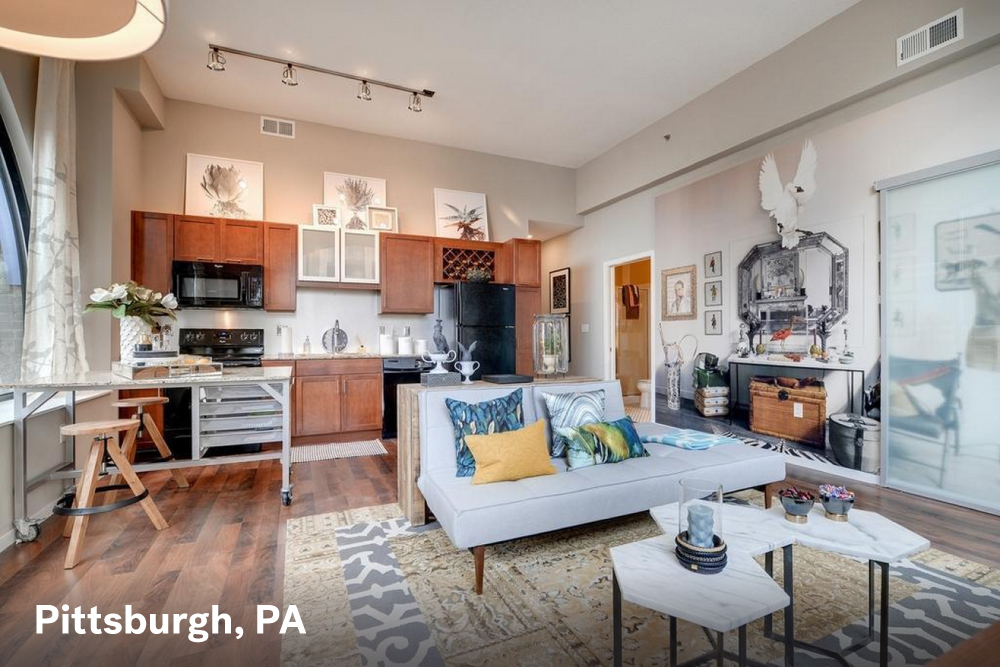 Young, hip, and made for you: Morrow Park City Apartments, 5250 Liberty Ave., Pittsburgh, PA
The first building of its scale in Bloomfield, Morrow Park City Apartments have just started leasing for fall 2015. Residents can pick from one of four finishing packages to tailor-make their home — an unexpected perk for a rental. The units also go above and beyond in terms of posh but standard details: soaker tubs, 10-inch rain showerheads, wine racks, sliding barn doors, and potential for built-in Murphy beds, chaise lounges, and shelving.
Find more Pittsburgh apartments for rent.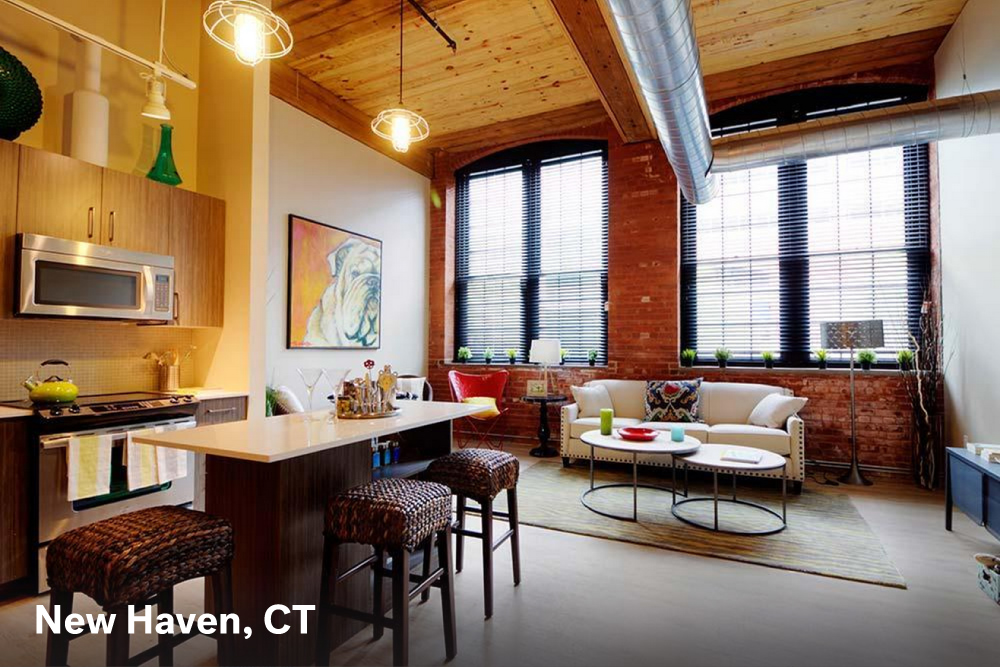 Old factory turned posh residence: Winchester Loft Apartments, 275 Winchester Ave., New Haven, CT 06511
If you love the history and character of brownstones, you'll love Winchester Loft Apartments: Located in the former Winchester Repeating Arms Company factory, these loft apartments are rife with architectural details, high ceilings, and lots of brickwork. But unlike brownstone living, you get modern conveniences such as a 24-hour fitness center, public lounges, and secure garage parking.
The neighborhood isn't too shabby either: Winchester Lofts are located in Science Park, the North End of the Yale University campus. Besides being near bars and restaurants, you're close to numerous art galleries, the Marsh Botanical Garden, and the university's sprawling green.
Find more New Haven, CT, apartments for rent.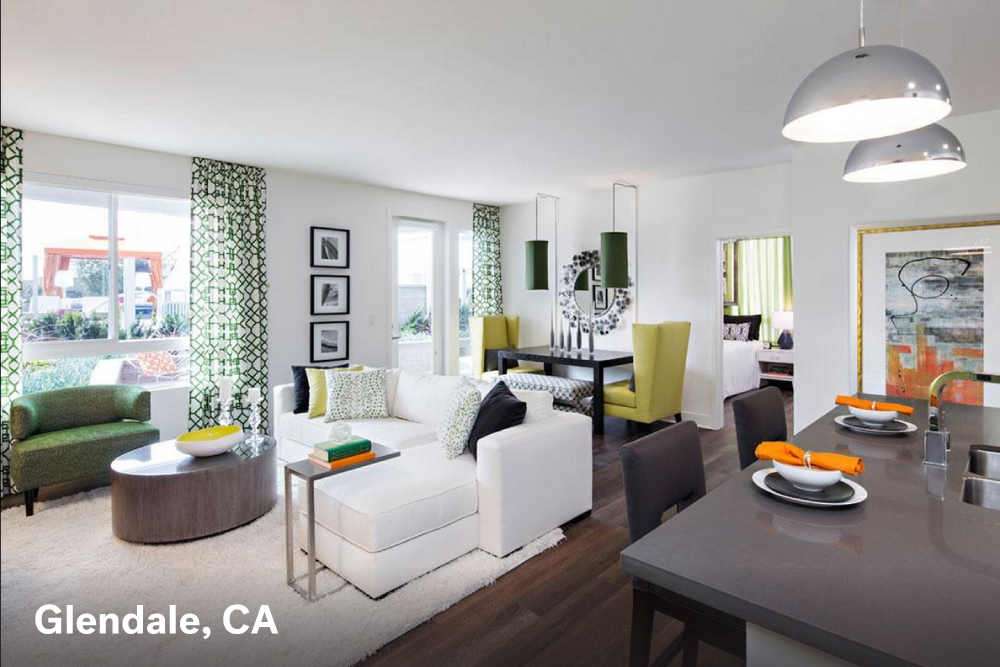 Bahamas or Glendale? We can't tell the difference: AMLI Lex On Orange Apartments, 321 N. Orange St., Glendale, CA 91203
Did someone say cabanas? AMLI Lex On Orange Apartments are so luxurious, you might look around and think you're on vacation. Community features include a saltwater pool, outdoor bar, guest suite for visitors, VIP lounge, and, oh yes — cabanas with TVs.
AMLI is located within walking distance to prime restaurants and shopping at the Glendale Galleria and The Americana at Brand. The apartments feature sleek, modern interiors that include polished concrete, quartz countertops, modern chrome hardware, and smart thermostats. Sure beats the radiators in your brownstone.
Find more Glendale, CA, apartments for rent.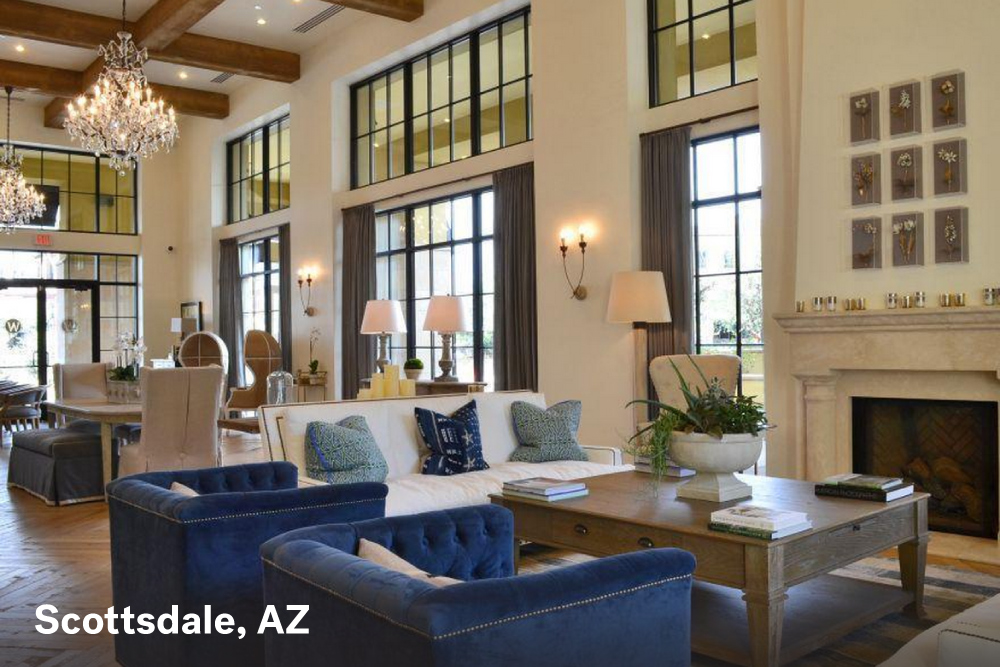 Rethink your idea of desert living: Broadstone at Waterfront Apartments, 7025 E. Via Soleri Drive, Scottsdale, AZ 85251
Although you may be living in the Sonoran Desert, Broadstone at Waterfront gives its residents waterfront access to the Arizona canal and is within walking distance to popular shops and dining destinations such as the Capitol Grille and Crate & Barrel. The units are updated and modern, yet still elegant with a nod to tradition, featuring dark cabinetry, crown molding, and French doors. Plus, the building is LEED-certified.
Find more Scottsdale, AZ, apartments for rent.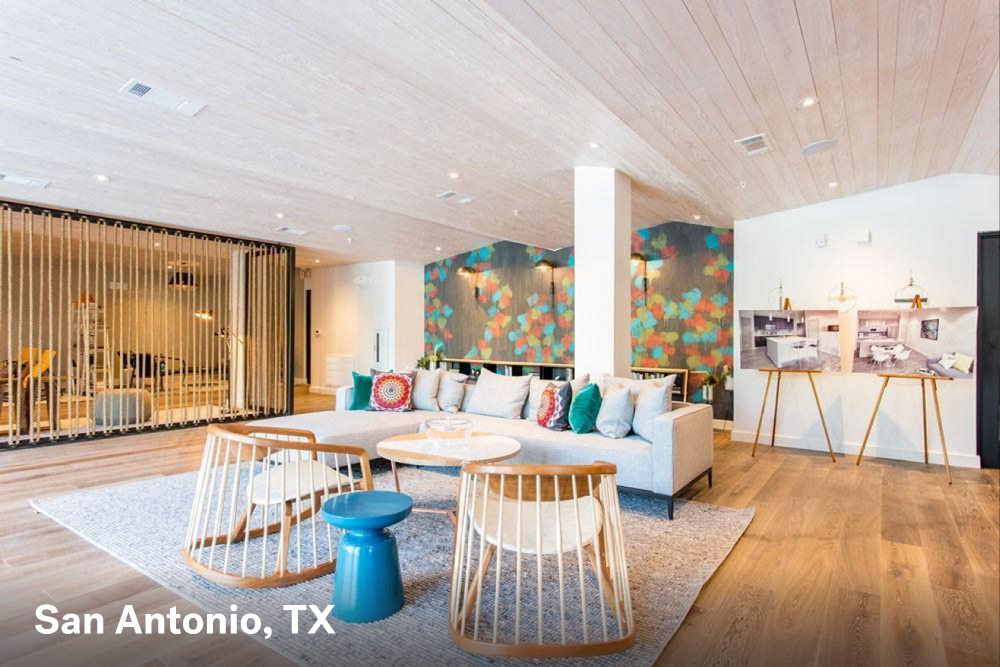 Run — don't walk — to San Antonio: Agave Apartments, 633 S. Saint Marys St., San Antonio, TX 78205
Recently opened and designed by a nationally recognized architectural studio, Agave Apartments are located in the King William Historic District of San Antonio, just south of downtown. But there's nothing old about Agave: Apartments have fiber-optic Internet, electric-car charging stations, hyperefficient water heaters, solar shades, and more.
Agave's layout and amenities are also great for nature lovers and those with an active lifestyle: The complex has direct access to the Riverwalk Trail, a state-of-the-art fitness club with yoga, Pilates, and barre studios, an off-leash dog run, and bicycle storage lockers.