At OkCupid, a lot of thought goes into how to pair people with their dream partners. At Trulia, a lot of thought goes into how to pair people with their dream homes. Both brands celebrate diversity, putting an emphasis on inclusivity to ensure that all members have the best experience possible–whether in dating or house-hunting. So in honor of Pride Month, OkCupid and Trulia decided to pair up themselves to figure out what the most popular gay (gay, lesbian and bisexual) neighborhoods in the U.S. are today, and how much it costs to live in them.
Together, we first determined the neighborhoods across the U.S. with the highest concentration of same-sex couples. We then combined this data with the percentage of non-straight OkCupid members (gay, lesbian and bisexual) to determine the density of the gay population in each neighborhood. We know the LGBT community includes many orientations and identities beyond those who identify as gay, but unfortunately more complete data is not currently available.
Still, our research revealed that the most gay-, lesbian- and bisexual-populated neighborhood in the U.S. today is West Hollywood, Calif. Here, same-sex couples make up nearly half of all households (48%) and some 28% of OkCupid members identify as gay, lesbian or bisexual revealing that West Hollywood has a large popular of both same-sex couples and LGB singles. Close seconds for same-sex households include the Castro in San Francisco; Dallas's Uptown neighborhood; and Palm Springs, Calif.
Many of these neighborhoods can be found on the West Coast. Another thing that became increasingly apparent? These neighborhoods are not cheap. In 2012, at the bottom of the housing market, it cost about 29% more per square foot to live in one of these gay-friendly zip codes than elsewhere. Today, that premium is even higher with home values rising to 37% more per square foot.
The relative cost of housing in gay neighborhoods has increased more drastically in some cities than others. We noticed the biggest change in New York, where living in a gay neighborhood went from pricey (106% more than other neighborhoods on average) to really, really pricey (162% more). Today, New York City residential property costs on average $567 per square foot. But in a gay neighborhood in NYC, it climbs to $659 a square foot.
The same trend holds true in New Orleans, Boston, and Louisville, to name a few.
U.S. Metros Where Gay Neighborhoods Home Values are Climbing
U.S. Metro
Gay Neighborhood Home Value per Square Foot, 2012
Gay Neighborhood Home Value per Square Foot, 2017
Gay Neighborhood Home Value Premium, 2012
Gay Neighborhood Home Value Premium, 2017
% Point Difference, 2012 – 2017
New York, NY
$436
$659
106%
162%
+56 pts.
New Orleans, LA
$193
$290
99%
151%
+52 pts.
Boston, MA
$361
$557
79%
105%
+27 pts.
Louisville, KY
$90
$121
-2%
16%
+18 pts.
Charlotte, NC
$102
$145
26%
41%
+15 pts.
Cambridge-Newton-Framingham, MA
$250
$368
24%
38%
+14 pts.
Philadelphia, PA
$138
$173
45%
58%
+14 pts.
Nashville, TN
$105
$166
20%
33%
+13 pts.
Pittsburgh, PA
$82
$115
1%
13%
+13 pts.
Grand Rapids, MI
$62
$103
-18%
-9%
+9 pts.
NOTE: Our estimates of gay neighborhood homes values are calculated by taking the average price per square foot and price per square foot premium across all of a metro's ZIP codes, weighted at the ZIP-code level by our Neighborhood Pride Score. You can read the extended analysis and methodology that went into this study on Trulia's Research blog.
In about a third of the metro areas we looked at, however, the premium of living in a gay neighborhood actually declined. Five years ago in Miami, for example it cost about 73% more to live in these areas than elsewhere, but today, these neighborhoods cost only 60% more. We still wouldn't call that a bargain, but at least it's a shift in the right direction–at least from the perspective of potential residents. In San Francisco, San Diego, and Sacramento, Calif., we see similar trends: gay neighborhoods are more expensive than everywhere else, but relatively less expensive than they were in 2012. So if you're looking to settle in one of these neighborhoods without paying a huge premium to do so, California just may be your best bet. Which coast has the better Pride parade though? Well, we'll leave that to you to decide.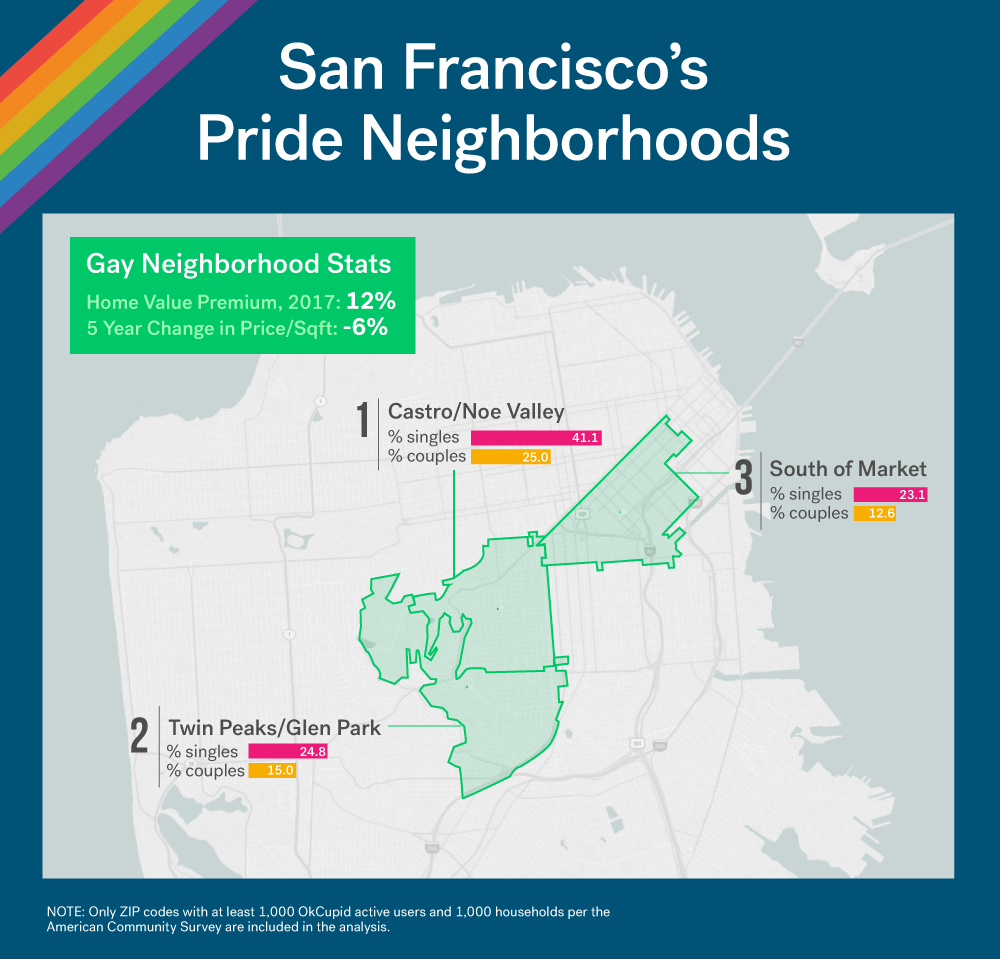 Check out our most recent "Meet the Trulian" Q&A with Chris Mielke on why he's proud to be out at Trulia. He's the president of the Zillow Group (Trulia's parent company) Pride Network, an affinity network for LGBTQ+ employees and allies.