Summer days are meant to be spent outdoors, turning long days of hiking and fishing into evenings around a campfire. But if the heat is too much to bear — or you're ready to embrace nature all year long — you can celebrate the great outdoors every day with these eight rustic cabin homes in gorgeous, wooded settings.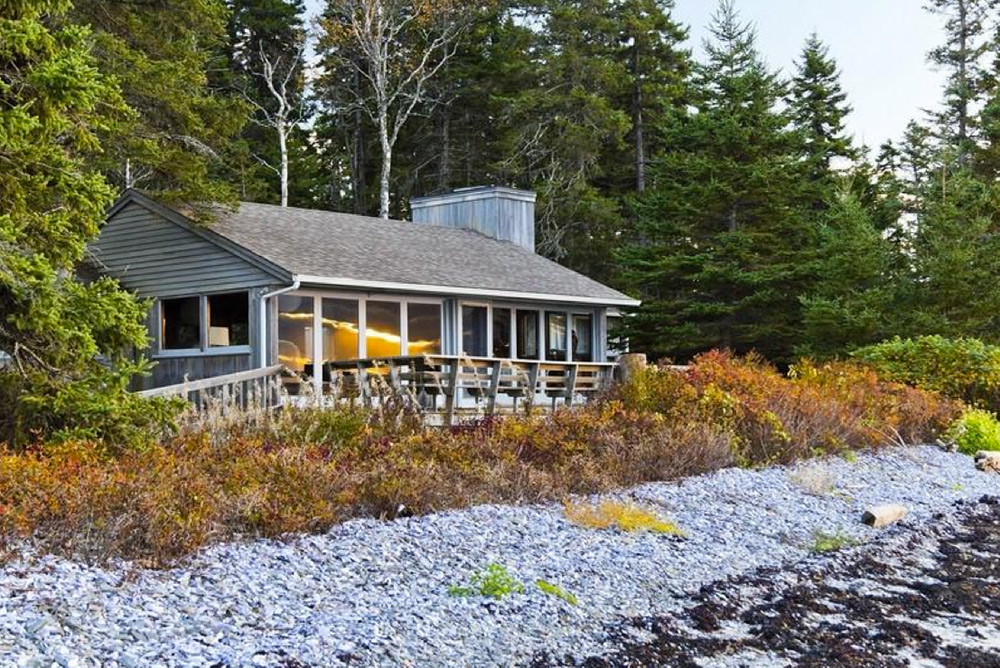 1. $4.35 million in Bernard, ME (click here for more photos)
This multicabin estate on Mount Desert Island has all the best beach amenities imaginable, including rocky, breathtaking shores and soft sand leading to the Atlantic Ocean.
Hiking trails connect all 28 acres to Lopaus Point and Mitchell Cove as well as to the six cabins on the property that make up a total of nine bedrooms and six full baths. Each cabin has its own rustic style with exposed beams and natural light galore. An artist's studio and boathouse round out this oasis on the water, along with a tennis court and sweeping lawn (perfect for croquet).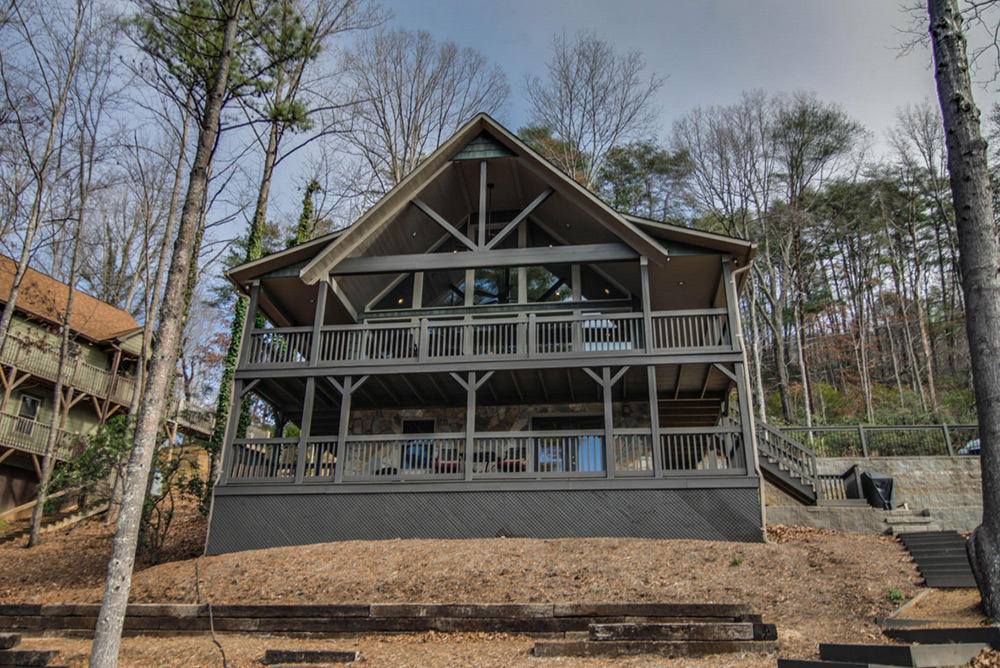 2. $595,000 in Lake Lure, NC (click here for more photos)
Live in a resort surrounded by natural beauty. Nestled in the amenity-packed Rumbling Bald Resort, this renovated cabin right on the water is proof that rustic can be chic.
Masonry gets an upgrade with native stones, and bamboo hardwood floors shine throughout the five-bedroom, three-bath 1,827-square-foot home on Bald Mountain Lake. This peaceful paradise includes a fire pit and covered deck for outdoor entertaining as well as nearby golf courses and a private beach. With so many amenities, it's as if summer vacation never ends.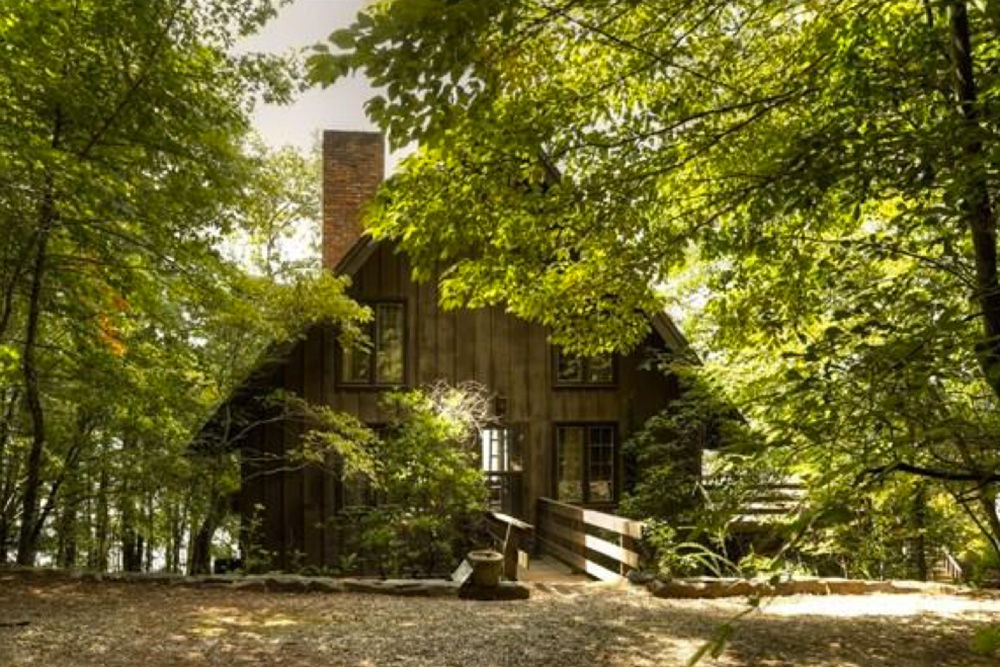 3. $1.375 million in Clarkesville, GA (click here for more photos)
Escape to the gorgeous Chattahoochee National Forest and make Lake Burton your new backyard at this classic A-frame cabin just across from Billy Goat Island. The two-bedroom, two-bath rustic beauty includes a double covered boathouse as well as a spacious patio right above that's just as perfect for catching sunsets as it is for catching fish. Enjoy sweeping views of the lake even from the bunk room loft with windows galore letting in natural light and keeping out the bugs of summer.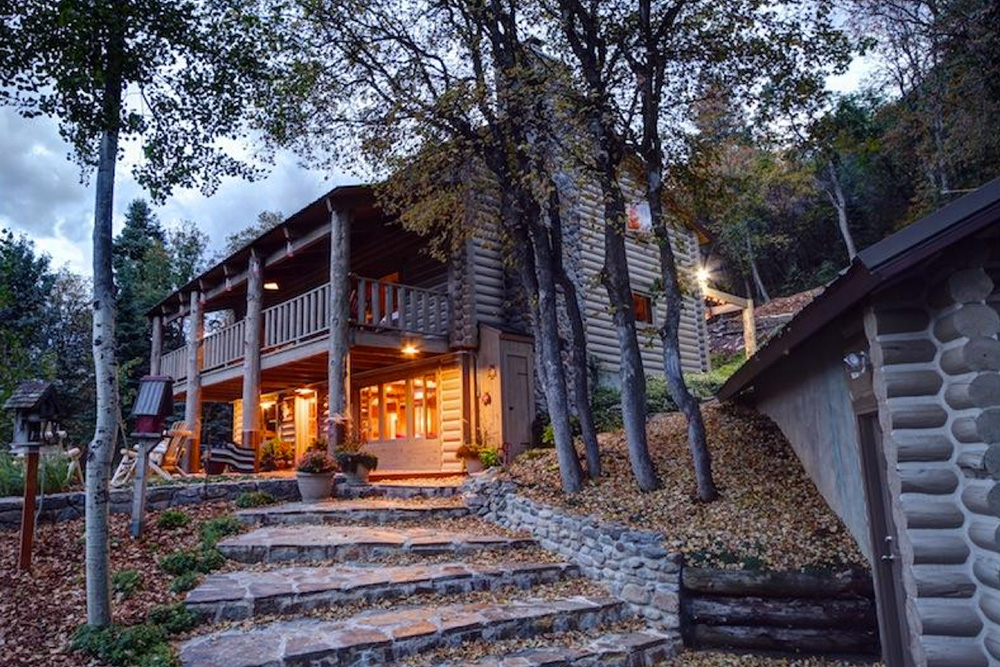 4. $1.149 million in Sundance, UT (click here for more photos)
Get the true rustic-meets-luxury experience just up the mountain from the iconic Sunset Resort. This four-bedroom, three-bath cabin is surrounded by mountains and greenery and comes with a fire pit as well as a hot tub.
A robust garden constitutes just one of the many green features surrounding this 2,702-square-foot estate. This home is offered fully furnished with an open floor plan perfect for entertaining. It even boasts enough parking for up to 10 cars outside, along with an additional one-car garage.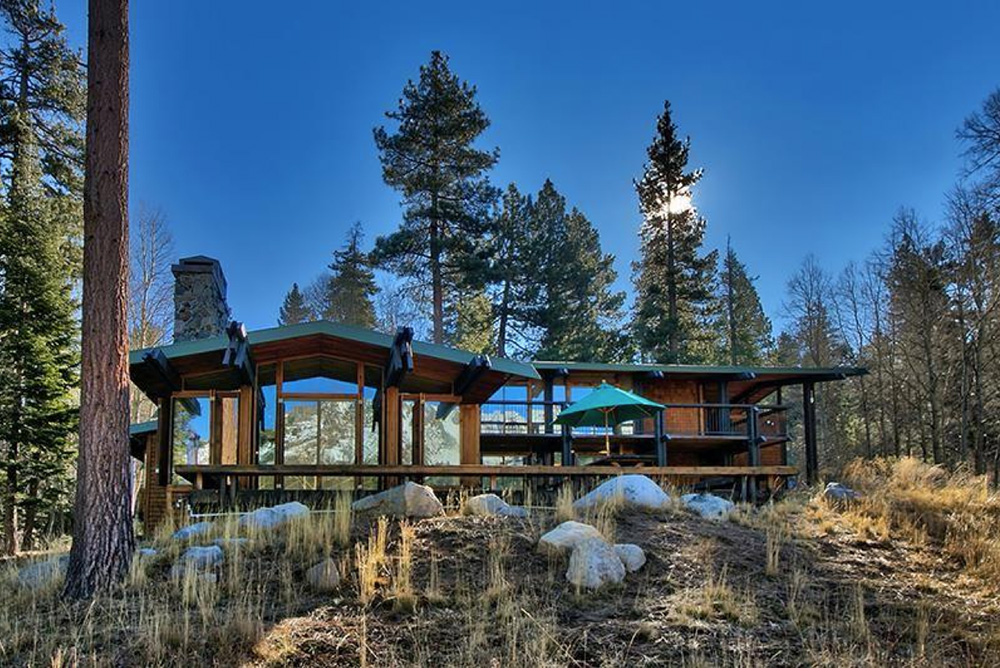 5. $7.995 million in South Lake Tahoe, CA (click here for more photos)
Own a piece of paradise with name recognition to boot. The Fallen Leaf Lake Tallac House has shared the big screen with the likes of Whitney Houston and Nicolas Cage — The Bodyguard and City of Angels were both filmed here — and it was designed by architectural heavy hitter Paul Hamilton.
This comfortable and functional five-bedroom, three-bathroom cabin feels more down to earth than like an A-list celebrity, though. It's surrounded by the El Dorado National Forest, with views of Mount Tallac and South Lake Tahoe. There's nothing quite like mild Tahoe summers and serene snowy winters by the lake. Embrace it all in an iconic 3,044-square-foot home.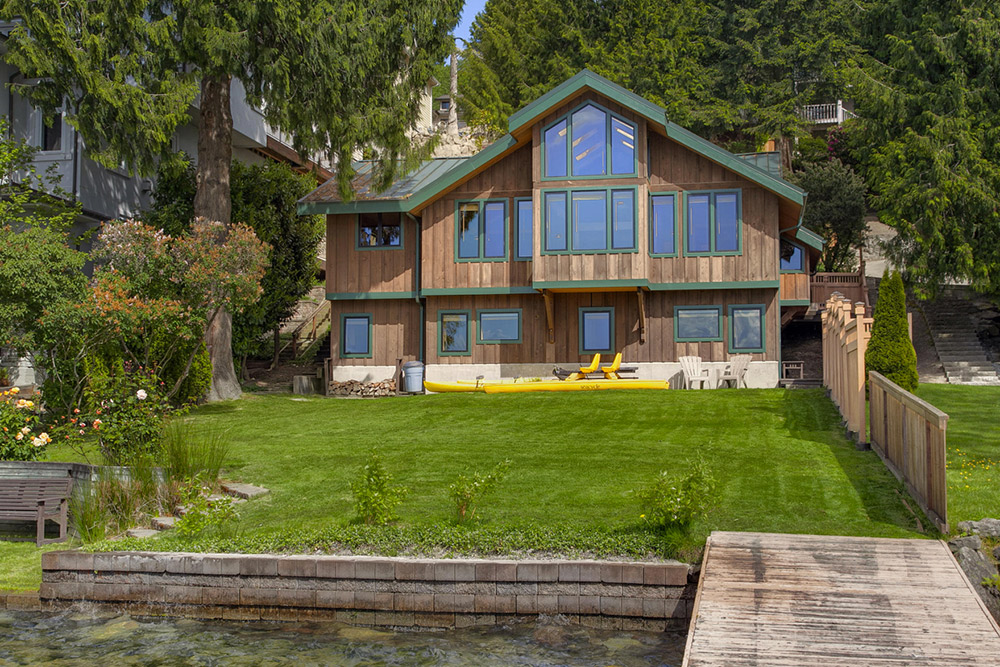 6. $3.395 million in Mercer Island, WA (click here for more photos)
If you're as much a city dweller as you are a country mouse, then this five-bedroom, two- and two-half-bath cabin just might be your ideal home. Copious natural lighting from the west wall windows makes this 4,150-square-foot home feel welcoming and provides excellent views of Lake Washington and the Seattle skyline. Spend your mornings kayaking, your afternoons grilling on the lawn, and your evenings entertaining.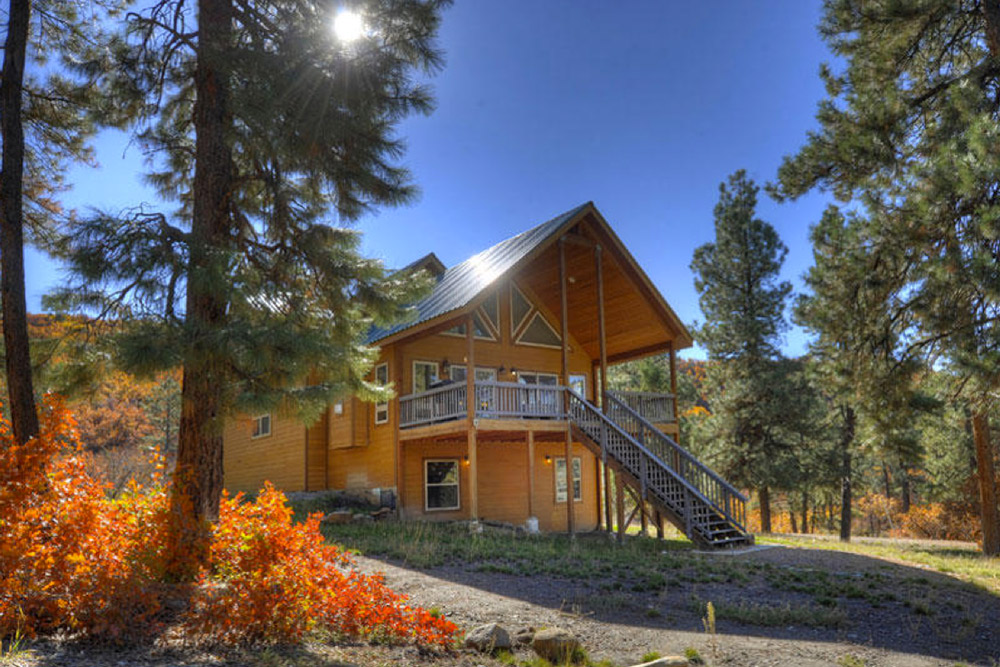 7. $3.65 million in Durango, CO (click here for more photos)
Share your love of the outdoors with guests all while giving them a bit of privacy and comfort. Known as the Silver Mountain Ranch, this secluded oasis in the San Juan National Forest includes four log cabins for visitors and a spacious 3,100-square-foot main home with a welcoming wooden porch for entertaining and unwinding. In all, this valley estate spans 158 acres, with its five residences making up 10 bedrooms and 10 bathrooms. Explore the beauty of the forest or relax by the lake in a gazebo overlooking the water.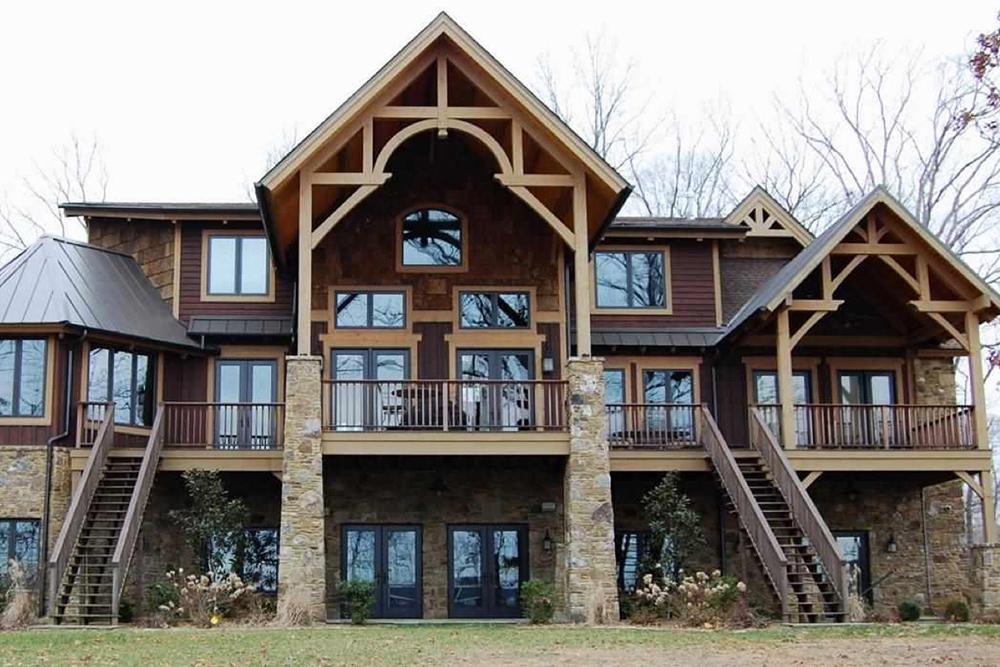 8. $2.675 million in Murray, KY (click here for more photos)
This sprawling six-bedroom, seven-bathroom cabin (on Weekend Lane, naturally) will make you feel as if every day were Saturday, with its sweeping views of Kentucky Lake.
Dock the boat and unwind in the master bathroom Jacuzzi or take in a sunset at your own private point near the water before settling in for a movie in your own home theater. Masonry touches like stone fireplaces and counters perfectly tie together the exposed beams and ironwork that gives this 7,678- square-foot estate a welcoming, rustic feel.