They're rich, they're famous, and their every whim is catered to by a fleet of servants. Forget Dancing With the Stars — we're more interested in dining with them.
Whether it's an expansive Mediterranean-style hideaway or a just quaint bungalow in Los Angeles, it's only natural that celebs step outside their mansions onto some of the world's most luxurious and elaborate outdoor entertaining areas.
We dug into our archive of over-the-top celebrity homes to find four macho tabloid favorites who each show a proclivity for indoor-outdoor dining, dating models, and real estate investing. (Although not necessarily in that order.)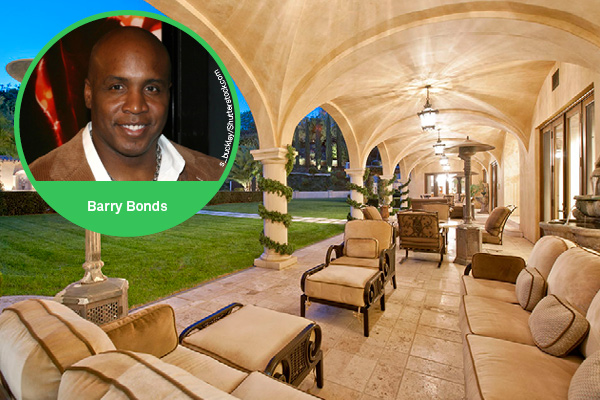 Barry Bonds' Tuscan party playground
If ultraluxe is the name of your game, then take a look at controversial ex-baseball star Barry Bonds' Beverly Hills estate, which would be a dream home for any frequent entertainer.
The Tuscan-style mansion includes a full outdoor kitchen, complete with a pizza oven, barbecue/rotisserie grill, and wet bar. And of course, there is the impeccably manicured lawn and sparkling blue swimming pool.
The 2,000-square-foot stone loggia with privacy curtains is no doubt a coveted spot for enjoying a glass of wine in front of the private fireplace (with easy access to another wet bar).
Forget Beverly Hills; a few minutes at this former slugger's house and you'll feel like you're batting a thousand … in Italy.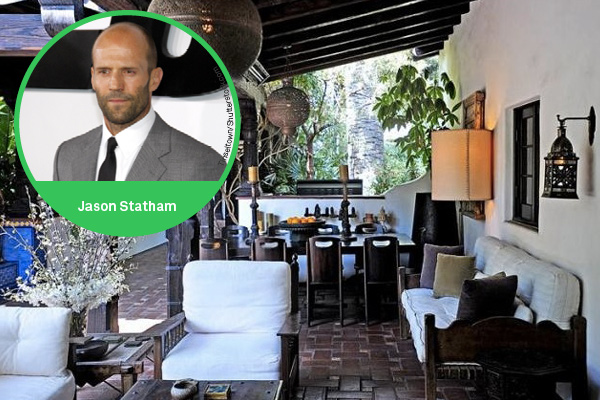 Jason Statham's Spanish outdoor dining room
The Transporter star may be an action hero, but it's safe to say he's a man of real estate action at home too.
At Statham's former house, a 1929 authentic Spanish beauty (which once belonged to Ben Stiller), guests enjoyed dining outdoors in the covered terrace, replete with a long dining table and lanterns that glow in the evening. Heavy metal lanterns add ambience, while the tiled steps lead down to the glimmering pool — after-dinner swim, anyone?
Pour a glass of sangria and whip up some tapas — you'll feel like you're in Seville in no time. Sadly, Statham and his longtime lady friend Rosie Huntington-Whiteley no longer call this Hollywood Hills location their home; just last week they purchased a $12.995 million contemporary-style home in Beverly Hills.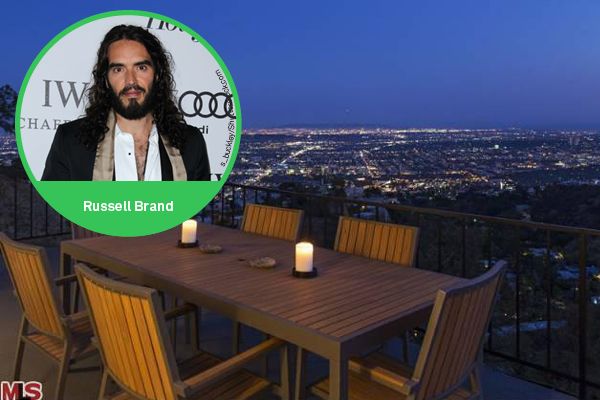 Russell Brand's romantic, panoramic patio
If you're all about the view, then take a cue from British actor-comedian-lothario (and now documentarian) Russell Brand.
At Brand's 1920s Hollywood Hills hideaway (which, no big deal, used to belong to none other than actor Laurence Olivier) there's a perfect outdoor dining area for scoping out a panoramic view of Los Angeles.
It's easy to imagine the British funnyman lighting a few candles before cozying up with his latest conquest as they take in the sunset from the patio. Brand's bachelor pad is nestled deep in the hillside, so either way, his lucky guests should bring an appetite not just for dinner, but for the picture-perfect view of LA and the canyon below.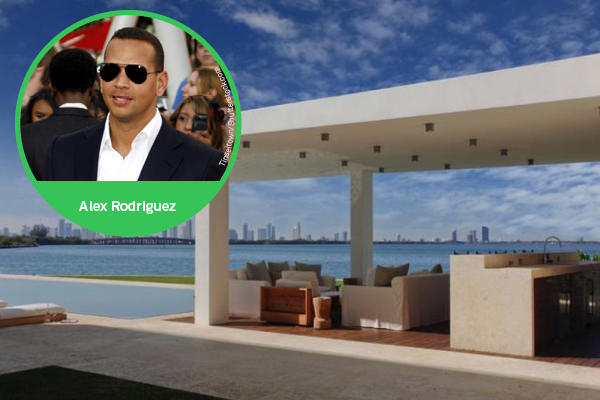 Alex Rodriguez's modern Miami terrace
While he may not be able to hit a baseball without being juiced up, Alex Rodriguez's home décor aesthetic is a grand slam.
At the New York Yankee's $38 million Miami mansion, which he put on the market in 2012, the outdoor dining area is a contemporary-style dream overlooking the city skyline and waterfront under a modern stone gazebo.
Best of all, the alfresco dining area is perched right next to the vanishing-edge heated pool. We're guessing most dinner parties were BYOB — bring your own bikini.