Ten days. We had a little more than a week between closing on our condo and moving into our recently purchased 1920s house. The upheaval was daunting. On top of everything, our very active toddler daughter left us with zero capacity for unexpected, dangerous, or expensive surprises.
As the first owners of our Boston condo, my husband and I had evaded major home crises. Terrifying new-home scenarios kept me up at night: our little girl falling down the stairs was a constant, followed by deadly lead in the old plaster walls.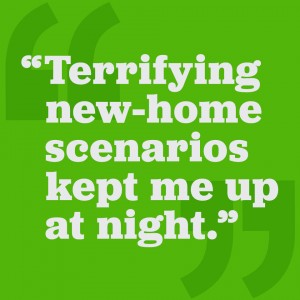 Everyday basics I had taken for granted seemed luxurious now that we were confronted with our new old house. The list was huge — call the electrician (we discovered dangling bare wires when we tried to change a bulb), find a plumber for the leaky basement dehumidifier, fill the oil tank, and service the furnace.
Act one: Furnace Guy Rich
"I've been out here before," Furnace Guy Rich announced on arrival. "Two years ago and the basement was full of water."
Wait. What? Yes, we were near the ocean, but our home inspector had said the basement was "dry" and we'd scrutinized maps to see where our property fell among recently redrawn FEMA flood zones. Luckily, we were just outside.
"Yeah," said Rich, scratching his head. "They called me out because the furnace was pouring water into the basement. By the time I got here, water was up to my ankles."
I had imagined all kinds of disasters involving weather, but since the furnace was new ("state of the art!" according to the listing), I hadn't expected the flood threat might come from inside the house.
"How long has this place been empty?" Rich asked. "'Cause I don't think it's had hot water for a long time."
Act two: The home un-inspection
The home had been rented by three young women before we bought it. The oil tank was empty when we toured the open house. Maybe they'd gone without hot showers that last month?
"There's no hot water here," said Rich. "Didn't your home inspector check it?"
Yes, of course the home inspector checked it. Didn't he? And didn't I check it myself the day of our walk-through, right before closing?
Here's the funny thing: I had made a point to check the water because the shower at our condo had stopped working the same morning of our walk-through. We hired a plumber to fix it immediately, but what if we hadn't? Who would know until the new owner tried to take a shower? By then, we'd be long gone.
My husband recalled that the home inspector had tested the water, but hadn't waited until it got really hot. Logic being that in an old house it's likely you'd have to wait a while for a steamy shower.
In hindsight, that sounds incredibly stupid. Especially as I listened to Rich prattle on about that although our furnace was an awesome machine, new parts were shockingly expensive. Oh, and did he mention that the main computer control had quit?
Act three: An analog fix
I hung around the basement while Rich talked to tech support. When he got off the phone, he shared a DIY repair plan that would save me money. As I tried to absorb what sounded like a homemade bomb mounted on my fancy furnace, my mind wandered to all the other parts of my new house that were secretly broken. There were so many more places to hide defects than in our 1,000-square-foot condo!
Suddenly, I was more tired than I'd ever been in my life.
Eventually Rich got the hot water working. But it didn't happen that day, or even the next. Our high-tech furnace now has an analog headpiece that makes it look like the love child of R2-D2 and a toaster — the victim of a brilliant, but mad scientist.
Silver lining: All was covered under our service contract with the oil company. I wasn't able to be on-site during repairs, so Rich's dispatcher sent updates as I packed boxes at the condo. When we finally moved in, I can't tell you how magical it felt to turn on the tap and have hot water pour out.
The finale
That night, as I rechecked the faucet in the downstairs bathroom, I happened to glance at the toilet. The bowl was bone-dry and clogged with soiled paper. No amount of plunging could summon it back to life.
Not pointing fingers at Furnace Guy Rich, but it appears our hot water came with a hefty price tag after all. There was nothing to do but take a deep breath, meet my second major home crisis head-on, and dial the plumber.