The Western half of the U.S. provides stark contrast to the East Coast. While the East is filled with rolling hills, green pine trees stretching toward the sky, and sandy beaches spreading for miles, Western states are defined by jagged, rocky mountains that scrape the sky, vast deserts, and impressive cliffs that jut into the Pacific Ocean.
And as art imitates life, architecture imitates its reality: The architectural styles of Western homes from Denver, CO, to Scottsdale, AZ, reflect an untamed wildness inspired by their setting. To celebrate the original homeowners' vision and the architects' profound creativity, we've put together an infographic of America's most famous homes in the West, including Taliesin West, The Bob Hope House, the Sleeper House, and the Playboy Mansion.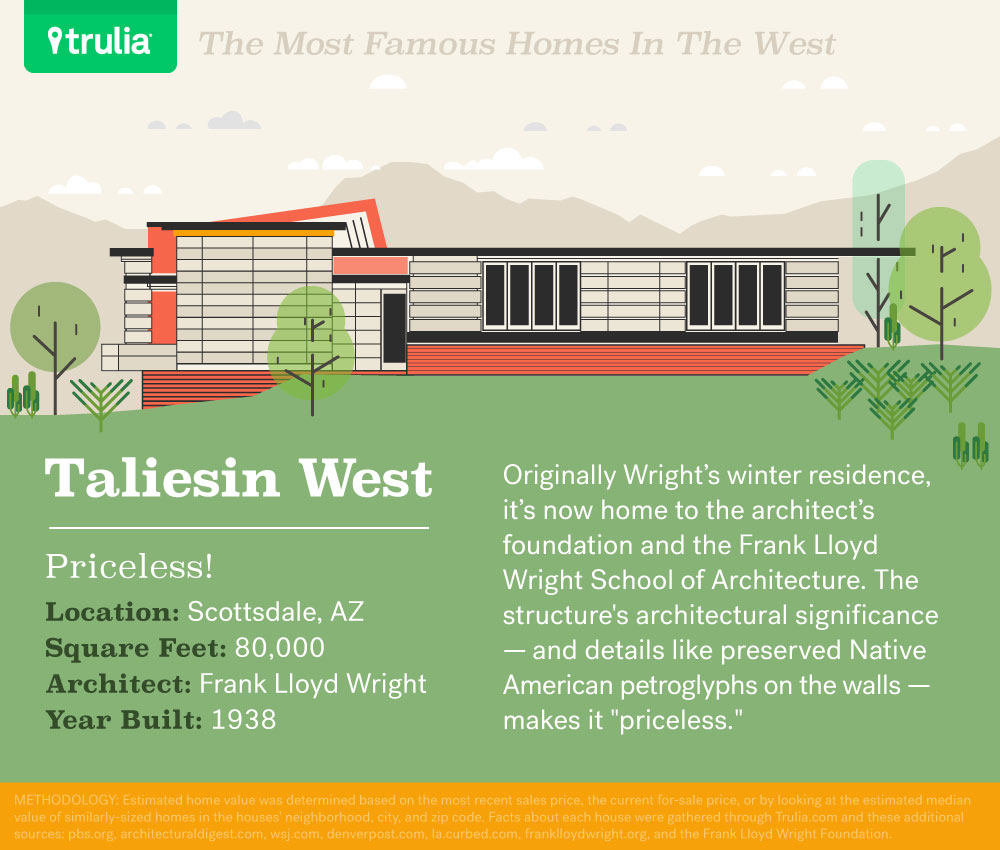 Taliesin West: The mecca of midcentury architecture
Shortly after he began his annual winter trek to the Arizona desert, architect Frank Lloyd Wright settled on a plot of land — which he bought for $3.50 an acre in 1938 — to build a campus that would become Taliesin West, a place of residence, business, and learning. True to his word, Wright built an 80,000-square-foot main building, surrounded by "desert shelters," where his architecture apprentices stayed during their training. Believing his pupils should learn by doing, he allowed his students to design their own shelters, which were often about 450 square feet (the original tiny homes!). Thus, a variety of architectural styles surround Wright's home, which has since been converted into a museum.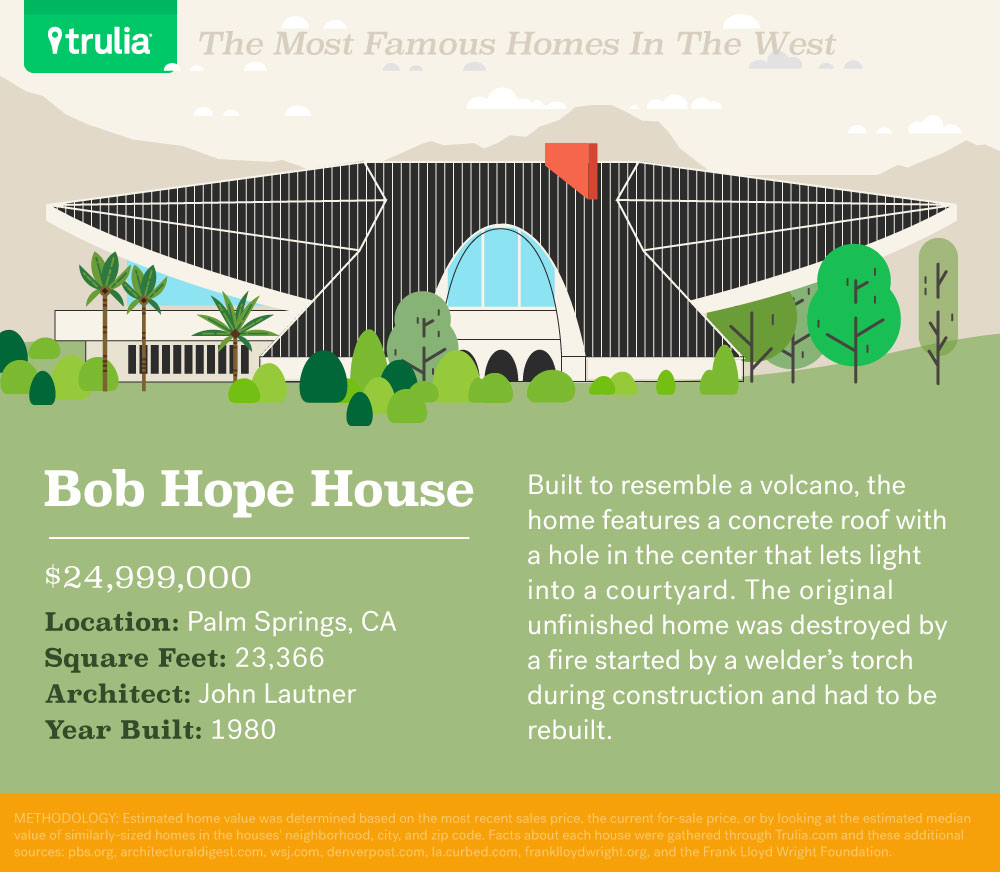 A home "Hope"-ful for a sale
In the 1970s, comedian Bob Hope and his wife, Dolores, commissioned architect John Lautner to build an uber-modern home in Palm Springs, CA, that has become an iconic piece of the city's landscape. Built in a triangular shape with a hole in the center of its concrete roof to allow light in, the home was designed to resemble a volcano but has also been compared to a mushroom and spaceship. The $24.999 million home has been on the market since February 2013 and originally debuted with a $50 million price tag. But don't fret, the remarkable home is not sitting uninhabited: It's often used to host extravagant parties like the unveiling of the 2016 Louis Vuitton Cruise Collection.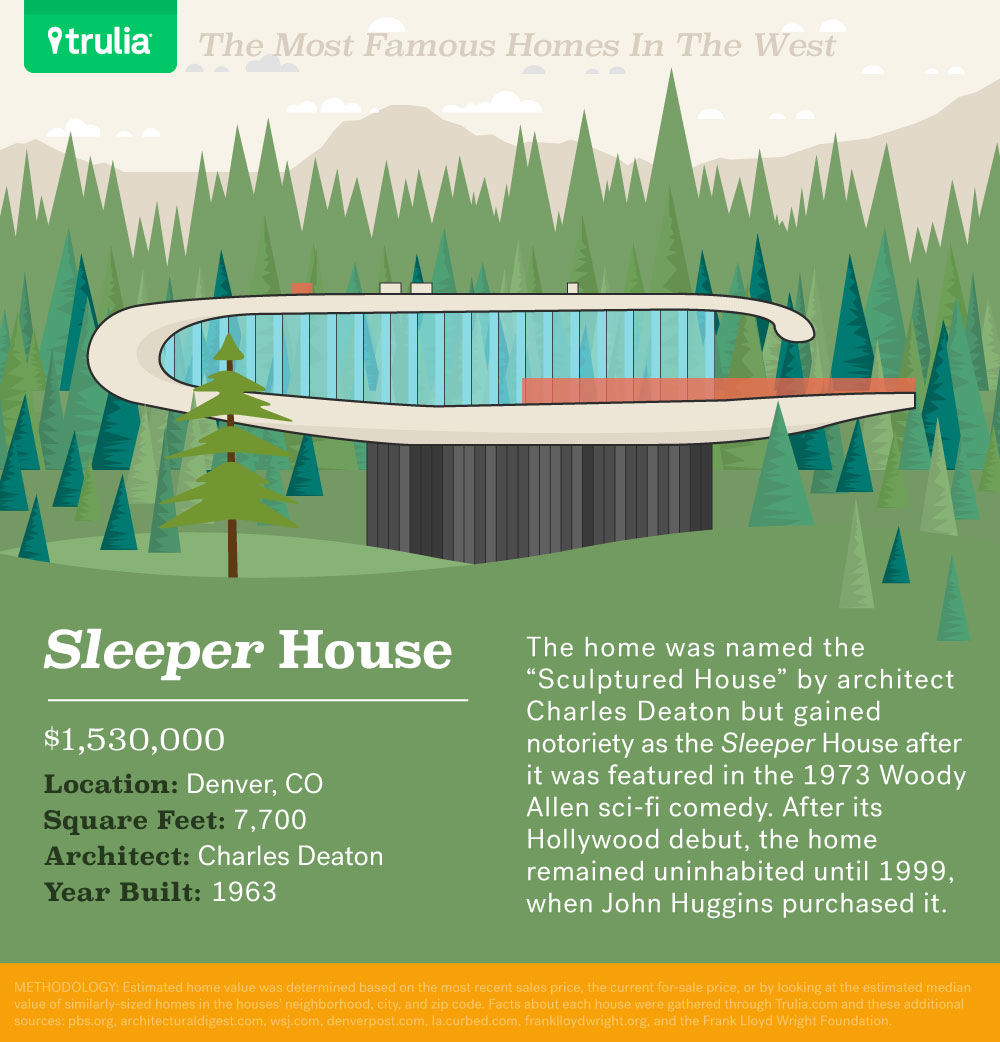 Party until dawn at this sculptural wonder
The so-called Sleeper House has a curious history. Designed by architect Charles Deaton, the home was built in 1963 on top of Genesee Mountain outside Denver, CO. Deaton's famous quote describes his inspiration for the house: "On Genesee Mountain I found a high point of land where I could stand and feel the great reaches of the earth. I wanted the shape of it to sing an unencumbered song."
Unfortunately, the exterior of the home, which was featured in Woody Allen's sci-fi comedy, Sleeper, was the only part that Deaton finished, and the home remained uninhabited until John Huggins bought it in 1999. (At the time, it was completely vacant with the exception of a fox). After restoring the home, Huggins sold it to a Denver businessman Michael Dunahay, who was known for throwing lavish parties here — perhaps too many, since he defaulted on his mortgage payments until the home was eventually sold at auction to its current owner, John Dilday.
The Playboy Mansion, named after Hugh Hefner's Playboy Enterprises empire, hasn't always been known for its reportedly salacious parties. Arthur Letts, an English immigrant who made his fortune by founding a Los Angeles, CA, department store, originally bought the plot of land, which he named Holmby Hills after his hometown of Holdenby, England. It was his dream to construct a neighborhood of large English estates, and after he died, his son built the English manor home that his father dreamed of.
With a charcoal slate roof, copper rain gutters, and great oak doors, the estate is truly magnificent, with an on-site zoo and the only local grove of redwood trees. It was recently purchased by billionaire investor Daren Metropoulos, who lives nearby — even if he can't move in until Hefner's "life estate" terms are over.
Which of these famous American houses in the West is your favorite? Share in the comments!