If you won the lottery, where would you move? While some might dream of a sprawling country estate, others would head their favorite metropolis for urban luxury living. If the latter sounds like your #lottogoals, we've rounded up the top 25 most expensive condos in America to fuel your jackpot fantasies. From a huge New York City duplex that comes with a trip to outer space to a sculptural Seattle space with mountain views, here's a glimpse inside the most luxurious condos in the nation.

$85,000,000
Don't mistake "condo" with "short on space" — especially when it comes to the most expensive condo in New York. This 15,000-square-foot duplex at the Atelier has enough living space across a floor and a half to comfortably accommodate your family and your entourage (10 bedrooms and 11 bathrooms, to be exact). Oh, and if the bird's-eye view of the Hudson River isn't enough for you, know that this condo also comes with two tickets for a future trip to outer space (yup).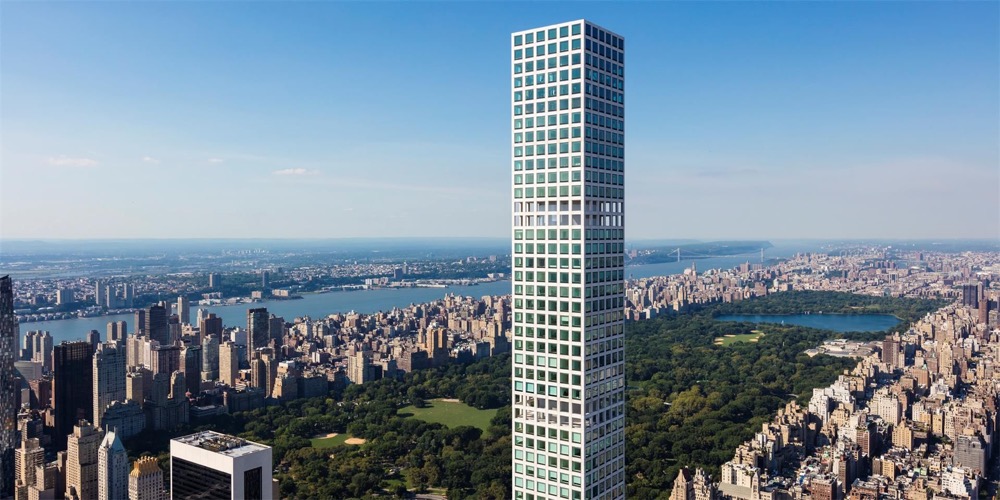 $82,000,000
If your idea of luxury is never having to see (or hear) a neighbor, this six-bedroom, eight-bathroom penthouse that comes with its own private elevator would be perfect for you. The 8,255-square-foot condo occupies an entire floor of one of New York City's slimmest skyscrapers, a set-up that also gives you 360-degree views of the city. Fun fact: This condo is higher than the Empire State Building, a sight that you'll marvel at from the nearly floor-to-ceiling windows.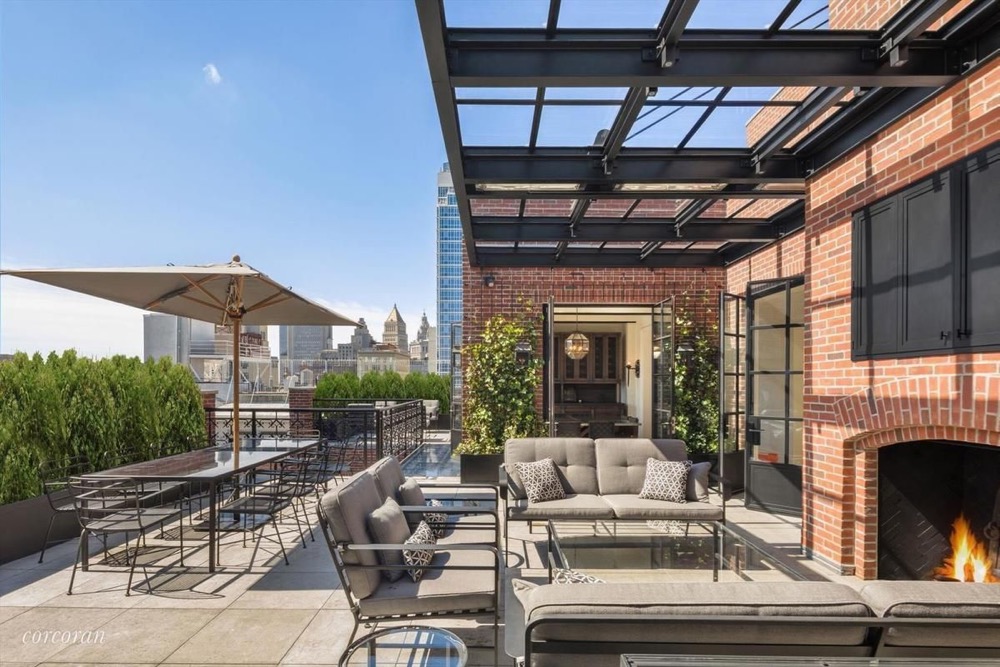 $65,000,000
With its art galleries and thriving dining scene, SoHo has long been the neighborhood of choice for the lovers of culture. Slightly more down-to-earth architecture is the norm in SoHo — like the five-story building where you'll find this updated four-bedroom, seven-bathroom updated condo. Every inch was redesigned by Roman & Williams, the interior design firm that counts celebrities like Gwyneth Paltrow and Kate Hudson among its clientele. But, the best features are outside: There are approximately seven terraces (one with a TV alcove) and a rear yard.

$14,000,000
Old meets new at this 9,515-square-foot penthouse at the sleek Ritz-Carlton Residences. It's located right across the street from Philadelphia's most beautiful structures — the wedding cake-like City Hall. This is a condo building with all the perks of a luxury hotel, from the ability to order room service from the Ritz-Carlton whenever the whim strikes, to the use of a chauffeured car. However, the design and features of the penthouse itself are entirely up to you. Go ahead, dream big.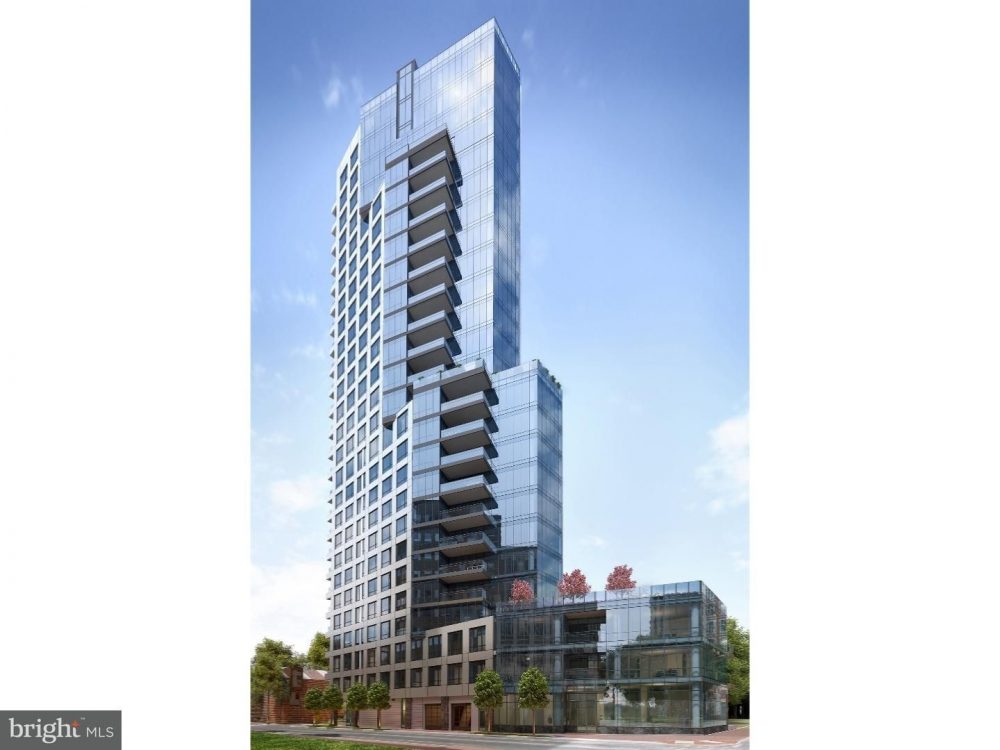 $6,959,000
History abounds in Philadelphia, especially in the area of Society Hill. That's where you'll find Independence Hall, the site where the Declaration of Independence and the Constitution were signed and adopted. Steps away is the brand new 500 Walnut residential tower, home to a 4,300-square-foot condo that comes with its own architect so you can put your own spin on the space. Before you move in, give yourself a housewarming gift of an electric car — one of the building's many amenities is an induction-powered charging pad that'll charge up your battery sans plug.
$5,800,000
The Rittenhouse Square neighborhood is a bit quieter than other parts of the city, with upscale boutiques and restaurants alongside handsome, old townhomes. You'd have a great view of it all from this warm and inviting four-bedroom, three-bathroom condo. Though it's already a roomy 4,166 square feet, the unit also has a private terrace off the dining room that's big enough for entertaining. Rainy? Take the party back indoors to your own private screening room.

$18,000,000
Though it's technically a condo, this four-bedroom, five-bathroom residence is more like a sky mansion. Found at the very top of the Archer, the penthouse looks a lot like the kind of sleek, flat-roofed luxury homes usually found in Los Angeles. The design approach does feel a bit Hollywood as well, with 5,998-square-foot interior living space opening up (via floor-to-ceiling sliding glass doors) to more than 2,326 square feet of outdoor space. Yes, there's a pool and hot tub out there, too.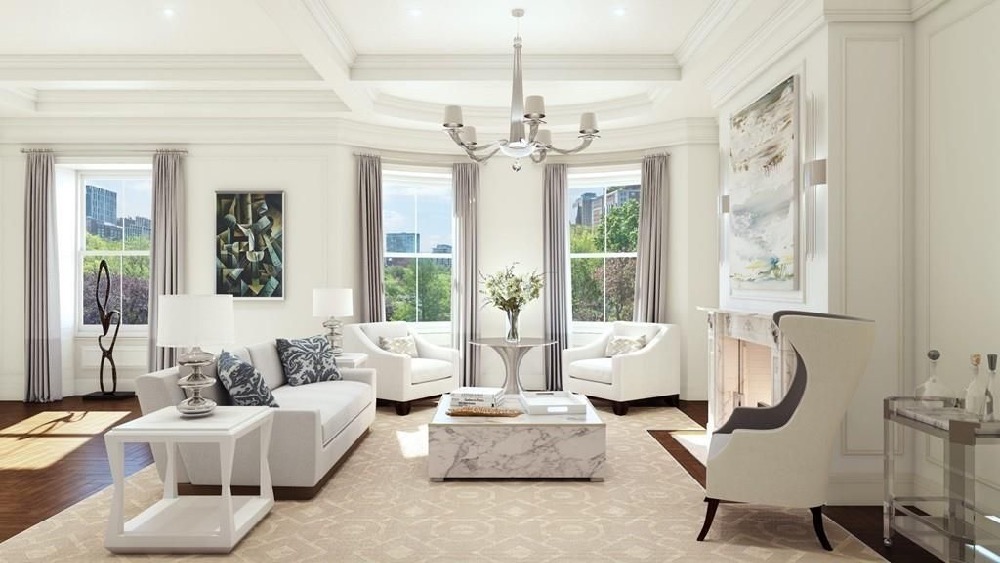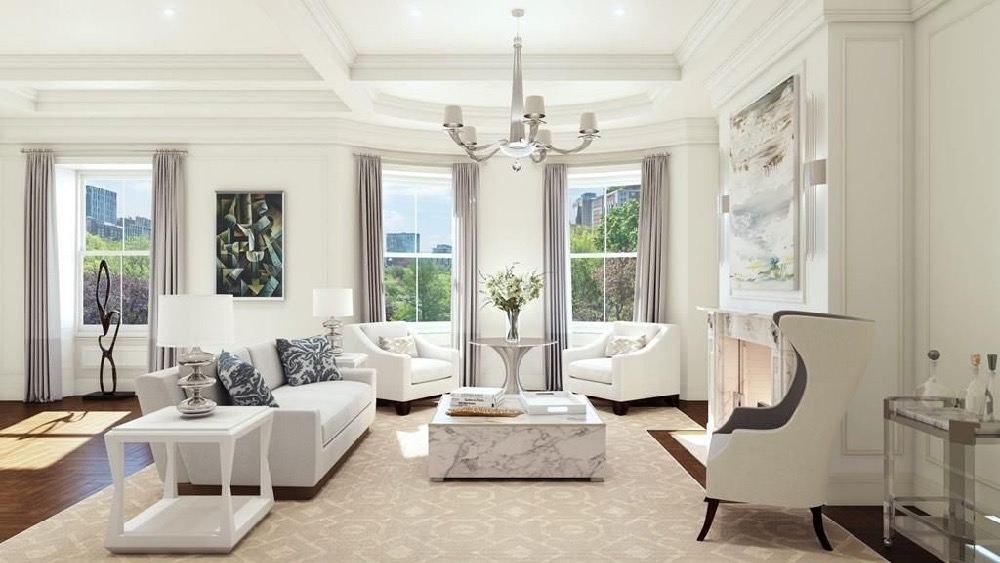 $15,995,000
If your taste in architecture favors the more traditional, Boston isn't short on grand old homes that date back to the 1800s. This four-bedroom, six-bath condo in a circa-1852 estate gives you all the benefits of historic mansion living, with an updated interior that suits a more modern lifestyle. Meaning, the kitchen and baths are huge, but you still have old-timey details to appreciate, like a solarium. While you may not have a yard, you do have the Boston Public Garden outside your front door.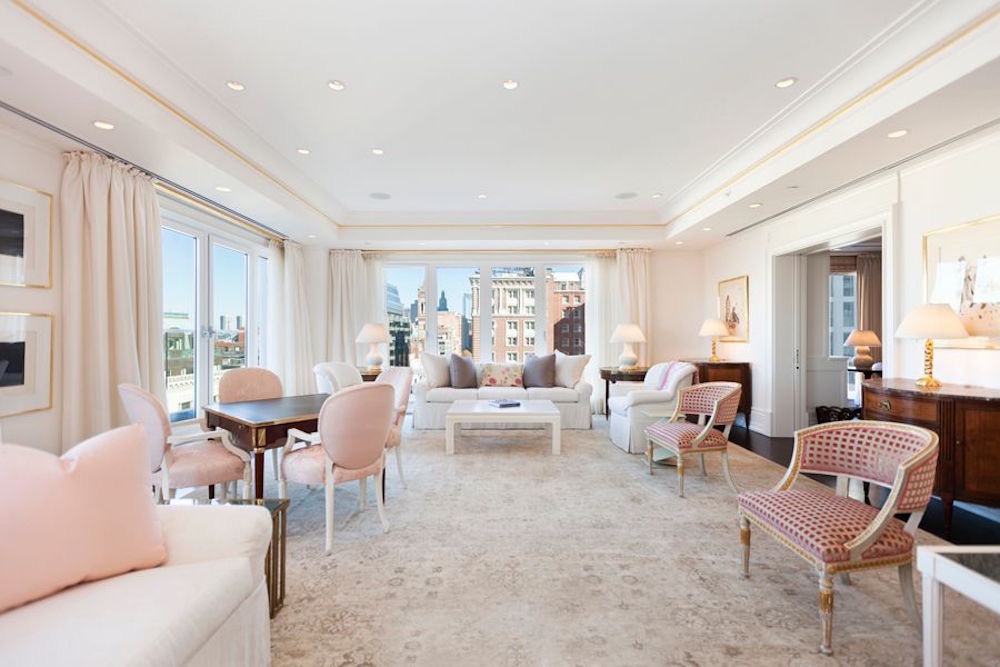 $13,500,000
With its "front-to-back" layout, this high-up three-bedroom, four-bathroom residence is the very, very upscale take on a railroad apartment. All the rooms flow together, so the natural light from the floor-to-ceiling windows shines throughout the entire condo. It comes pre-decorated by the renowned interior designer William Hodgins, who popularized open, uncluttered designs. That means you won't need to shop at the boutiques found below on Boston's iconic shopping stretch Newbury Street to fill your home with beautiful things — but hey, why not do it anyway?

$14,750,000
With its elaborate columns and carvings, the entryway of this luxury condo building might lead you to believe the interiors will be similarly ornate. You'd be very wrong. The four-bedroom, three-and-a-half bathroom penthouse has a more minimalist aesthetic, reminiscent of an art gallery. It puts the focus on the cityscape you'll enjoy from every window. There's no better way to see the Golden Gate Bridge, Alcatraz, the Marin Headlands, and the Bay Bridge all at once.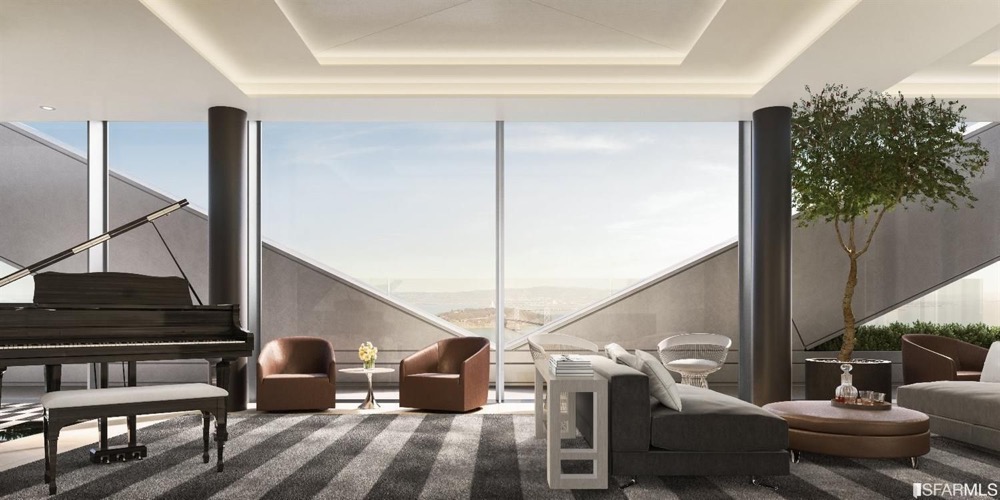 $14,500,000
The 181 Fremont might have taken more than five years to complete, but this gleaming condo building was worth the wait. (It has the unusual bragging right of the deepest foundation in the city, setting a new standard for safety.) Here, you'll find a 3,368-square-foot residence that might set a new trend for interiors. Its eclectic finishes came from all over the world — marble from Italy, Pladao wood doors from New Guinea, and the bronze entry door hardware is from Paris.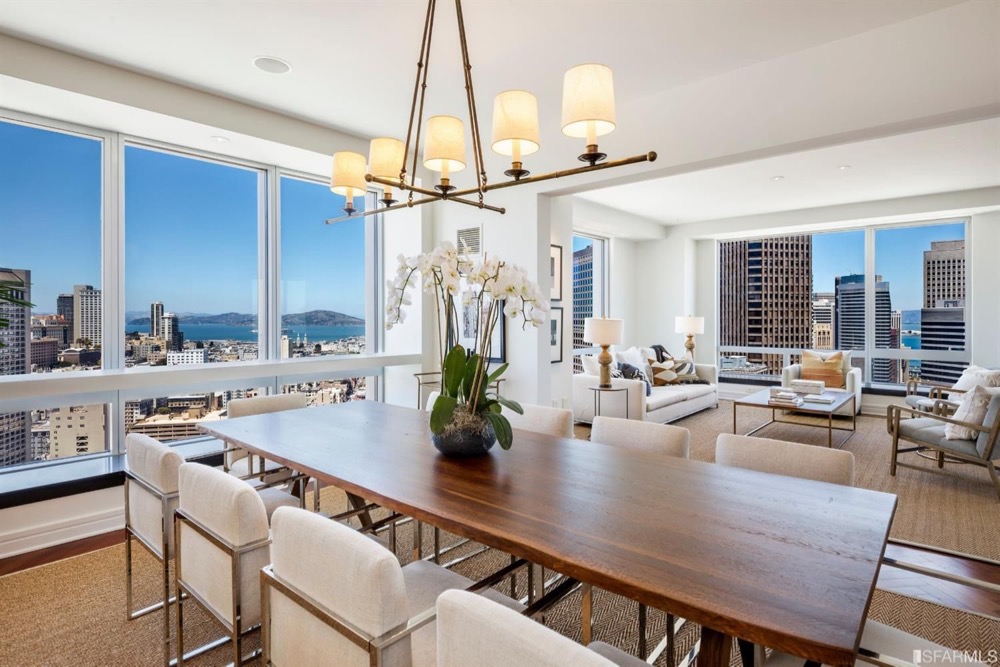 $11,700,000
Situated 400 feet above Union Square, in this three-bedroom, four-and-a-half-bathroom penthouse you can overlook much of the city from virtually any window. If the tastefully neutral interiors bring to mind those found in a luxury hotel, you'd be correct. That's because the 3,830-square-foot unit is a Four Seasons Private Residence. It's kind of like living on vacation.

$48,888,888
Everything's a bit more over-the-top in the City of Angels, and luxury real estate is no exception. This mid-century tower, located near Beverly Hills, is home to the most expensive condo in the city: a 7,000-square-foot double penthouse with a 3,000-square-foot terrace. It's the billionaire's version a "fixer upper" in that it's currently unfinished. If you have the happy problem of needing somewhere to live while making this your dream penthouse, don't worry. This property also comes with a one-bedroom apartment and a studio.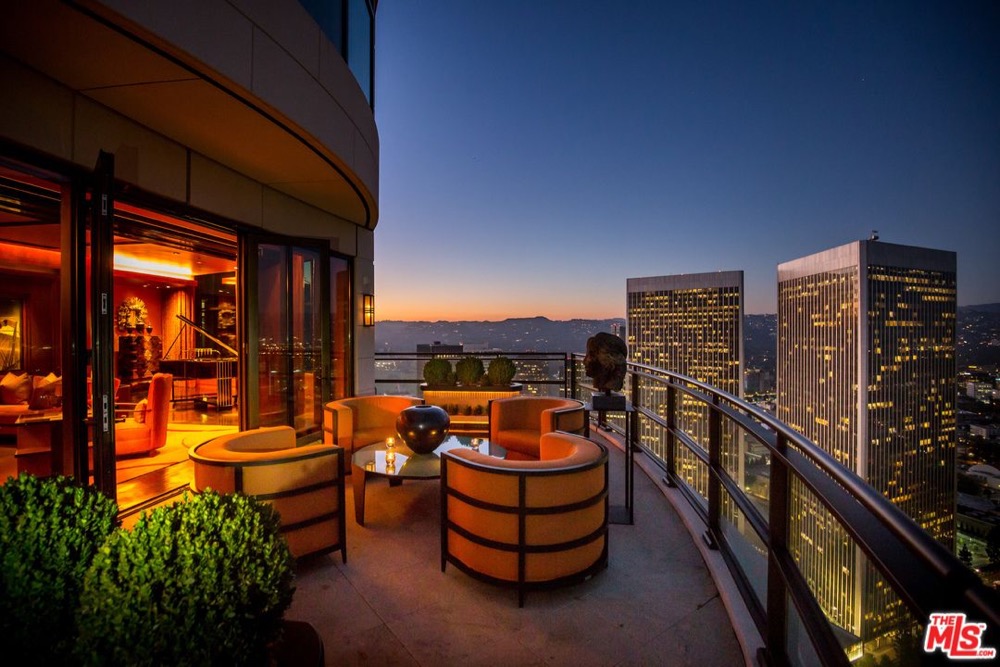 $29,900,000
If Jay Gatsby lived in modern-day Los Angeles, he'd call this place home. Though this two-bedroom, four-bathroom condo was built in 2010, it's designed to evoke the glamour of the 1920s and 30s. Each room has a different theme, with mood lighting to match — and the most over-the-top room might be the black-and-gold master bath, complete with coordinating black marble.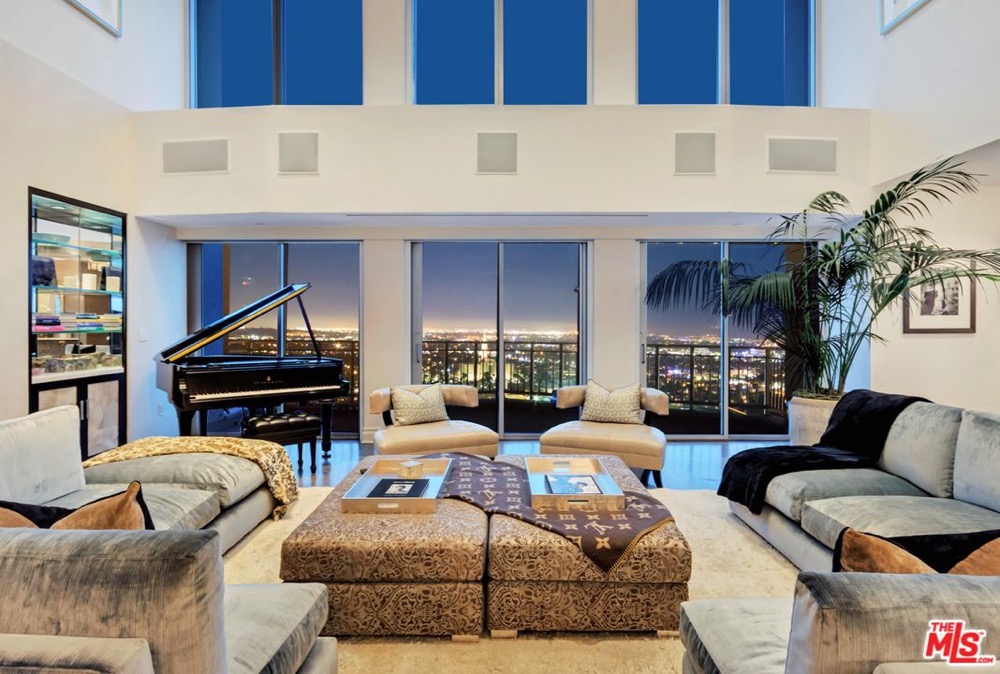 $16,500,000
Though it's located inland (between Century City and UCLA), this towering three-bedroom, five-bathroom penthouse is high enough to have views all the way across the city to the ocean. However, the vista isn't even the most notable feature of this white-and-beige unit, despite the 1,800-square-foot terrace that looks straight from a boutique hotel. Nope, that honor goes to the custom closet. Kitted out with glass doors and a shoe wall, it's a style-lover's dream.

$12,500,000
For nature-loving city-dwellers, this condo has it all. This impeccably decorated two-bedroom, three-bathroom flat is a stone's throw away from Seattle's famous Pike Place Market, yet looks out onto the gorgeous Puget Sound, Mt. Rainier, and the Olympic Mountains. It's a view you can enjoy while grilling your farmer's market catch of the day, thanks to the outdoor barbecue located on one of two terraces.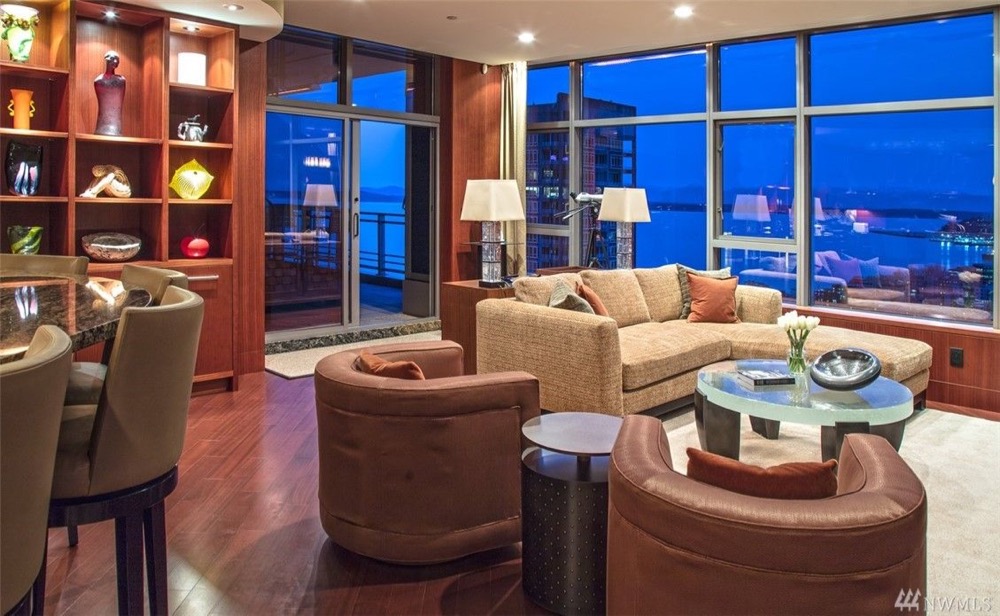 $3,999,000
Sure, views of mountains and sunsets are nice, but sometimes, you just want the ultimate in luxury. This two-bedroom, two-and-a-half-bathroom penthouse is ideal for those whose idea of communing with nature is admiring a countertop made of fine stone. The four-car garage (a rare find in Seattle) can accommodate your fantasy car collection, and the condo building itself will happily secure your wine collection. Take your best bottle up to your private rooftop terrace, which packs in a Viking mini-kitchen, spa, and a fire pit.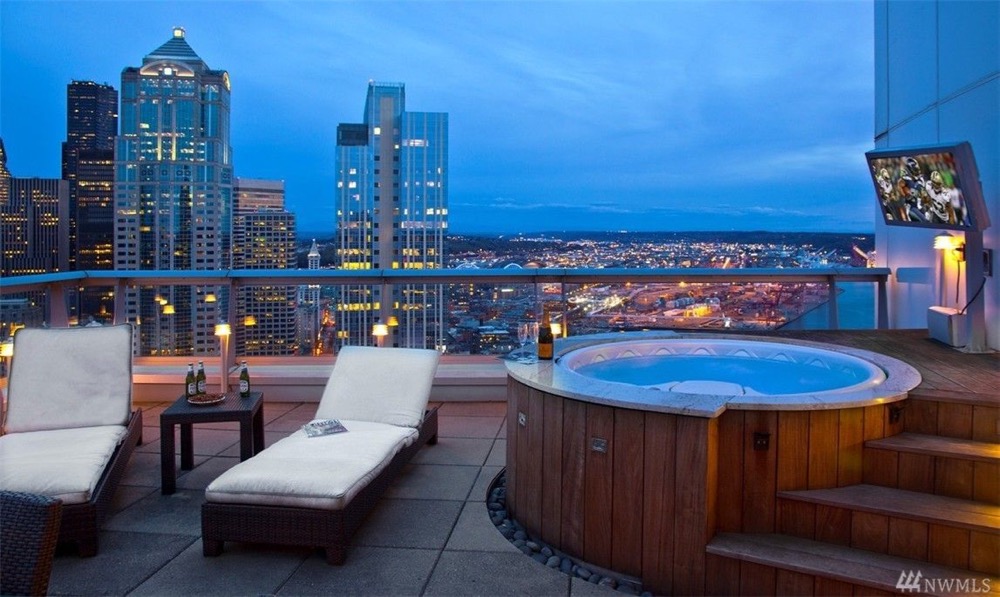 18. Glass Aerie That Puts the City at Your Feet
When money is no object, you can indulge in fun features that are only for occasional use. For instance, having an unsheltered, open-air hot tub in a city that's famous for constant rain. This is just what you'll find off the patio of this two-bedroom, two-bathroom penthouse condo, along with other fair-weather comforts like an outdoor kitchen and fireplace. Most of the year, however, you'd still be able to get the illusion of outdoor living thanks to the glass walls that surround the designer interior with panoramic skyline views.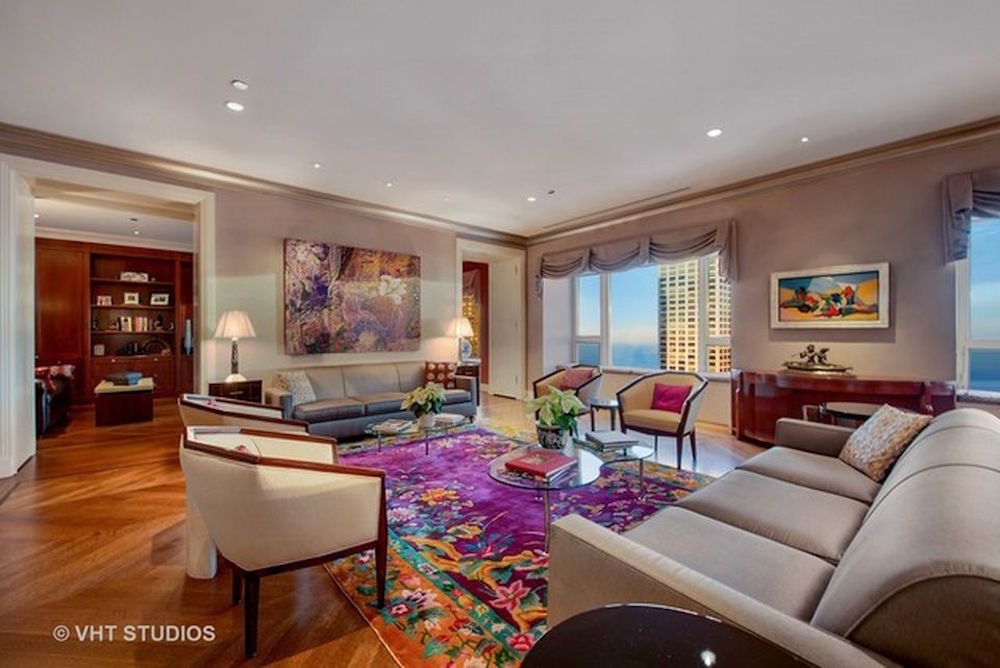 $11,000,000
It's two condos for one with this purchase, which adds up to a whole floor to call your own near Willis Tower (aka Sears Tower). When combined, you'll have a five-bedroom, seven-bathroom residence that totals an impressive 8,200 square feet. As for what to do with all that space, perhaps the layout can offer clues. The condos were designed to have a museum-like presence, making it the perfect home for a burgeoning art collection.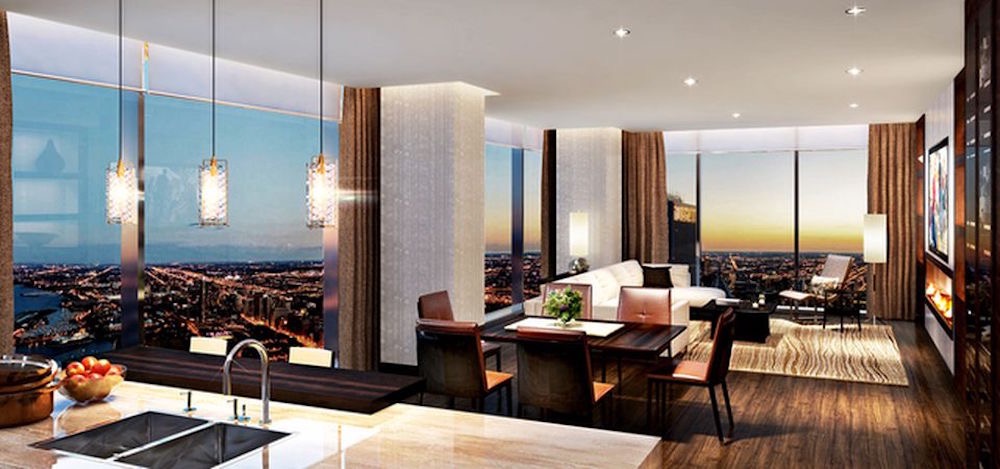 $10,368,390
Though it won't be ready until 2020, Chicago's third most expensive condo promises to be a standout. The Sky 360 Residences of Vista Tower is going to be the newest addition to the Chicago skyline, and the interiors promise to be as well-designed as the unusual tiered exterior of the building. In this proposed five-bedroom, six-bathroom condo, your future self would get to enjoy motorized kitchen cabinets, full-height stone walls throughout the unit, and a heated bathroom floor that'll take the chill out of those Chicago winters.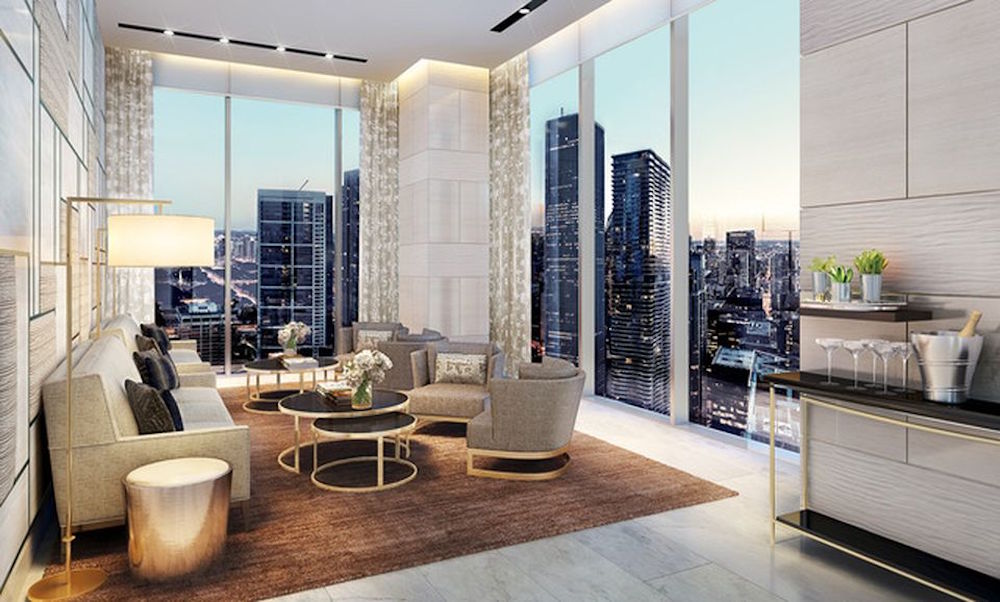 When it opens in 2020, the Vista Tower skyscraper will be the third-tallest in the city—and also the tallest structure in the world designed by a woman. It's the work of Jeanne Gang, who also won a MacArthur Genius Grand in 2011. In other words, living in the future Sky 360 Residents at Vista Tower comes with quite a bit of distinction. That's before you even get to the impressive four-bedroom, five-bathroom condo you'd call home. Designed by Hirch Bedner Associates (a firm that specializes in five-star hotels), the interior combines stone walls, wide-plank wood floors, and hyper-modern cabinetry and appliances for an unusual mix of natural elements and cutting-edge tech.

$7,500,000
The peak of living large in Houston is at the brand-new River Oaks building, where the biggest price tag in the city will buy you a four-bedroom, six-bathroom condo that occupies 6,200 square feet. The 1,700-square-foot terrace gives you even more living space — but if it's still not enough, that's where the amenities come in. There are two picturesque pools anchored by contemporary artwork, an outdoor kitchen, and a pet spa with a dog park to let your pup get his energy out in comfort.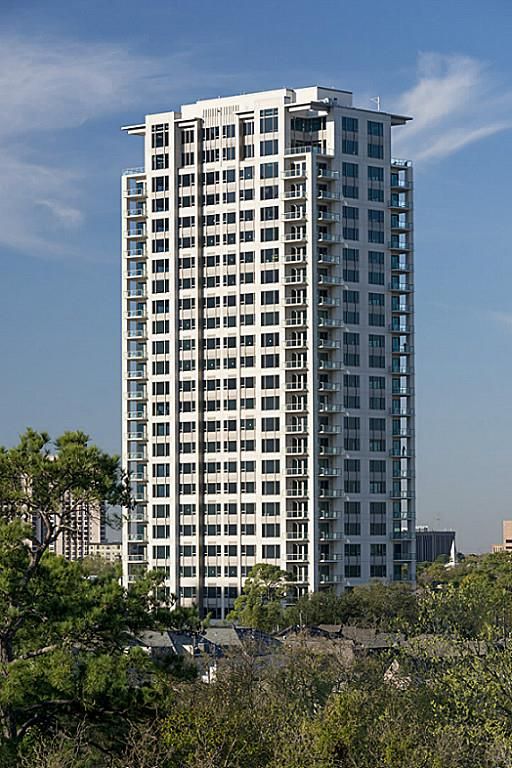 $6,736,000
This unfinished, floor-sized condo gives you 9,294-square-feet to design to your specifications, which could accommodate a six-bedroom, six-bathroom condo. There are at least eight areas that likely won't need a full renovation, though: the eight terraces found on each side of your floor, which just require some luxury lounge furniture. And if you love to look upon perfectly-manicured trees and landscaping, you're in luck — the building has its own formal gardens.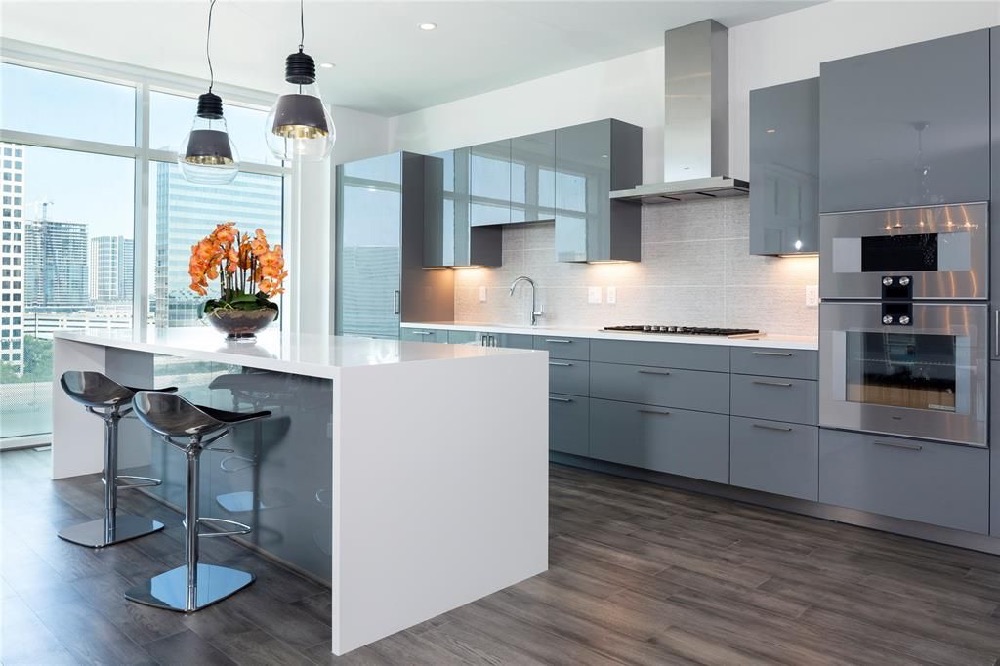 $4,225,000
A little bit of New York City came to Houston in 2015 in the form of the Arabella, the sister building to luxury high rises in the Big Apple. Here, you'll find a four-bedroom, six-bathroom condo with of-the-moment design touches like lacquered cabinets. But the ultimate luxury is right off the balcony, in the form of a private pool with soaring views of the city.

$25,000,000
If your home was made almost entirely of glass, you'd have to be very strategic with the location to maximize privacy. But in the case of this all-glass, six-bedroom, five-and-a-half bathroom penthouse, you're so high up that you're guaranteed privacy. Designed by architect Bjarke Ingels so that no internal structure obscures light, this modern take on a solarium is for the style minimalist with a maximalist budget. In addition to luxe features like a chef's kitchen, there's a 3,000-bottle wine room and a rooftop "moonlight cinema."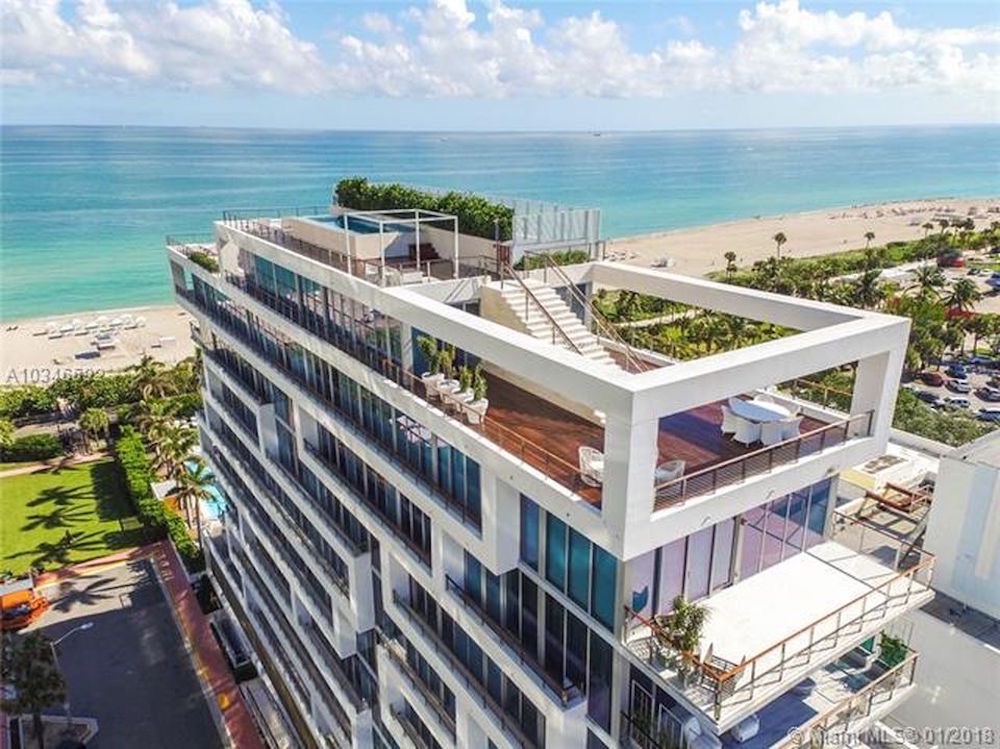 $22,000,000
Miami is the rare place where you could have an equal amount of outdoor and interior space and get plenty of year-round use out of each. This five-bedroom, six-bathroom duplex condo splits the difference with 5,000-square-feet of living space and 5,000-square feet of terraces. The high price isn't just for the amount of room you'll get, but also due to the exclusivity of the building. At Beach House 8 — with only eight full-floor condos — an opening is a rare find. In addition to your two floors, you'll find a third level with an infinity pool.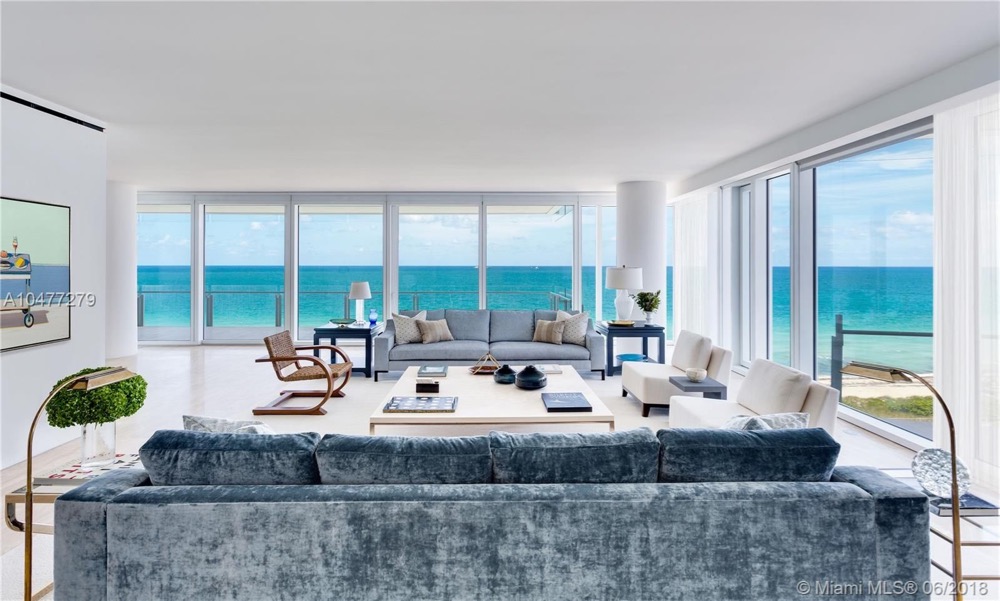 $21,500,000
Located just north of Miami, Surfside is an upscale neighborhood within the city limits — though it has a less flashy atmosphere. (The mayor has been known to skateboard around town.) The Surf Club Four Seasons is indicative of that luxurious-yet-laid-back vibe, with condos that offer high-end amenities without a lot of over-the-top glitz. This four-bedroom, seven-bathroom furnished condo has an all-white interior that puts the focus on its best feature — an expansive ocean view.
Clearly, the most expensive condos in America vary greatly based on price, location, and style. With so many diverse options, which condo would you choose as your dream home? Let us know in the comments!