Finding the perfect home is tough. Finding the perfect home in the right neighborhood while sticking to your budget is even trickier. That's where a good agent can make all the difference. But how do you choose one? Most rely on recommendations from friends and family, but there's no guarantee that your friends' dream pick won't be a nightmare for you. Fear not: choosing an agent has never been easier.
Easily research and discover recommended pros in your target neighborhood with the brand new agent profiles in Trulia's Agent Directory. Here's what else you'll find: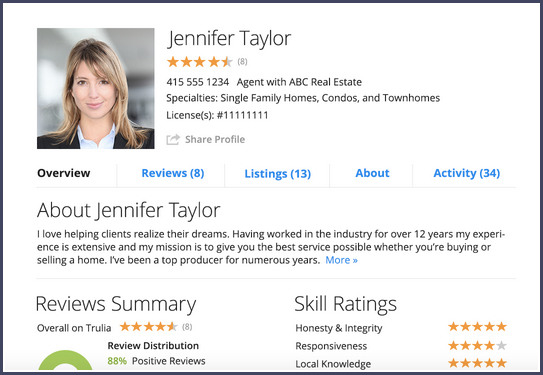 Five-star ratings – For the first time, Trulia introduces five-star ratings which evaluate agents' honesty & integrity, responsiveness, local knowledge, negotiations, and process expertise. You can also determine how helpful and effective an agent really is by reading reviews from past clients.
Infographics – Uncovering where an agent's expertise lies can be hard. New agent profile infographics break down what types of clients and properties pros work with most. Plus, average sale prices will help you determine whether they'll keep you within your budget or not.
Community Activity – How helpful will an agent really be in answering your endless questions? Perhaps his or her level of community activity will shed some light. Sample their approach to real-estate problems by checking out questions they've answered from other buyers and sellers on Trulia.
Current & Sold Listings – Everything looks good on paper so far, but how much experience does the agent you're eyeing really have? Check out realtors' current and sold listings to see if you're dealing with a newbie or an expert.
And don't forget to browse pros on the go this weekend while you're touring neighborhoods and open homes: new agent profiles are also available on mobile.