International Women's Day celebrates the economic, social and political achievements of women around the world while recognizing the progress that still needs to be made. To honor the spirit of the day, Trulia analyzed the strides that women have made in closing the gap in homeownership, education and pay.
To examine the state of gender equality, Trulia analyzed the Census' American Community Survey data from 2008 and 2015 to compare single, never-married women over the age of 24 years old to the same demographic of men.
Where Women Have Ways to Go
Looking at men and women in the 100 largest U.S. metros, it is clear that women are doing well in some places, yet not so great in others. Nationally, women are still trailing behind men when it comes to owning a home and bringing home the bacon.
Of all women in the demographic studied, only 46.1% were homeowners as opposed to 50.3% of men.
As of 2015, a woman was only making 72 cents to every dollar a man makes.
In 41 of the top 100 metros, the pay gap actually increased from 2008 to 2015, putting women further behind men.

Tech Hubs* like San Francisco, San Jose and Seattle were among those 41 cities to see an increase in the pay gap.
Where Women Are Winning
Although these statistics seem grim, there are signs for a brighter future. All across the U.S., we see markets that have made positive changes on the side of gender equality when it comes to pay and education.
Overall, the pay gap between men and women has decreased nationally by 7.1% since 2008.
Among the 100 largest metros, the pay gap decreased in 55 metros, while four saw no change.
30.0% of women have 4+ years of college, which is nearly equal to 30.14% of men.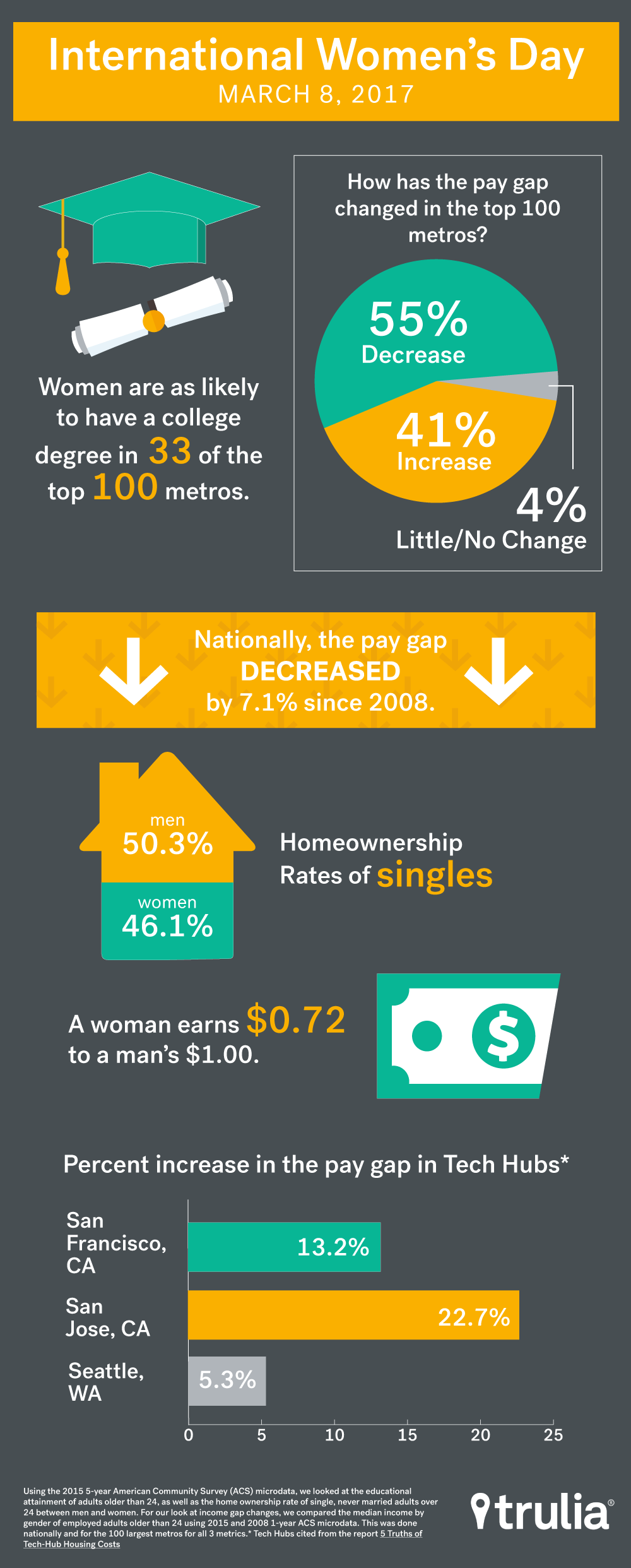 While it is clear there is still improvement to be made, Trulia ranked the 100 largest U.S. metros by how far women have come to achieving gender equality with men when it came to owning a home, attending at least four years of college and getting paid.
Where Women Are Closing the Gaps
Rank
Metro
Percent Change in the Median Pay Gap from 2008 to 2015
Percentage Point Difference in Education (Men v. Women)
Percentage Point Difference in Homeownership (Men v. Women)
1.
Albuquerque, NM
-25.0%
1.15
1.18
2.
Honolulu, HI
-14.6%
1.84
-1.62
3.
Tacoma, WA
-5.4%
0.72
0.25
4.
Orlando, FL
-40.0%
-0.29
-2.45
5.
Las Vegas, NV
-30.0%
-0.41
-2.08
6.
Portland, OR
-14.8%
-0.33
-1.35
7.
Philadelphia, PA
-26.9%
-0.02
-3.51
8.
Los Angeles, CA
-25.0%
-0.51
-2.09
9.
Columbia, SC
-19.8%
0.86
-4.22
10.
Raleigh, NC
-20.0%
0.18
-3.43
In Albuquerque, NM, the pay gap between men and women decreased by 25% to 2015 from 2008. Meanwhile, women are 1.15 percentage points more likely to have 4 years of college or more. Women are also 1.18 percentage points more likely to be homeowners than men.
When looking at the national improvements since 2008, it is clear that women are poised for greater equality. #BeBoldForChange this International Women's Day.
Methodology:
Using the 2015 5-year American Community Survey (ACS) microdata, we looked at the educational attainment of adults older than 24, as well as the home ownership rate of single, never married adults over 24 between men and women. For our look at pay gap changes, we compared the median income by gender of employed adults older than 24 using 2015 and 2008 1-year ACS microdata. This was done nationally and for the 100 largest metros for all 3 metrics.
*Tech Hubs cited from the report 5 Truths of Tech-Hub Housing Costs