Baby Boomers are not ready to let go. The approximately 70 million Americans between 54 and 73 years old are not downsizing into smaller homes—even though Boomers living in empty nests have an average of two extra bedrooms. In 2005, more senior households were moving into multifamily than single-family housing by age 75. In 2016, this inflection point didn't happen until age 80. In a nation with a very tight housing inventory, that might cause more than a few Millennials and Gen Xers to start asking their parents, "Whyyyyyyy?"
To find an answer, we took a deep dive into Baby Boomers' housing decisions. Here's what we found.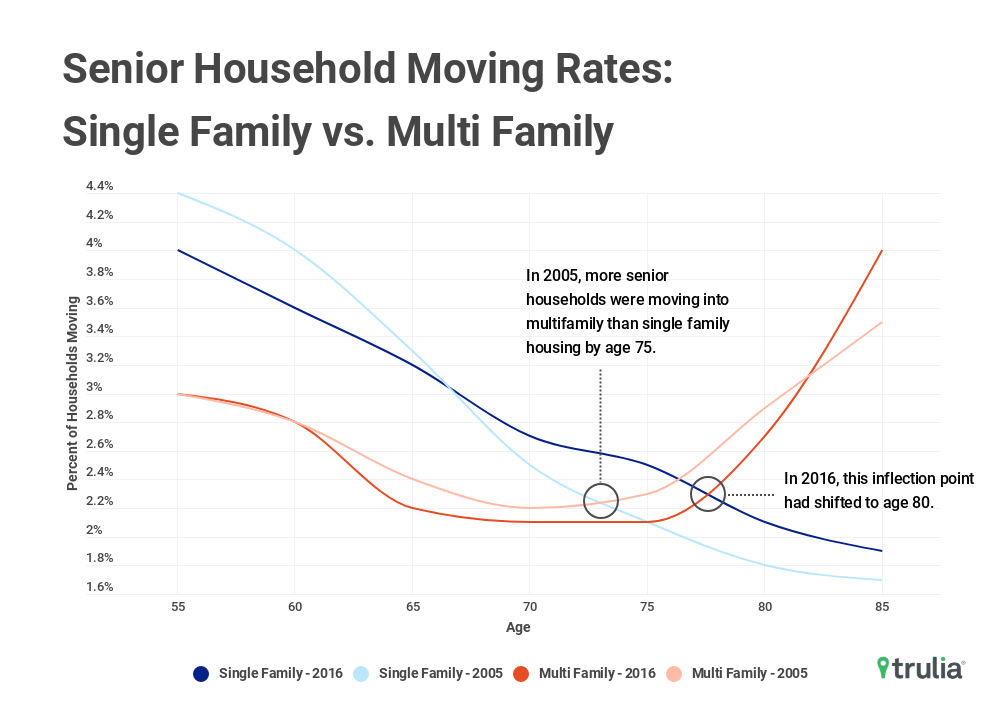 Boomers are still working (and parenting).
Baby Boomers have been breaking the generational mold since the Free Love era. Today, they're working longer as seniors. The proportion of household heads age 65 and over who are still in the labor force rose to 19.3 percent in 2016 from 15.9 percent in 2005.
Boomers' households function a little differently in another way, too. The children of Boomers have delayed moving out of their parents' homes. In 2016, 16.1 percent of senior households had younger generations living with them, compared to 14.4 percent in 2005. As retirement and the kids moving out are often triggers for downsizing, it's no wonder Boomers are sticking with their old digs—many still need them.
Housing inventory is tight. But don't blame boomers.
Many places across the U.S. are short on housing inventory, and affordability isn't going in the right direction either. It might be easy to look at Baby Boomers hanging on to their homes and point the finger at them. After all, if they're not moving into smaller homes, the cause of the bottleneck seems obvious. But we found that in places where housing inventory is most needed—which are also the most unaffordable metros in the nation—seniors are renting, just like the rest of us.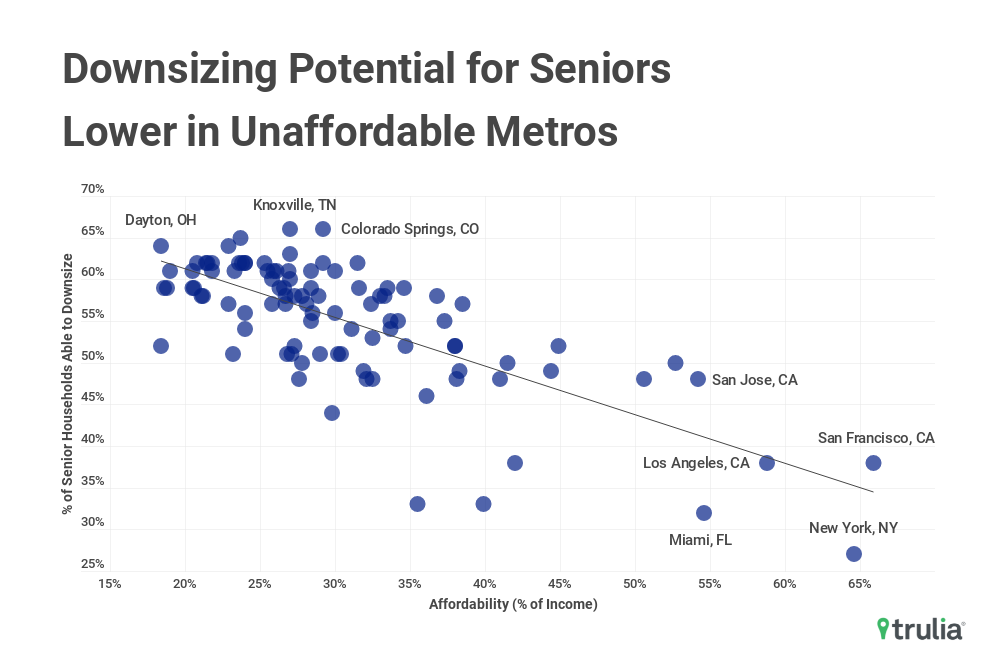 But the stand-still does matter.
But about all of those empty rooms in the metros where Boomers are staying put: There is a noticeable shortage in housing that would be appealing to growing families. This is also true in more affordable metros like Knoxville, Tennessee, where inventory decreased 12.4 percent year-over-year during the second quarter of 2018—even though Knoxville has a high percentage of seniors who are in a position to downsize (66.4 percent).
Boomer movement could bring housing market relief.
Now, the good news. The prolonged Boomer stasis could mean their eventual migration into smaller homes is inevitable and incoming. "While some observers think Baby Boomers are contributing to the inventory crunch by staying in place, others believe Boomers are holding on to their homes to time the market and that a massive sell-off is on the horizon," says Alexandra Lee, housing data analyst for Trulia's Housing Economics Research Team.
Just don't hold your breath for an inventory boom if you're in a more expensive metro. "The higher the income required to purchase the median home, the lower the proportion of senior households that could downsize," Lee says.
---
5 Metros to Watch for an Inventory Boom
If you've got the patience to delay your next move, we've found five metro areas with the highest percentage of senior households that could downsize (read: retired homeowners without kids under their roof), potentially making space for more inventory to come.
Knoxville, Tennessee
Downsizeable senior households: 66.4 percent
Knoxville is a small city of just under 200,000 that combines the benefits of city life (diversity, a thriving arts and music scene, and great restaurants) with the pros of suburban living (yards, great schools, affordability). Since you're also near the foothills of the Smoky Mountains, there's also natural beauty no matter where you look. This is even true of Downtown Knoxville—one local raved that you can see panoramic views of the mountains and river from this urban center. Not planning on living downtown? It's a breeze to visit, with 100 percent of locals reporting that parking is easy to find.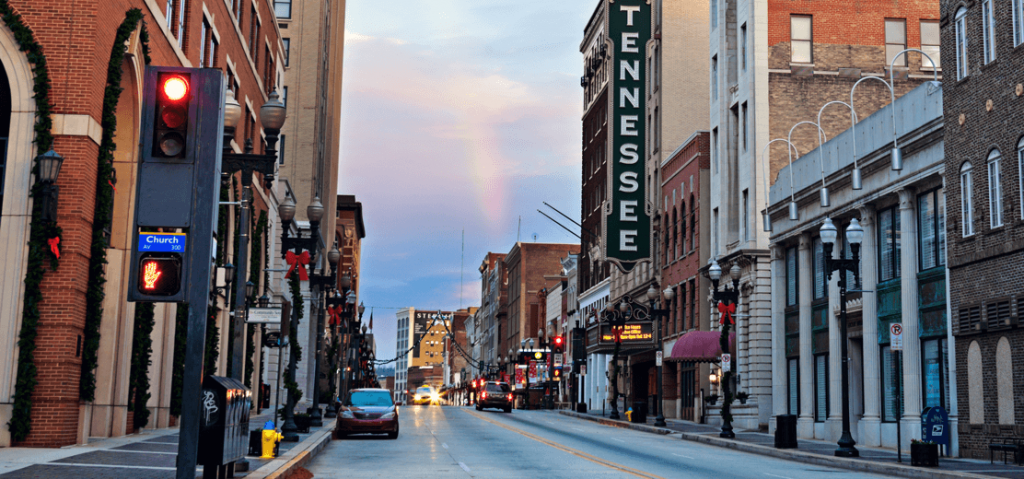 ---
Colorado Springs, Colorado
Downsizeable senior households: 65.9 percent
The Rocky Mountains (specifically, the famous Pikes Peak) make a dramatic backdrop for daily life in Colorado Springs. While this is the city to live in if you love the great outdoors in general, the overall atmosphere of neighborhoods can vary greatly. For instance, only 42 percent of locals in Central Colorado Springs report that the neighborhood is quiet—which might not be a problem for transplants from busy cities whose idea of outdoorsy activities involve walking to restaurants. In Southwest Colorado Springs, the number of locals who report a quiet atmosphere jumps to 81 percent. Though home prices have risen 10 percent year-over-year, an influx of listings from empty nesters might benefit the market.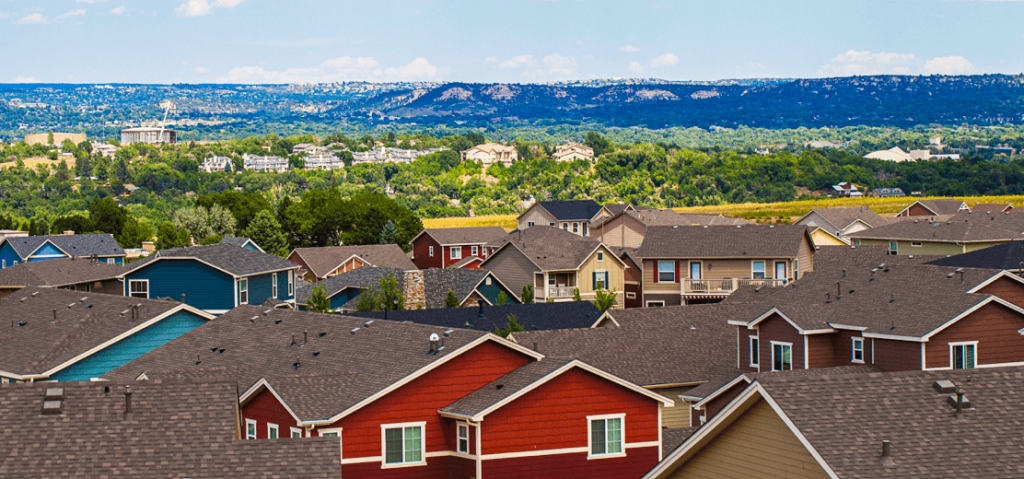 ---
Indianapolis-Carmel-Anderson, Indiana
Downsizeable senior households: 65.2 percent
Indianapolis has a more "approachable" feel that comes through its smaller size. While you can find modern condo buildings here, it's also a city where you can find charming historic single-family homes mere blocks from the downtown area. (That would be the Near Southside neighborhood, a place where locals say you can easily see wildlife and visit bars.) If you're looking for a family-friendly neighborhood that's still accessible to the job opportunities and culture of downtown, take a look at Fountain Square, where 71 percent of locals report seeing kids playing outside, 97 percent say that it's dog-friendly, and 95 percent say that you can walk to restaurants.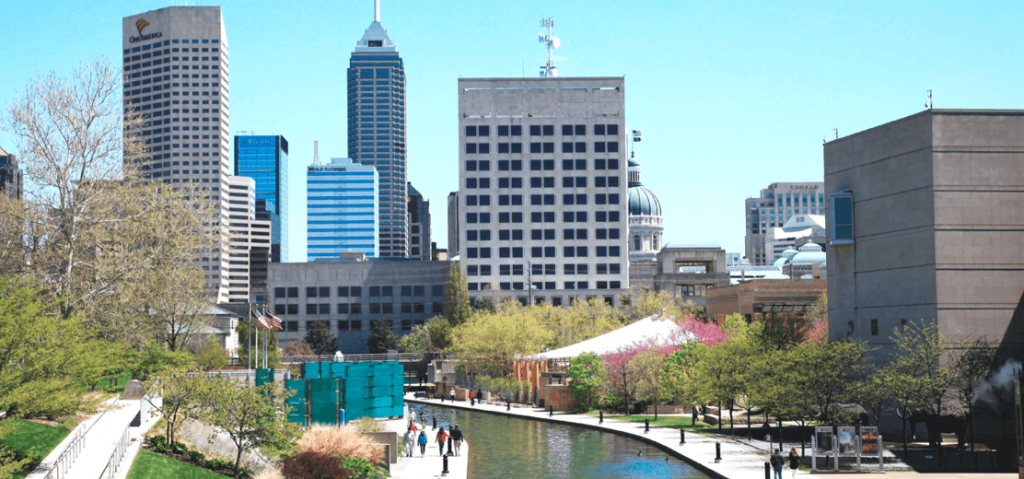 ---
Dayton, Ohio
Downsizeable senior households: 64.1 percent
In terms of affordable cities, it's hard to beat Dayton. The median sales price of a home is $135,000—and even though the median income is $41,047, the rate of homeownership is 61 percent. The city itself covers over 56 square miles, so neighborhoods can vary greatly in terms of crime, schools, and the types of housing you'll find. The local trend for families seems to be staying close to the University of Dayton. Eighty-two percent of locals report seeing kids playing outside in the Walnut Hills neighborhood, just east of the University.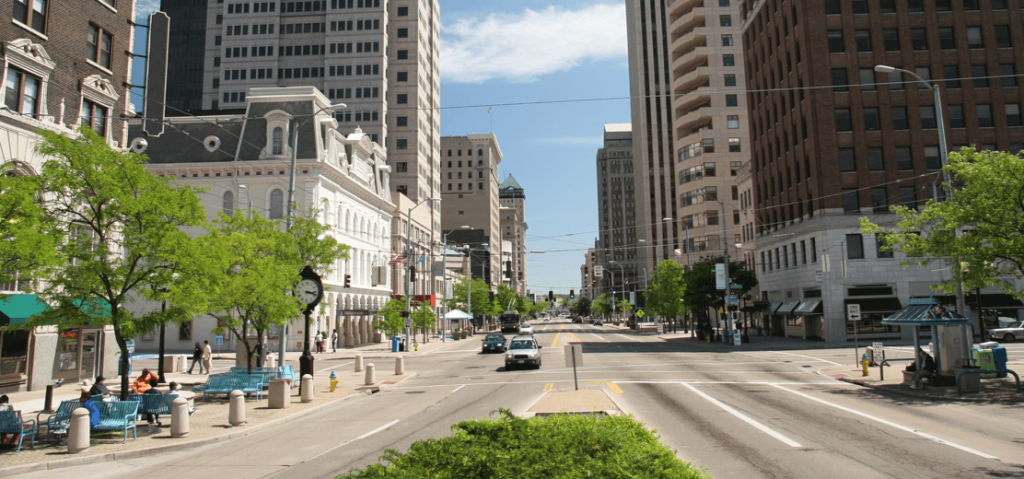 ---
Columbia, South Carolina
Downsizeable senior households: 63.7 percent
You'll find plenty of southern charm in South Carolina's capital city in the form of grand historic homes and beautiful gardens. Columbia is also home to the University of South Carolina, adding to the employment options here and giving the small city a college town atmosphere. However, Columbia isn't overrun by students, since the median age here is 37. If you do want a small buffer from the college crowd, take a look at Melrose Heights. Locals particularly highlight the great schools in the neighborhood. Plus, there's yoga and casual restaurants in walking distance.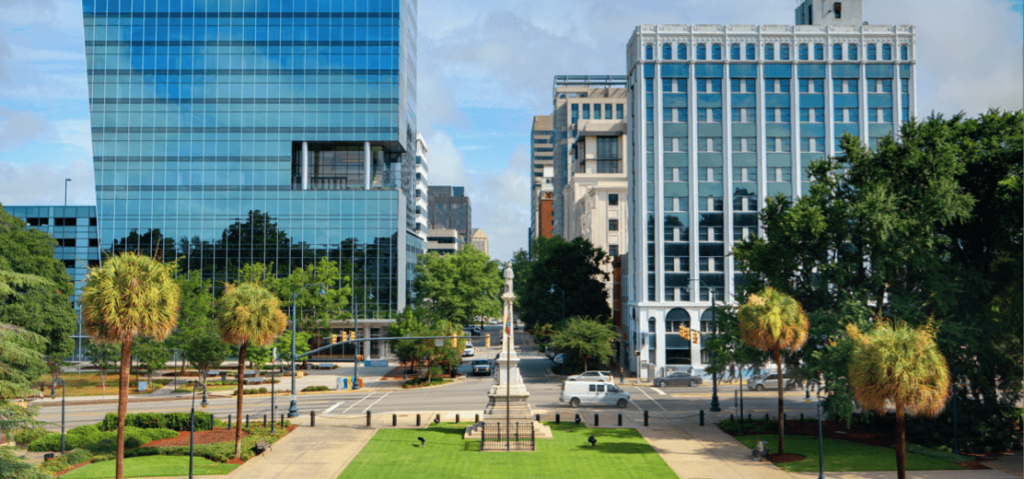 Methodology
We used 2005 and 2016 5-Year American Community Survey data for labor rates, household generation composition, moving rates, unit structure type, number of bedrooms, and tenure. Our analysis only looks at households that are not in "group quarters", which would include retirement homes and nursing facilities. This means that our downsizing estimates are likely understated. Affordability is based on our inventory metrics from the second quarter of 2018, defined as the share of the median income needed to purchase the median-priced home.
Want to see what housing inventory is opening up in these cities already? See what's available now on Trulia.