Picture this: Times Square, New York, NY. It's 11:59 p.m. on December 31 and the ball slowly starts dropping toward the ground to mark the new year. What would be better than to celebrate the festivities by hanging out above the fray, in your very own apartment — a private fete with your close friends?
To get the party started, we found eight design-forward luxury New York apartments for rent on Trulia that would be perfect for hosting a sparkly New Year's Eve soiree. Cheers!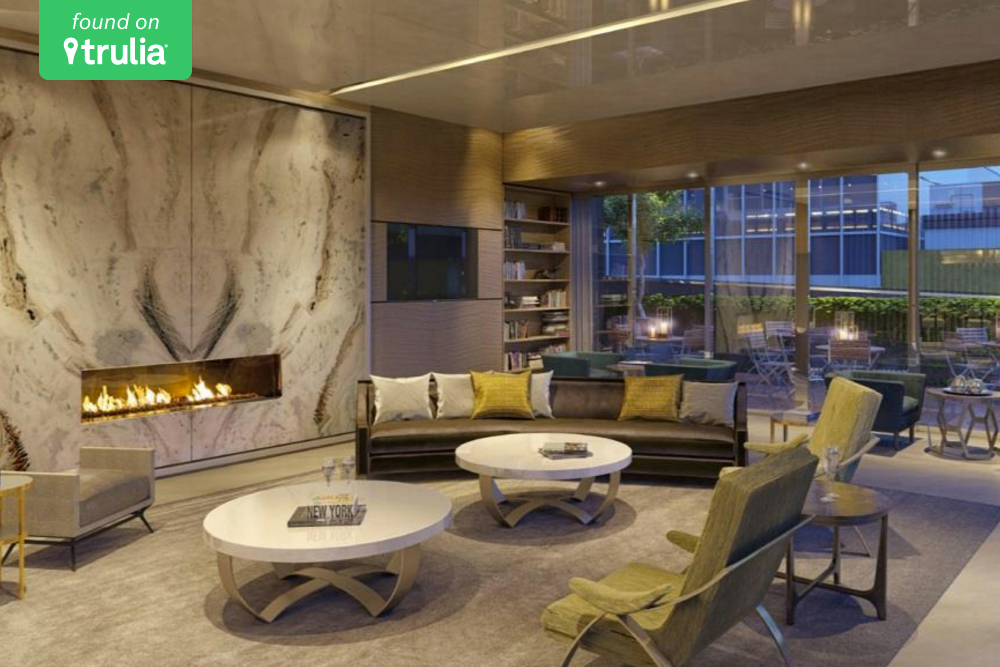 Swanky Theater District style: $7,500/month, 135 W. 52nd St. #14D
Just six blocks from the epicenter of New Year's festivities in Times Square, this Manhattan apartment is ready to host your most epic holiday party. No matter who shows up, you'll be in the good company of Siberian Mink stone in the master bathroom, Italian walnut-and-glass Molteni cabinetry in the kitchen, and polished marble countertops throughout. Count down to 2016 in the building's swanky communal lounge. And when the sun comes up on January 1, work off that hangover at the 24-hour fitness center, sauna, and indoor pool.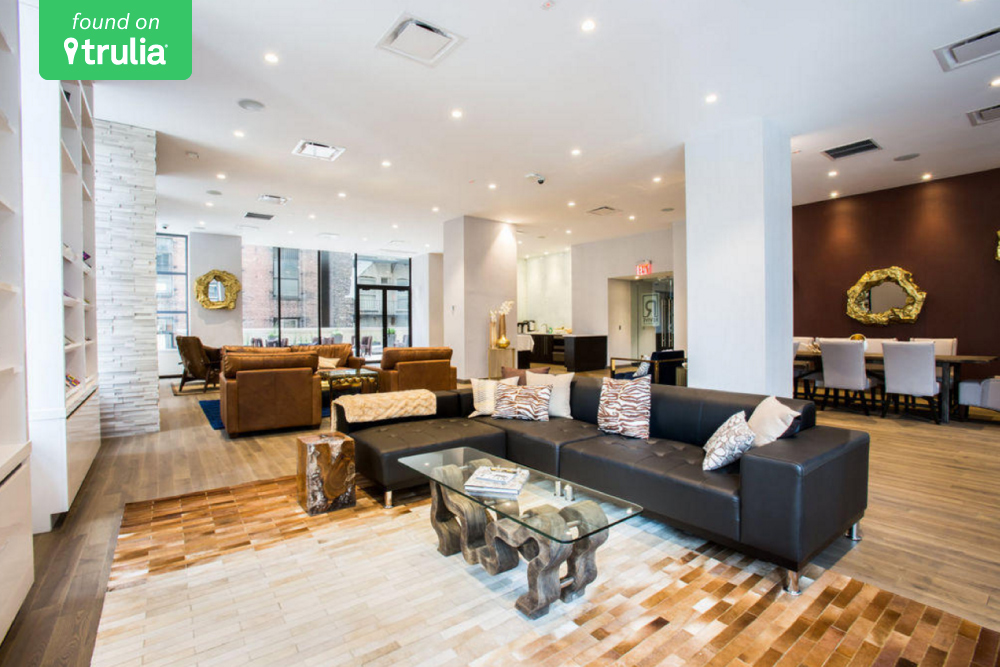 Sky-high party central: $3,075 to $6,195/month, 235 W. 48th St.
Sandwiched conveniently between Hell's Kitchen and Times Square, this high-rise apartment building would be the perfect headquarters for your New Year's festivities. Start the celebration early with breakfast and mimosas on the building's rooftop terrace before heading the few blocks down to Times Square to watch the ball drop. Then escape the rowdy crowd and hit up some local parties and nightclubs before heading back to your perch — where you can light a fire in your fireplace and enjoy the first relaxing, early morning moments of 2016.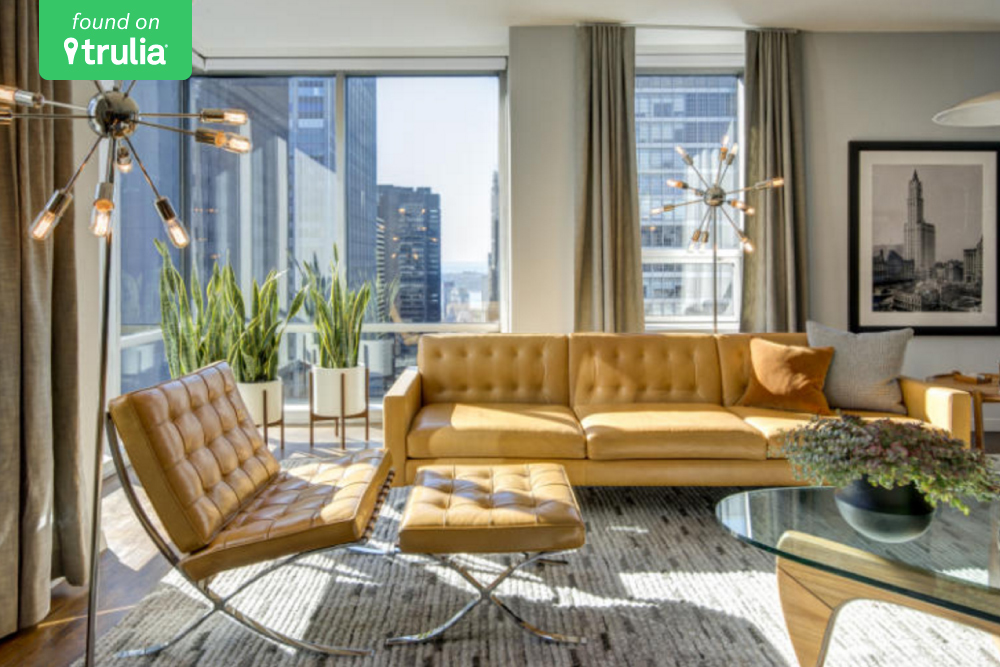 New Year's Eve at the gallery: $15,000/month, 15 W. 53rd St. #36D
While visitors and critics are taking in the crowd-favorite Picasso Structure downstairs at the MoMA, treat your guests to their own private showing at the gallery that is your apartment. From the herringbone walnut floors and Carrara marble baths to the brand-new Poggenpohl custom kitchen and unique modern chandeliers, this unit puts cookie-cutter apartments to shame. And don't forget the geometric designs of the Manhattan skyline, which are showcased within the 10 floor-to-ceiling windows that adorn the unit. Take a cue from the current renters and stock the guest bedroom with bunk beds — with an apartment this mesmerizing, it'll be tough to ask your guests to leave before the weekend is over!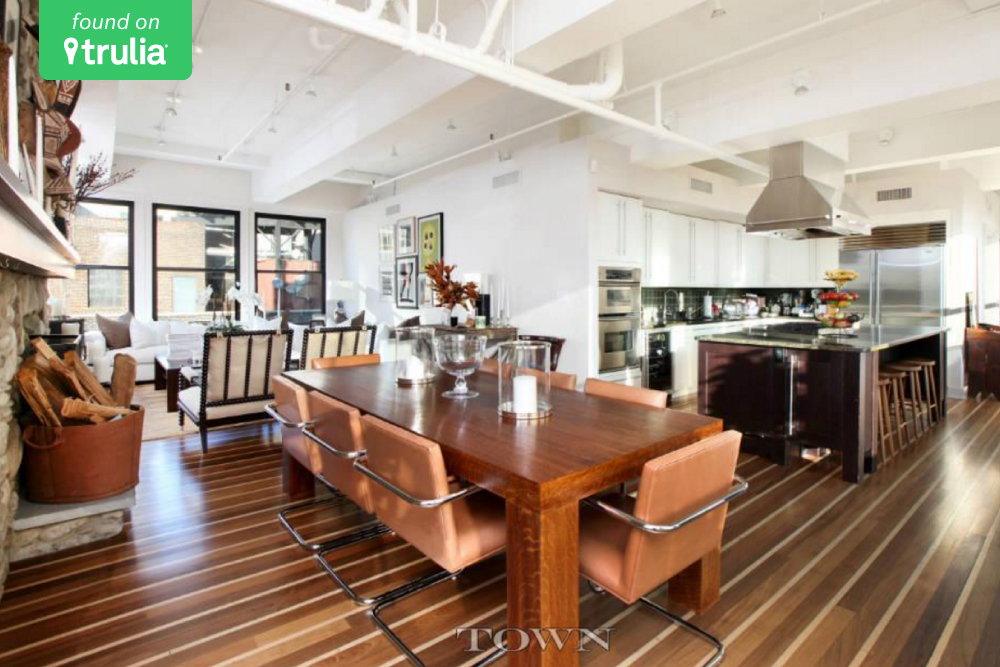 Cozy and comfortable: $9,000/month, 315 W. 36th St., #17A
It's impossible not to feel snug upon entering this stunning luxury New York, NY, apartment for rent. The two-bathroom apartment is located within a pre-war building (listed in the National Architectural Trust!) and is outfitted with an enormous wood-burning stone fireplace, vaulted beamed ceilings, and custom-designed walnut wood floors. When friends arrive, keep things classy with a couple of hot toddies on the unit's private 50-foot terrace, which offers views of the Hudson River and Empire State Building.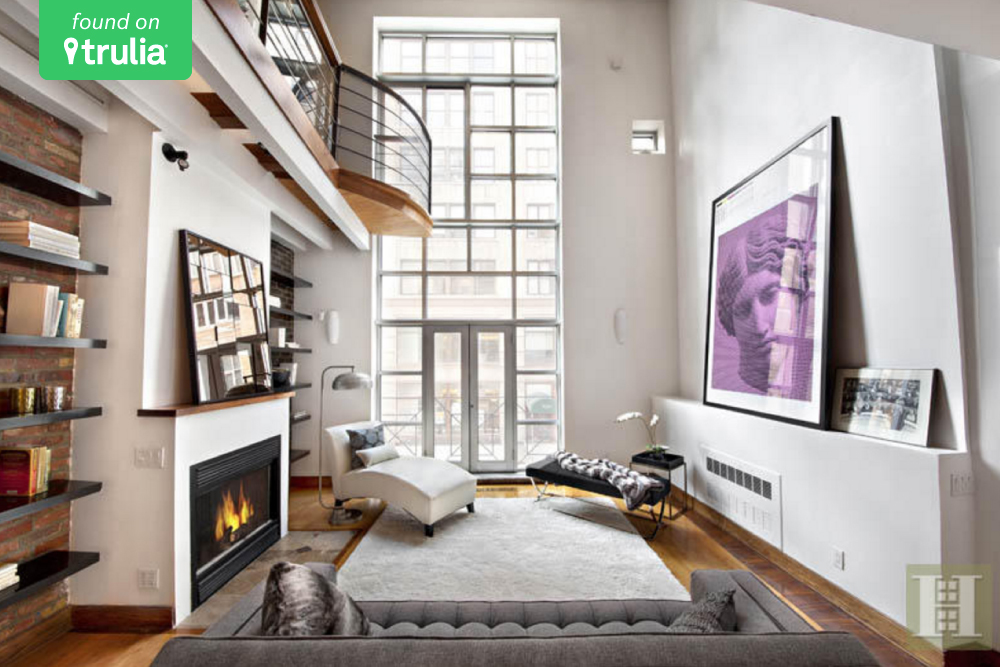 Tony NYC townhouse: $28,000/month, 241 W. 17th St. #TH
Perhaps one of the more unparalleled ways to ring in the new year would be in this five-story elevator townhouse. Start at the ground floor — usher friends in through your private garage before heading upstairs to the living room, which features two-story windows and an open staircase leading to the third-floor kitchen. Picture your guests lingering by the fire, others on the outdoor terrace, and more taking in the street scene from the second-floor balcony. The fourth and fifth floors offer six bedrooms and four bathrooms for all of your friends to comfortably stay the night, but the multilevel rooftop terrace is what easily persuades any enviable host to rent this property. And don't fret if you've invited more friends than can stay in the main house — a separate street entrance leads to a guest apartment, complete with a kitchenette and bathroom.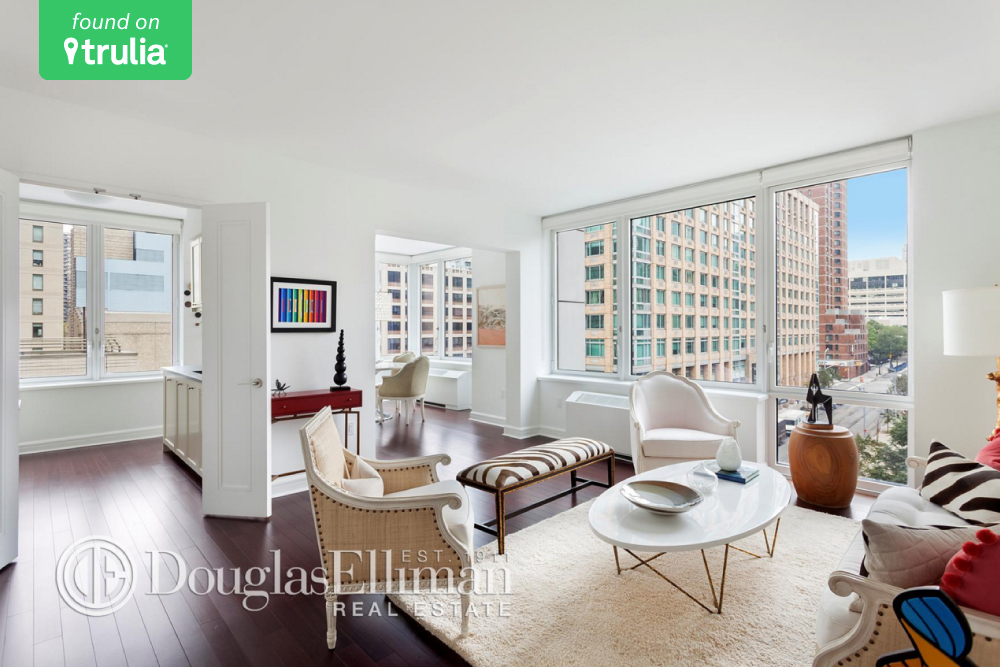 Slow down at The Rushmore: $6,700/month, 80 Riverside Blvd., #6GUNFUR
This corner apartment located in The Rushmore, a luxury condominium building in the cultural heart of Manhattan, is perfect for those looking to kick off the new year by attending a jazz show at Lincoln Center. Whether you're traveling with your own assembly of friends, solo, or in the company of your New Year's Eve crush, this two-bedroom, two-bathroom unit would be a perfect place to lay your head on the last night of the year. When you wake the next morning, you'll be satisfied by the way your 2016 is unfolding — with features at your fingertips including Sub-Zero, Viking, and Miele appliances, Brazilian cherry wood floors, and spa-like bathrooms with Kohler tubs. Enjoy breakfast in the open breakfast nook that overlooks Riverside Park, then head down to the building's fitness center to kick off your New Year's resolution.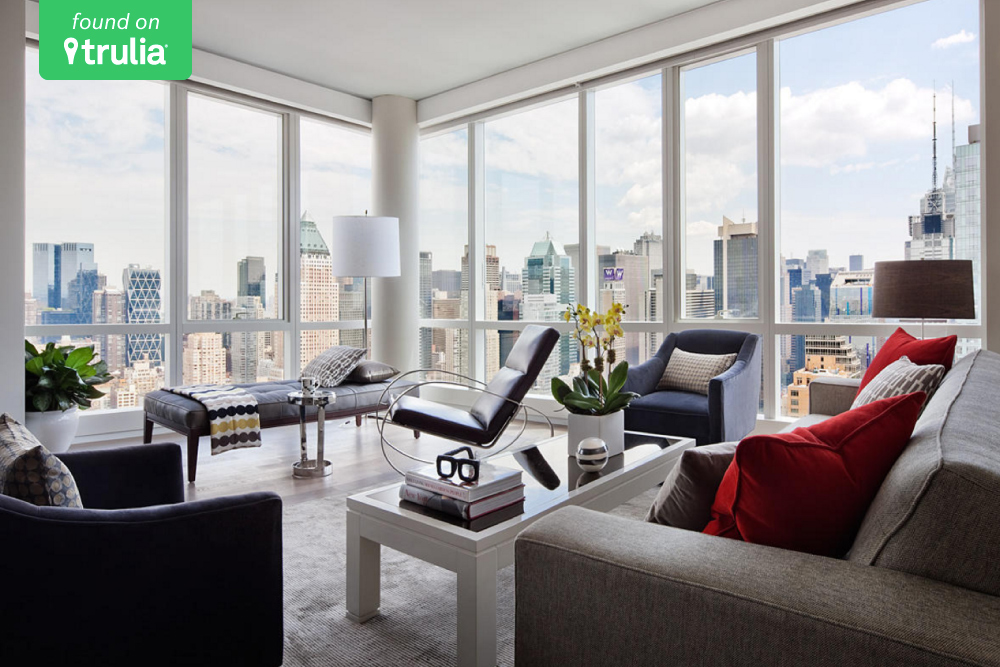 Mesmerized at MiMA: $3,480 to $6,485/month, 450 W. 42nd St.
When you have an impossible-to-beat view of the city that never sleeps on the most happening night of the year, it won't be hard to stay awake until midnight. Whether you decide to hit the town or stay in, the MiMA apartment complex offers plenty of opportunity for any kind of entertainment, including outdoor and indoor screening rooms, multiple terraces for residents and their guests, and a Dog City pet spa, so even Fido can hit the town on December 31 looking his best.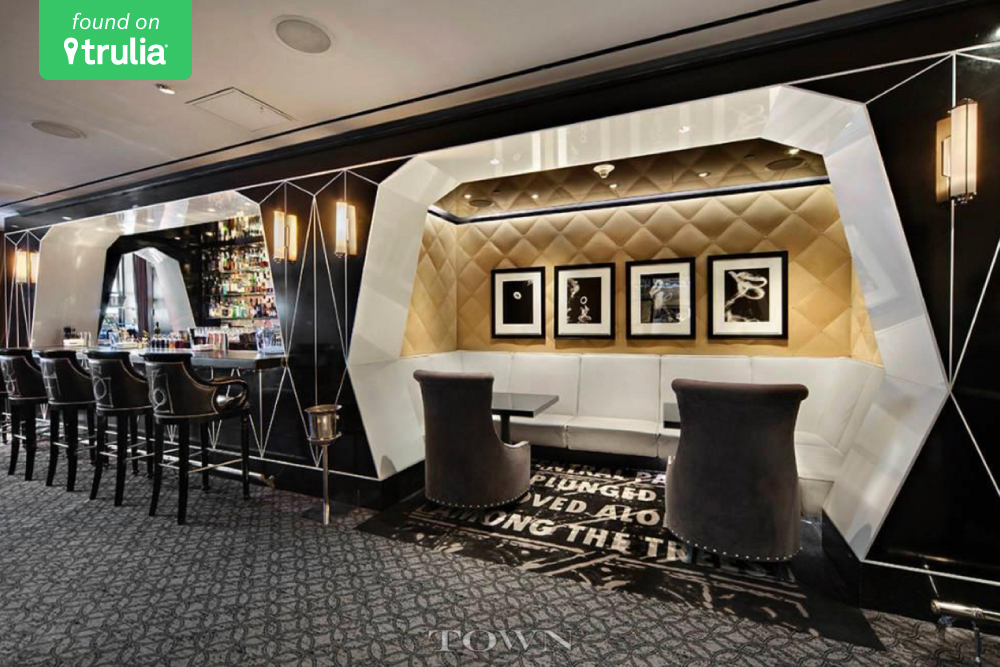 Award-winning Surrey Hotel: $75,000/month, 20 E. 76th St.
Why spend hundreds of dollars for a ticket to one of New York's crowded parties when you can invite all of your friends over and enjoy some drinks at your fabulous penthouse apartment? Located within the Surrey Hotel, which was recently rated the No. 1 New York hotel by Conde Nast Traveler readers, the unit is complete with its own minibar and sweeping views from its private wraparound terrace. But once it's time to mingle with the outside world, travel past the spectacular brass-and-copper doors, preserved from the original Surrey Hotel, that ornament the apartment's entryway and head downstairs to Bar Pleiades. No matter how you decide to spend the night, you'll wake up feeling fabulous at this penthouse.