Let's set the scene: You're perched overlooking the mountains in your own 8,881-square-foot castle set on 700 acres dotted with trees and natural rock formations. All you can see for miles is your own lush, unspoiled property — this is your mini-kingdom. Your home, an ode to nature with curved walls and cloud-shaped windows, is easily a setting from an episode of Game of Thrones. But you aren't the Lord of Winterfell, you're certainly not scheming like Cersei Lannister, and this home for sale in Ashland, OR, is not in the Seven Kingdoms but instead a fantasy-worthy getaway called Shining Hand Ranch.
We spoke with listing agent Kenda Ratcliff, a broker with Christie's International Real Estate, to get the details on this $8.235 million estate for sale in Ashland, OR. Instead of views of the mountainous (and fictional) Vale of Arryn, this home offers views of Mount Ashland, Taowhywee Point, Wagner Butte, Mount Shasta, and Pilot Rock (the basalt formation used as a directional reference by Oregon Trail adventurers). Inside Shining Hand Ranch, ornate details abound.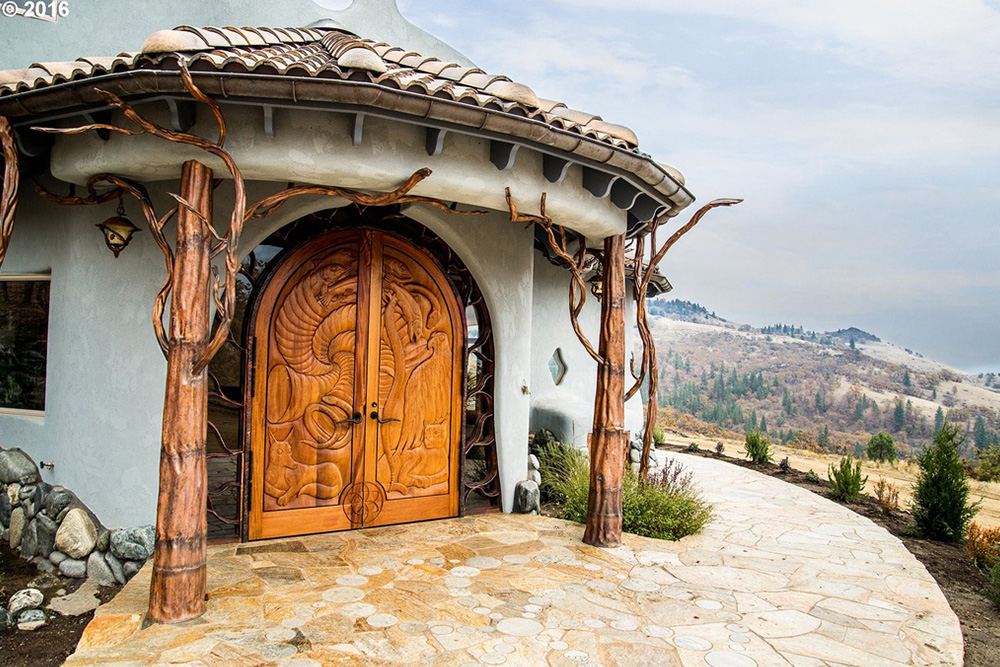 The impressive arched front doors of Shining Hand Ranch were carved from Brazilian mahogany by local artist Russell Beebe. The doors depict traditional Native American themes, with carvings of animals from the Pacific Northwest, including salmon, coyotes, and soaring eagles. Copper tree sculptures stand on both sides of the doorway, bringing to mind the bowed weirwood trees from Game of Thrones, with fresh faces carved onto their bark, or the vivid branches that reach out to Winterfell's Bran Stark in one of his feverish visions.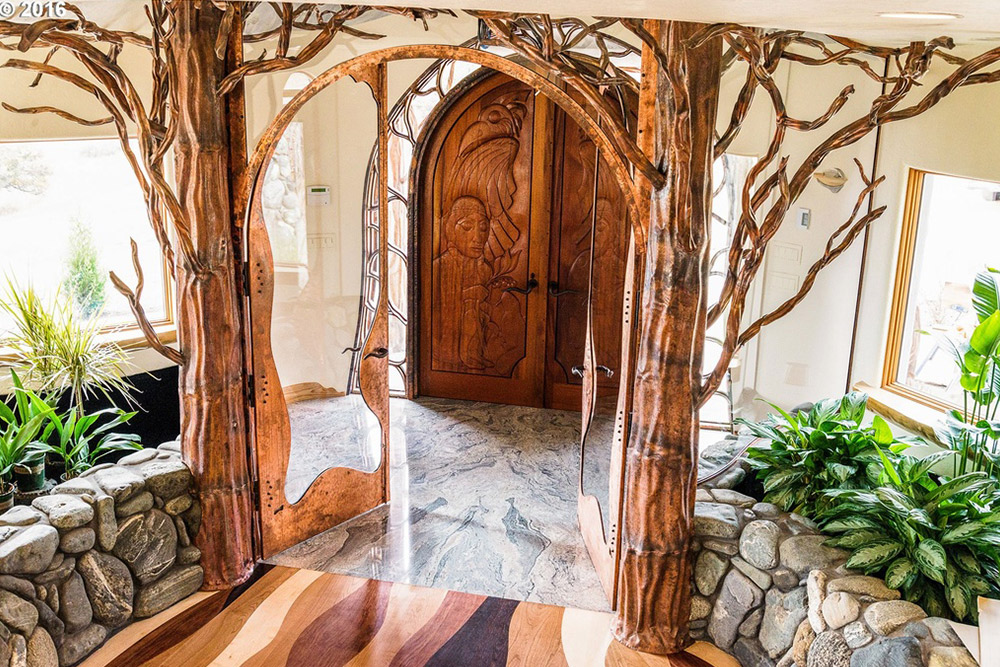 The foyer continues those natural themes with a second set of glass doors, gracefully surrounded by arched wooden trees, and a granite floor laid to be reminiscent of a river, while overhead the ceiling is paved with blue tile to give the impression of open sky.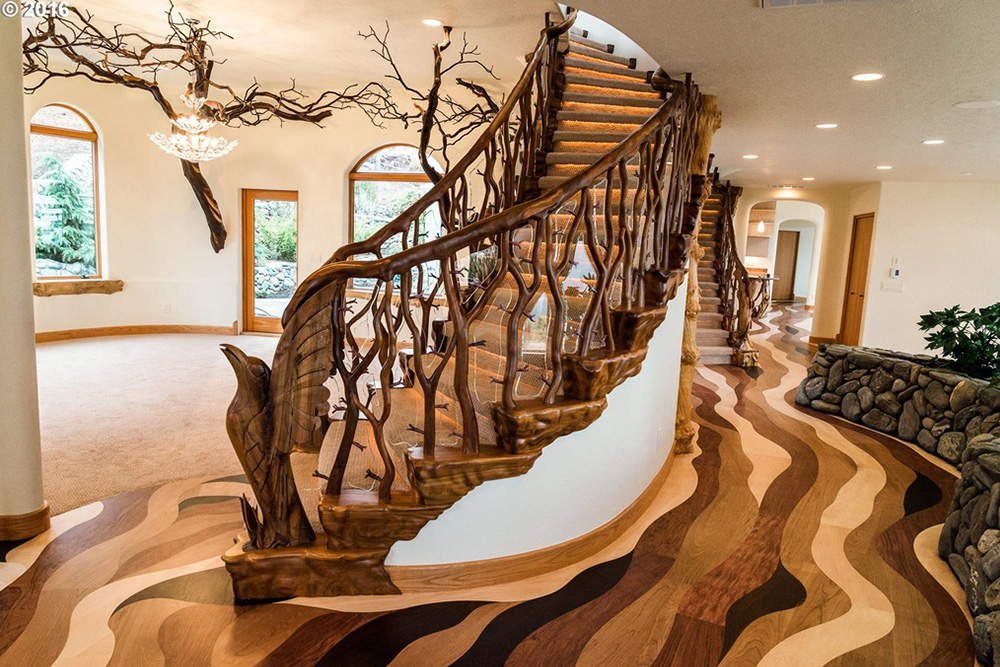 Take a few steps forward, and the granite seems to melt into a multihued hardwood floor that similarly mimics the ebb and flow of water as it darts around rock walls and planters. Stone plays a large role in this home (as it does in Game of Thrones, from the first gray shots of Winterfell to the gate at King's Landing to the House of the Undying and Long Bridge of Volantis). At Shining Hand Ranch, stone gives a grounding contrast to the intricately carved wood. The main staircase is a masterpiece — a stage in its own right — with banisters that start as oversized wooden eagles, wings outstretched, and transition into winding branches. Cersei could have used a statement staircase like this one when she took her long walk of atonement through King's Landing to the Red Keep.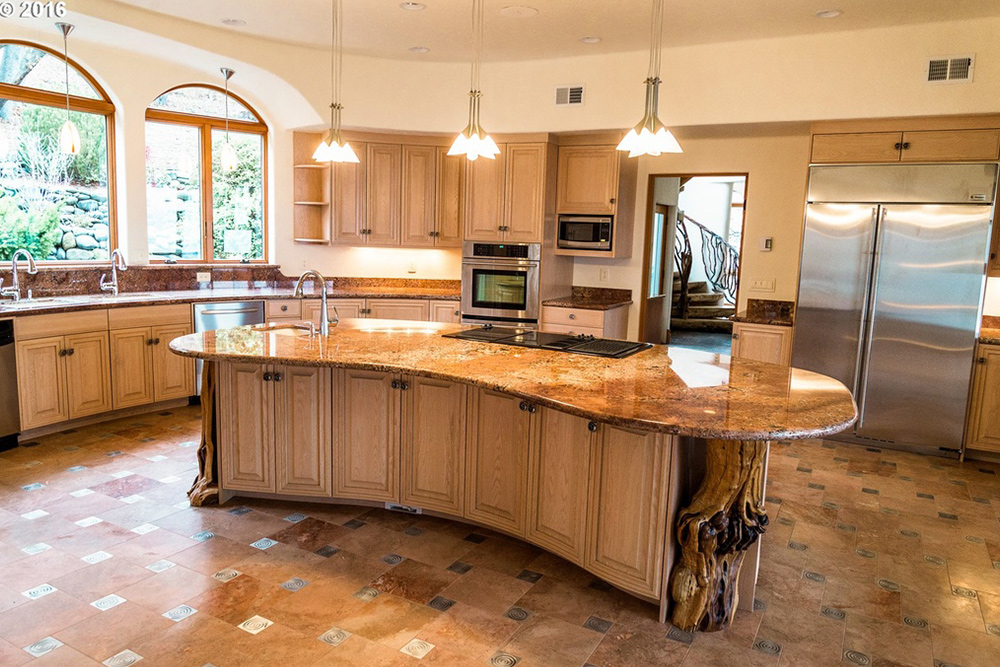 Ahead of the foyer lies the chef's kitchen, with travertine floors in earth tones and a massive central granite countertop held aloft by natural manzanita tree trunks. The space is conducive to hosting guests, so you'll have your own Small Council to preside over in no time. We just hope they have better luck than the last few Hands of the King (here's looking at you, Eddard Stark).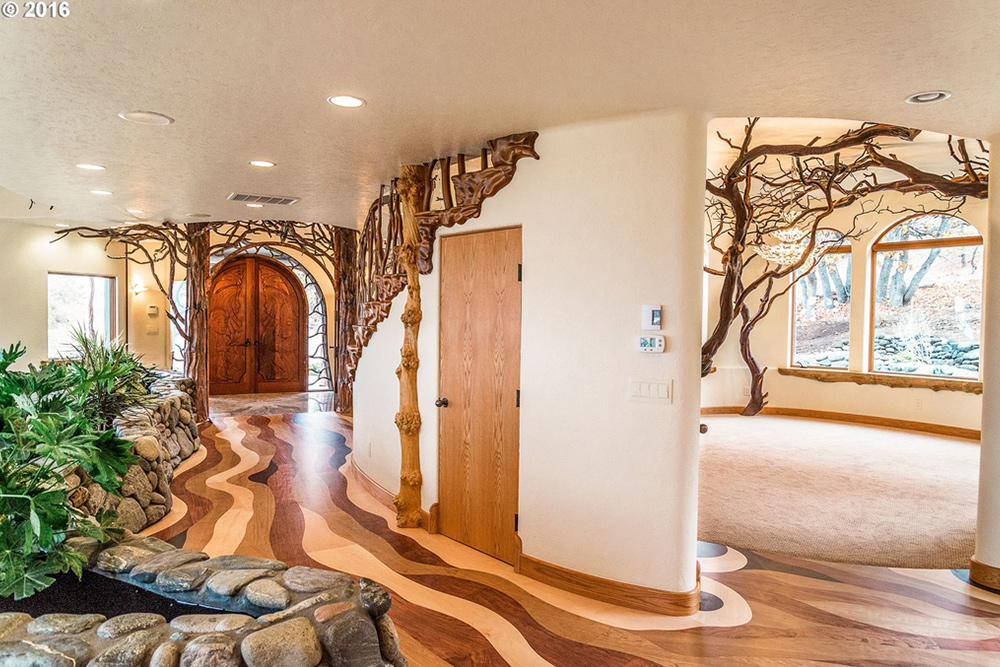 The dining room feels like an art installation, with preserved manzanita trees seemingly growing from walls and the ceiling, beckoning guests to come, sit, and eat. The space would be perfect for an elaborate dinner party, just as long as you aren't trying to unite the Freys, Tullys, and the Starks at a wedding.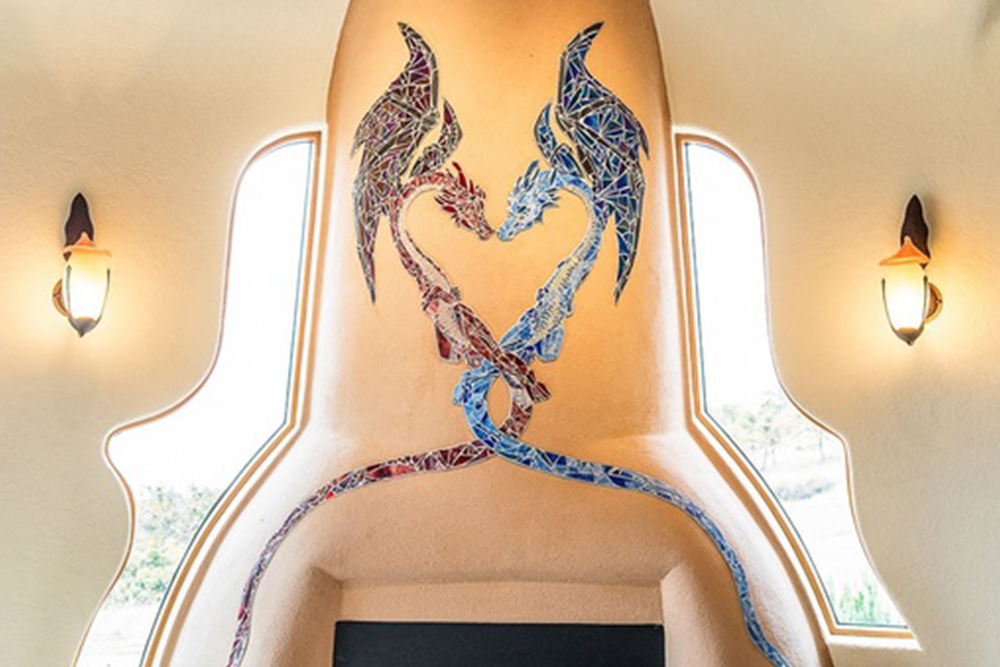 You don't need to be a "Mother of Dragons" to appreciate these works of art. In the nearby living room sits one of the home's most visually stunning pieces: Two glass-mosaic dragons by intertwined in the shape of a heart by Ashland artist Laurie Gadbois are inlaid over the wood-burning fireplace. You also won't need fire-breathing dragons to keep you warm as the house has floors that are cooled or heated geothermally.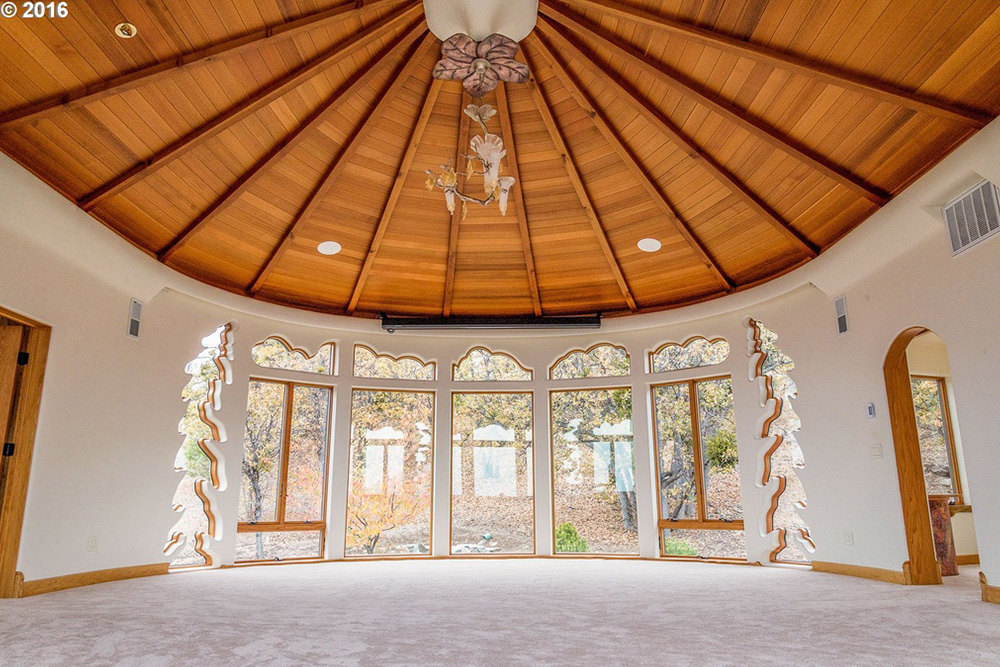 Climb the stairs to the second floor, where the master suite looks out onto the valley through windows shaped like wind-tossed pine and spruce trees. The vaulted cedar ceiling gives the room a feeling of a regal treehouse, a perch from where you can see the seasons change outside. We can see Petyr "Littlefinger" Baelish and Varys banding together in this room to plot a plan to cause chaos in the Seven Kingdoms … in their favor of course.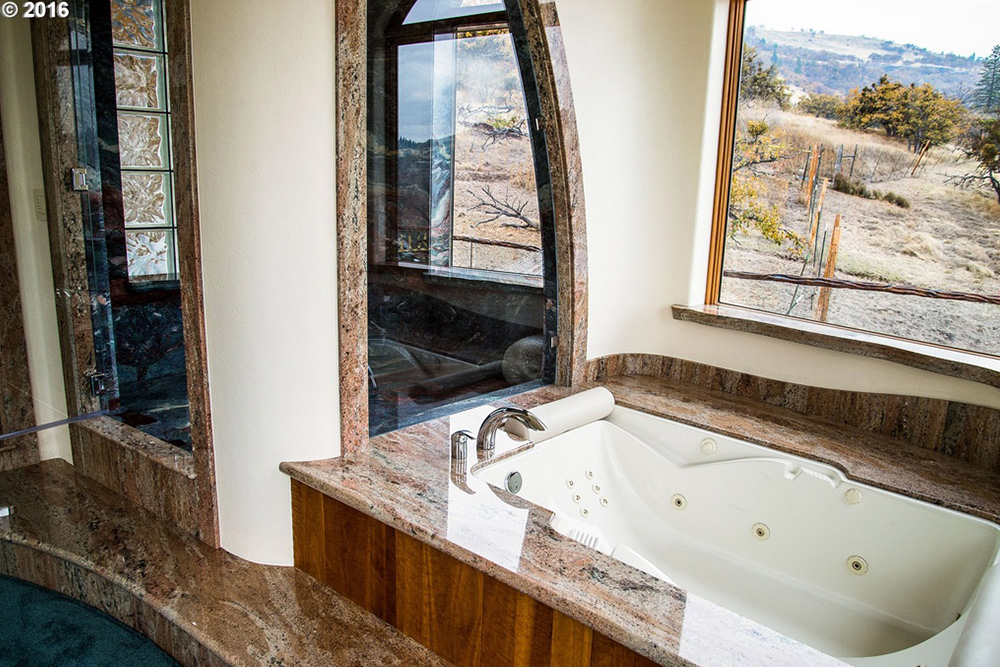 The en-suite master bathroom has a double shower, spacious tub, a steam shower where natural boulders were used for seats, and two sinks in brilliant blue granite. The homeowners brought nature and water into their home once more through the indoor pool, housed in an adjoining glass building and heated through solar power. Shining Hand Ranch also has 3,000 square feet of uncompleted basement space so the new owners can design it to their own specifications. Perhaps your own personal Iron Throne room?
Do you think it looks like a Game of Thrones house? Check out the image gallery and real estate listing for this home at 2700 N. Valley View Road Ashland, OR 97520, then tell us which room is your favorite in the comments below!