If a wave crashes against the rocky shoreline that hugs this oceanfront property and no one's home to hear it, does it make a sound?
Forgive us, but it's hard not to wax philosophic about a 598-square-foot hideaway in the Pacific Northwest that could easily be considered a deep thinker's ideal retreat. And how!
Accessible only by ferry or seaplane, the tiny home's island location on the San Juan Archipelago, just off the coast of Washington state, kick-starts an inner monologue with a potent elixir of privacy, silence, and unspoiled wilderness.
Imagine a kind of bucolic beauty where emerald hills kiss black pebble beaches, orcas and sea lions frolic among whitecaps, and soaring bald eagles cast shadows against 100-year-old lighthouses. Sounds pretty magical, right? It is, which is why this one-bedroom, one-bathroom ranch is listed at $1.799 million — that's a whopping $3,008 per square foot.
The San Juan Archipelago comprises 170-plus islands just off the coast of Washington, about 100 miles northwest of Seattle. This tiny house sits upon a secluded, 5-acre lot on San Juan Island, which measures in at 55 square miles and, with 8,000 year-round residents, is the second-most populous island of the archipelago.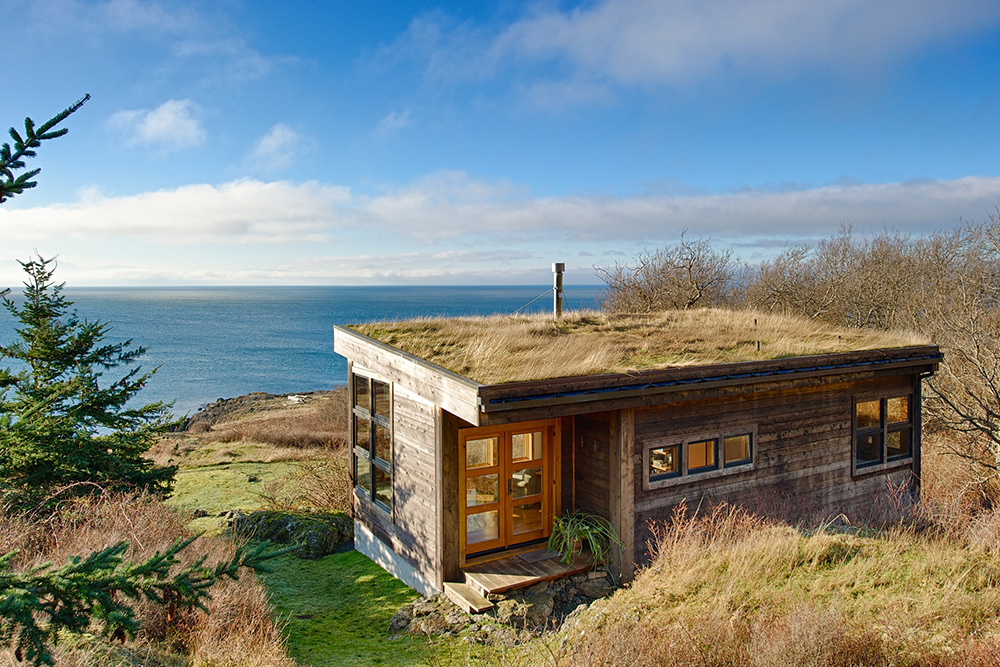 Still, the natural beauty of the sleepy maritime island remains relatively untouched, especially within San Juan Island National Historical Park, which encompasses 2,134 acres at the island's southern tip and is a prime destination for sightseeing. The park is just 2 miles from this petite home's front door.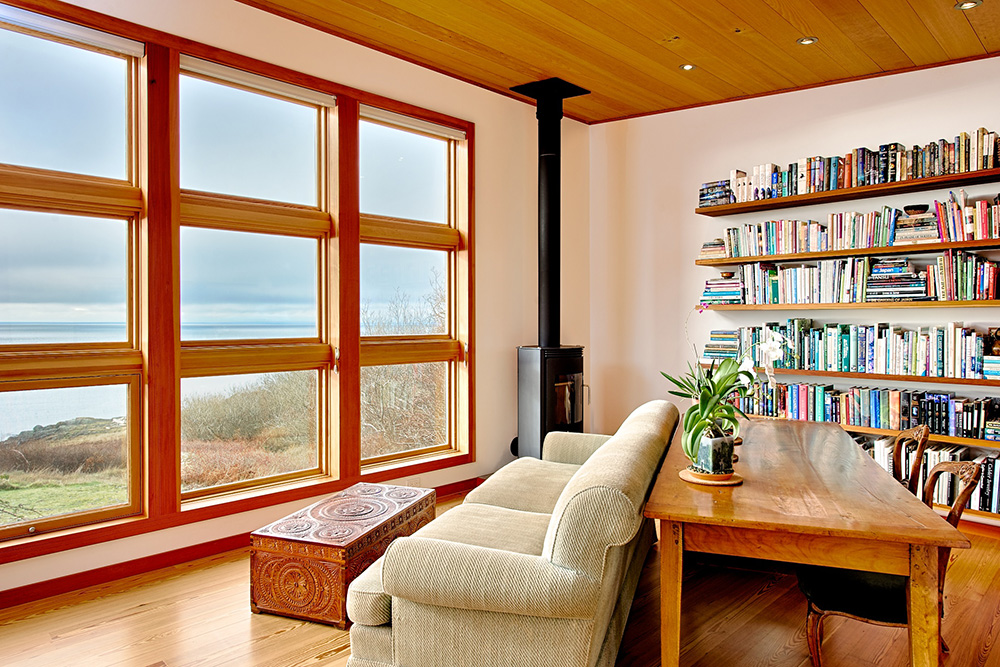 On a daily basis, the view from the living room holds the promise of a sight few tourists are lucky enough to witness: the surfacing of humpback whales, Dall's porpoises, and San Juan Island's resident orca pods. All frequent the waters just off the island's western coast, precisely the area framed by the living room's oversized window.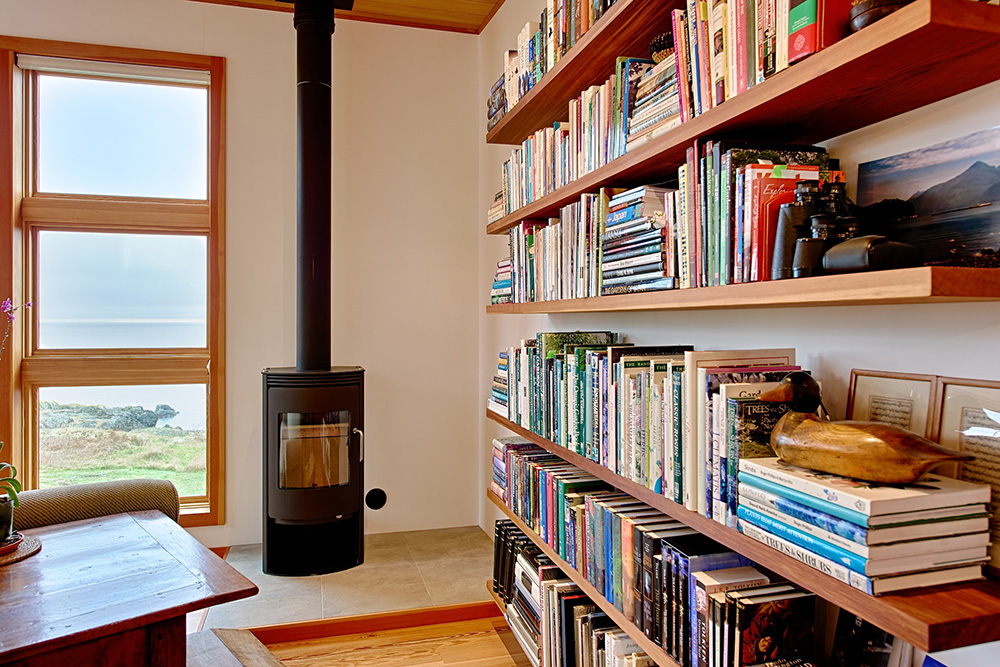 The home's knotty wood facade and living roof belie what's inside: a bright, modern space that could easily double as a big-city pied-à-terre. The living room, for example, rebuffs any "Hobbit house" comparisons with its polished, blond wood floors, stark white walls, and recessed lighting. Just to the right of the wood-burning stove, a series of floating shelves holds an impressive collection of books and capitalizes on the surface area offered by the room's largest uninterrupted wall.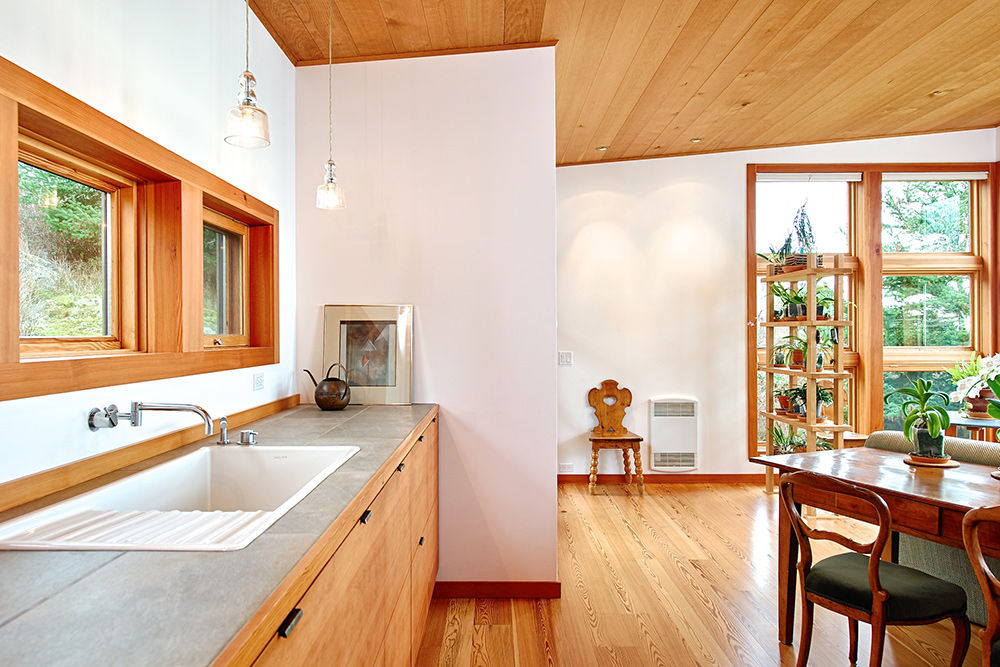 A minimalist approach is applied to the kitchen, but that doesn't mean function takes precedence over form. High-end Miele appliances add a luxe feel to this space, which is illuminated by eastern-facing windows and a trio of charming glass pendant lights. A wall-mounted faucet helps free up valuable counter space, while glasses and tableware are hidden from view by discreet — and stylish — wood cabinetry.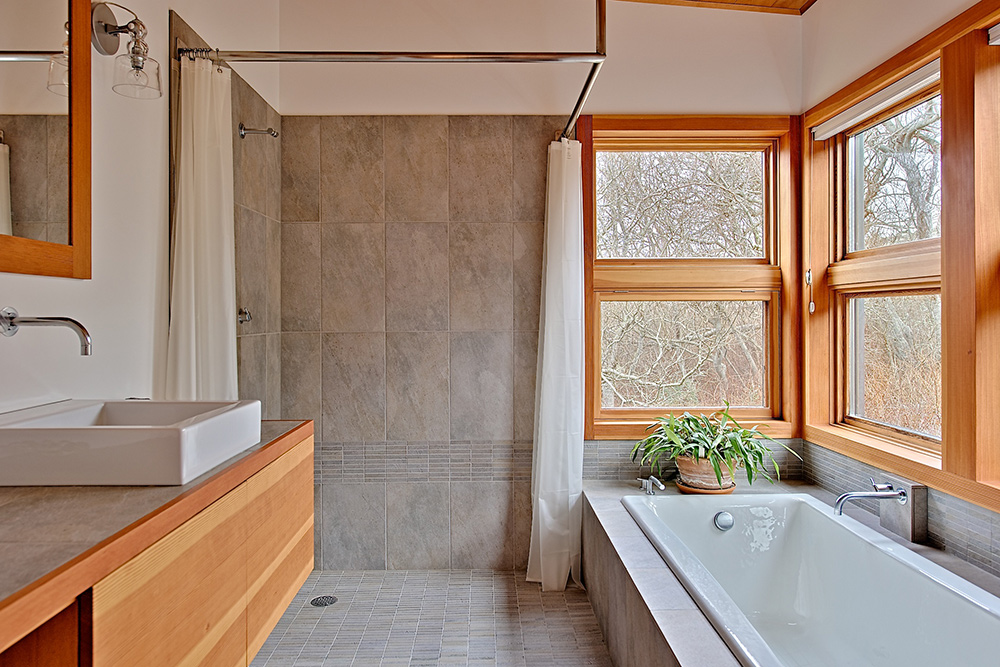 The same decorative elements and design features (white walls, blond floors, darker wood trim and ceilings) are repeated throughout the tiny house, unifying the space and increasing its visual square footage. Moreover, the bathroom's lighting and sink fixtures are markedly similar to those used in the kitchen.
Still, some creature comforts are worth the sacrifice of elbow room, visual or otherwise. Case in point: the bathroom squeezes in an integrated, space-saving stand-in shower and the extravagance of an oversized soaking tub.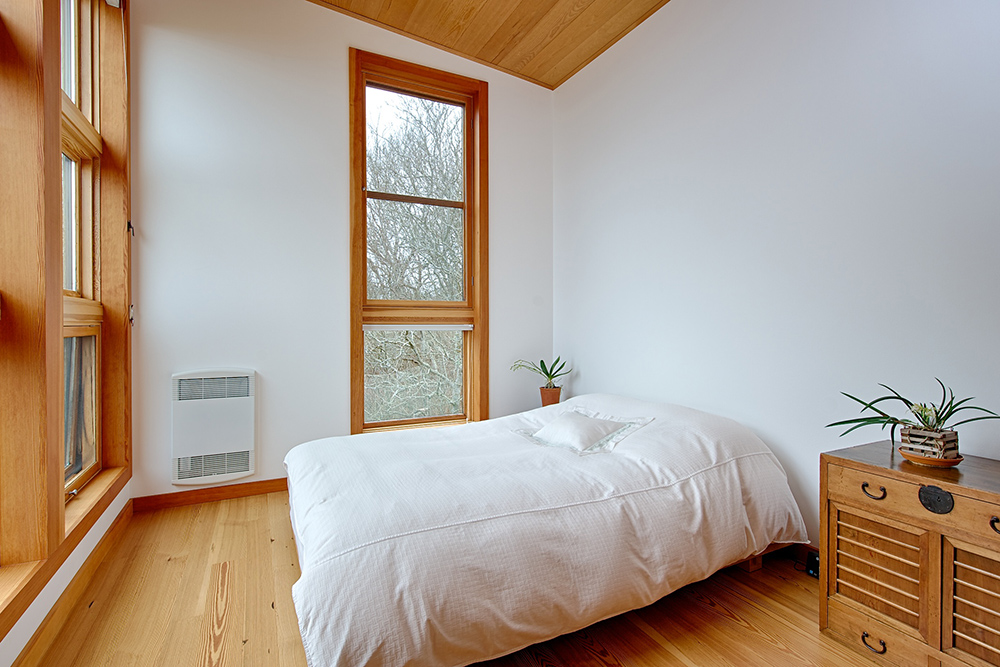 Simplicity continues its reign in the bedroom, which is ornamented by a slanted ceiling, crisp white linens, and a couple of potted plants. It's safe to say that the meadow and ocean view is intended to be the star of the show here, particularly given the room's ample floor-to-ceiling windows.
The home was designed by Prentiss Architects.