Arden House, a cove-front charmer in coastal Maine, manages to capture the essence of the all-American camping trip — without some of the outdoor pursuit's lesser-loved … indignities (sleeping bags and outhouses, we're looking at you). Because here, a connectedness to the great outdoors is better achieved through morning kayak expeditions that depart from a personal boat launch, afternoon siestas snug within a water-facing Adirondack chair, and sunset strolls along a private dock.
Back inside the timber-framed retreat, a profusion of raw stone and weathered wood beams reinforces the back-to-nature vibe, while a passive solar design and sustainably sourced building materials preserve the sanctity of its rugged, wooded surroundings. And did we mention the water views? It's hard to put a price on those, but if you had to, it'd probably be somewhere in the ballpark of $2.695 million, the home's listing price.
In other words, we've been doing this camping thing all wrong.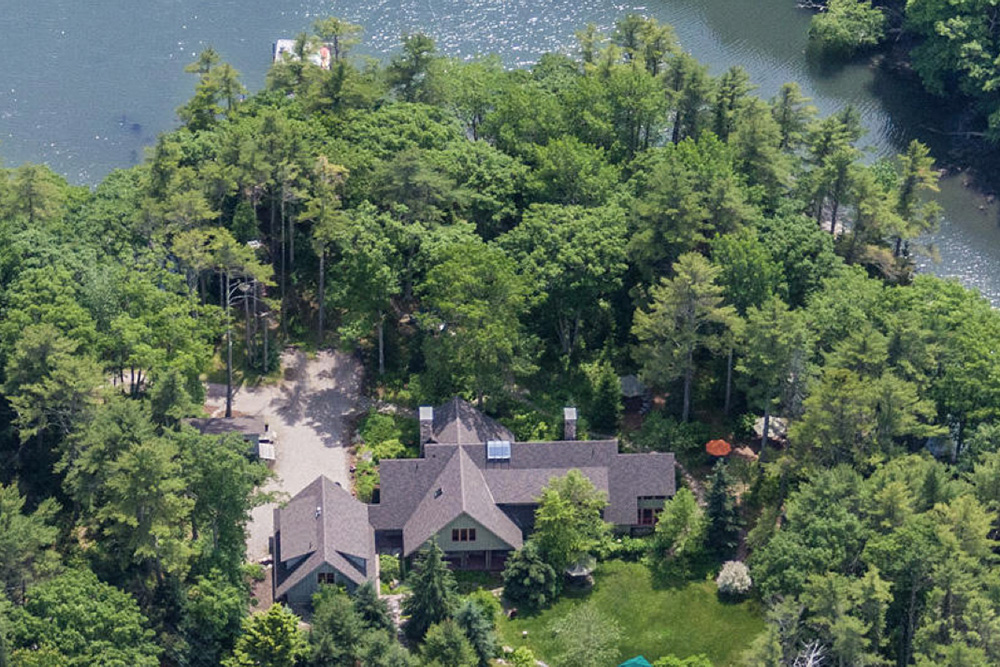 Located in Boothbay Harbor, a little over an hour's drive northeast from Portland, ME, the five-bedroom home is nestled within a wooded, 4-acre lot at the far end of an inlet. Privacy, unadulterated wilderness, a boathouse and one-bedroom carriage house, and 1,300 feet of uninterrupted shoreline are all part of the package here.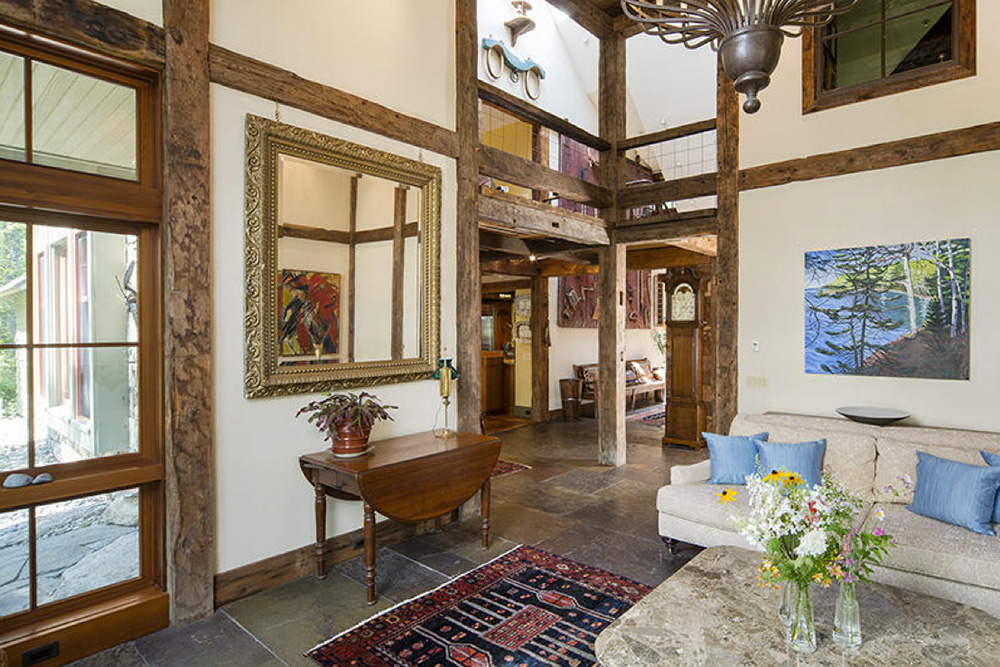 At the hands of Maine craftsmen, reclaimed wood from an old barn has been repurposed into one of the 4,500-square-foot residence's most notable features. The knotty wood beams factor prominently throughout, particularly at the home's two-story entry, where their rugged appeal is offset by the clean lines of iron stair railings. Elsewhere, two felled trees and a 15-foot-tall barn door masquerade as architectural details.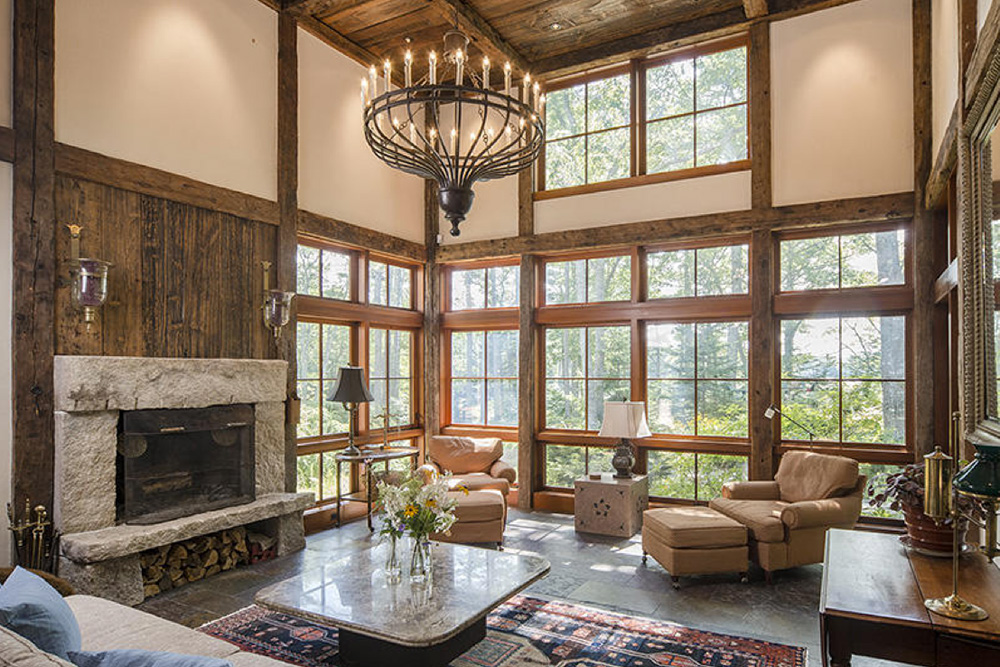 Double-height ceilings help promote energy efficiency, but they also impart a sense of grandeur to the residence's great room. It's a space flooded by natural light, thanks to an abundance of thermal windows, which flank a forest view with cedar frames. Come nightfall, the monumental granite fireplace reasserts its reign as the room's focal point.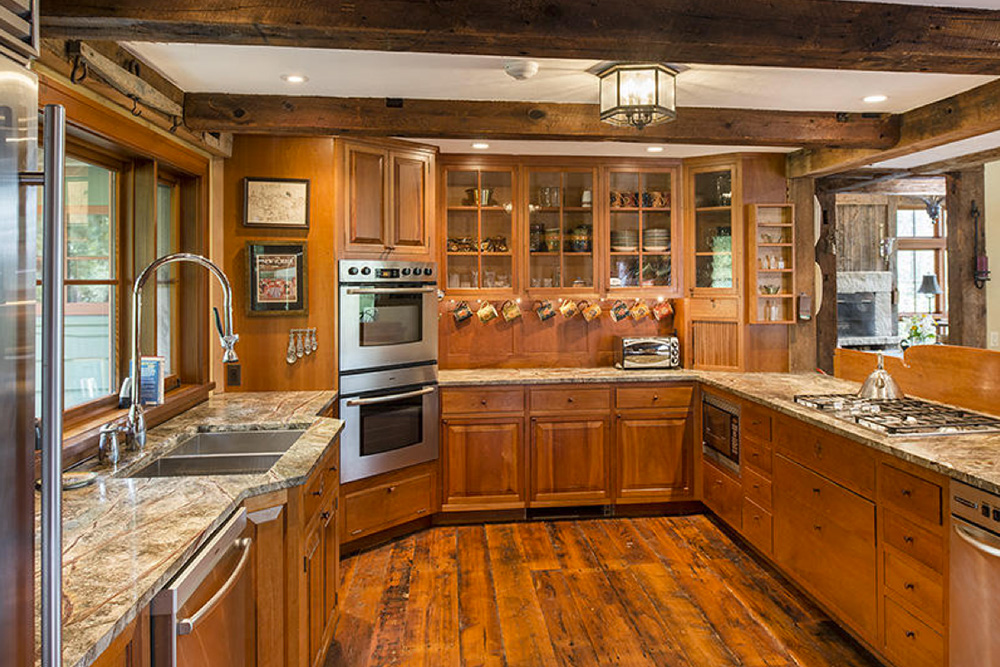 Curious how to do "camping" without being campy? Take a cue from the home's gourmet kitchen, which counterbalances cabin kitsch and traditional decor (hanging mugs, exposed beams, wood cabinetry) with modern amenities and finishes (stainless steel appliances, granite countertops, a pull-down faucet).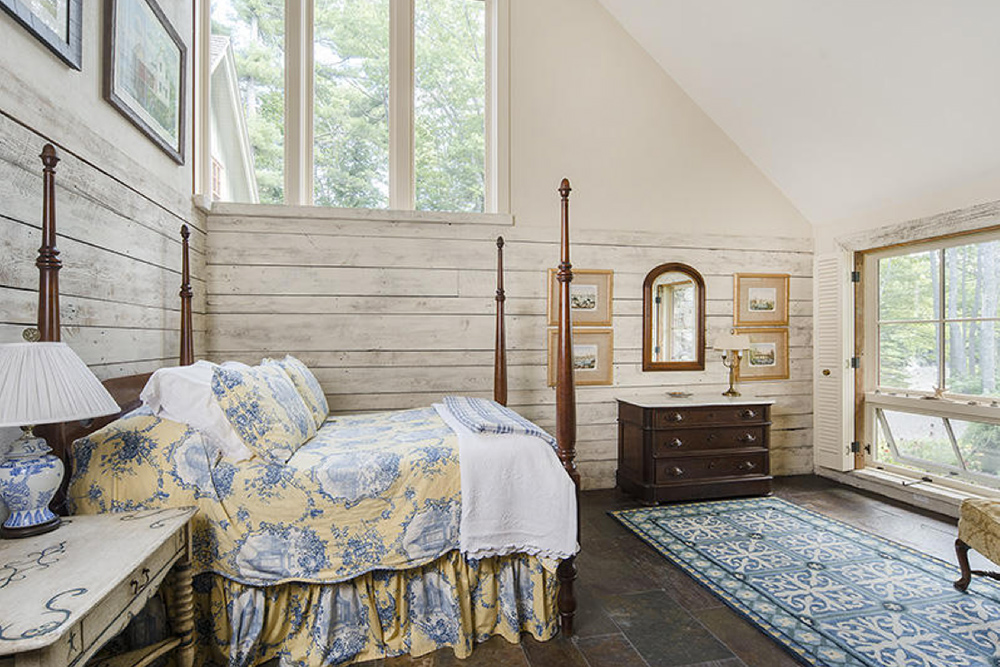 Tonal stone floors, the same ones found throughout the majority of the residence, find their way into the first-floor master suite. Given the light-drenched room's whitewashed walls and oversized windows, the floors are the space's sole source of darkness. Unless, of course, you count the folding interior shutters (and perhaps an eye mask).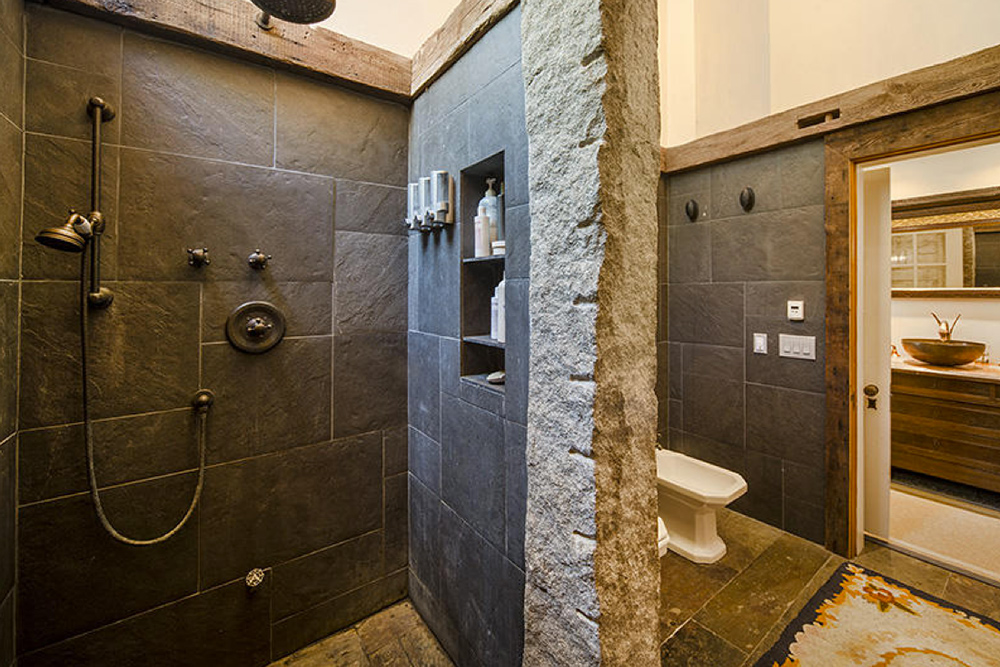 Talk about being exposed to the elements in the best possible way: Natural stone, worn wood, and high-end amenities set the scene in the spa-like master bath, serving as a reminder that this is, in fact, a multimillion-dollar estate. (Check out the bowl sink in the background: The faucet follows the form of a duck taking a drink.)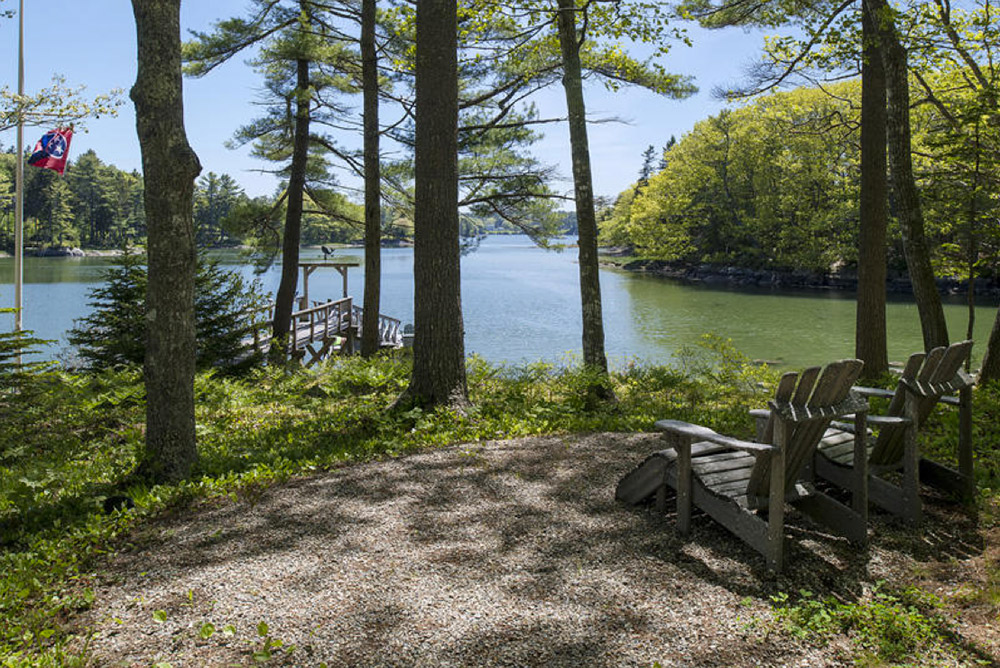 Between the screened-in porch, outdoor patio and fire pit, and these waterfront Adirondack chairs, the home provides plenty of opportunity to become attuned to the sights and sounds of The Pine Tree State. Or settle in for s'mores and a round of "Kumbaya," if that's more your style.