It's common knowledge that to reach the storybook version of "happily ever after," you have to derail the malevolent plot of a scheming witch, rescue a damsel in distress — and maybe slay a fire-breathing dragon or two. But that's not always the case.
Because at this 167-year-old castle-style estate in Brookneal, VA, fairytale endings are turnkey, presented in a pretty, turreted package that represents the lofty reverie of a deep-walleted nobleman and an architect with champagne taste to match. Together, this mid-19th-century duo turned their shared penchant for life's finer things into Staunton Hill, a 15,696-square-foot Gothic Revival mansion with enough pomp and splendor that the boundary between fantasy and reality is successfully blurred.
Long, perilous quests to prove purity of heart aren't a prerequisite to living here, but future inhabitants will have to conquer a different kind of beast: the monthly mortgage payment that accompanies a $5.490 million asking price. Hey, this particular ride into the sunset may come easy, but no one said it'd be cheap.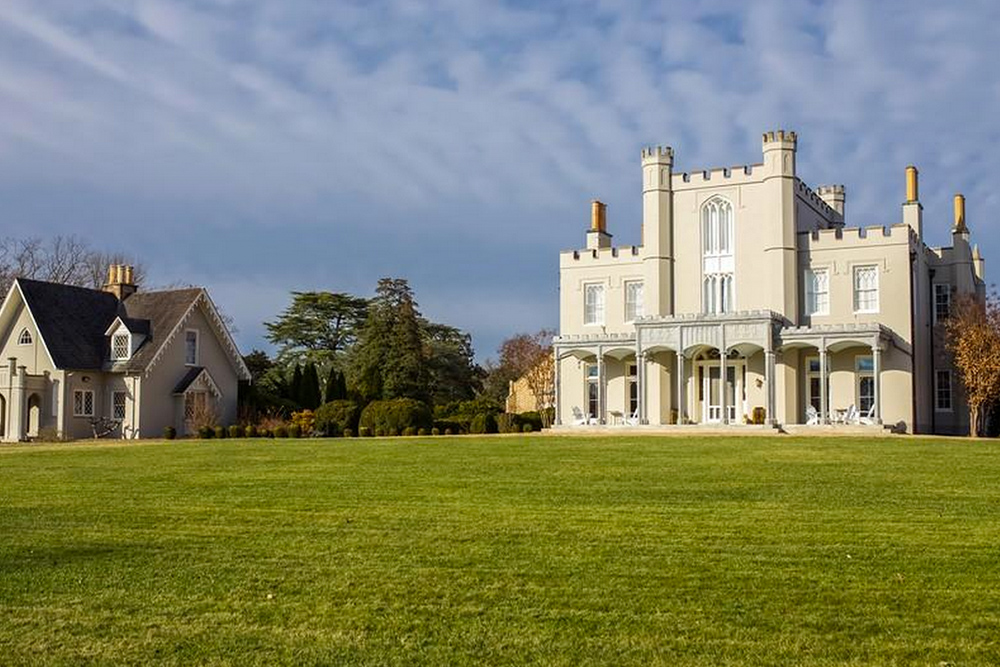 Situated upon 273 wooded acres overlooking the Staunton River in Charlotte County, VA, Staunton Hill was commissioned by Charles Bruce, a wealthy second-generation American whose father and benefactor, Scotland native James Bruce, had found fortune in the Southside Virginia tobacco industry.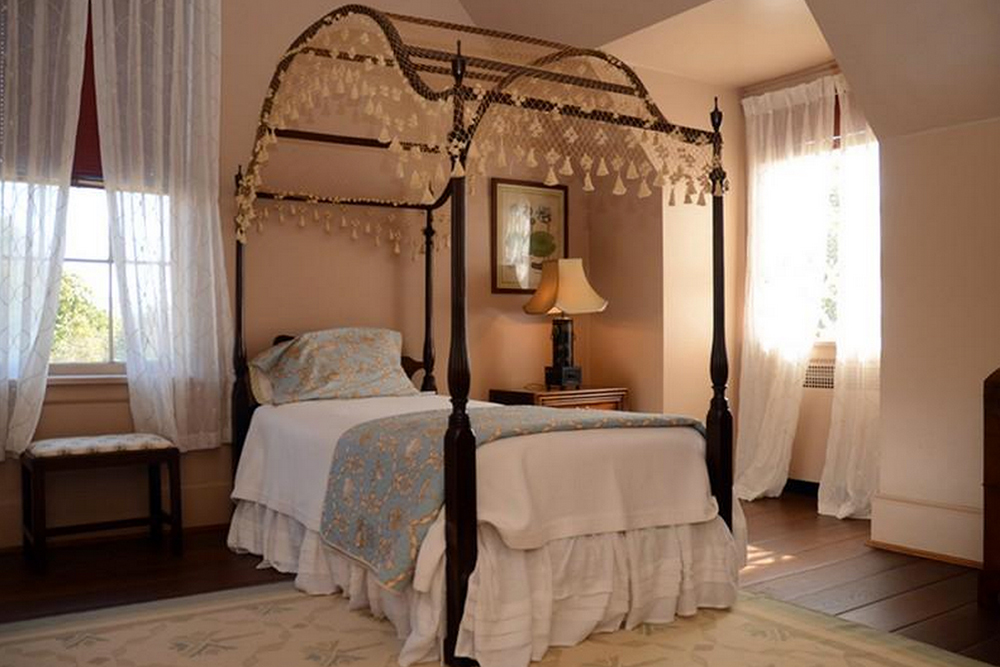 In 1848, a little more than a decade after his father's death, Charles Bruce built his 15,696-square-foot mansion on a hillside parcel deeded to him by his father's estate. The three-story, 14-room plantation home was built in the Gothic Revival style, then considered to be a new and progressive choice for domestic use. With its crenellated facade and turrets, the Gothic architecture was a fitting design decision for a young man who fancied himself somewhat of an American royal. Bruce was, after all, considered to be one of the richest men in Virginia at the time.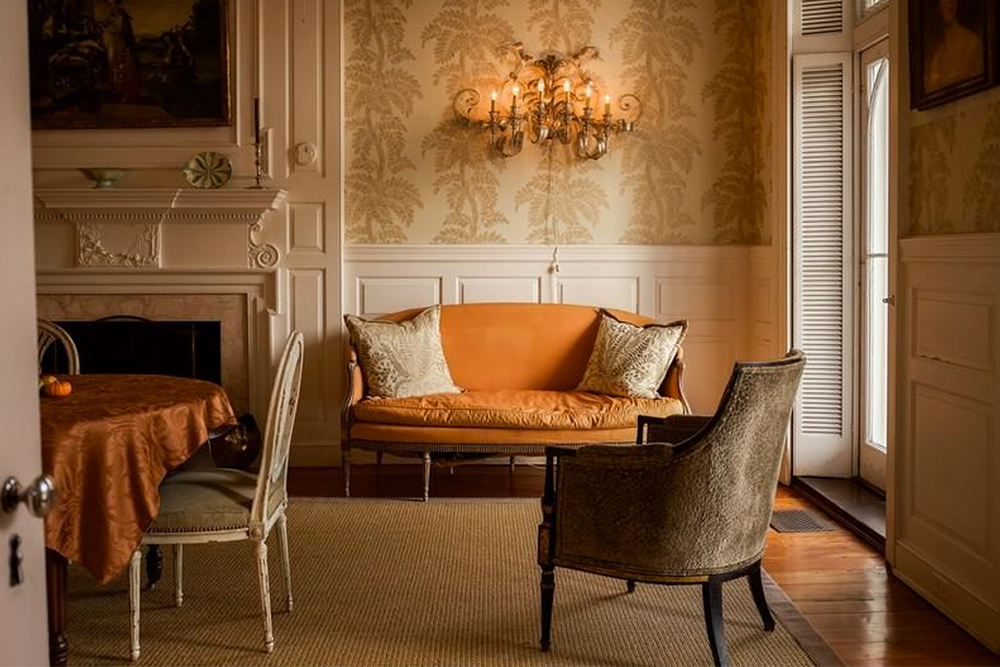 The property has since been augmented to include multiple guesthouses plus a tennis court, indoor racquetball court, an outdoor pool, and a greenhouse. Currently, the main home hosts 11 bedrooms and 10.5 bathrooms, while collectively, the estate comprises 25 bedrooms, 20.5 bathrooms, and close to 30,000 square feet of living space.
The estate's current acreage has been greatly reduced from its original 5,000-plus acres, which formerly produced wheat, tobacco, livestock, and corn at this once-prosperous plantation in antebellum Virginia.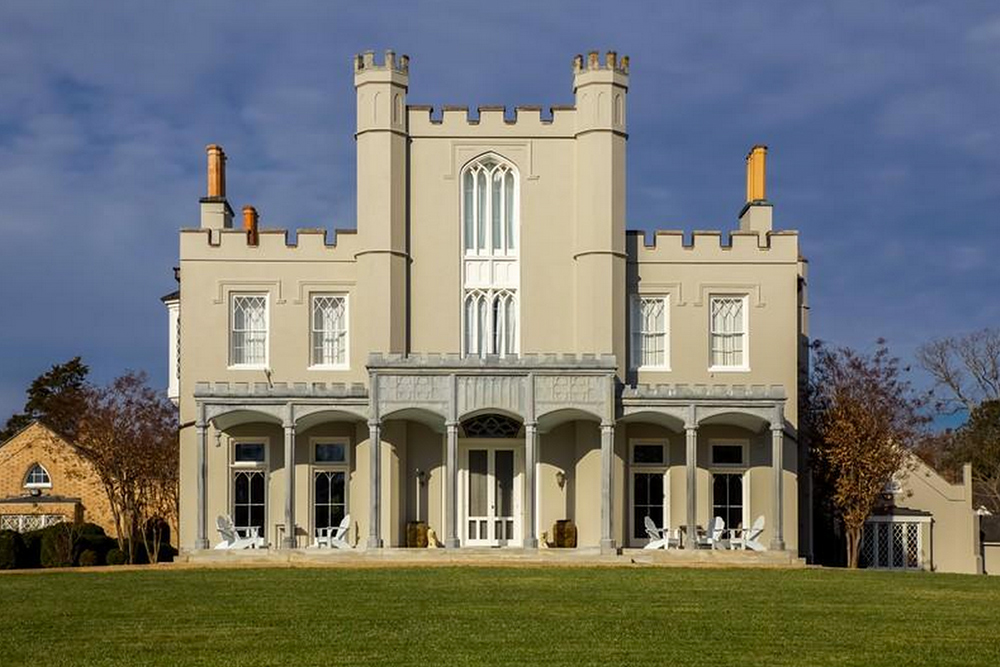 As his architect and builder, Bruce hired his friend John Evans Johnson, who wasted no time spending the young nobleman's money. In fact, it's said that the home's $75,000 final construction cost was almost twice the sum originally agreed upon by Bruce.
The most ostentatious display of Johnson's extravagant taste? The 10-column portico that decorates the south side of the home. Crafted of imported Italian marble, the portico and fluted columns reportedly cost as much as the rest of the home's masonry (stucco over brick) combined. To put that in perspective, the home's original plans included the manor home, a six-room colonnade (the east wing), and an adjacent law office.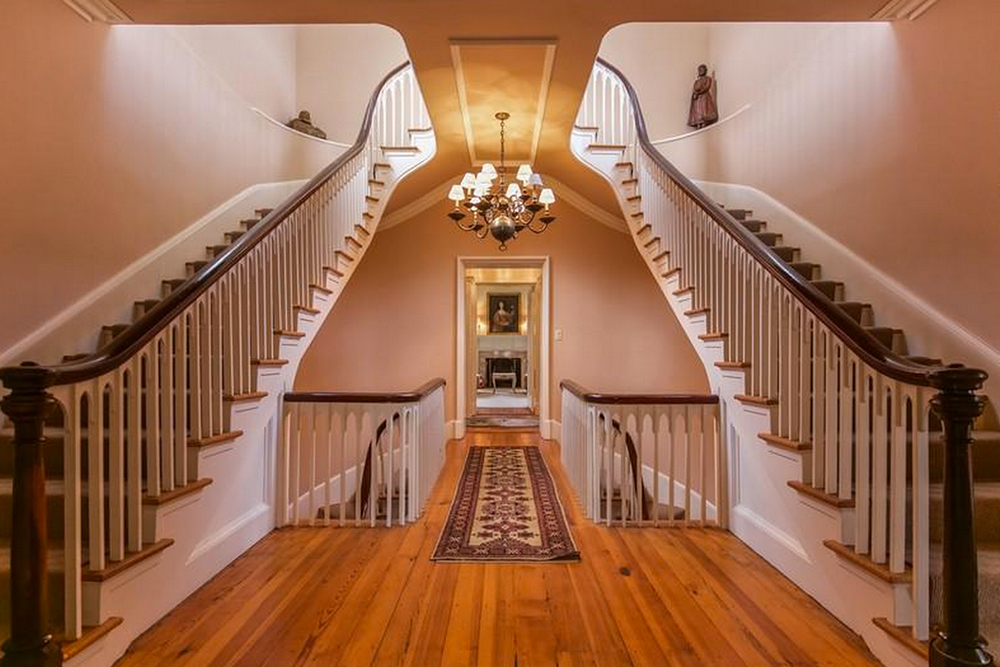 Spanning two floors, the curved double staircases were Johnson's pièces de résistance, considered to be the manor's most esteemed design feature. The one-of-a-kind twin staircases greet guests on the other side of a marble-floored octagonal foyer, accessed through the marble portico of the main house's south entrance.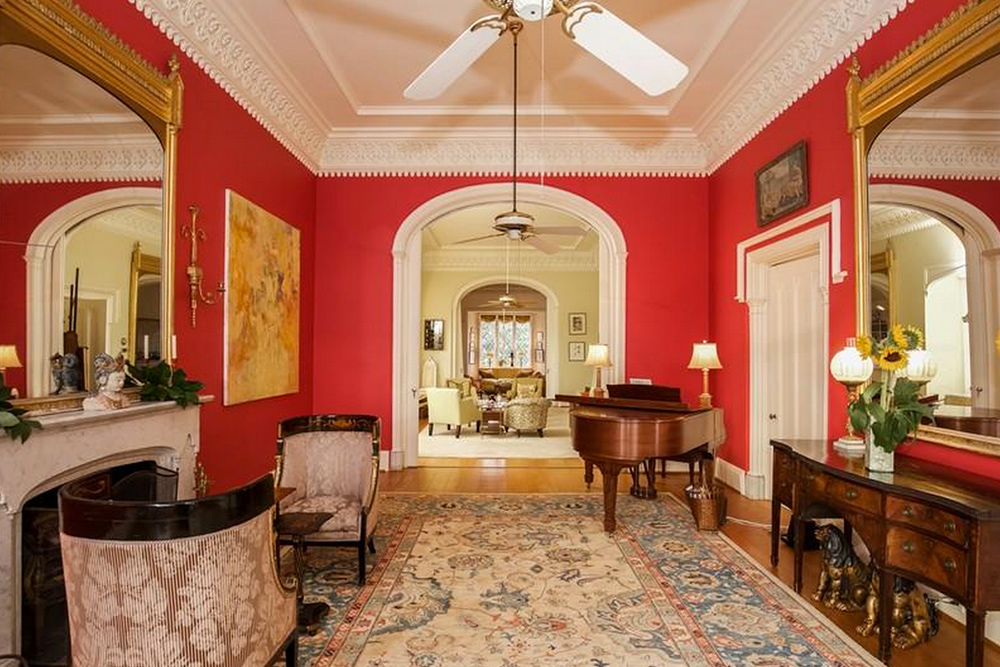 Thirteen-foot-tall ceilings add to the grandeur of the three first-floor parlors, each of which features plaster crown molding and cornicing original to the manor. In fact, much of the home holds some key to its past, whether that be a solid mahogany pocket door, a Venetian mirror, a candelabra sconce, or an ornate, carved mantle.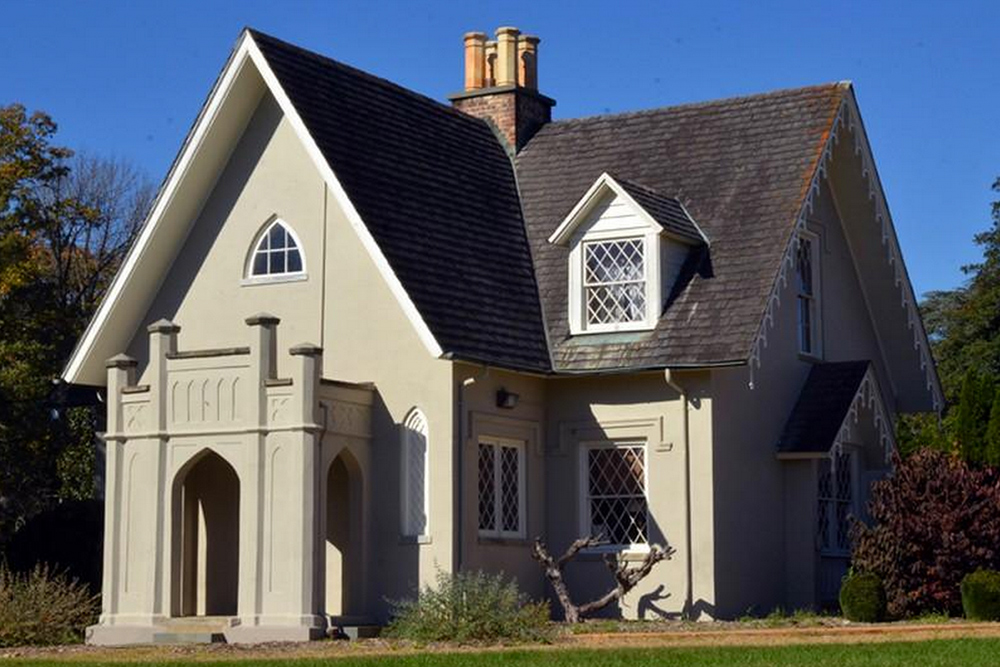 The plantation's office, a two-story structure detached from the main house, burned down in the 1930s. It was rebuilt to its original specifications and now serves as the estate's pool house, so-named due to its proximity to the outdoor pool.
Behind a mullioned-windowed facade that very much resembles that of the main house, the pool house offers additional living space in the form of three bedrooms, two bathrooms, a kitchen, and a second-floor library. Sweeping views of the surrounding lowlands are another amenity here.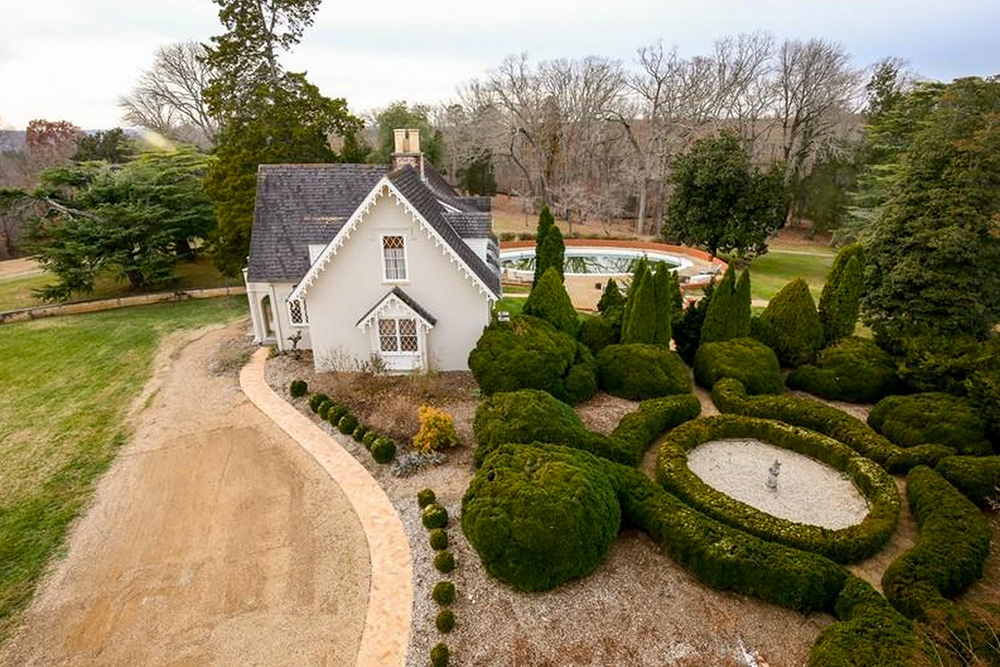 Heightened by the crunch of gravel underfoot, the experience of Staunton Hill's landscaped grounds and gardens is decidedly British. A boxwood maze cuts a circuitous path beside the pool house, while climbing roses, lilac, and blooming bushes and trees decorate the courtyard's perimeter during the warmer months.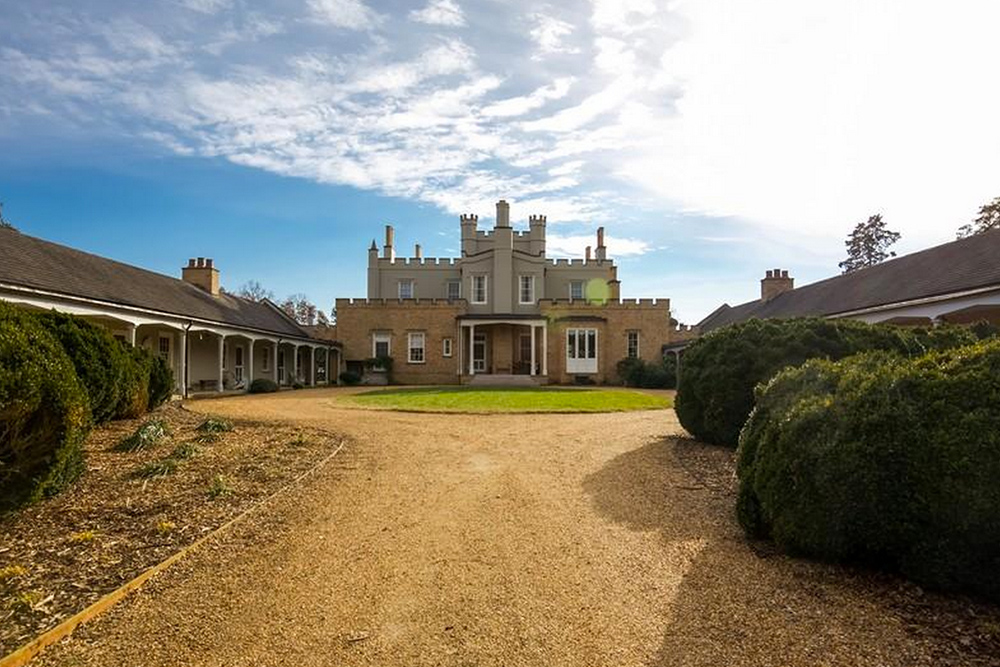 The west wing, which forms the courtyard on Staunton Hill's north side, was added in 1934 by David K.E. Bruce, grandson of Charles Bruce and one of four generations of Bruces to come into possession of the estate. Staunton Hill is now listed on the National Register of Historic Places.