"The things that matter, for better or worse, are found in the everyday, at home." This heartfelt life lesson wraps up the most precious of promo films accompanying Hurlingham, a Georgian-style luxury estate in Greenwich, CT, whose 12,988 square feet are lonely without the pitter-patter of tiny feet, the clink of silverware during convivial family meals, and the echoes of laughs shared among dinner party guests.
True, people are what separate any house from a home — not just eight-bedroom compounds in one of the country's most exclusive gated communities — but life's tender little moments seem just a touch more poignant when they occur among blooming plants in an English greenhouse, while roasting marshmallows beside a seasonal ice rink, or during stargazing sessions within a state-of-the-art clamshell observatory.
The price to always view life through rose-colored glasses? $10.975 million.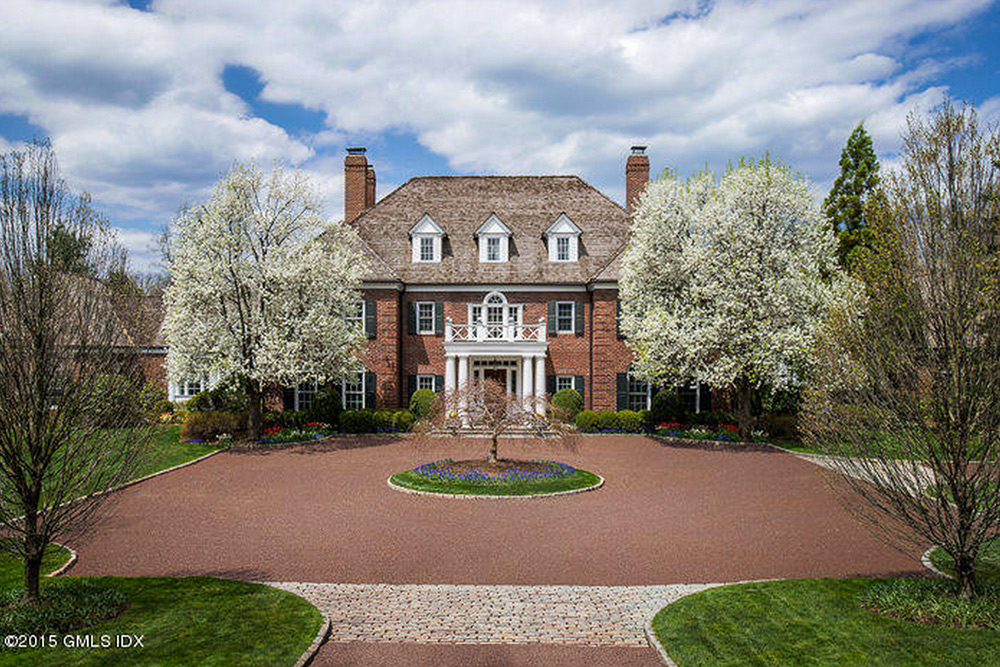 Built in 1987 and located 9 miles north of Greenwich, CT, Hurlingham is nestled upon 13 landscaped acres in Conyers Farm, a 1,500-acre gated community named one of the most exclusive in the country by Forbes in 2012.
Privacy is amenity number one within this verdant enclave, although residents can certainly mix and mingle while enjoying the community's exclusive equestrian paths, wooded jogging trails, placid lake, or celebrated Conyers Farm's summer polo matches. Think of it as la bella vita for the well-heeled prepster (and celebs such as Tom Cruise, Mel Gibson, and Ron Howard).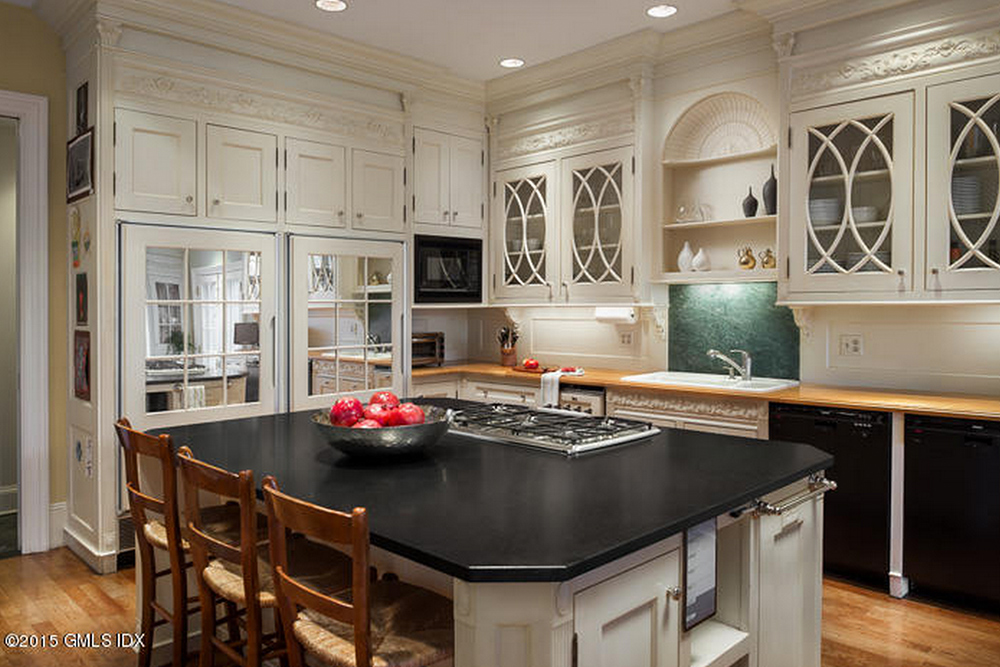 Flanked by a portico and a terrace, the chef's kitchen is just one of many gathering spots within the four-level, red brick mansion. The kitchen joins a cozy, bay-windowed breakfast nook in overlooking the emerald-green carpet of the expansive backyard, the perfect site for a spirited soccer or football game during Connecticut's more temperate months. The kitchen's position just above the climate-controlled, 3,000-bottle wine cellar makes it easy to pop downstairs for a vintage to complement the evening's menu.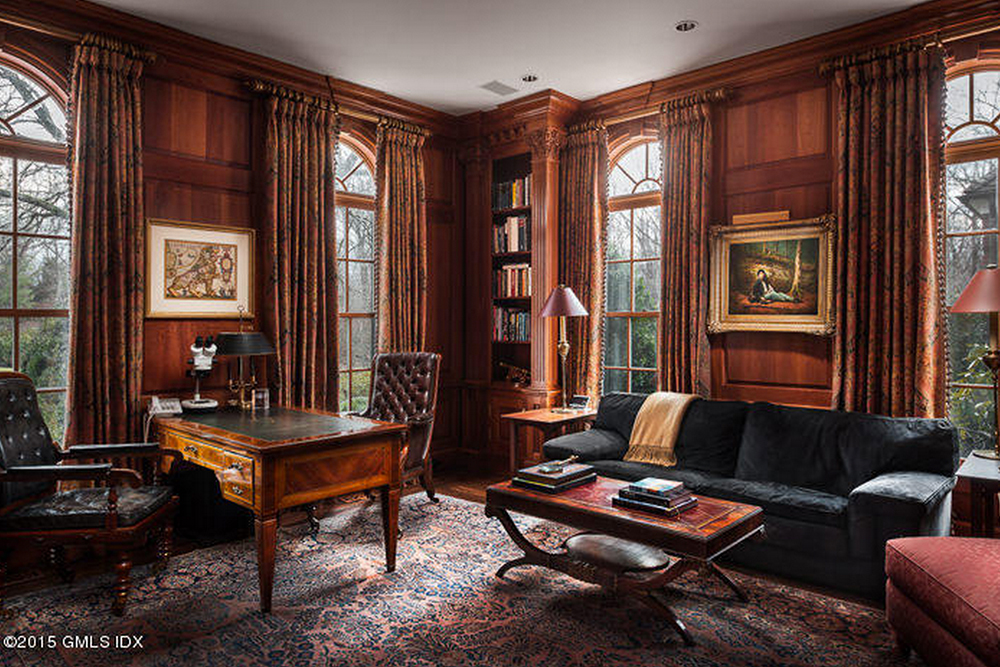 Handsome wood paneling and built-in bookcases impart an air of sophistication to the natural-light-flooded library, located just to the left of the foyer on the first floor. It's a decidedly masculine, erudite space, well-suited to burning the midnight oil or conducting business transactions over a glass of bourbon beside the crackling fire.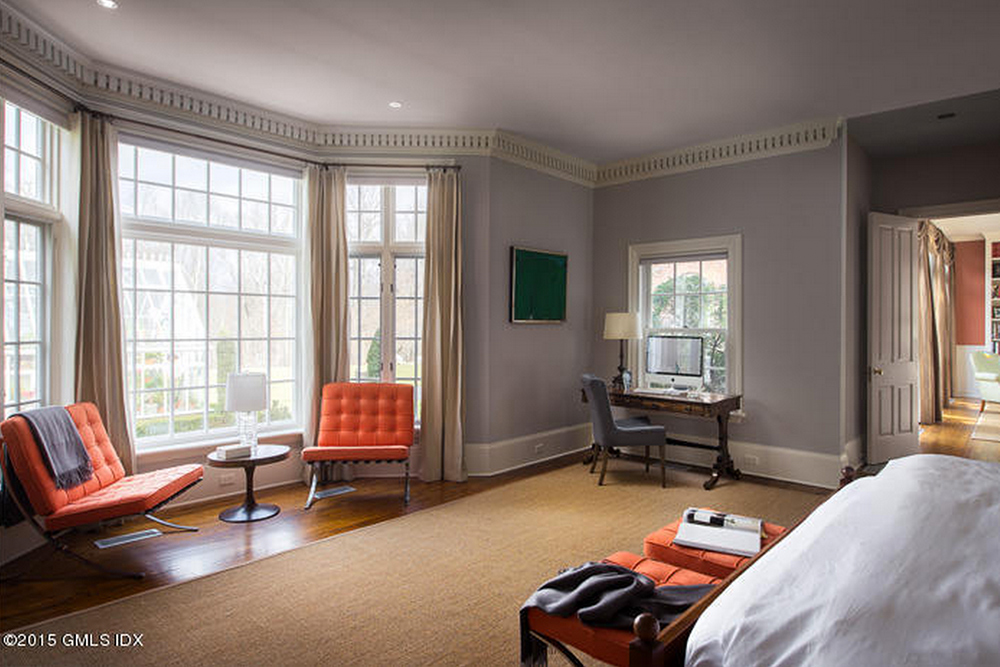 The first-floor master suite offers more than just a view of the greenhouse. Featuring a generously portioned bay window and regal crown molding, these elegantly appointed quarters deliver the utmost in personal space with his-and-her bathrooms, two sizable walk-in closets, a separate vanity, and an adjacent sitting room completed by floor-to-ceiling glass doors that open to a private patio and an English-style sitting garden.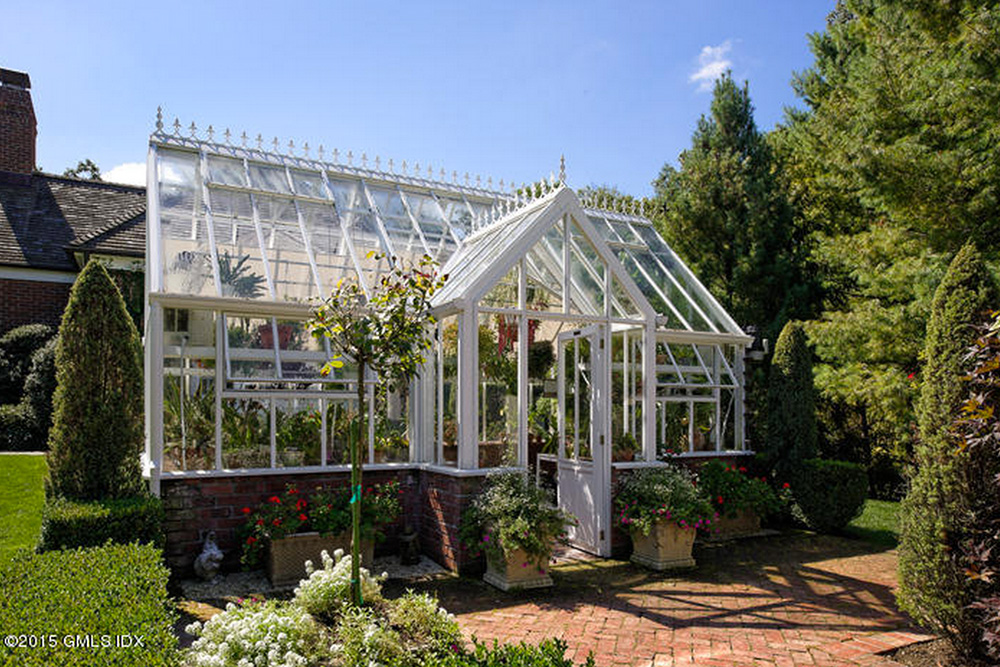 On a snowy day, when the only color is the red flash of a cardinal in flight, the English greenhouse provides welcome respite for winter-weary green thumbs. Here, under a glass roof crested by fleurs-de-lis finials, clay-potted succulents, ferns, and bromeliads are safely stowed for a seasonal sojourn that lasts until spring. Just beyond the greenhouse's brick paver entry and bordered by hedges sits the clamshell observatory, which is equipped with a cutting-edge telescope fit for a modern-day Galileo.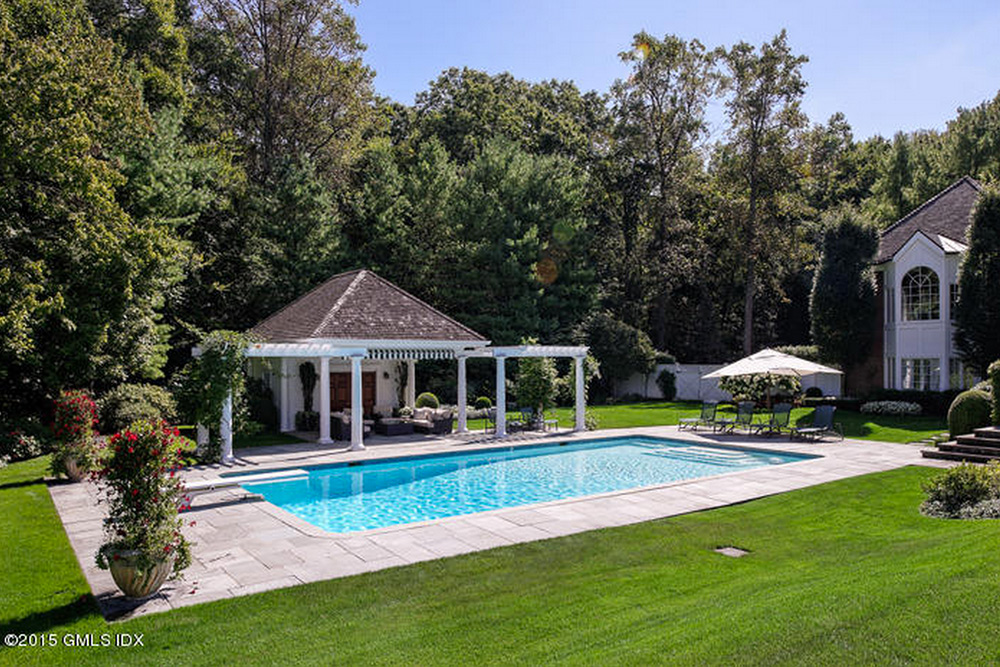 Equally suited to alfresco entertaining and the leisurely pace of summer's dog days, the sparkling outdoor pool is accessed via brick steps that forge an ivy-cloaked passageway from the portico. Daredevils might choose to approach the pool's azure waters by a spring-assisted leap from the diving board or an enthusiastic, postsoccer sprint from the far reaches of the flat, grassy backyard.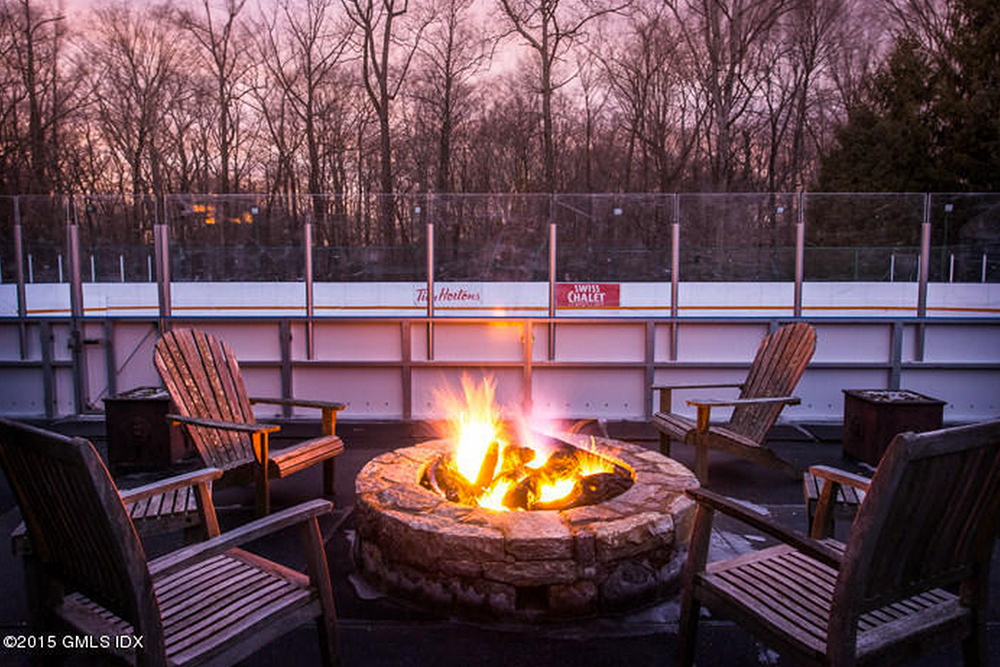 When the outdoor temperature drops below freezing, the clay tennis court is transformed into an ice rink, complete with a field house and a plexiglass barrier for catching errant hockey pucks. Next to the rink, a stone fire pit is surrounded by Adirondack chairs to create a flame-licked focal point where marshmallows are roasted and gloved hands are warmed.
Those in need of a more thorough thaw can head back inside to the ground-floor projection movie theater, which has been custom-designed to include nine reclining leather seats and, upon request, plenty of lap blankets (and popcorn!).
Check out the image gallery and listing for this home: 21 Hurlingham Dr., Greenwich, CT, 06831. (Find other Greenwich homes for sale.)