Does hard work build character? Most definitely — and these nine industrial apartments in St. Paul, MN, Denver, CO, and more are proof. Every exposed brick, worn floorboard, and weathered beam in these spaces shines with personality. Each cries out to that aesthetic-minded renter who sees the beauty in imperfection and the appeal of the offbeat.
An appreciation for history won't hurt either. After all, many of these rentals are converted lofts that come with their own back stories — you're not just a resident, you're also the docent of your domain.
<!–[if IE 9]>
<!–[if IE 9]><![endif]–>

This seven-story building was once a showroom for Chittenden and Eastman Furniture, a mattress manufacturer founded in Iowa in 1866. Reinvented as C&E Lofts, the yellow brick building now houses more than 100 loft apartments. Each loft offers a unique floor plan, but a contempo-industrial flair is the common thread. Cedar beams, brick walls, and exposed ductwork contrast with a modern polish of amenities such as quartz countertops, stainless steel appliances, and chic track lighting.
<!–[if IE 9]>
<!–[if IE 9]><![endif]–>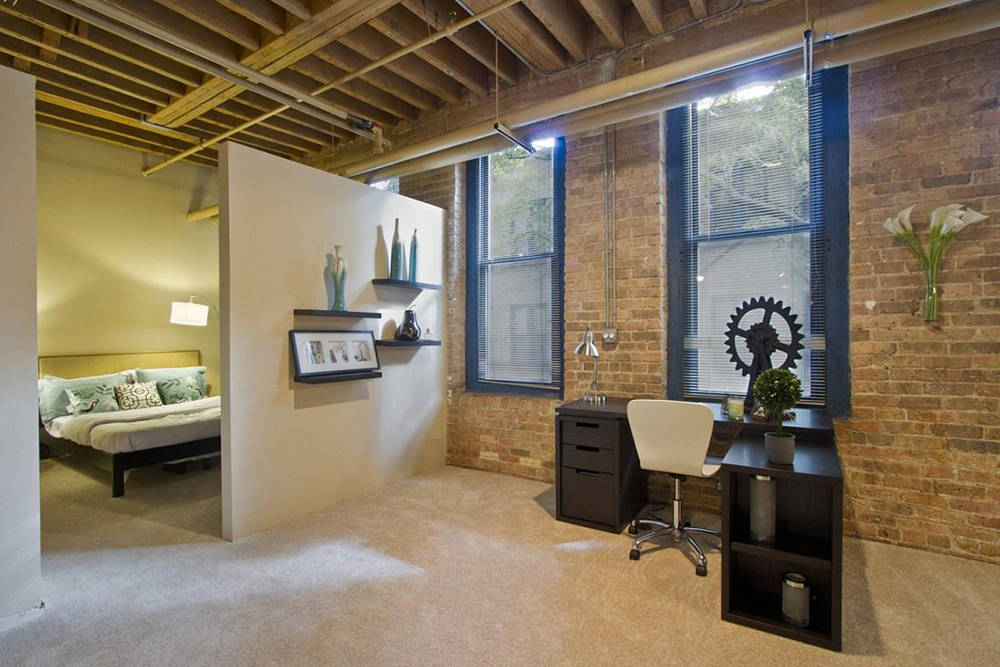 Adaptive reuse in Chi-Town: Studio and one-bedroom apartments in Chicago, IL
$1,570 to $3,045/month, 500 to 950 square feet, Cobbler Square
During the early 1980s, Dr. Scholl's (yep, the footwear giant) traded its Old Town Chicago headquarters for new digs in Tennessee. Soon after, the 30 vacant warehouse and factory buildings were snatched up by architect Ken Schroeder, who repurposed the industrial complex into Cobbler Square, a multiuse development comprising residential and commercial spaces. Even after renovations in 2009, Cobbler Square's 295 loft-style apartments retain their artsy-industrial appeal.
<!–[if IE 9]>
<!–[if IE 9]><![endif]–>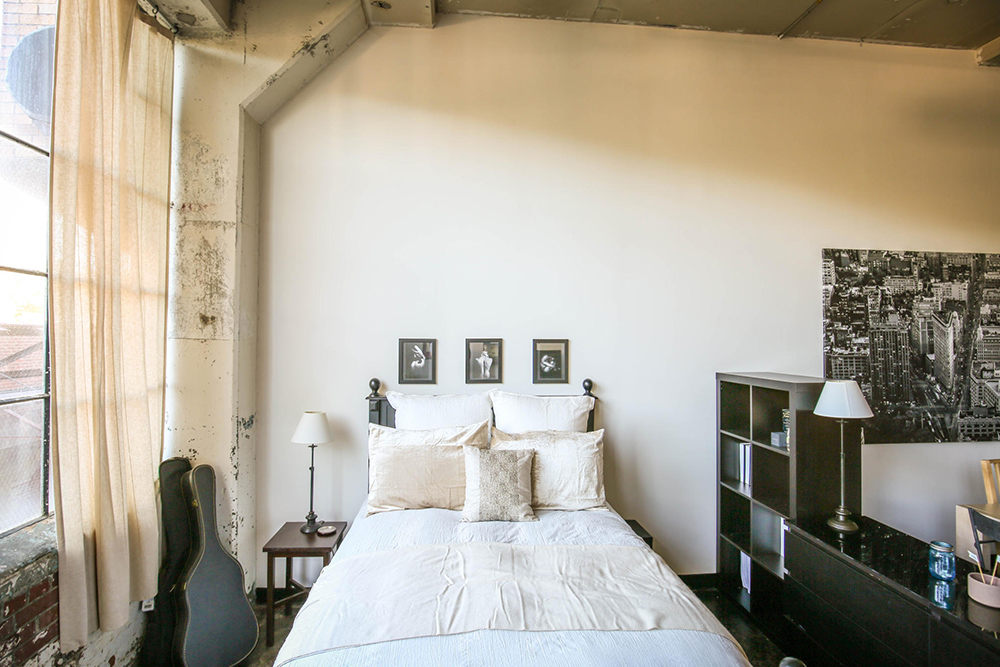 Completed in 1938, Atlanta's Western Electric factory once rang with the sounds of workers repairing Bell System telephones. Before that, the art deco brick building served as the Southern regional distribution center for Sears, Roebuck & Co. Fast-forward to 1996, and the Old Fourth Ward building near historic Ponce de Leon Avenue is reborn as Telephone Factory Lofts. Sixty-eight lofts are for rent here, offering some combination of 25-foot ceilings, quartz countertops, and the factory's original windows and concrete floors.
<!–[if IE 9]>
<!–[if IE 9]><![endif]–>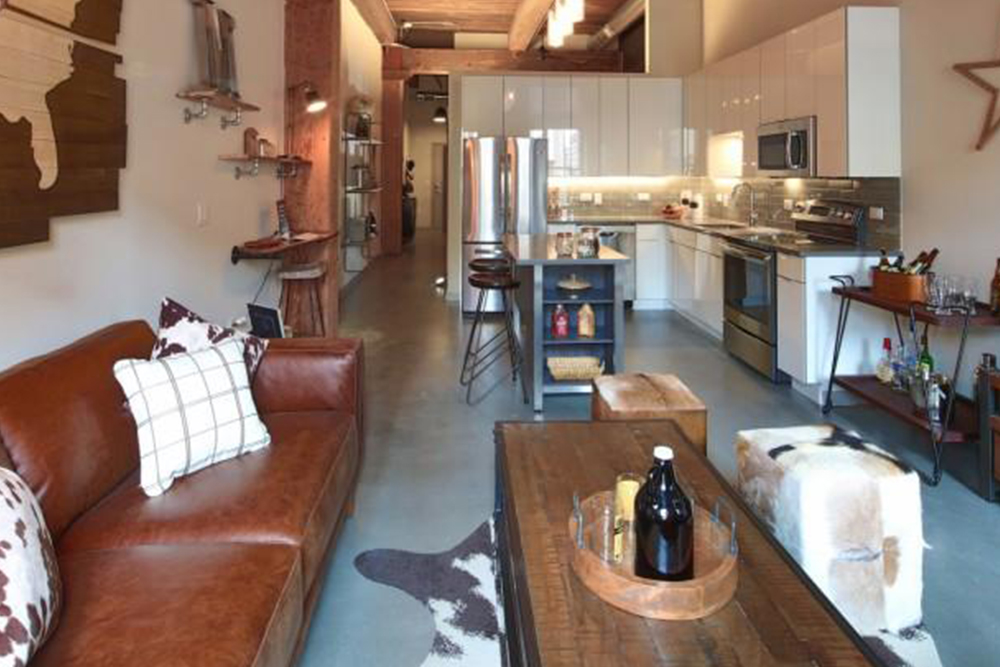 For the Manhattan commuter: Studio, one-, two-, and three-bedroom apartments in Jersey City, NJ
$2,350 to $5,900/month, 446 to 1,472 square feet, Modera Lofts
An easy commute to Manhattan attracts prospective renters to Modera Lofts in Jersey City's Powerhouse Arts District — but the unique setting in a 112-year-old converted warehouse often clinches the deal. These loft apartments pile on the industrial style: 12-foot ceilings, pine beams (original to the building), exposed masonry, sliding barn doors, and institutional-style ceiling fans. Additional perks that entice? How about a pet spa, a yoga studio, a bicycle-repair shop, a tricked-out clubroom, and a rooftop lounge?
<!–[if IE 9]>
<!–[if IE 9]><![endif]–>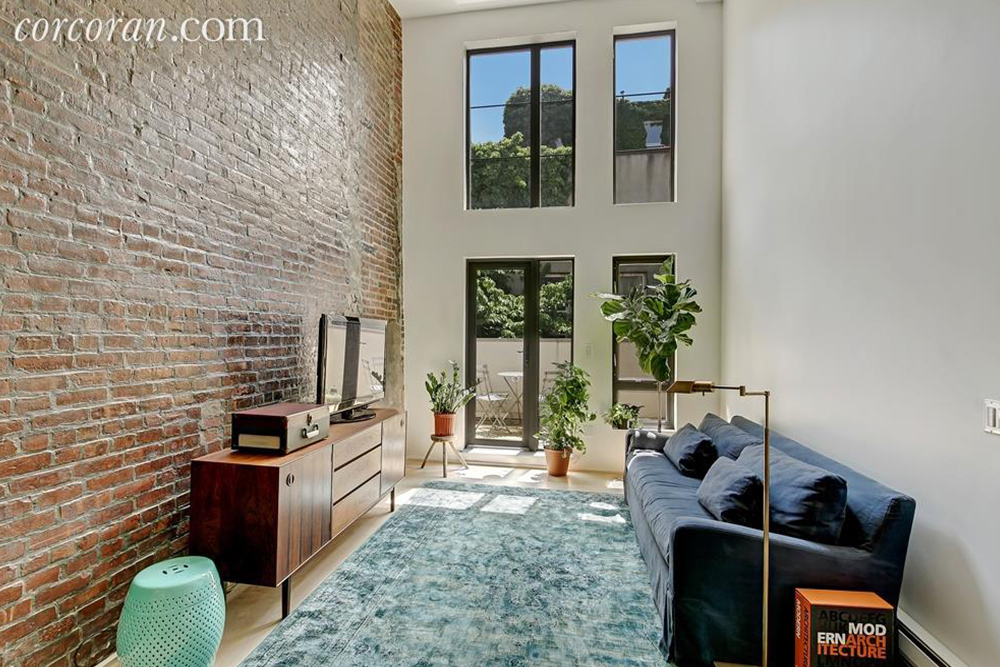 Bring those towering fiddle-leaf figs: This tall, slim loft in Williamsburg features double-height, south-facing windows that nearly kiss the apartment's 16-foot ceilings. Opposing the windows is a wall scaled by the building's original red brick, as well as a gourmet kitchen decked out in trendy gray cabinets and white subway tile that's balanced by red grout. Another bonus for the urban gardener: There's a private terrace just off the living room.
<!–[if IE 9]>
<!–[if IE 9]><![endif]–>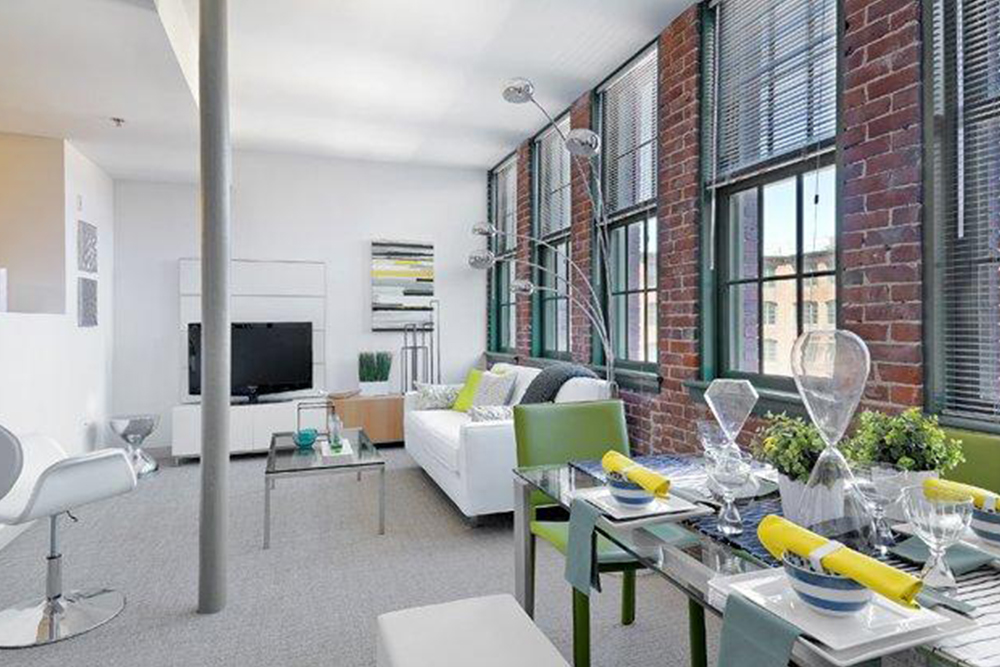 Credited as the first company to mass-produce wristwatches, the now-defunct Waltham Watch Company vacated its 400,000-square-foot, multistructure factory complex — which it had called home since 1854 — during the 1950s. The building, alongside the Charles River, has since landed a spot on the National Register of Historic Places and has been given new purpose as a mixed-use development that harbors 160-plus loft apartments. If high-end finishes and America's past pique your interest, you'll be right at home here. This place even boasts its own on-site history exhibit!
<!–[if IE 9]>
<!–[if IE 9]><![endif]–>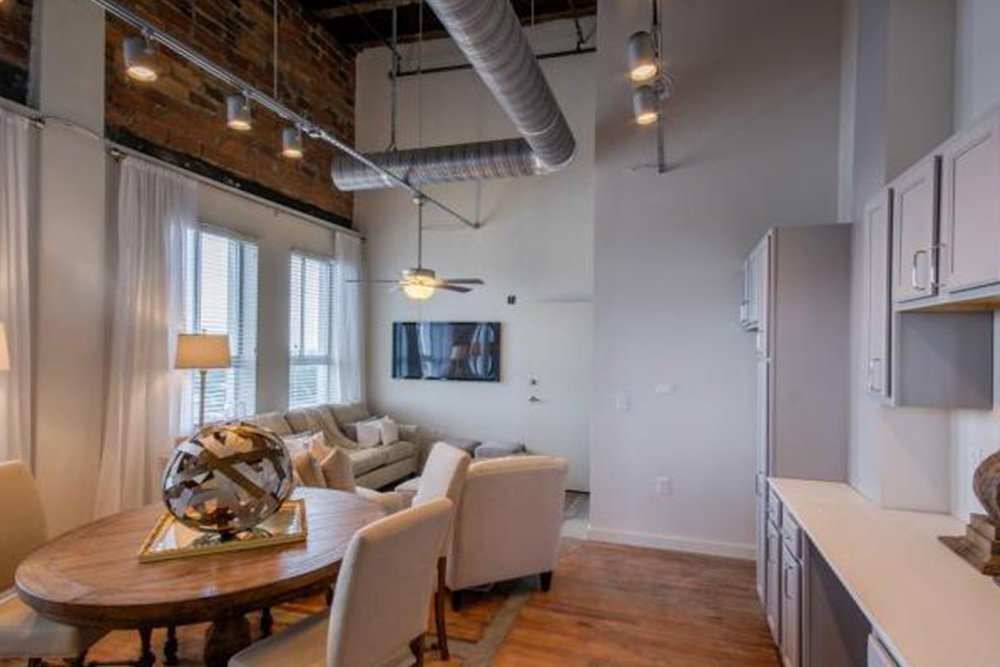 Living in a landmark: Studio, one-, and two-bedroom apartments in Columbia, SC
$965 to $1,600/month, 374 to 1,340 square feet, Land Bank Apartments
Sixteen-foot ceilings, hardwood floors, exposed brick walls, and new washer/dryers are standard in the units of this apartment complex. Dubbed the Land Bank Apartments, the stately structure is more apt to be known by locals by its original name: the Federal Land Bank Building. Dating to 1924, the Beaux Arts building, located in the heart of Columbia, SC, is a bona fide local landmark, so giving directions to your new loft will be a piece of cake.
<!–[if IE 9]>
<!–[if IE 9]><![endif]–>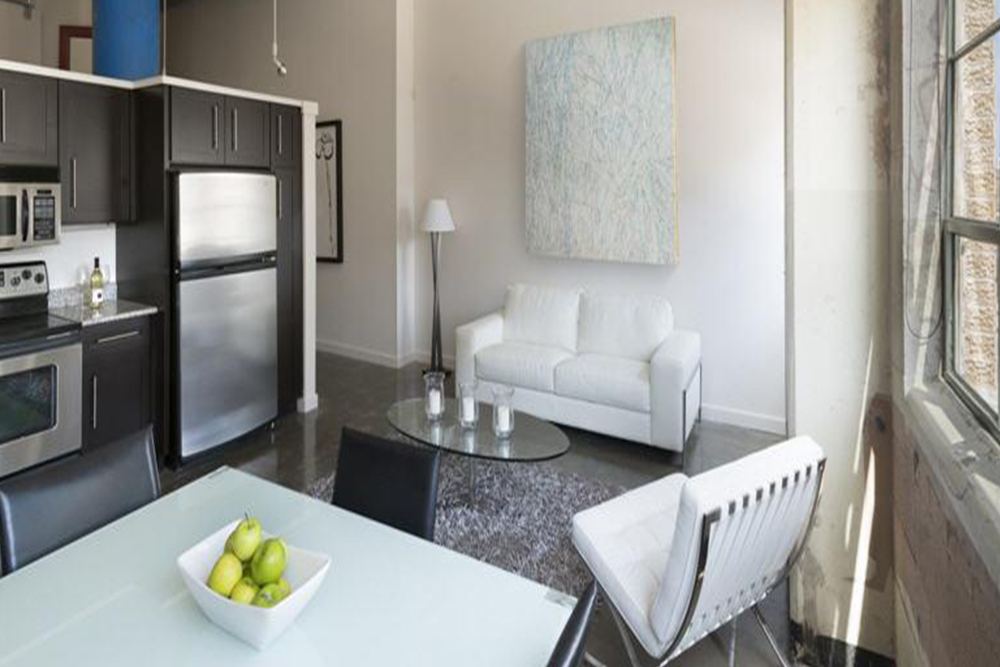 Part of Mockingbird Station, a shopping center and commuter rail station in midtown Dallas, these loft-style units were designed with the urbanite in mind. Boasting 21st-century bells and whistles, including vessel-bowl sinks, custom cabinetry, high-end appliances, and slate showers, units also include 16- and 20-foot ceilings, exposed ductwork, and concrete floors for a contemporary twist on the industrial style.
<!–[if IE 9]>
<!–[if IE 9]><![endif]–>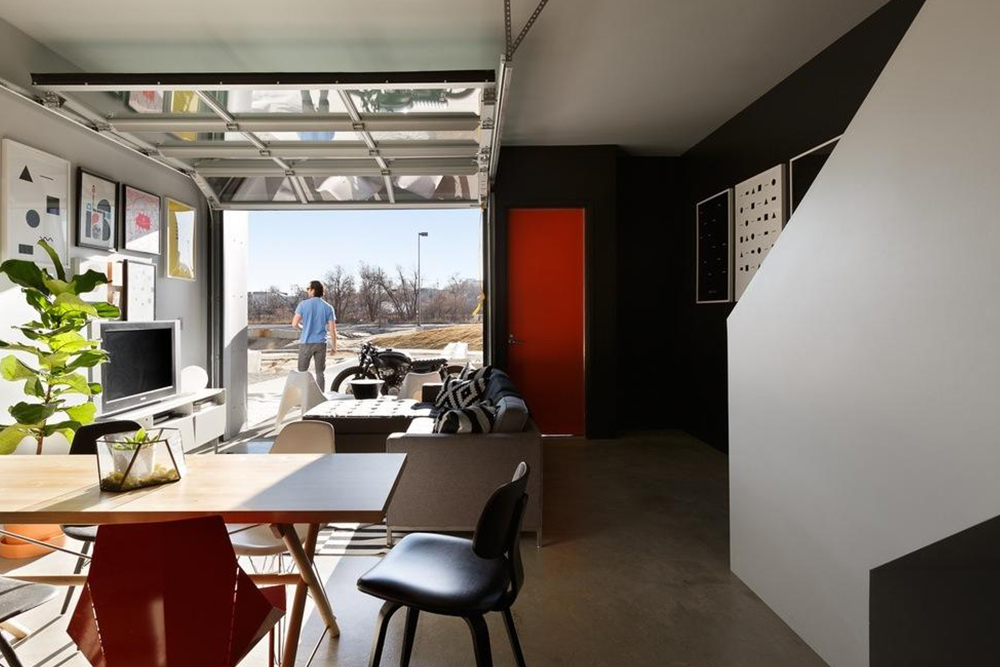 Leave conventional doorways for the normies; this three-bedroom townhome in Denver features an operable garage door that separates the living room from the landscaped patio. With the garage door open, the entire first floor of the townhome transforms into an indoor-outdoor space — complete with mountain views. Think it can't get more hip than that? Think again. This community comes with its own coffeehouse, a community garden, and a swimming pool that's made from a repurposed shipping container.
Do you have a favorite industrial-chic apartment? Let us know in the comments below!