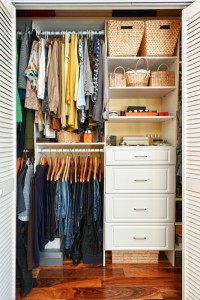 If you have a small house or apartment, it's likely that you don't have a lot of storage space. With apartments in New York, studios in San Francisco, and other crammed metro areas, renters need to be smart about using spare space. Renters can really get creative with storage options for small spaces. Here are a few DIY storage ideas for even the smallest apartments.
Hang to organize
One of the best ways to save space in the kitchen is to hang your pots and pans. This gets them out of the cupboard and into an empty area that's rarely used — the ceiling. Use the freed cupboard space to store everything from art and craft supplies to appliances that aren't plugged in. Additionally, explore other hanging storage such as canvas organizers for closets.
Add shelving
We all know that bookshelves are great storage for books and other items, but they can take up more space than you may realistically have. If a traditional bookshelf is too large for your space, add some shelving to your walls in a way that complements the space. You can make these as narrow as you need and customize them to fit your walls. In addition to your book collection, add small, decorative boxes for extra storage.
Look under the bed
There is a lot of storage space under your bed. Once you clear out the dust bunnies, get plastic bins. These hold a variety of items such as seasonal shoes and sweaters. If you're feeling up to the challenge, you could also create a rolling platform that sits under the bed. This will allow you to hold any number of items with the ease of sliding-drawer access. Take your storage and organization one step further by using separate compartments within each bin or drawer.
Use unconventional items
Do you have old CD spindles sitting around? These come in handy for storing things such as ribbon, tape, and other craft items. The clear plastic casing keeps your crafts visible for easy access. Plus, it's more compact and less messy than throwing it all into a box. Once you have the craft items on a CD spindle, you can put them on a shelf for later use.
Create a closet office
Do you have an extra closet in the home but no extra room for an office? Turn the closet into an office. This way, you're using the extra space in a truly productive way. Store your office supplies on the closet shelving; add a small desk for your computer. When the office isn't being used, simply shut the doors to quickly separate your work from your home life.
Making a small space have lots of storage takes some work, but in the end it is worth the effort. You'll be able to put things away in a space that makes sense, and your home will feel less cluttered.
What are some ways you've added storage to your small studio or humble house? Share your thoughts in the comments below.