If a Fraser fir falls on the Christmas tree farm and no one's there to snap a selfie and hashtag #timber, did it really happen? The answer to this Yuletide riddle is debatable, but we know this much: There's no greater holiday photo op than that of the annual outing to pick out a Christmas tree (sorry, Mall Santa). And in the case of these eight amazing homes for sale, all of which are located on or near Christmas tree farms, the makings of an idyllic winter scene are just steps beyond the front door. We're talking cut-your-own trees, festive hayrides, hot cider, holiday cheer, or any combo of the above.
From Amsterdam, NY, to Frazier Park, CA, all that's missing from these for-sale homes is your smile, an ugly Christmas sweater, a camera — and maybe a saw.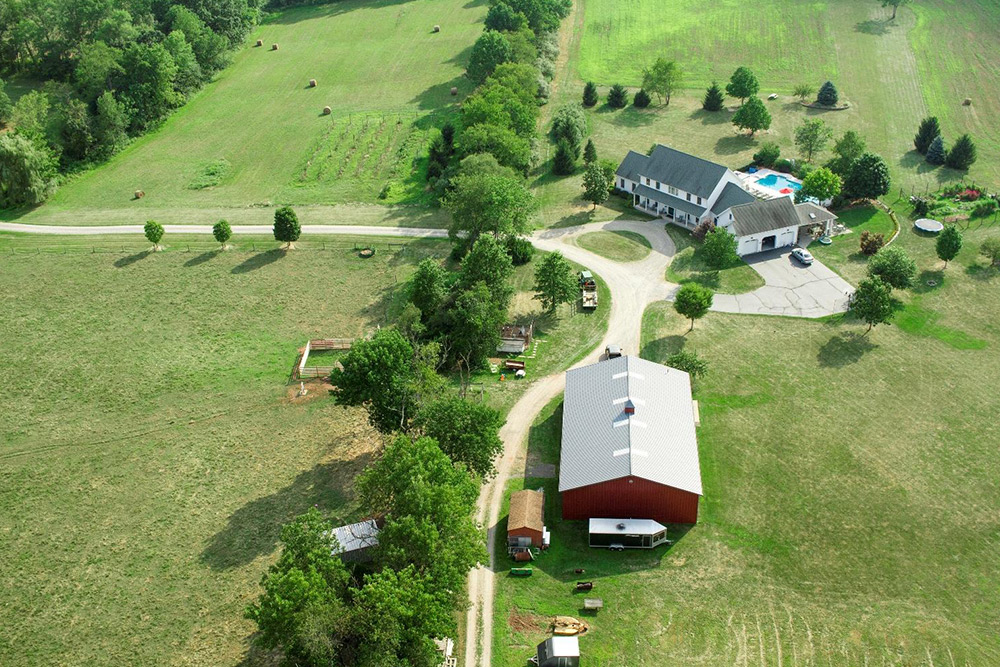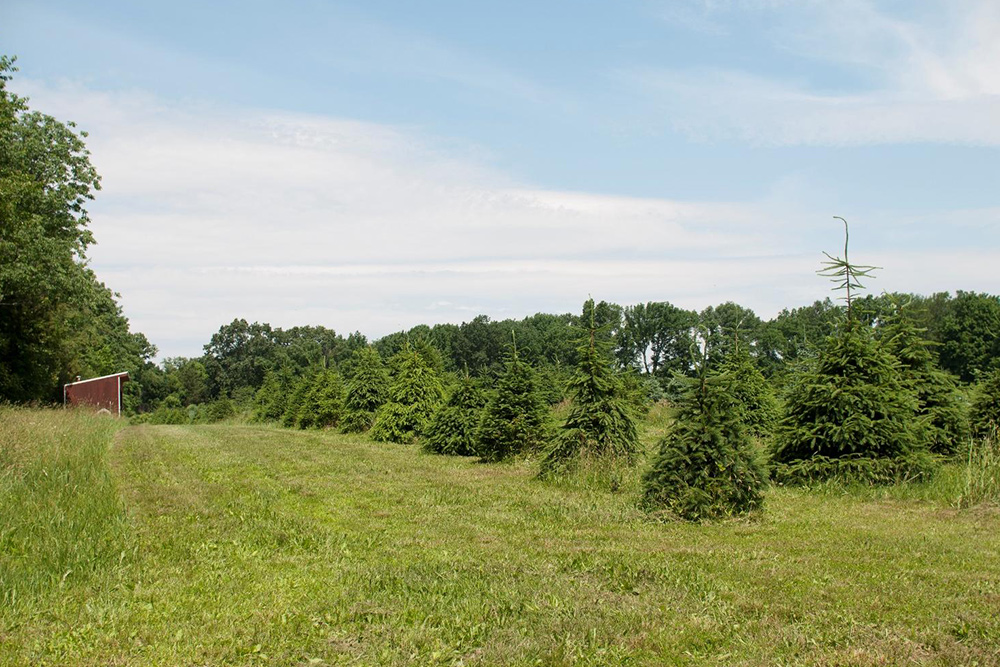 This property, dubbed Edgewood Farms, is situated on 110 acres of preserved farmland in Hunterdon County, NJ. Since 2001, 12 of those acres have been dedicated to growing Fraser and Douglas firs — and every year, locals with saws in hand swarm the farm in search of the perfect Christmas tree. Bustling holiday season aside, life on the farm operates at a slower clip. The fishing pond and outdoor pool are sites for relaxation and reflection, while rolling meadows and countless trails are ideal for leisurely rides on horseback. As for the home, it was custom-built in 2001 and features five bedrooms across 4,000 square feet.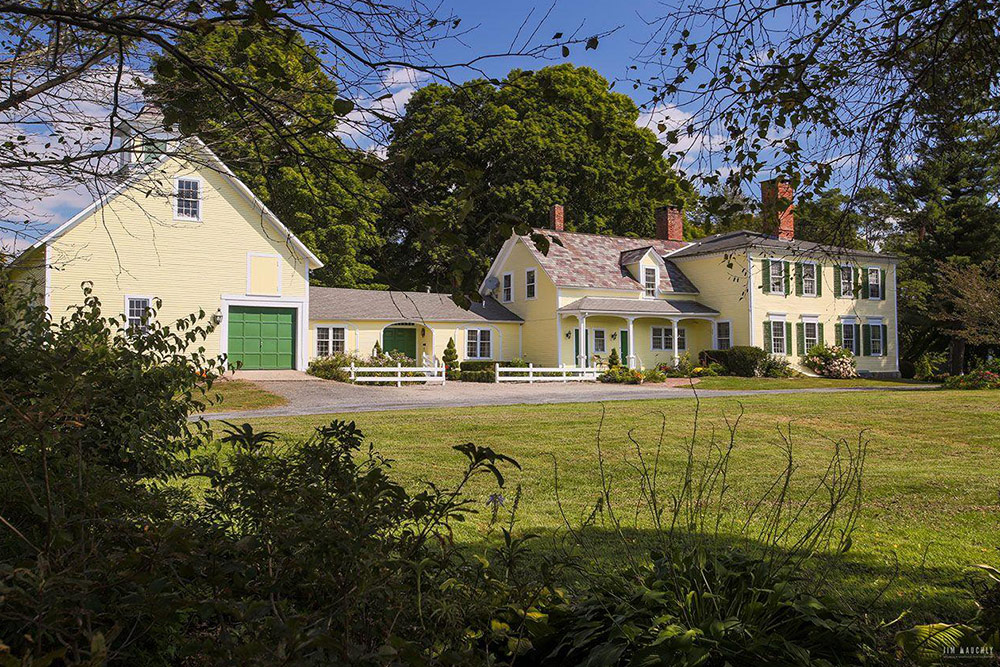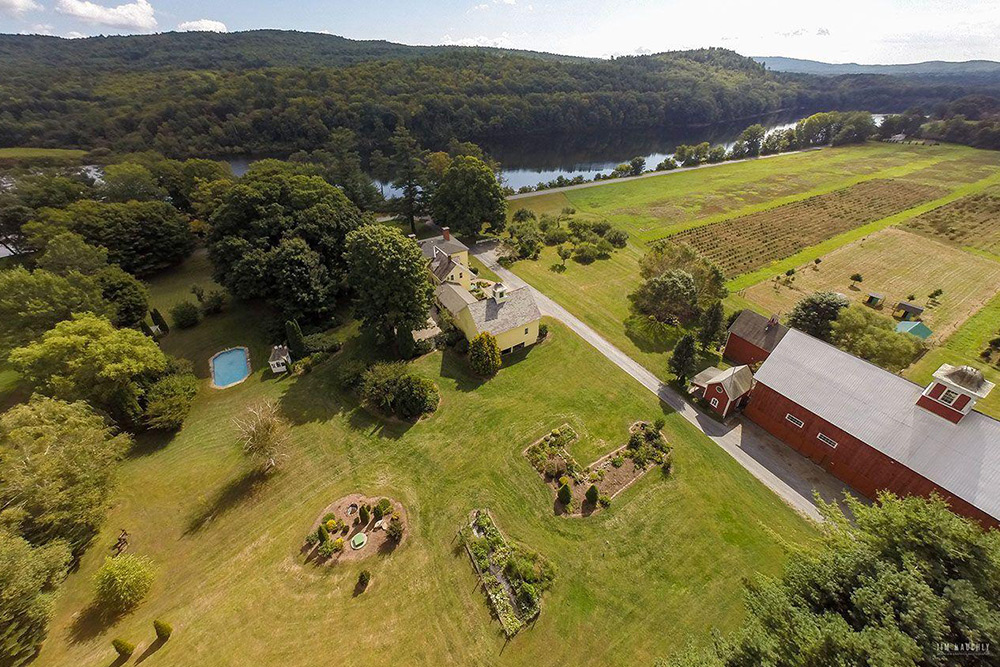 Pretty as a picture and steeped in history, this property in bucolic Springfield, VT, spans 70 acres of rich farmland abutting the Connecticut River. The property — better known to locals as Christmas Trees of Vermont — has been used to grow cut-your-own Fraser firs (25,000 of them at a time!) since 1982. But way (way) back in the late 18th century, the site served as the private residence of General Lewis R. Morris, a soldier in the Continental Army and a member of Congress. Morris built the 6,485-square-foot, Colonial-style home in 1795. It's since been listed on the National Register of Historic Places.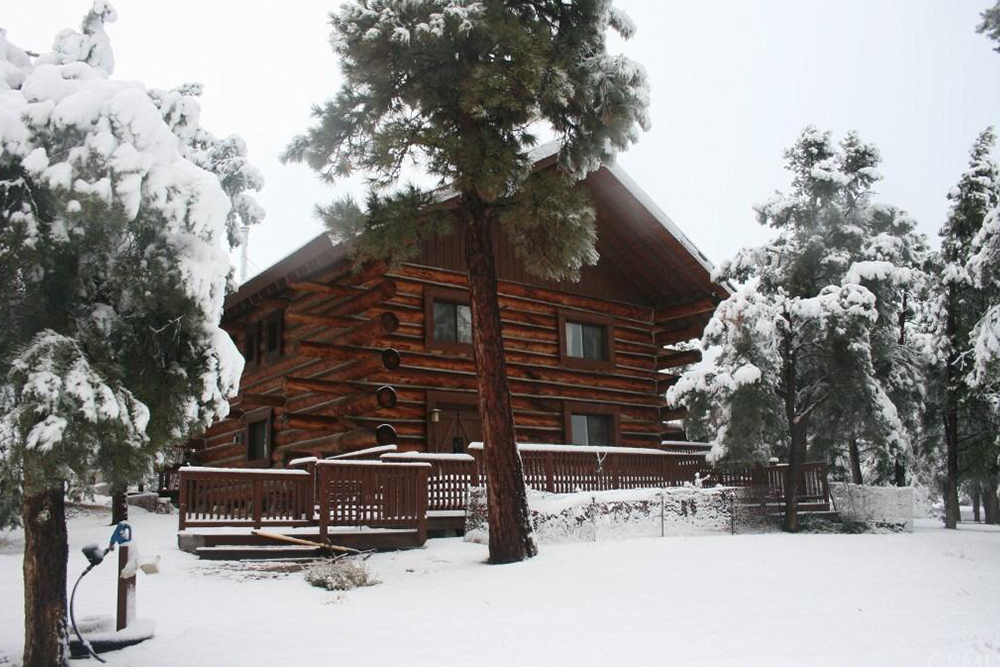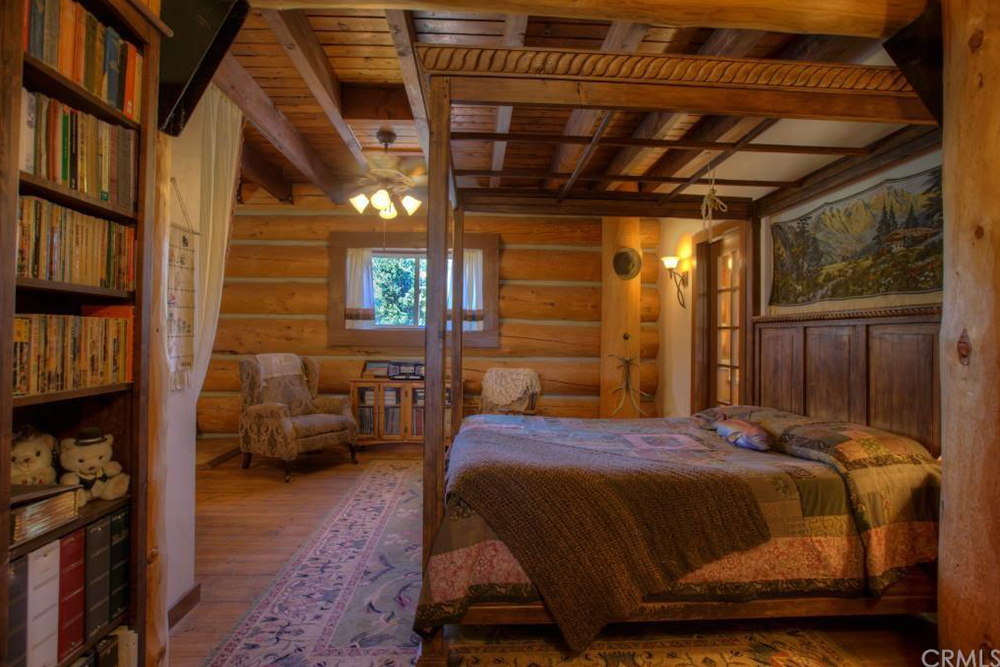 Measuring up to 26 inches in diameter, hand-hewn logs imported from The Great White North insulate this 3,000-square-foot log cabin — custom-built in 2004 — from summer heat waves and winter snowstorms. Snow days can be spent cooking up a feast within the massive modern kitchen (get a load of that walk-in pantry!), or you could strap on some cross-country skis and venture outdoors to cut your very own Christmas tree. You'll have plenty to choose from: The cabin sits on 10 wooded acres within the Los Padres National Forest of Southern California.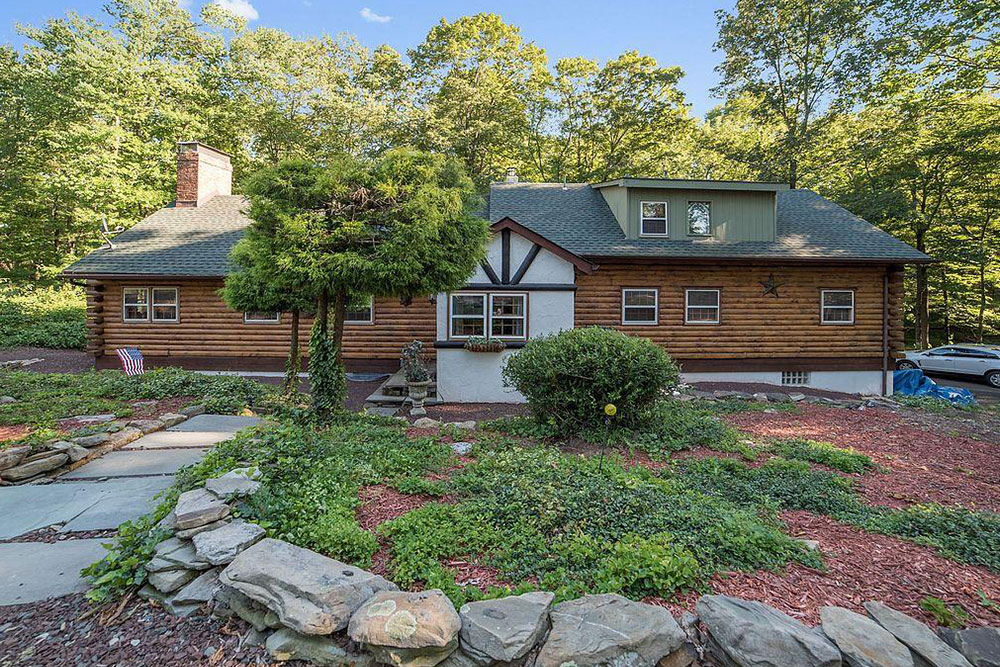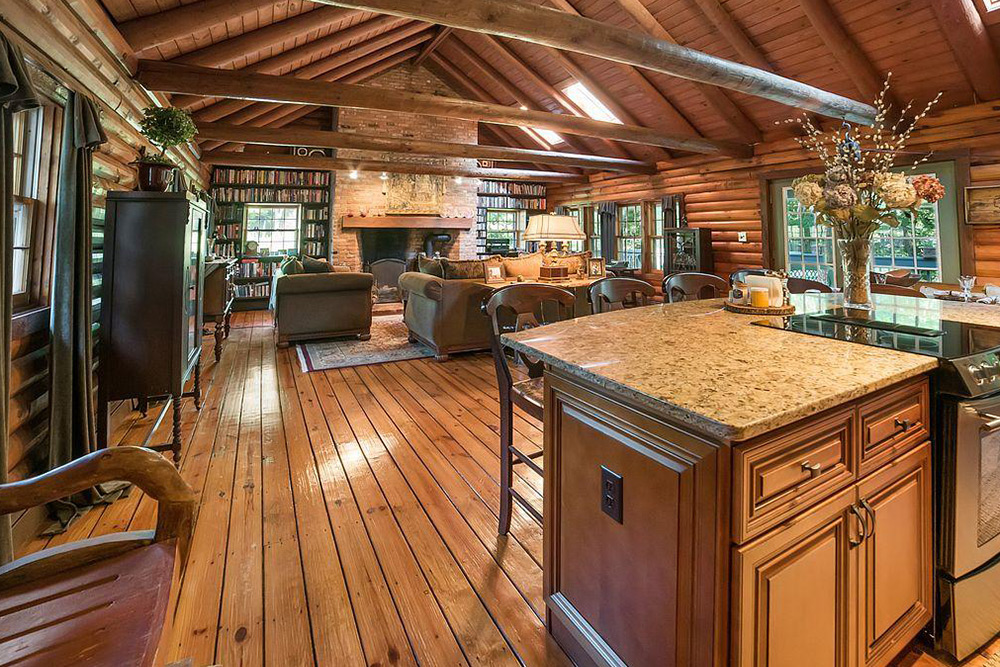 A half-mile-long driveway leads to this three-bedroom, three-bathroom log home in Stockton, NJ, a quaint town situated on the banks of the Delaware River. The driveway is lined with pine trees, a vestige of the 8-acre property's past life as a Christmas tree farm (2,000 pine trees remain on the property!). The home was built in 1978 and features an all-wood interior, but it's been updated with stainless steel appliances and a huge granite-topped island in the kitchen area of the vaulted great room. And who wouldn't want to curl up with a book beside that brick fireplace?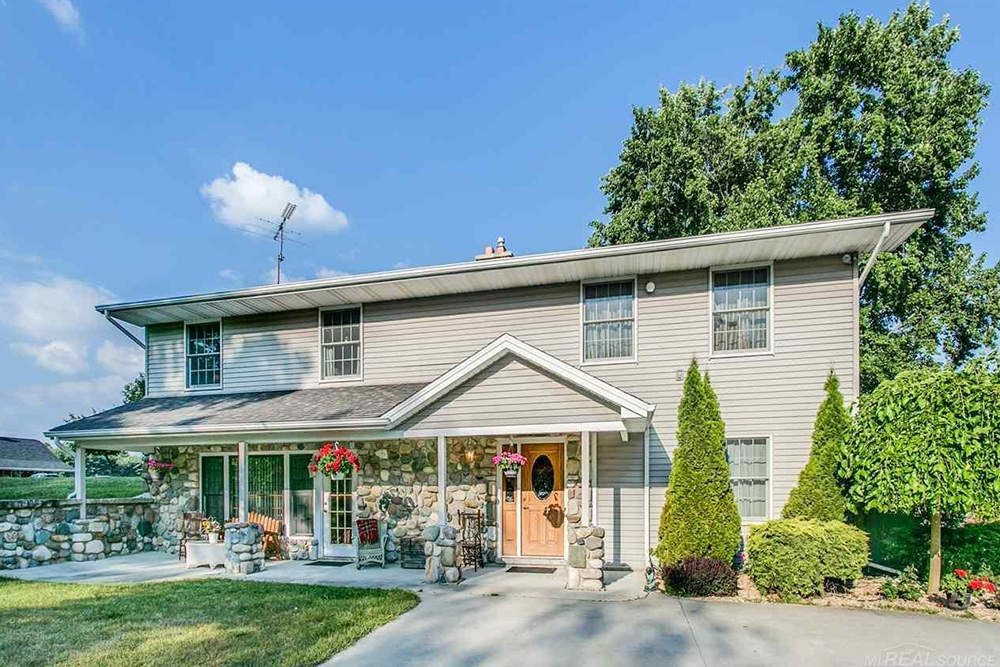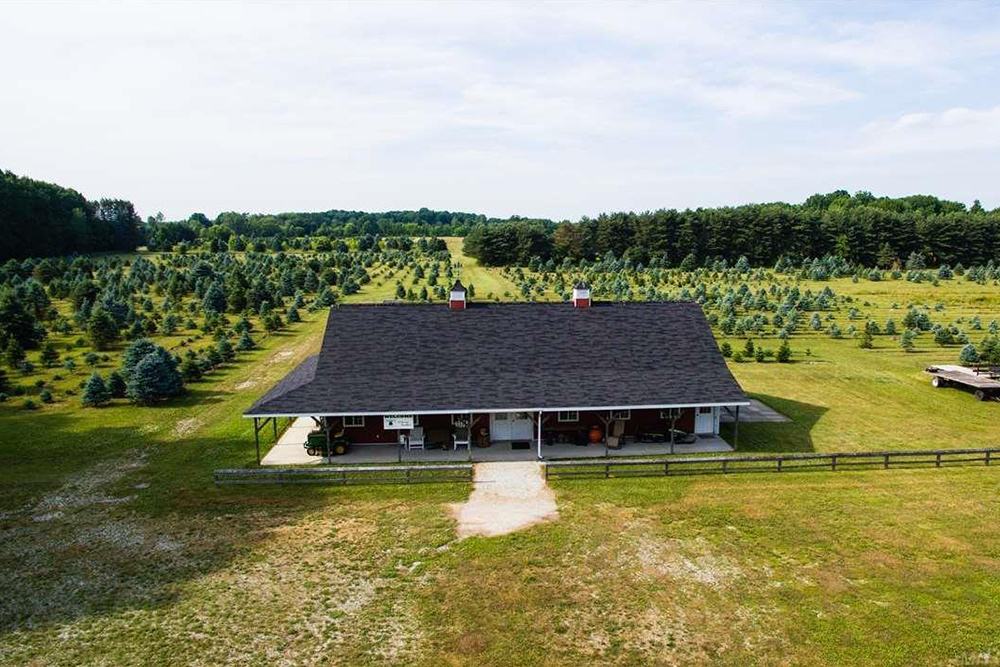 Want to know the selling points of this 2,300-square-foot home? How about four bedrooms, a private in-law suite, a stone fireplace, a stocked fishing pond, a whopping 73 acres (really!), and, perhaps most notably, a location just a stone's throw from Dunsmore Tree Farm. Encompassing 25 acres, the long-standing tree farm becomes an epicenter for holiday cheer during the last two months of every year. In short, cut-your-own trees, hayrides, and hot apple cider are just beyond your front door. (Fun fact: Michigan ranks third in the nation for Christmas tree production!)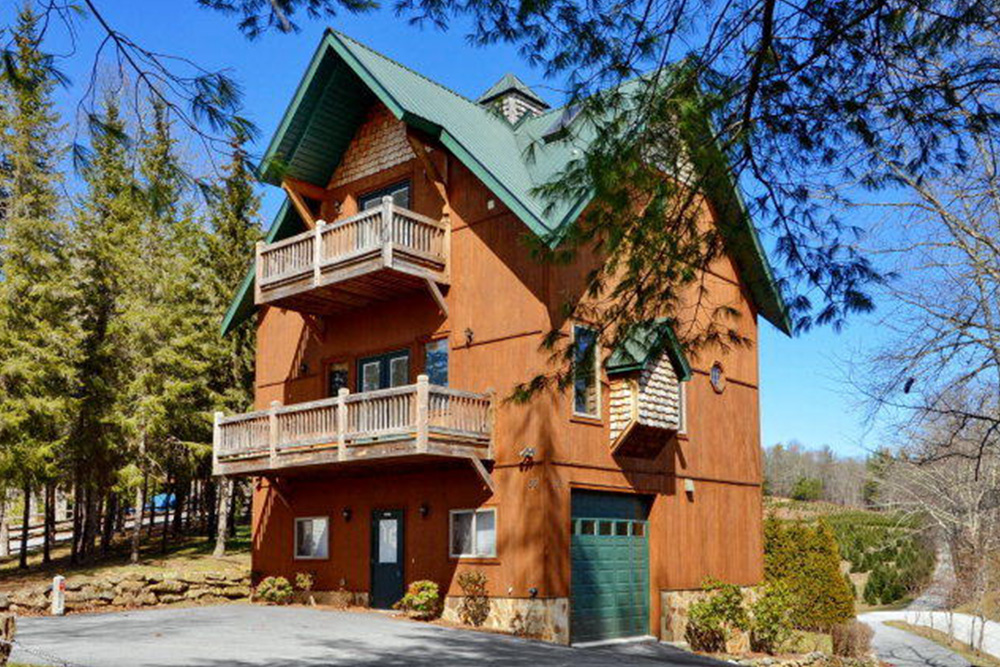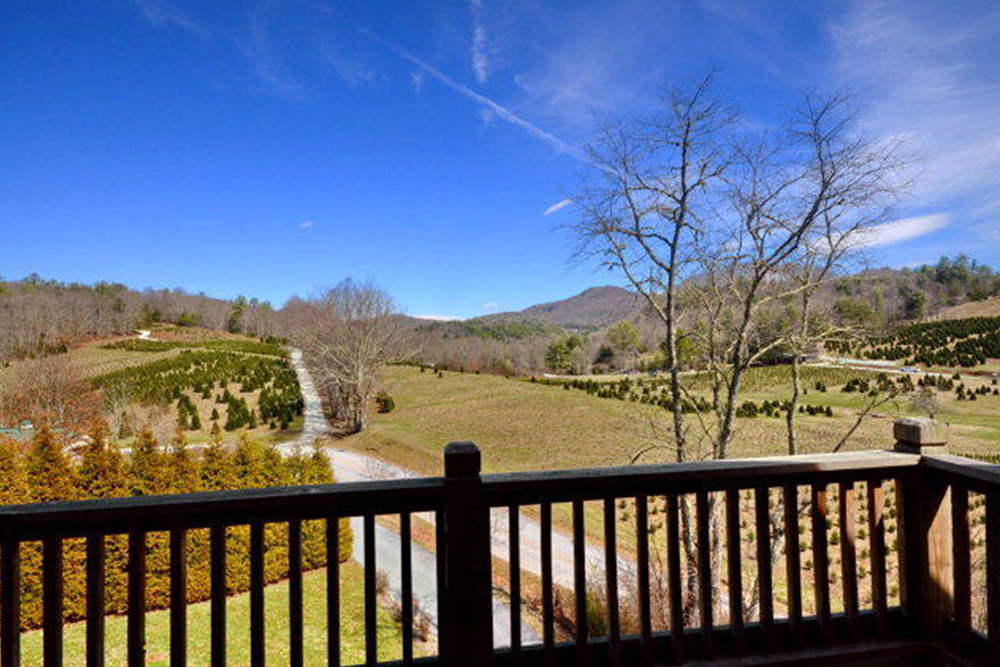 With views of the surrounding Christmas tree farms and the 1,400-acre Lake Glenville from multiple decks, this towering, three-story chalet in Jackson County, NC, is equally suited to being a vacation retreat or a year-round residence. Contemporary finishes and modern amenities (granite countertops, stainless steel appliances, breakfast bar) ensure comfort during stays of all durations, while the open floor plan is ideal for hosting more than one family (that's not even making mention of the bonus room with kitchenette!).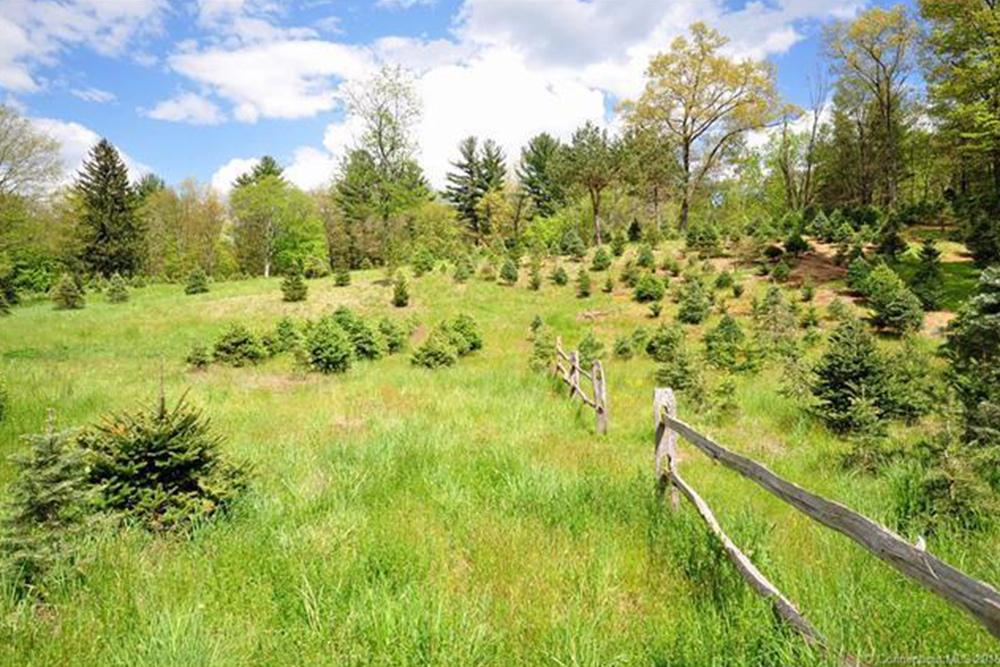 This 2,031-square-foot, Shingle Style farmhouse dates back to 1850 — as if the home's wide-plank floors, built-in shelving, and crown molding don't make it obvious that this beauty is an antique! There's a charming covered breezeway (perfect for stacking firewood to burn in the stove) connecting the home to the woodshed, while inside are four bedrooms and two bathrooms. Peep out the paned windows, and you'll spy a Christmas tree field adjacent to the property's 1.84 acres.
Not only does this 5-acre property have a Christmas tree farm, but it also includes a multistall barn (horse-drawn sleigh rides across the snow, anyone?). Once the weather warms up again, the stocked fishing pond becomes a prime spot for casting a line. As for the house, it offers three bedrooms and two bathrooms across 1,812 square feet. Two wood-burning stoves (one of which is in the kitchen!) keep the place extra cozy.
Which of these Christmas tree farm homes would you choose? Share your pick in the comments!