For those who love to cook, a gourmet kitchen is the dream. However, unlike a living room or bedroom, this space is much harder to remodel. Kitchens can't be rearranged at whim, cabinets can't be easily changed, and counters — well, there's very little you can do to hide 1980s laminate countertops. (Their existence is proof that not everything comes back in fashion.)
But don't shelve your dream just yet. It's possible to get a luxurious look for under $50,000, which is close to the average price spent on a budget kitchen remodel. We asked designers where they'd splurge, where they'd save, and other projects to consider for a space worthy of your culinary creations.
Before you start: Know thy space
"Design your kitchen for the way you live 90% of the time," says high-end kitchen designer Karen Williams. "Not the holidays or a visit from the in-laws."
She ranks the overall layout as the most important element in a kitchen renovation. "Good design is good design. A proper prep center, cooking, and cleanup [space] is essential." So before you get carried away on Pinterest, think more about the layout that best suits your daily habits rather than, say, Gwyneth Paltrow's.
Making a list of your main concerns will be invaluable for efficiently communicating with a designer. "Share your ideas and priorities by listing them top to bottom," says Sandra Brannock, principal at Expert Kitchen Designs. "Listen to the kitchen designer and ask for clarification if you are unsure about the design direction. If it is suggested something you want is not cost-worthy, listen and heed this advice."
Where to splurge on your kitchen remodel?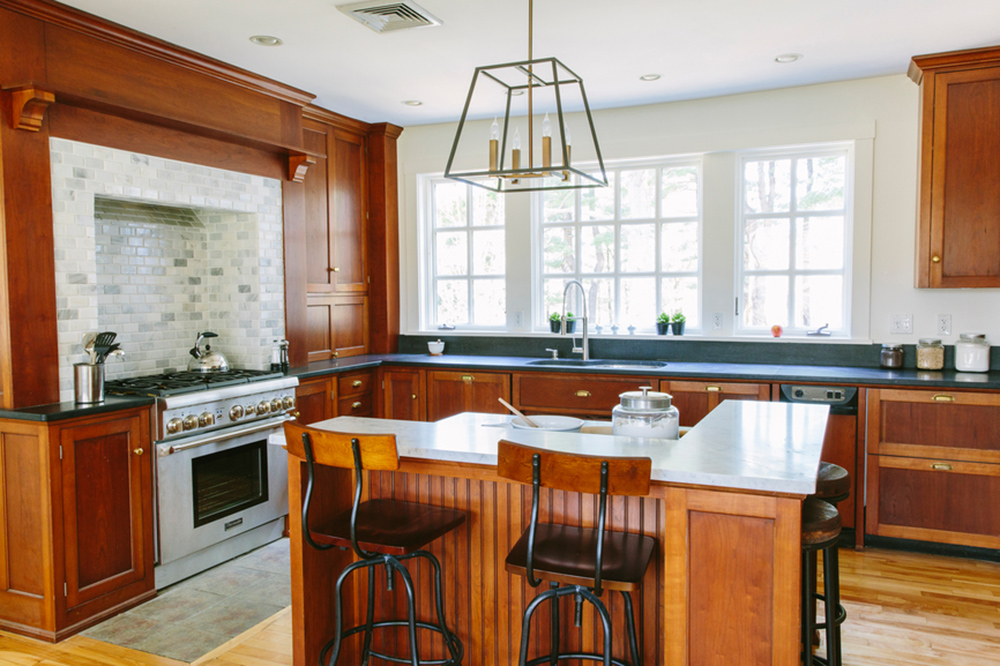 Cabinets: estimated cost of $20,000–$25,000*
"The materials you choose for the kitchen cabinets will define the style," says designer Natalie Kraiem. "If you are going for a modern look, I love to use high-gloss or matte lacquer or frosted glass in a solid color. If you want to achieve a richer look, then go with wood veneers. You could use laminates for a similar but less expensive look."
Lifestyle also plays an important role in selecting materials. "Cabinetry will endure the most abuse, so look for all-plywood construction along with a superior finish and top-notch door and drawer hardware," advises Brannock. "Your investment will require 20% to 30% more upfront, but the obvious return will be realized five or more years later when your cabinetry looks and feels as great as when it was first installed."
Brannock has a few recommendations if you're looking to trim costs: "Opting for cabinets with MDF construction will save you approximately 12%. Oak, knotty alder, and hickory are no-upcharge wood species that will save you 6% to 22%. Consider high-pressure laminate for a contemporary look."
Appliances: estimated cost of $10,000–$14,000
Obvious as it may be, quality appliances are key to the gourmet kitchen. Kraiem likes side-by-side refrigerator and freezer models that offer custom panel options, which can blend in with your cabinets for a seamless look. A high-end dishwasher is also a luxury worth looking into, especially if it also offers the custom panel option. Hoods can be customized to suit the overall design.
If you're currently using an electric range, don't worry about converting to gas for a pro-caliber kitchen. Instead, replace the old stove with an induction model. "There are many high-end professional kitchens using this marvelous method," Brannock says. "It is instantaneous, efficient, and also minimizes the extra heat generated in a hardworking kitchen."
Luxe details
Accessories have a big impact in a kitchen. "I like to splurge on hardware," Williams says. "It should look good to the eye and feel good to the hand. You see it and touch it every day."
Expanding storage options
Clutter can cramp the style of even the fanciest kitchen. However, you'll want to go for storage options that suit your kitchen.
"Extra deep drawers can be a blessing or a curse if not thought through for one's individual needs," Brannock says. "If incorporating them, consider a smaller hidden drawer above them or a narrow partition to house smaller items such as lids or food processor accouterments so all the space is utilized. These drawers add $200-plus each but are totally worth it."
She also says that shallow-depth base cabinetry (13 to 18 inches deep) is especially cost-effective and can fit most people's storage needs.
Where to save on your kitchen remodel?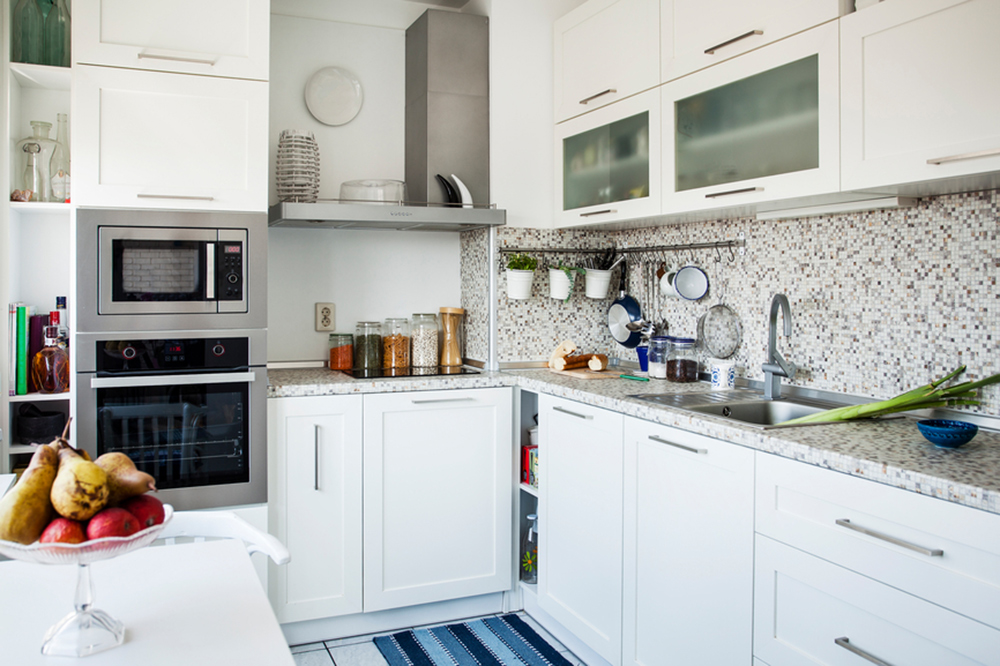 Backsplash and countertop: estimated cost of $7,000
Renewed interest in marble means other natural materials can be found for a bargain. "With the popularity of white marble right now, granite may be a good choice. The marble yards have an overstock of the material and are usually offering to make a good deal," Karen Williams says. "Stay with the softer, neutral tones so your kitchen won't look outdated."
Additionally, new designs in porcelain present another cost-effective yet stylish option for counters, floors, and other surfaces.
Since a backsplash tends to cover a smaller space, it's easier to cut costs here. "I tend to like to use the same countertop and backsplash material for a modern look. In this case, quartz is great because it doesn't stain or get damaged easily," Kraiem says. "I also like to use frosted glass or stainless steel for a unique look that's not so expensive." For more traditional kitchens, a tile or mosaic backsplash is the most budget-friendly option.
Flooring: estimated cost of $2,000
Your flooring is a big element of your kitchen, so it can have a big impact on overall style. "For example, with floors, 24-by-24 or 24-by-48 large porcelain tiles in a concrete or minimalist color will 'speak' to those who walk on them as highly sophisticated," Brannock says. "Another option is wide and random-width hardwood flooring such as fumed white oak for a rustic yet timeless elegance." But the square footage here is probably less than in other areas in your home, so it'll be less costly than, say, redoing the floors in the living room.
Miscellaneous "extras" like faucets, sink, and garbage disposal: estimated cost of $1,000–$1,500
While these smaller elements play an important part in the function of your kitchen, they aren't as noticeable, meaning you can get away with budget-friendly options. "Focus on the look and quality without splurging," Kraiem says.
*Costs were estimated by designer Natalie Kraiem and are based on a 10-by-10 kitchen. Of course, your costs may vary depending on individual design choices.