Celebs have the privilege (and the bank accounts) to call some of the most beautiful properties on the planet "home" — but they also own vacation getaways that are just as jaw-dropping. When they need to get away from it all in the winter months, they don't want to downgrade; when it comes to cool escapes, celebs demand luxurious digs.
Let's go inside some celebrity vacation homes that could all officially be categorized as Winter Wonderlands.
Tom Cruise's 281-Acre Estate in Telluride, Colorado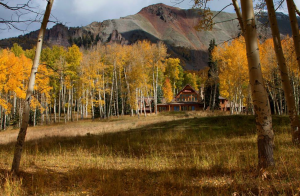 Since the early 1990s, Tom Cruise has retreated from his life as an A-list actor and super Scientologist at this 281-acre spread in picturesque Telluride, CO. Nestled deep within rolling meadows and mature forest, but just 12 minutes from the historic resort town, Cruise's rustic-chic property is the perfect one-two punch of private yet accessible, making it an ultimate retreat for those seeking privacy, scenic beauty, and serenity.
Sound like the perfect mountain haven? It's currently for sale and could be yours for a cool $59 million.
Rihanna's Luxe Aspen Rental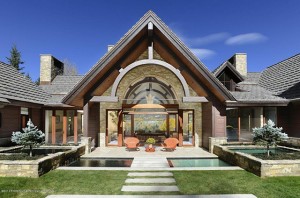 Rihanna celebrated her birthday last year with a glam seven-day stay in the mountains of Colorado, cozying up inside a swanky Aspen mega-mansion. In true Bad Gal RiRi fashion, the Grammy winner went all out for her celebration and must have dropped a pretty penny to play inside this 18,750-square-foot rental, which also happens to be on the market for a cool $45 million.
The exquisite property, not so cleverly dubbed the "The Ski Home," sits among a handful of A-list celebrity neighbors, including Mariah Carey, Charlie Sheen, Kevin Costner, and Kate Hudson.
Bruce Willis' Palatial Ranch in Hailey, Idaho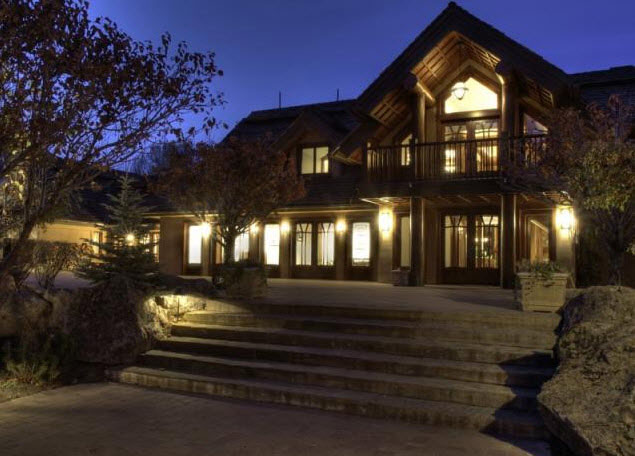 Already the proud owner of several estates in California, Idaho, Montana, and the Caribbean, 1990s action superstar (and real estate mogul) Bruce Willis put up the for-sale sign on his 8,403-square-foot, resort-style ranch in Idaho. He bought the home in 2003 and has since made some pimp upgrades — from rebuilding the main house with 6 bedrooms and 6.5 bathrooms to adding a detached guest home and gym.
What's even more impressive is the extensive landscaping work Willis added to the property's already-lovely view of Flying Heart Lake. The home's 20-acre lot now includes several man-made ponds and streams, two wells, a heated pool with water slides and waterfalls, and even a rope swing. From the main road to the front door, the area surrounding the property is lined with paver stone and protected by a gated entry and security system. This beautiful home is just minutes away from local skiing, hiking, biking, and live music and theater venues in Sun Valley, ID.
Jimmy Buffett's Modern Spread in Beverly Hills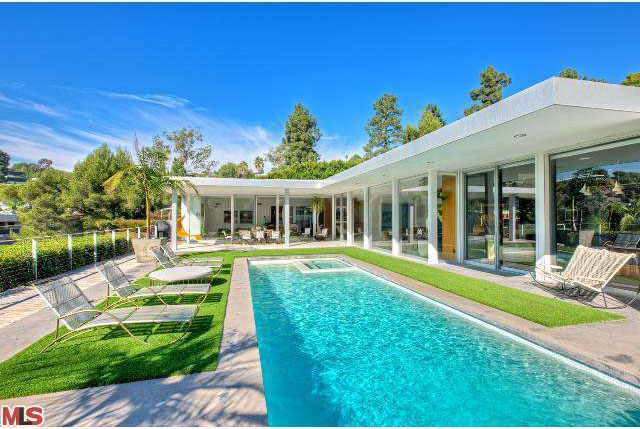 The snow doesn't fall here in Beverly Hills … not even close. But — believe it or not — for Jimmy Buffett, who splits his time between his massive estate in perpetually sunny Palm Beach, FL, and the luxe Caribbean enclave of St. Barth's, a trip to his newly-purchased California compound is a way to cool down. That temperature drop from 91 and sunny to 72 and partially cloudy may give this Parrothead crooner reason to cuddle up by the fire.
Celine Dion's Water Park Estate in South Florida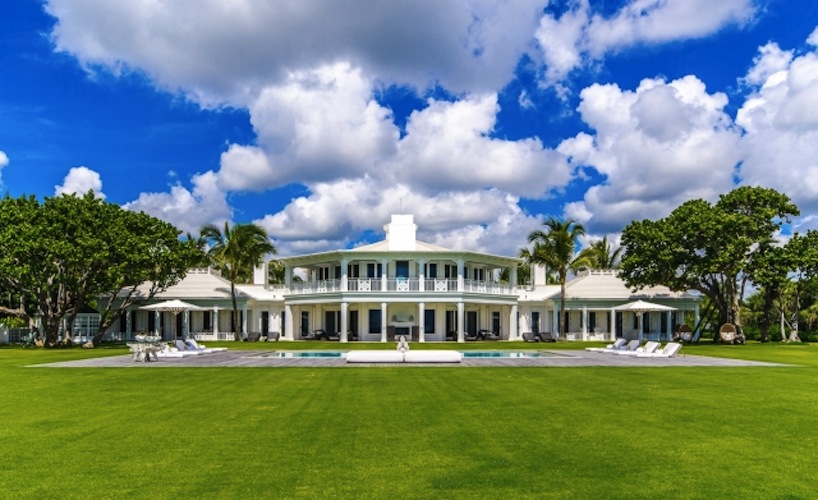 When Celine Dion needs to retreat, the Canada-born crooner flies south for the winter. She and her family nestle into their custom-built Jupiter, FL, home, complete with its own water park! Inspired by the Bahamas, the home has a main house and five individual pavilions, including a four-bedroom guest house.
Maximizing its spot right on the Atlantic, the house boasts a spectacular ocean view for each room. Does the thought of vacationing here make your heart sing? Break out your checkbook and write Celine a check for $62.5 million, and it's all yours.